Love the bones of Winterscapes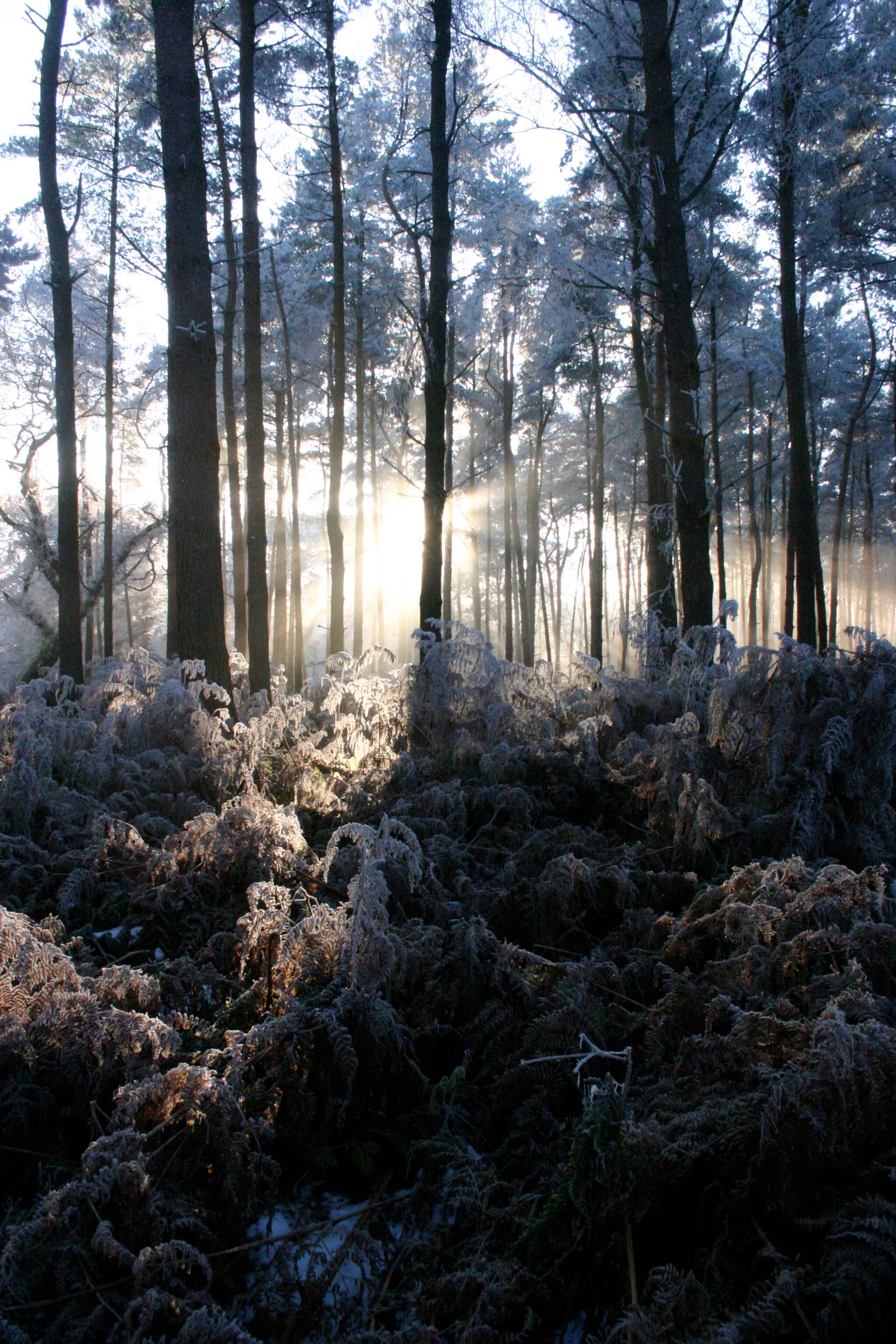 Winter smart gardens
All gardens, regardless of scale should embrace every season. If we pin all of our hopes and expectations on spring and summer gardens then we face a disconnect with our outdoor space for a large portion of the year, and in part a large portion of our home for that time.
A garden designed and constructed with good Winter bones is a must. There is unique appeal in such gardens; when all of nature is toned down to its natural pared-back beauty. The light that's cast and the muted palettes can be appreciated, alongside the structural elements and plants that we set out in a garden's framework. Such elements imbued with frosts or snow render winter gardens and landscapes in to a period of wonder and enchantment.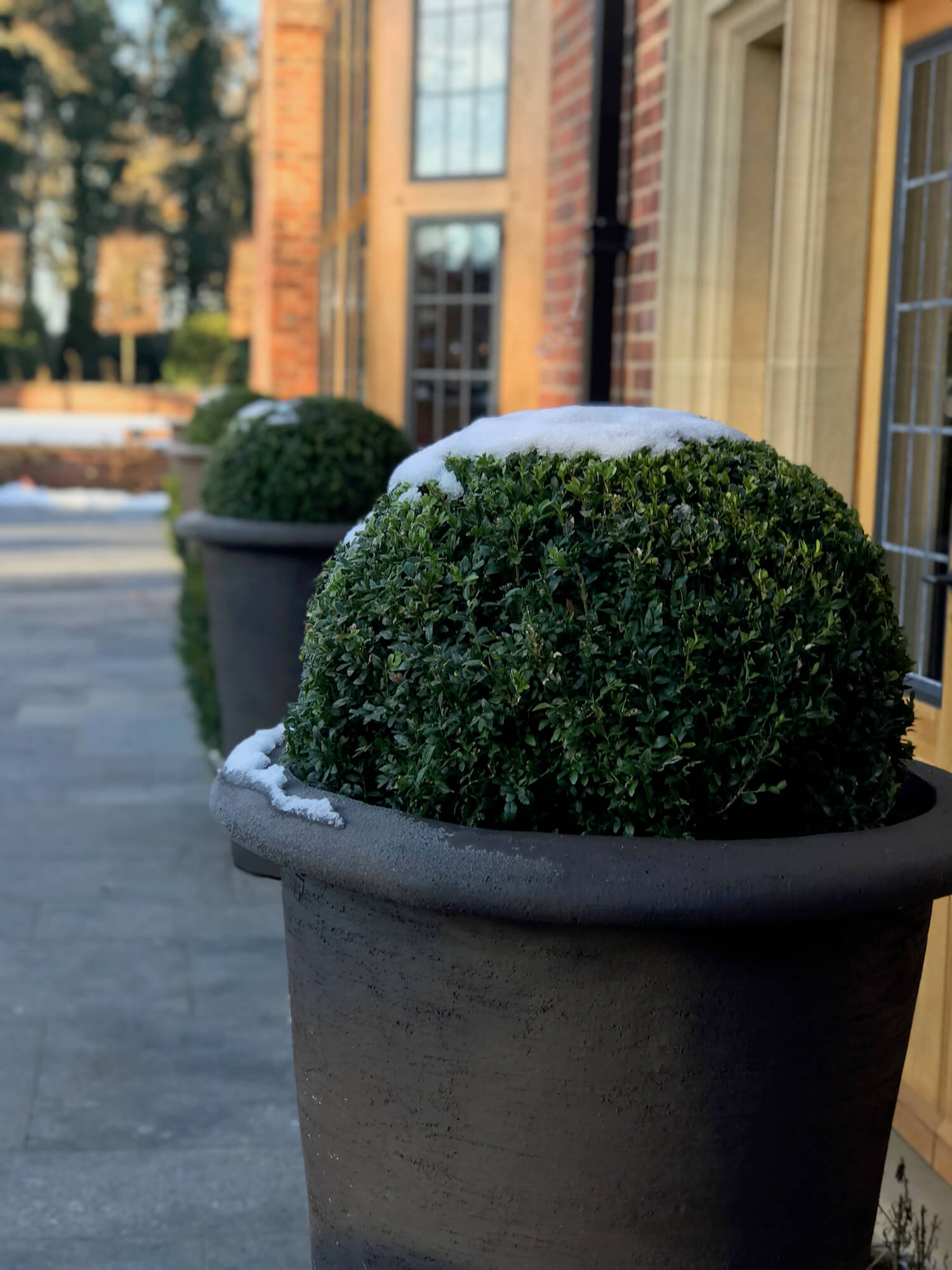 So instead of feeling shackled by the cold snaps, cast away any notions of 'bleakness' and seize the short days and long nights. Cherish those colder months when the simpler stages of outside give us all a period of respite – after the glory of autumn, and before the explosion of spring.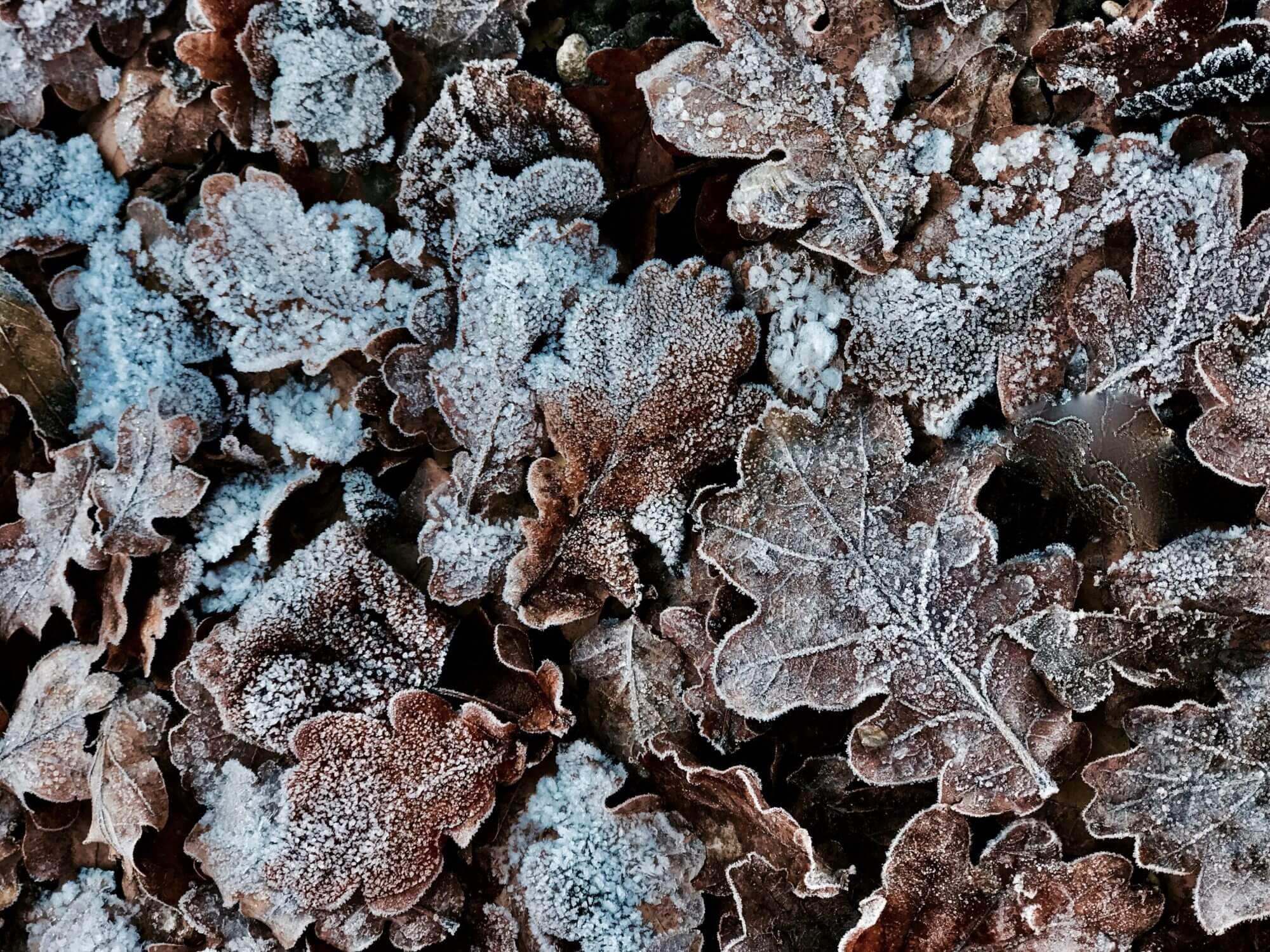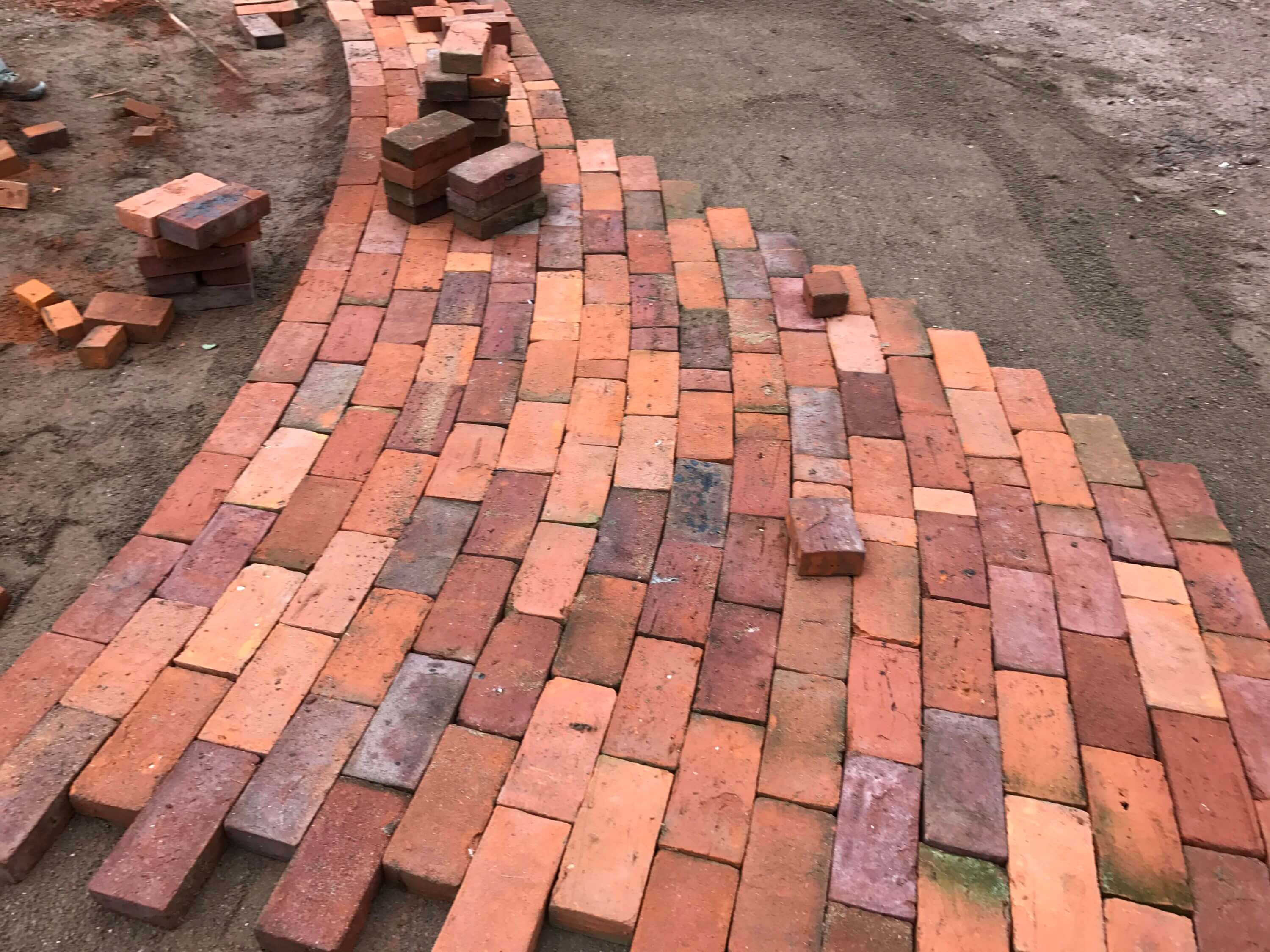 Just as we personally 'layer up' for winter, regard your garden in the same way. You can create a whole palette of favoured hues and textures outdoors through the selection of materials and plants that you apply. Tree bark, lichen, moss all dazzle in winter, especially juxtaposed with weathered metals, stone and silvered timber in the hardscaping elements of a scheme. The rich tones of natural materials can truly embellish a winter garden.
When we refer to the winter bones of a garden this also takes form with thoughtfully positioned evergreen components. Topiary in feature planters and clipped Yew, Buxus, Lavender and Rosemary hedges will provide sound winter frameworks. It seems such a shame to merely plant for spring and summer then feel the need to shy away from the garden the rest of the year because it looks so lifeless and uninspiring.
By focusing on maximizing the appeals of winter you will ensure that vital connection with the outdoors that we all need, and all year round. It will also hopefully entice you to venture out more. At very least, a cosy up indoors with a great book and a great view out onto your winter scape will certainly nourish your soul.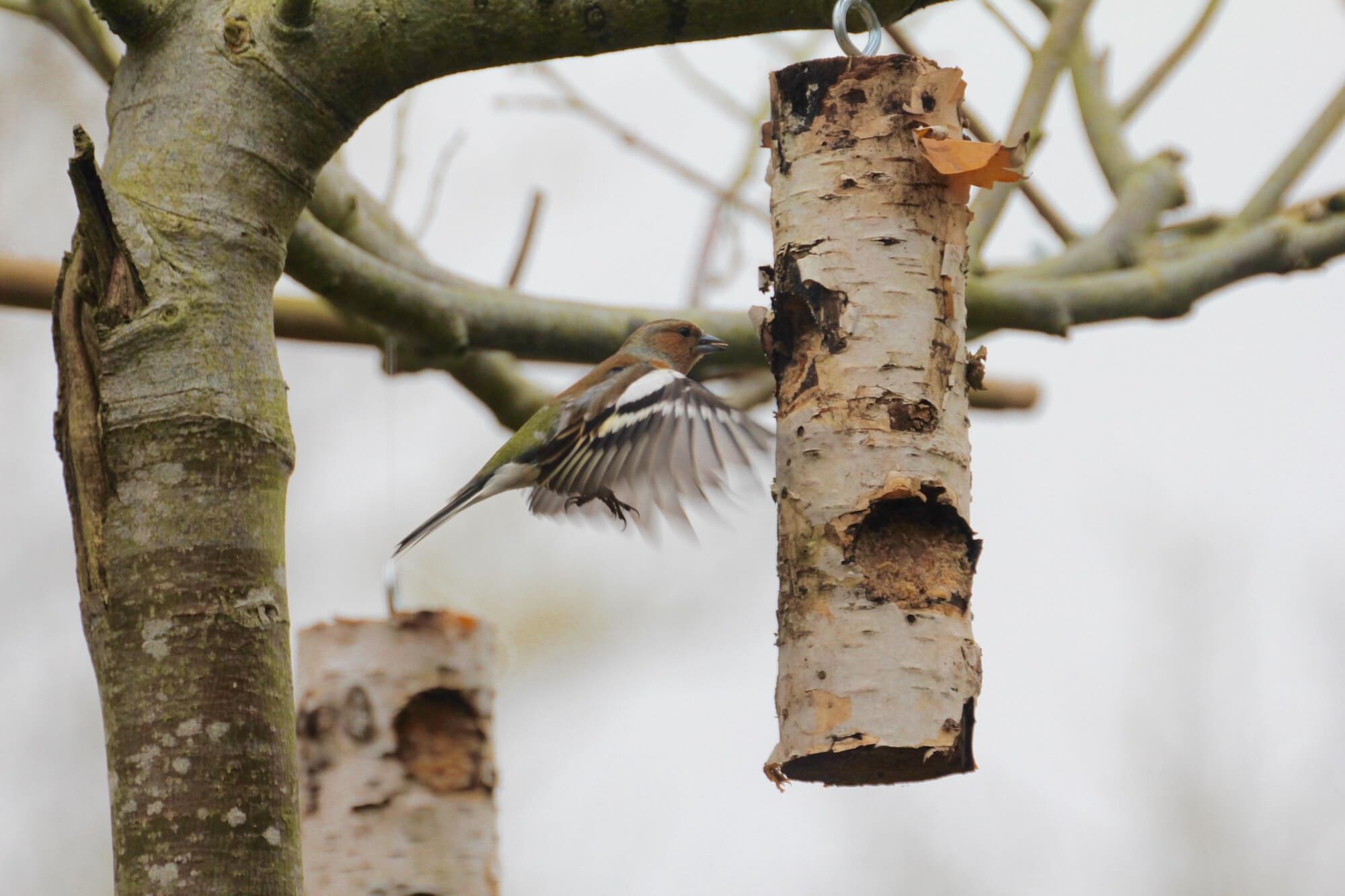 It's the season to be surrounded by lovely natural things so here are some key elements to include for a sumptuous winter garden.
Lighting – This is very relevant in a winter garden, both for safety and aesthetics. Well designed schemes should stylishly light pathways and entrances, ensuring both safe and welcoming approaches. More homely elements like lanterns are another nice touch.
Trees – Potentially the stars of winter gardens. White and silver bark birches such as River Birch, Jacquemontiis and Pendulas glow on dark winter days. The bare winter structure and framework of deciduous pleached trees is arguably just as beautiful as when the trees are in leaf the rest of the year. The gnarled trunks and shapes that mature trees take on look majestic in these periods of dormancy.
Perennial forms – With the evergreen elements providing some lovely bones in winter gardens, many perennial plants can too. Ornamental grasses fade but can hold on to architectural forms alongside the likes of Gauras, Echinaceas and Veronicastrums. These delicately enhance borders and landscapes with their skeletal forms, and all contribute to that layering effect that we covet for winter.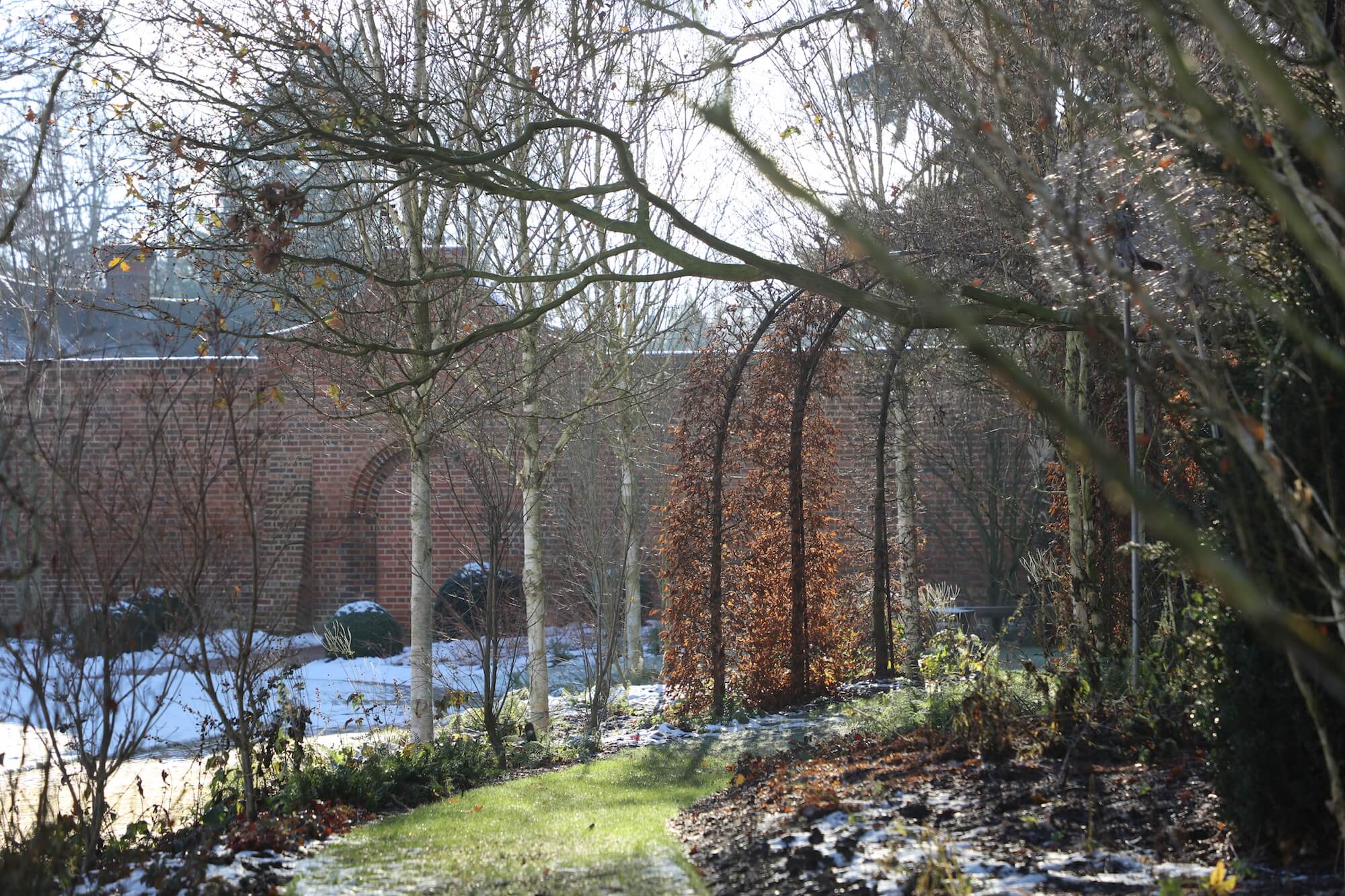 Elements – If you have some strong accent pieces in your interior try to replicate some of them outdoors with weatherproof options. Depending on your style signature colours can repeat outside with rendered walls, railings, your front door colour. Flooring, art, sculpture, lighting can continue outside creating a sense of unity to your home and casting your signature style overall.
Structures and textures – Natural wood evokes a sense of warmth. Quercus screens, fences clad in woven willow hurdles, oak structures will all help to give your outdoor space a nest like feel. Layer in other textures, such as well stacked log stores, and make a feature of them too.
Opt for materials that will look good in the altered light of winter. Rusted slate, fossilized sandstone, cedar shingle, balau decking, copper verdigris will all glow on a muted grey day and add a little sparkle on a frosty one. Corten steel is our top design choice for gardens right now in the form of giant planters, log stores, firepits, water bowls and modernist sculpture.
When developing your winter smart garden, approach it with a similar outlook as you would the interior of your home – treat it as an extension of this. Your home is your retreat and the garden should be integral to that, whether you are in it or enjoying views out on to it, at any given time of year.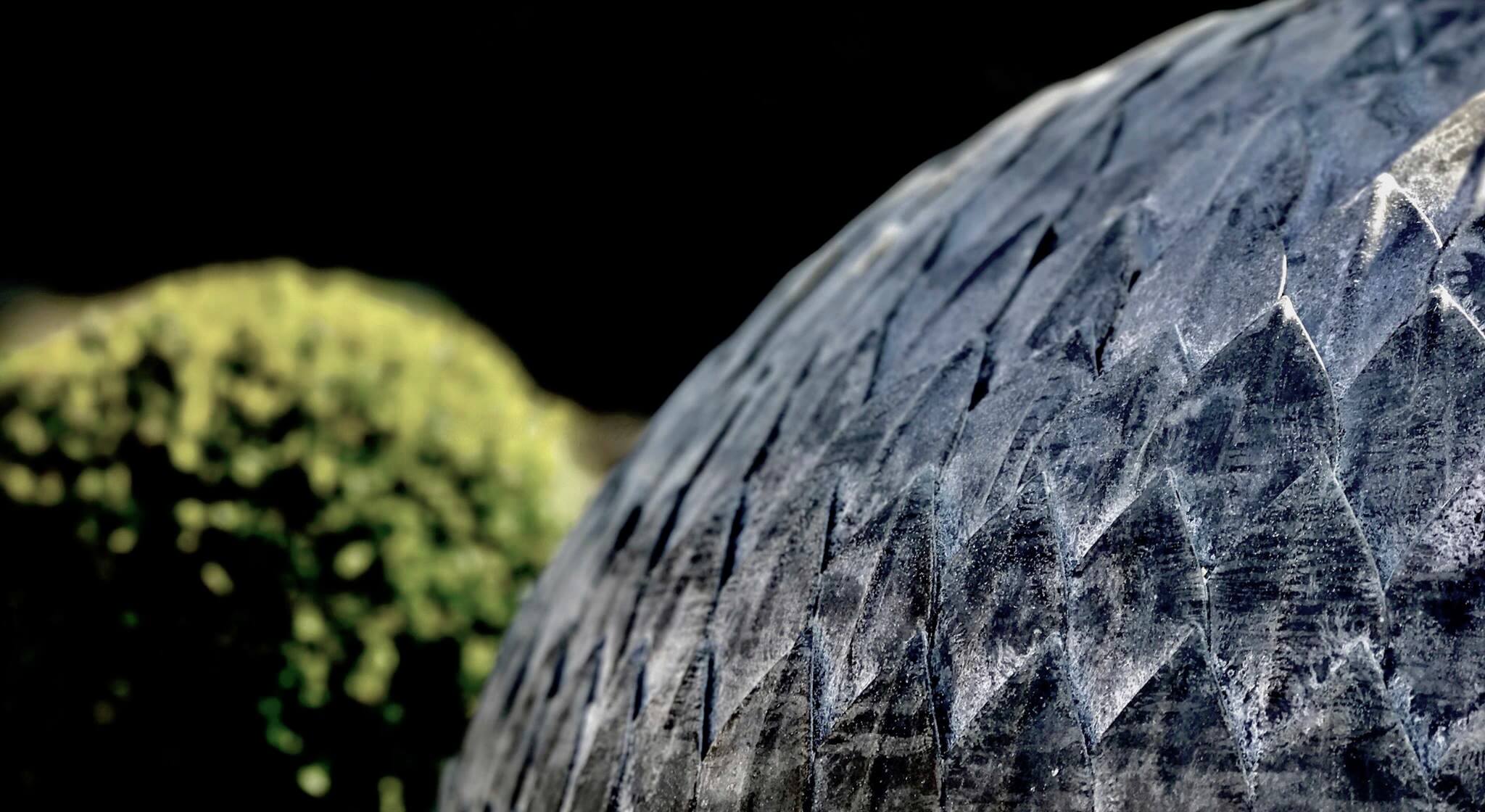 all imagery & ingredients by us
the lovely bones © HC Gardens