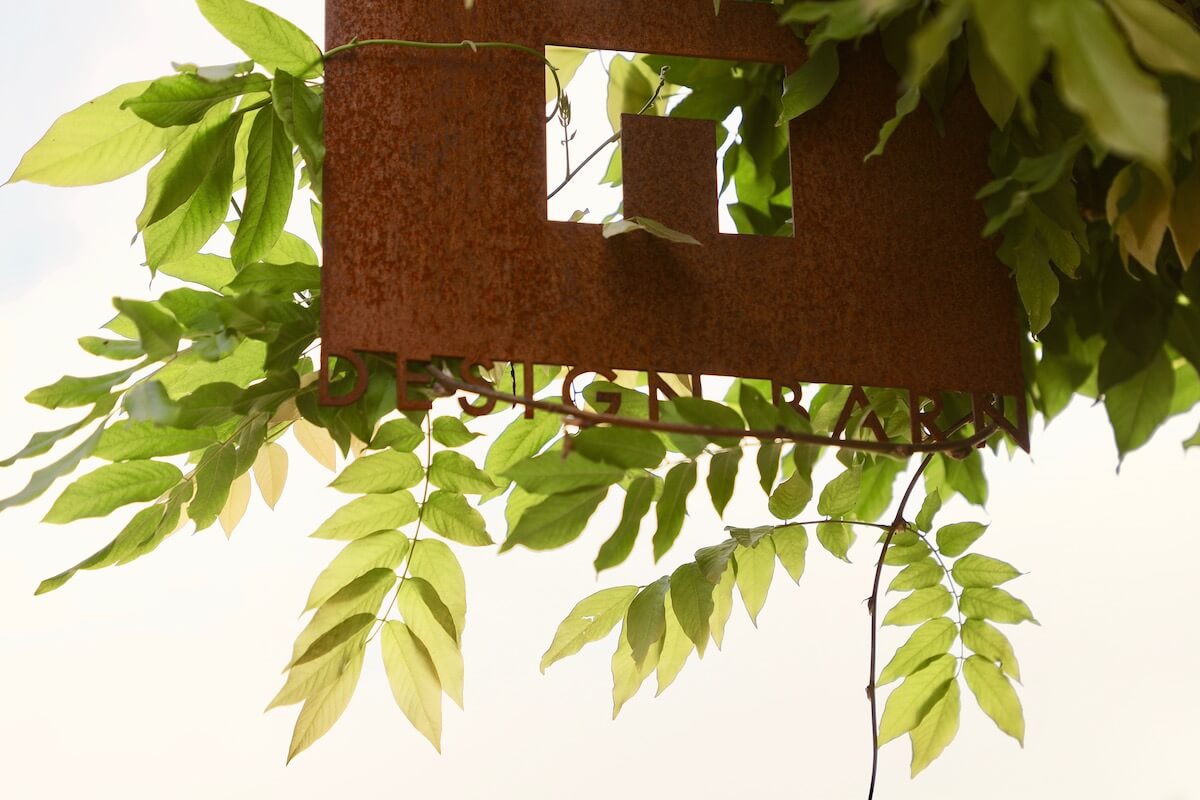 Welcome to our Landscape & Design review of the year
On the shortest day we are doing the longest review! We do this every year. That way we can get our heads around the shape of things and remind ourselves of why we are all so tired.  As our new web site launched last December we skipped a year. Also, the scale of the projects we were on became quite consuming for 18 months. So it's nice to be reflecting on a very busy period. Here's our HC time capsule from December to December.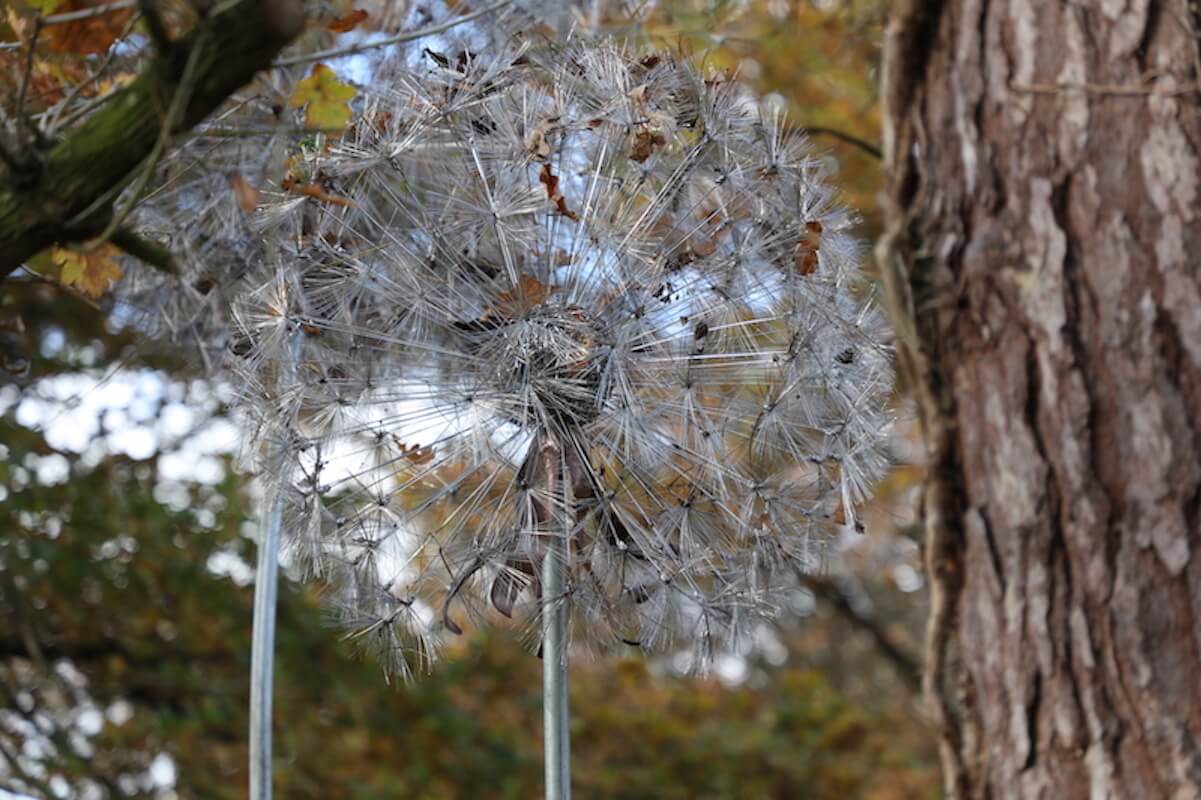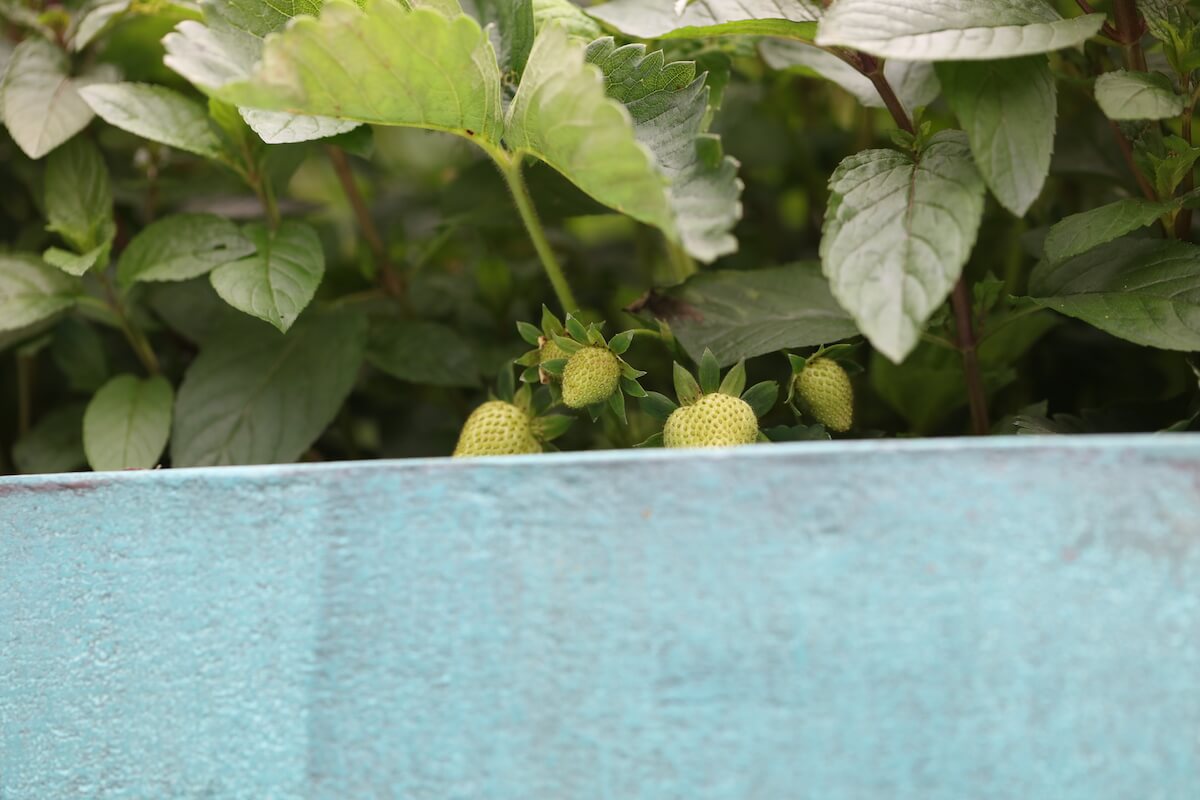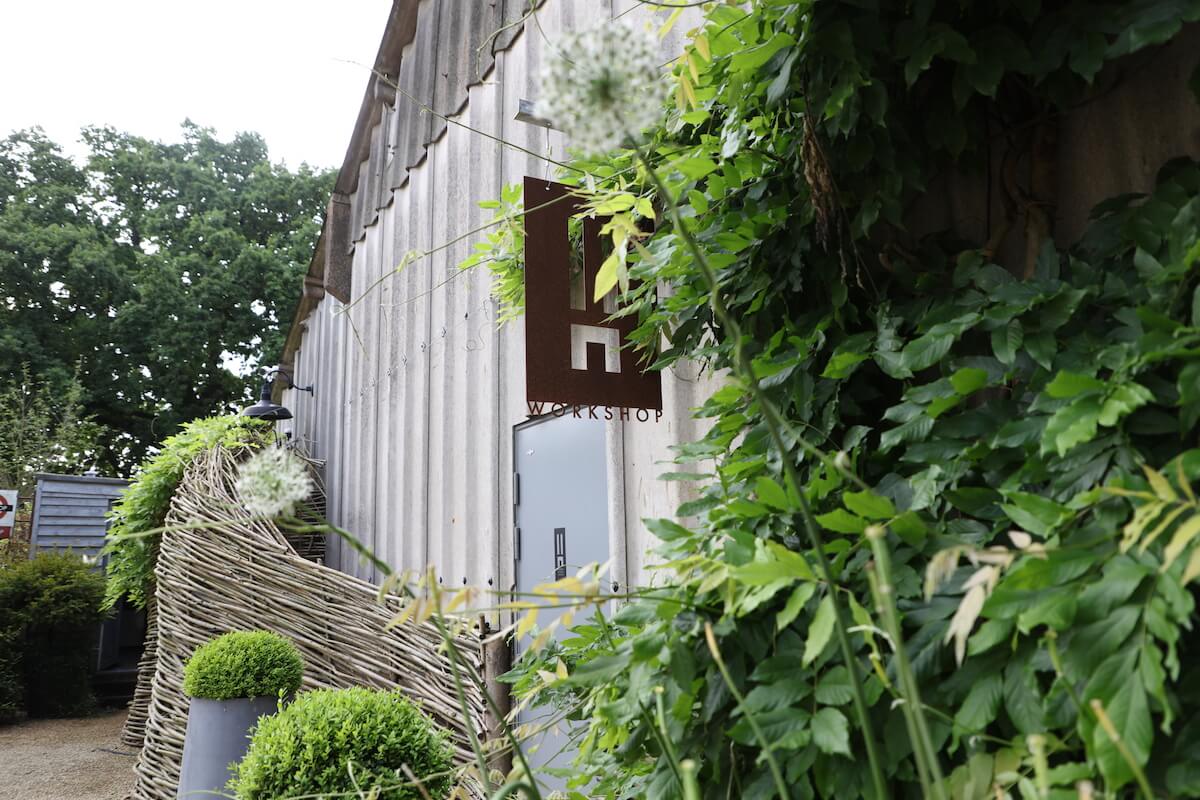 December 2017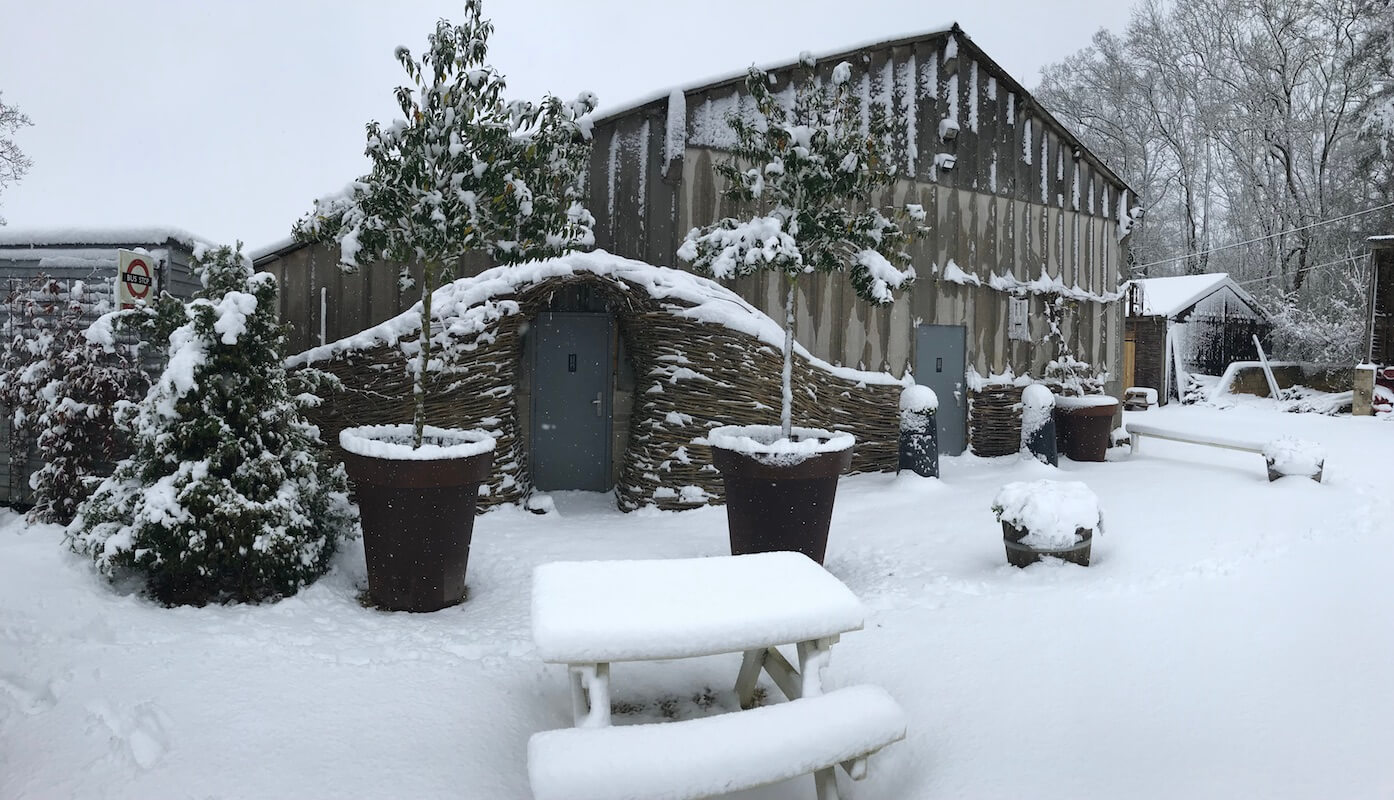 On the 10th of December the world changed into a Winter Wonderland. It did mean we had a few snow days but generally the company cracked on.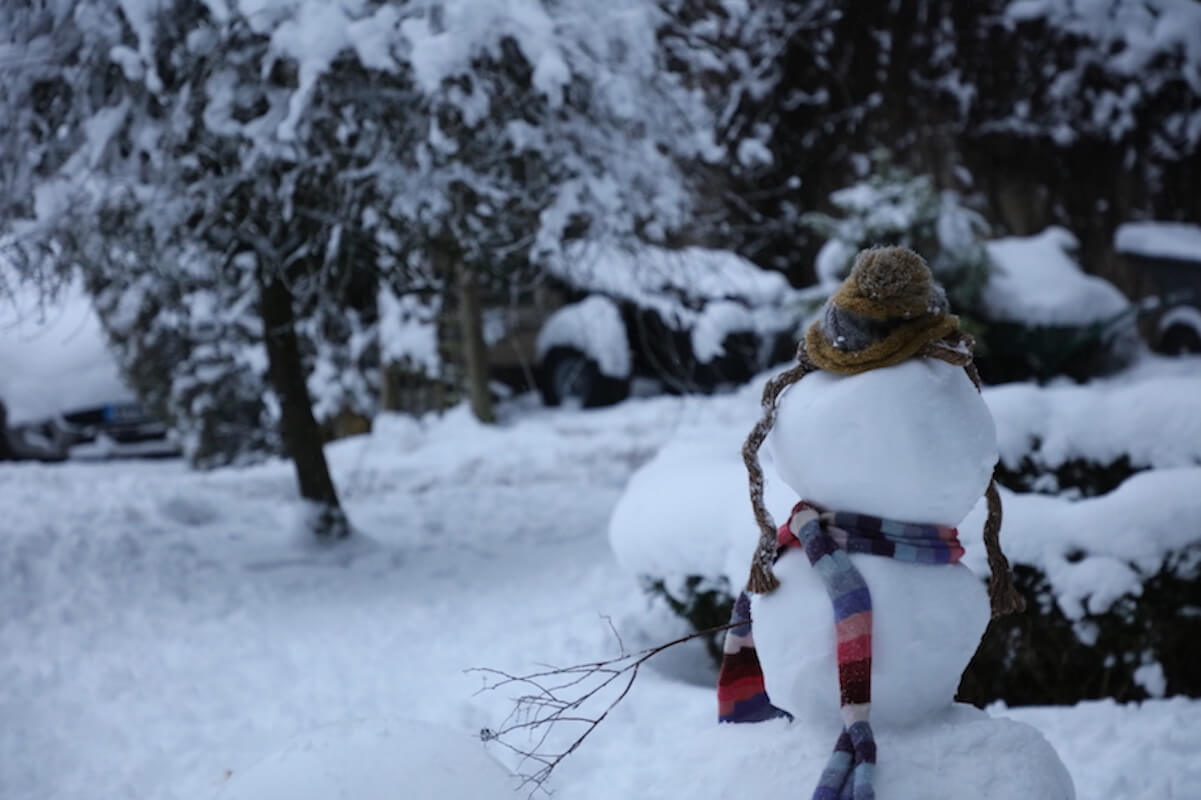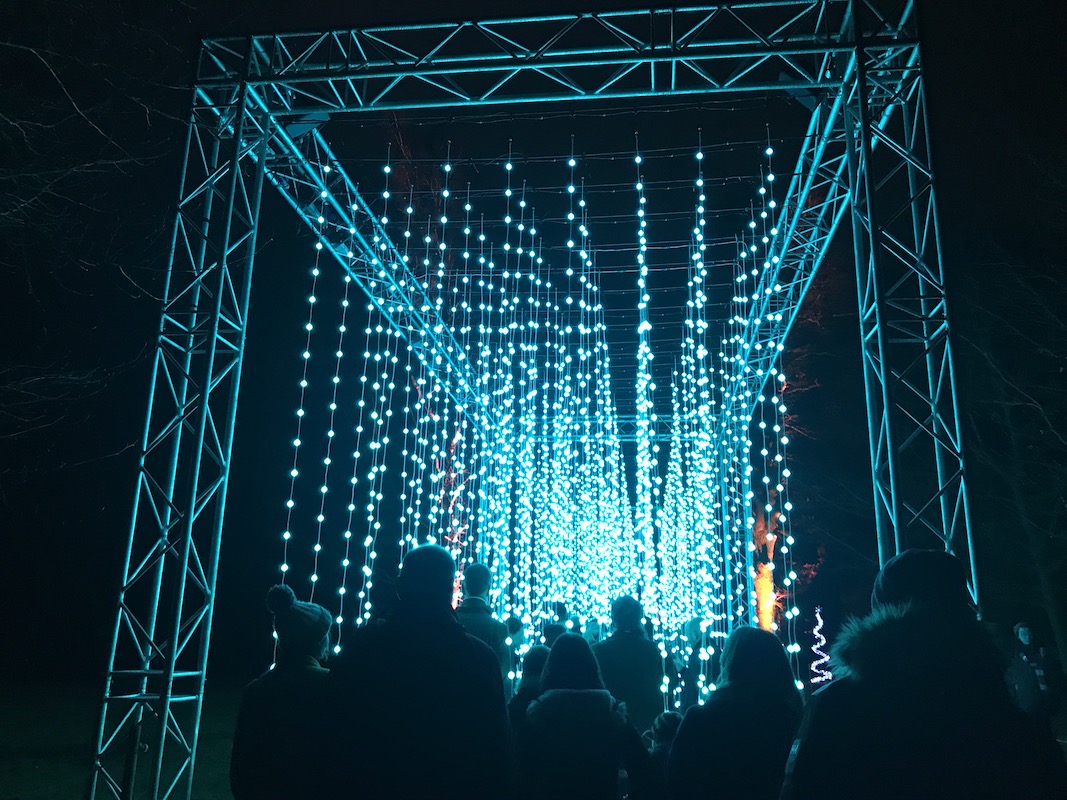 At this stage we had been designing and installing all the grounds and gardens of Harpsden Wood House in Henley-on-Thames for almost a year. We had designed the project in November 2016. The plans were approved for the project to go into production early January 2017. There were trips to Europe to select specimen trees on a grand scale.
To give you some background on the project: our intention was to anchor the Arts & Crafts property set within 15 acres of private woodlands. We tasked ourselves with creating a symphony from the house to the new grounds. The original gardens had been lost over time. The property mainly consisted of lawn with the house disconnected from its woods by giant conifers.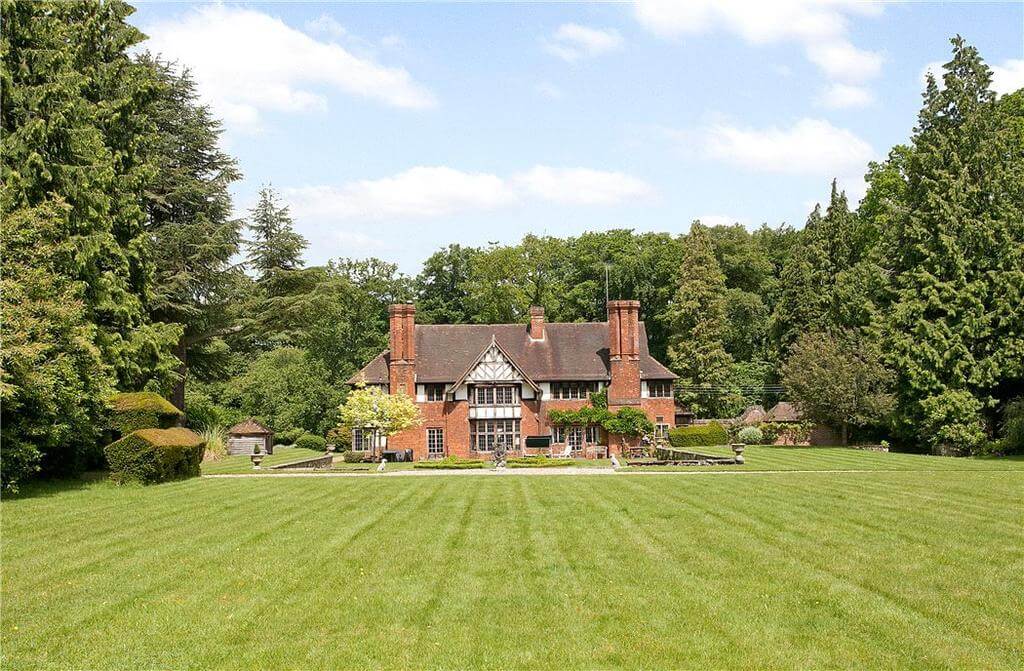 Working in the reverse we also wanted to create a seamless parkland feel, bridging the transitions from the ancient Beech woodlands to the new domestic family gardens.
By March 2017 the bulk of the craned in trees were planted and the bones of the entire landscape design for site took shape. It was imperative that this key stage was successful to the point that anyone viewing the project would not necessarily register that the trees hadn't been inherited with the property and long been established. This is how it looked at that March 2017 juncture, also with a great deal of the groundworks prepared…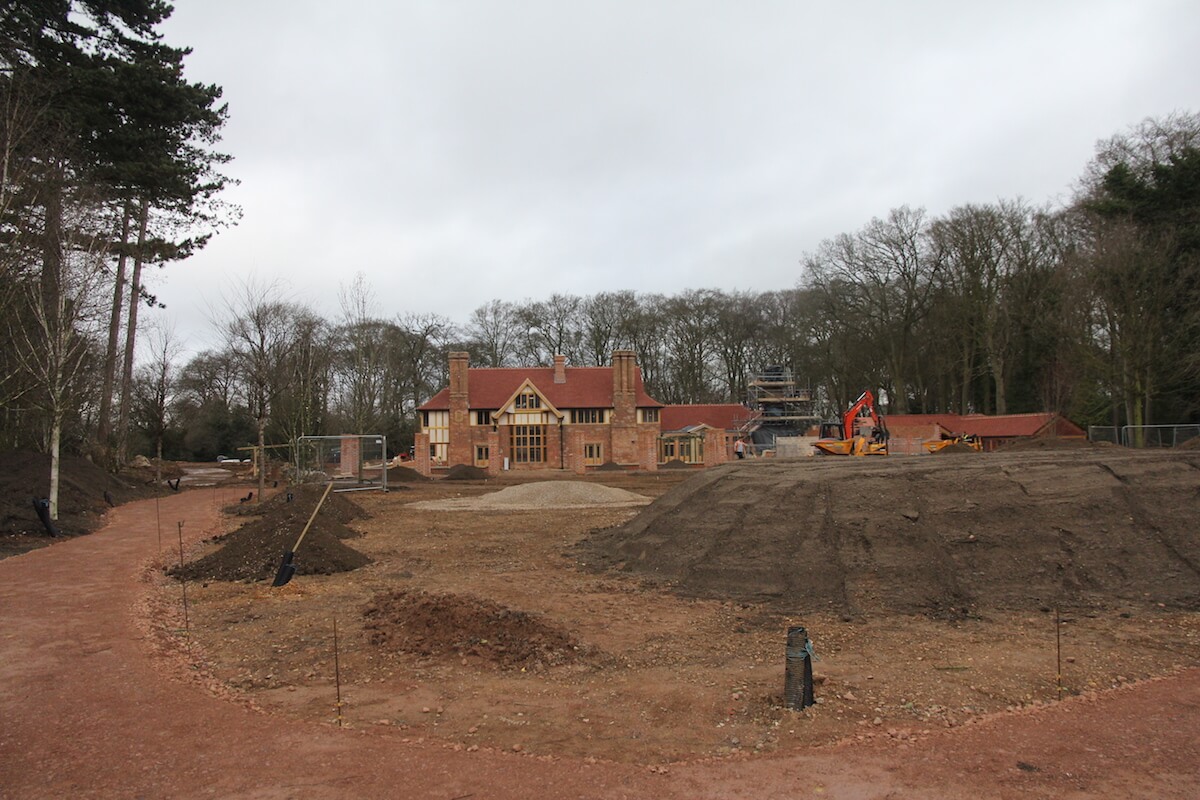 By March 2018 we installed and established Harpsden Wood House to this…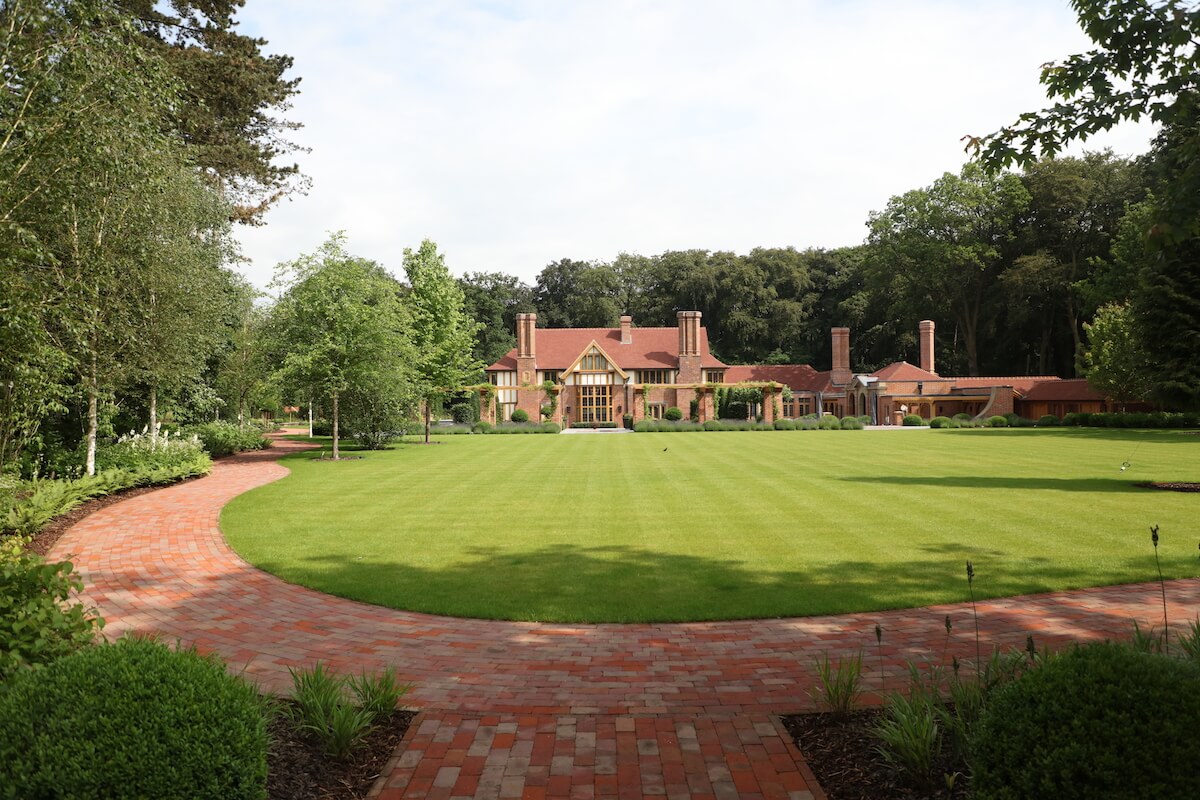 So by December last year we were finally at a point that the commissioned sculptures and furnishings could start being introduced. The bespoke David Harber sculpture installation and the delivery of the custom made Paola Lenti furniture from Italy both scheduled for that week. So the snow had to be ploughed and cleared and the show had to go on. It was a hard slog leading up to that Christmas but there were many good trades and individuals that we worked alongside to get the project realised.
It was very much our Alice in Wonderland project that a large portion of this review records. We have included some behind the scenes of its construction and mass planting which shows parts of the journey. Our design journey is not really contained much in this blog but we have included some sketches. We would rather show the physical, living results of this huge project and let the creation speak for itself.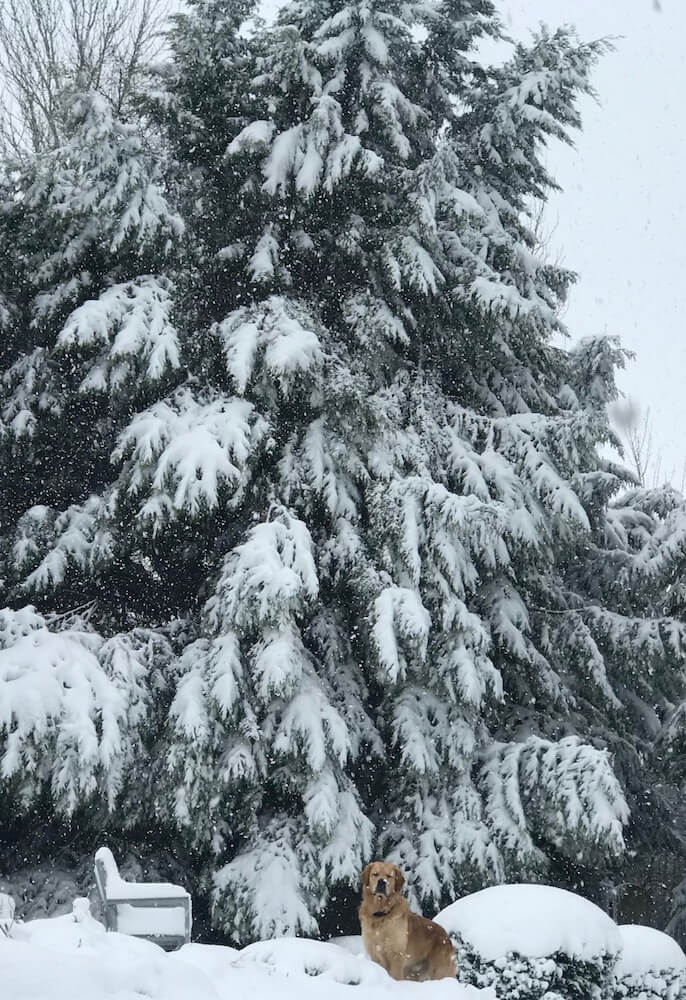 A description of Harpsden Wood House is difficult to fully summarise. Our approach to it was to create a modern classic. Traditional elements run throughout but conventions are continually challenged with the integration of bespoke artisan living and interactive sculptural pieces. The vast landscape has been designed to function as individual but interlinking gardens.
The comprehensive planting schemes are designed to cycle through each season so the canvas is ever changing. Regardless of its scale the landscape and gardens exist for the family, children and animals that reside there and for their future generations to come.
The land was categorised in to main areas that were then divided to form a series of gardens and exterior spaces. These all interlink to form a cohesive journey that promises to never disappoint no matter what direction is taken.
These are North Courtyard, House Floral couture, Hydrangea Walkways, Tennis, Fruit & Nut Orchard, West lawn Rose Parlour, Croquet Lawn, Ruby Forest, Main Lawn, Poolside, South Lawn, Wisteria Walkway, White Woodland, Belvedere Floral couture, Prairie Edge mixes, Kitchen & Cut flower garden, Woodland Playscape, Pet Corner, Woodland Drive, Woodland, Gated Entrance.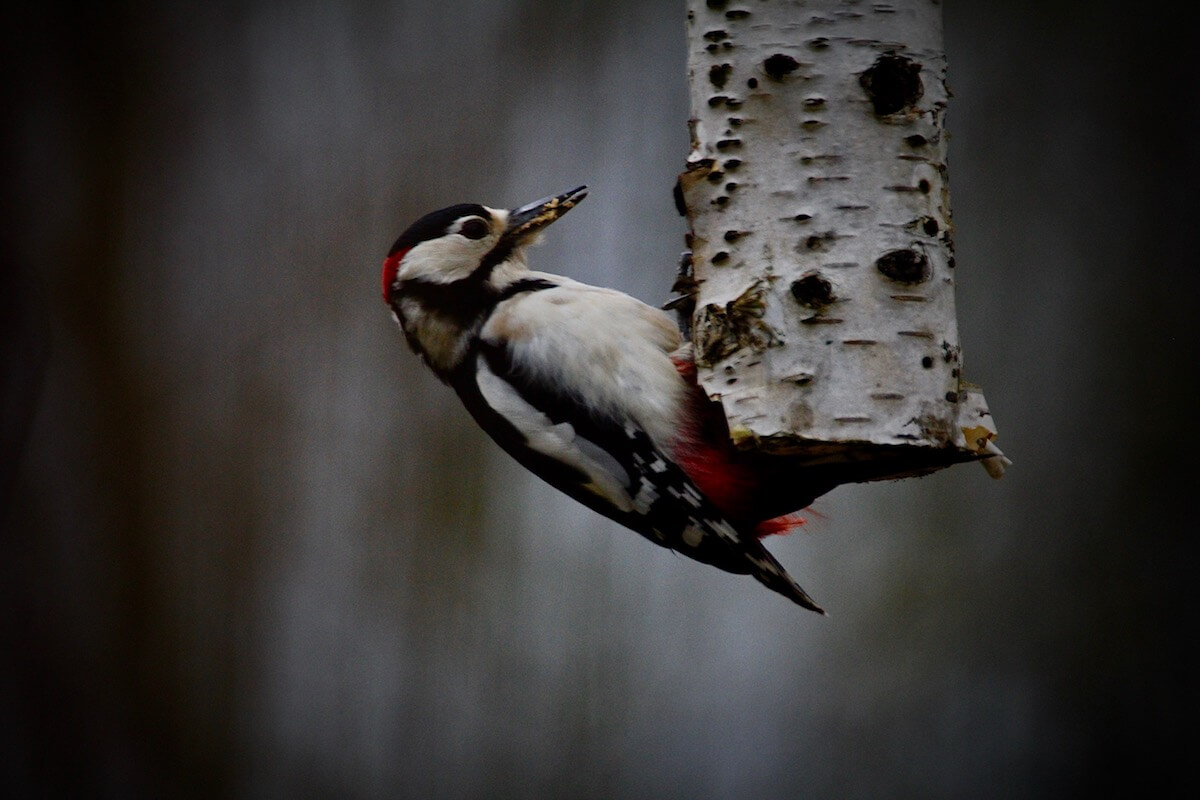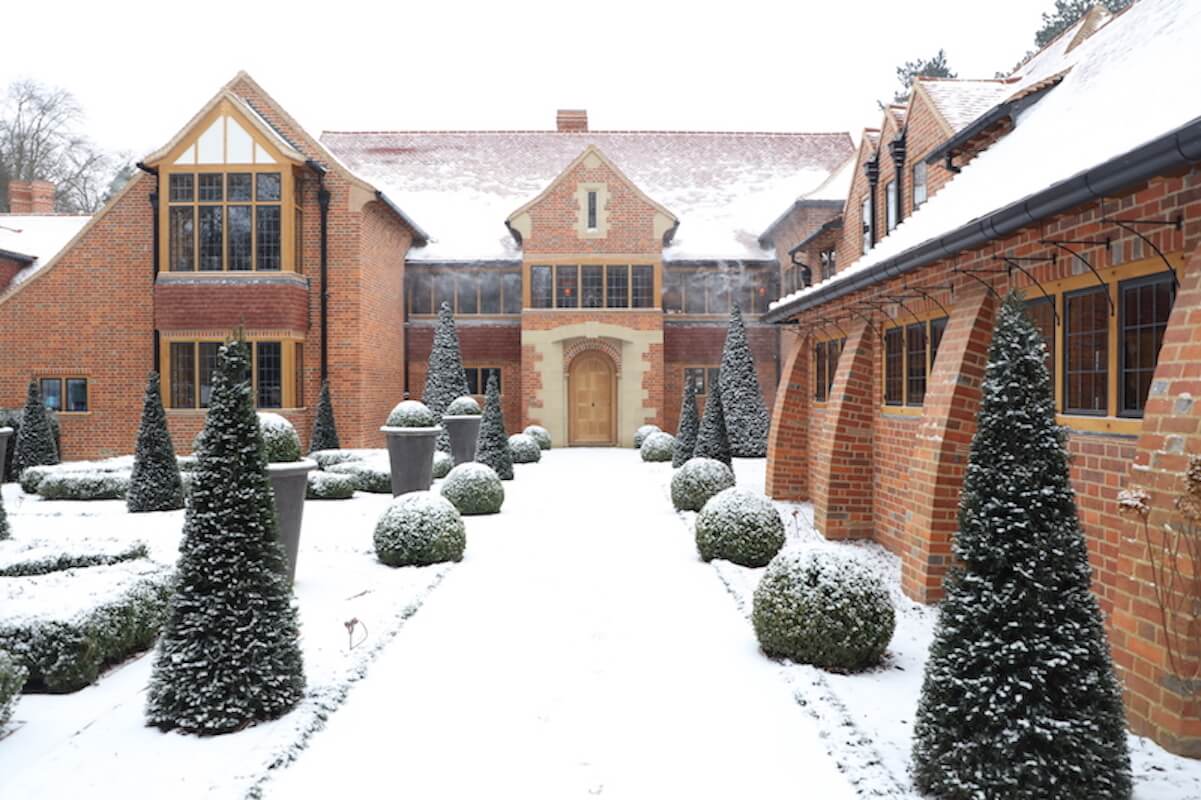 Here's a brief overview of some of the elements on Harpsden Wood House before we look at a snapshot of the year.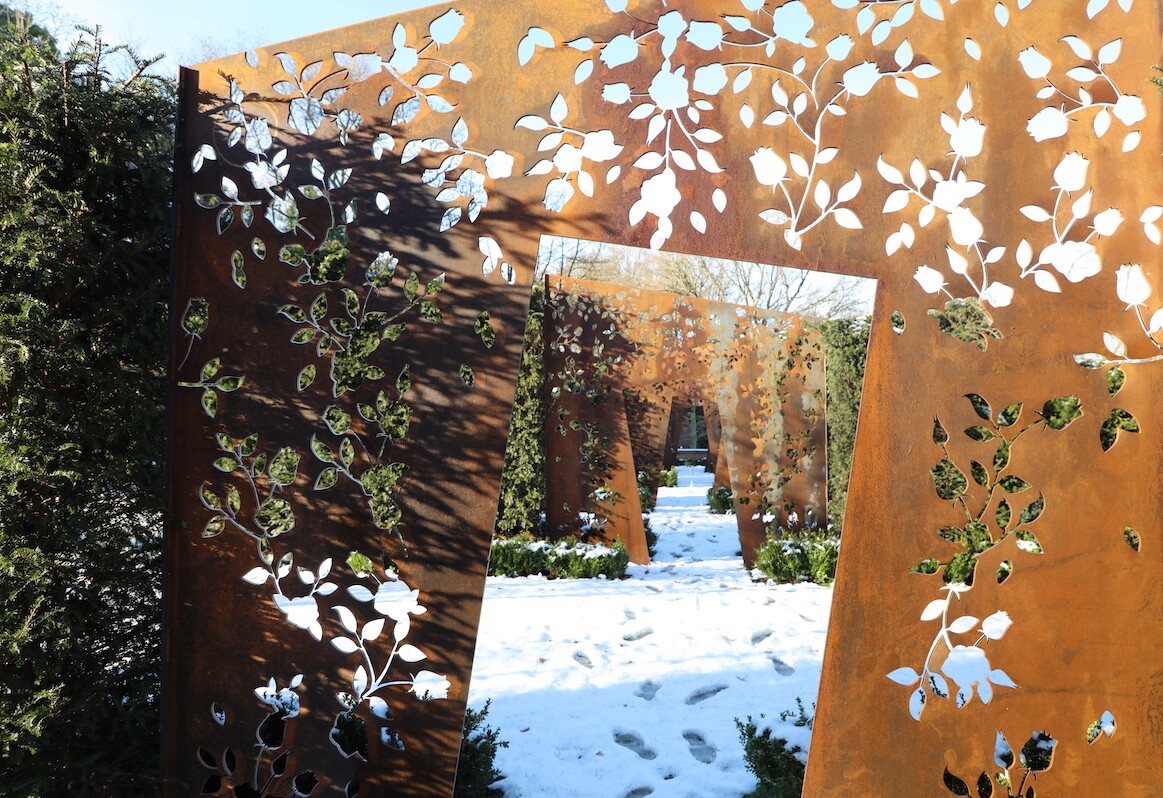 We specialise in using natural materials in conjunction with sustainable construction techniques and planting. The West Lawn Rose garden was constructed from bespoke waterjet cut corten metal. These panels host heritage Roses and form walls with precision clipped Yews. The distorted doorways dare you to enter and the high scent of a carefully selected Rose parlour makes West Lawn irresistible to pass.
Harpsden Wood House under construction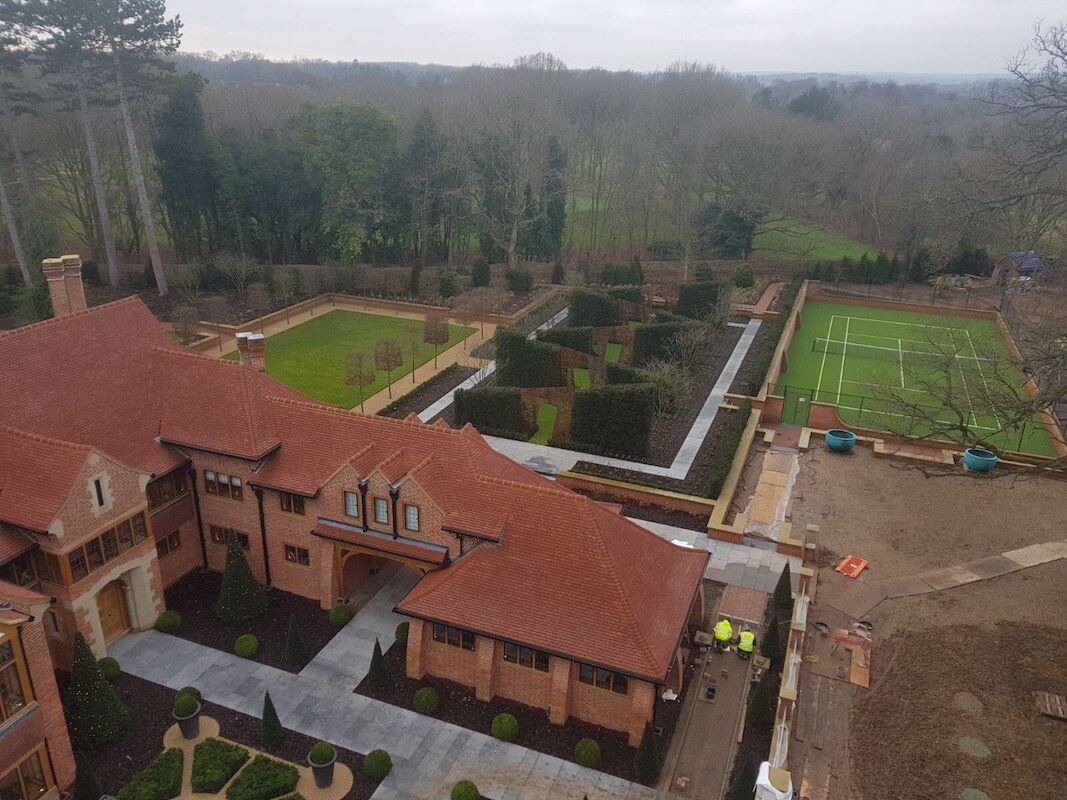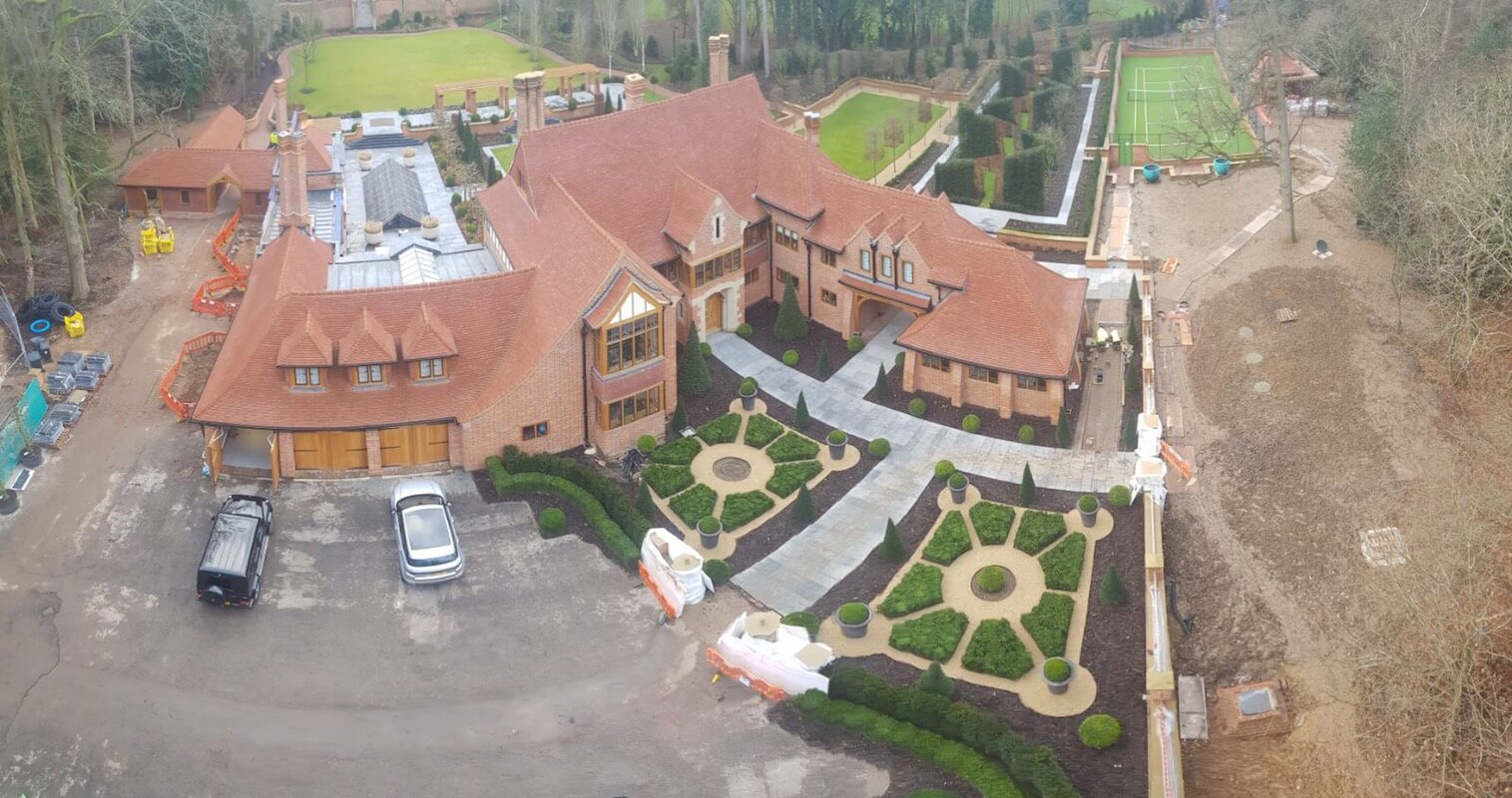 The entire project required precise detail and symmetry. Here North Courtyard is being engineered from sketch up to CAD to metal fabricators, to site location.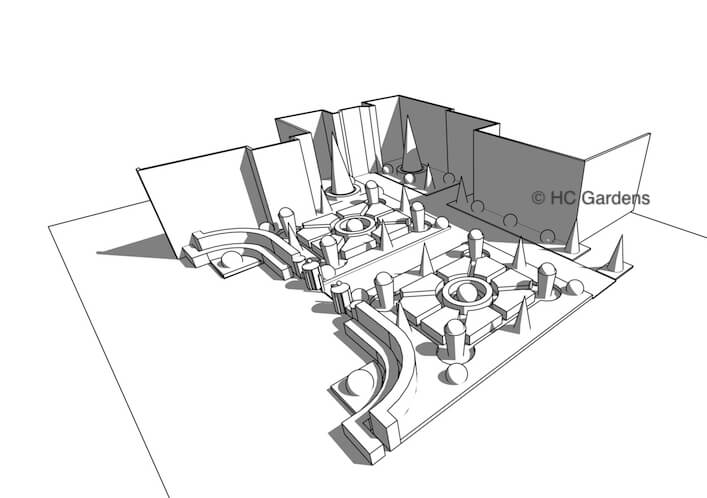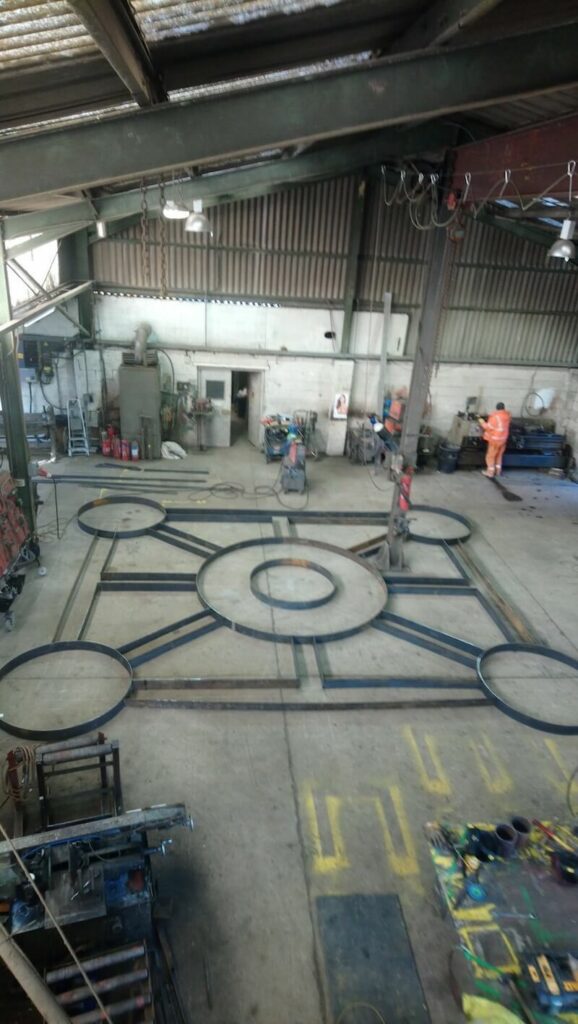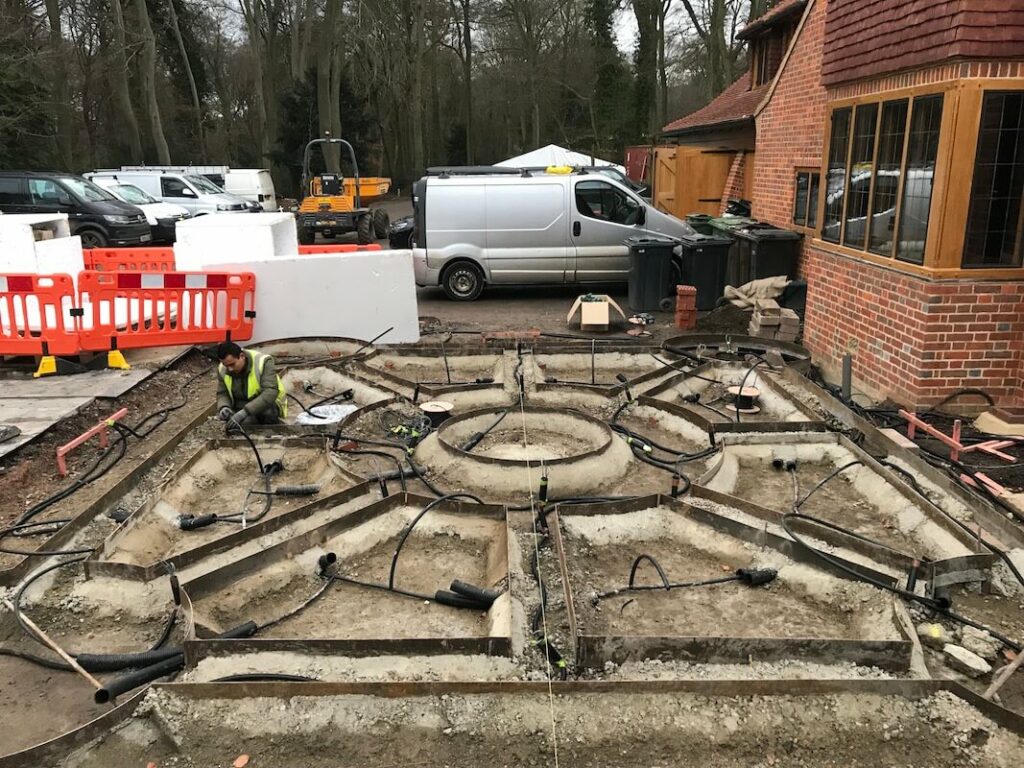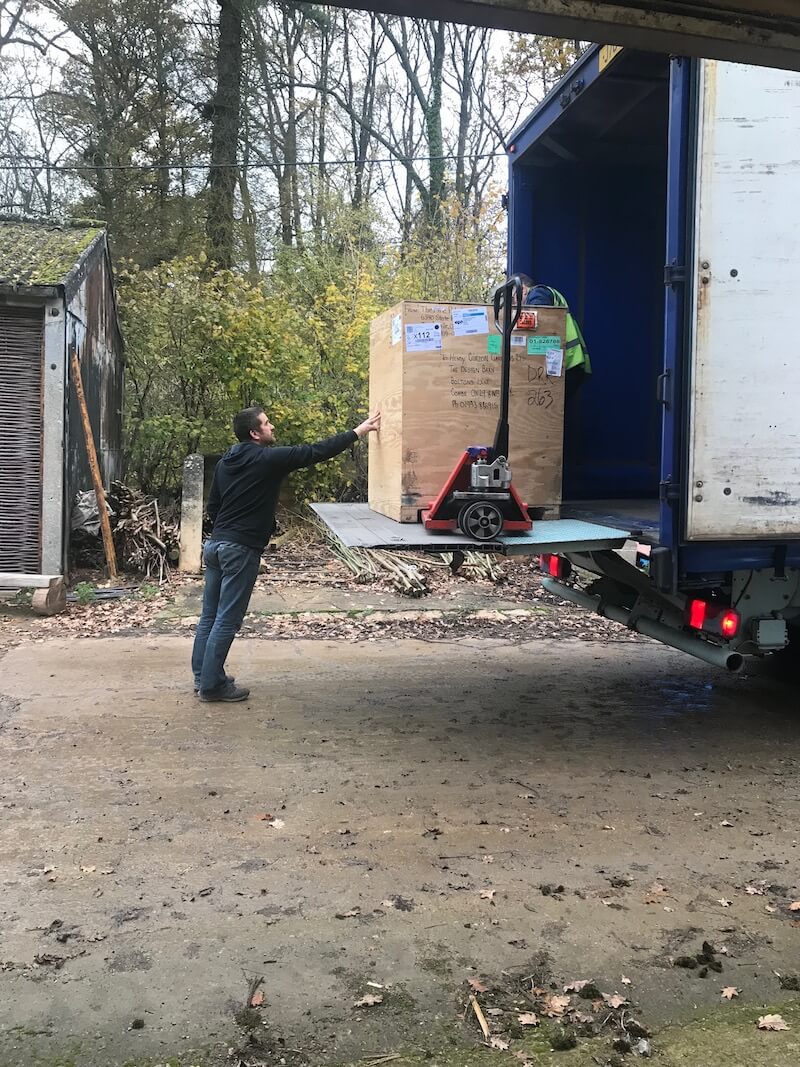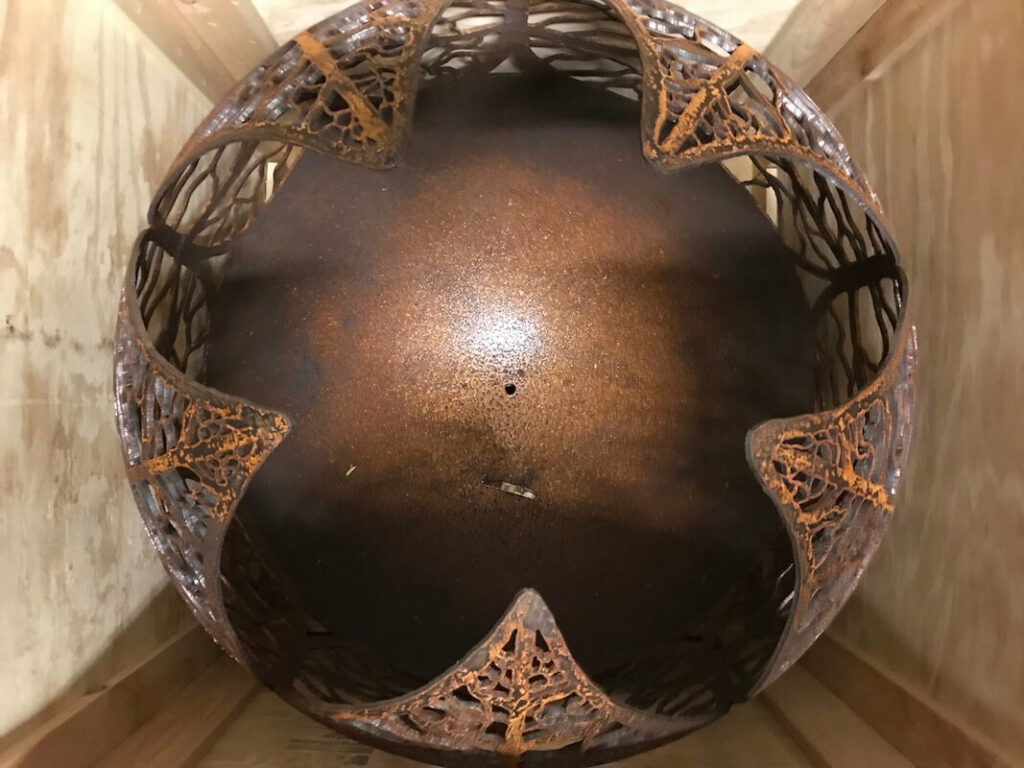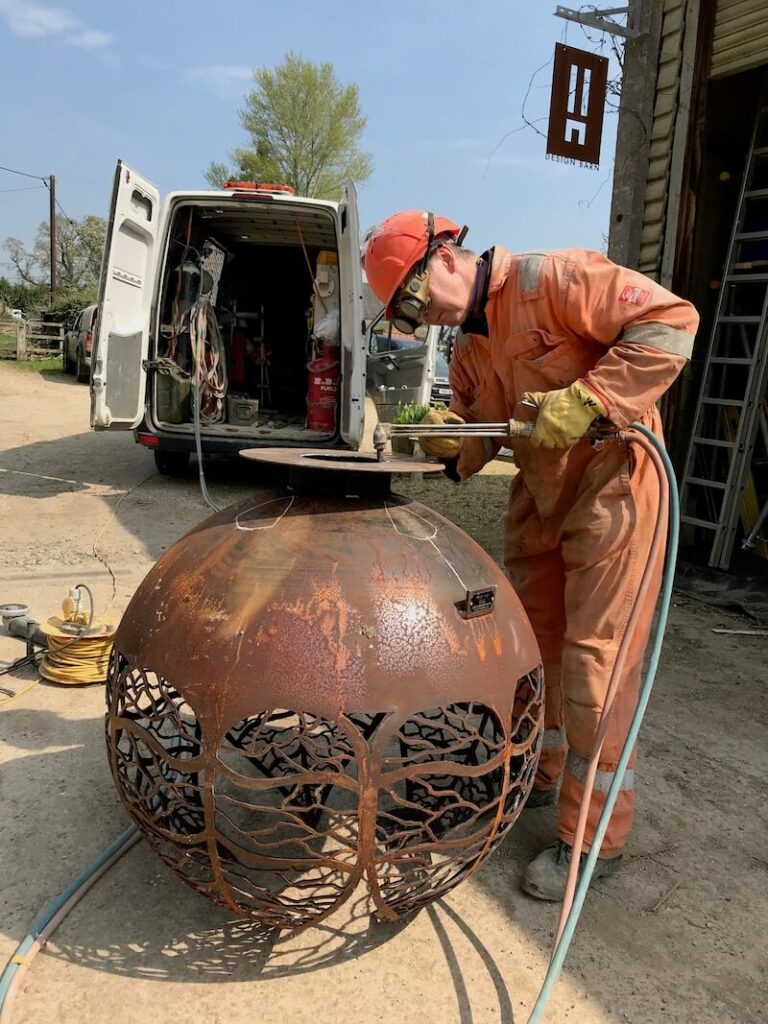 Fire sculpture from Ohio, to our Design Barn for fabrication, to site location.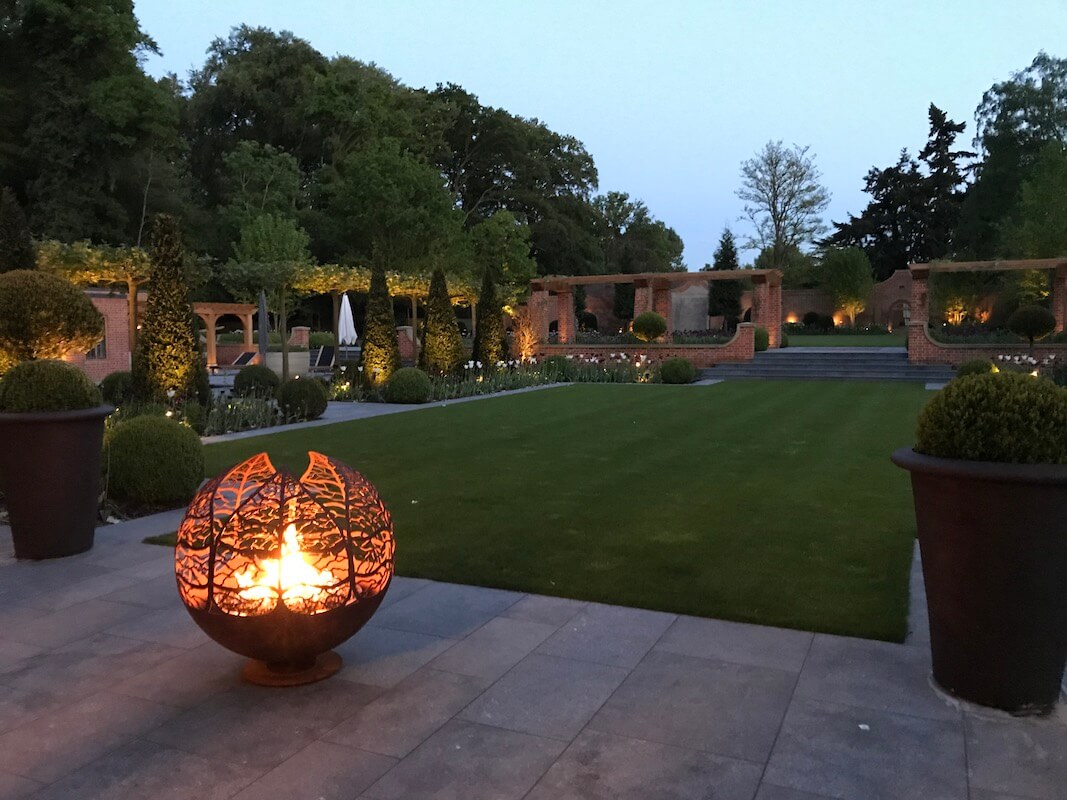 The level of bespoke detail for Harpsden Wood House required sourcing and selecting the best furnishings that would sit in harmony with the gardens. As we had pushed for a modern lean from the start, and with an artisan approach in mind we selected every piece scrupulously. Some were taken from our covet list such as the Paola Lenti furnishings for the loggias, poolside and Tennis pavilion. Many were discovered for the project after rigorous research and design explorations.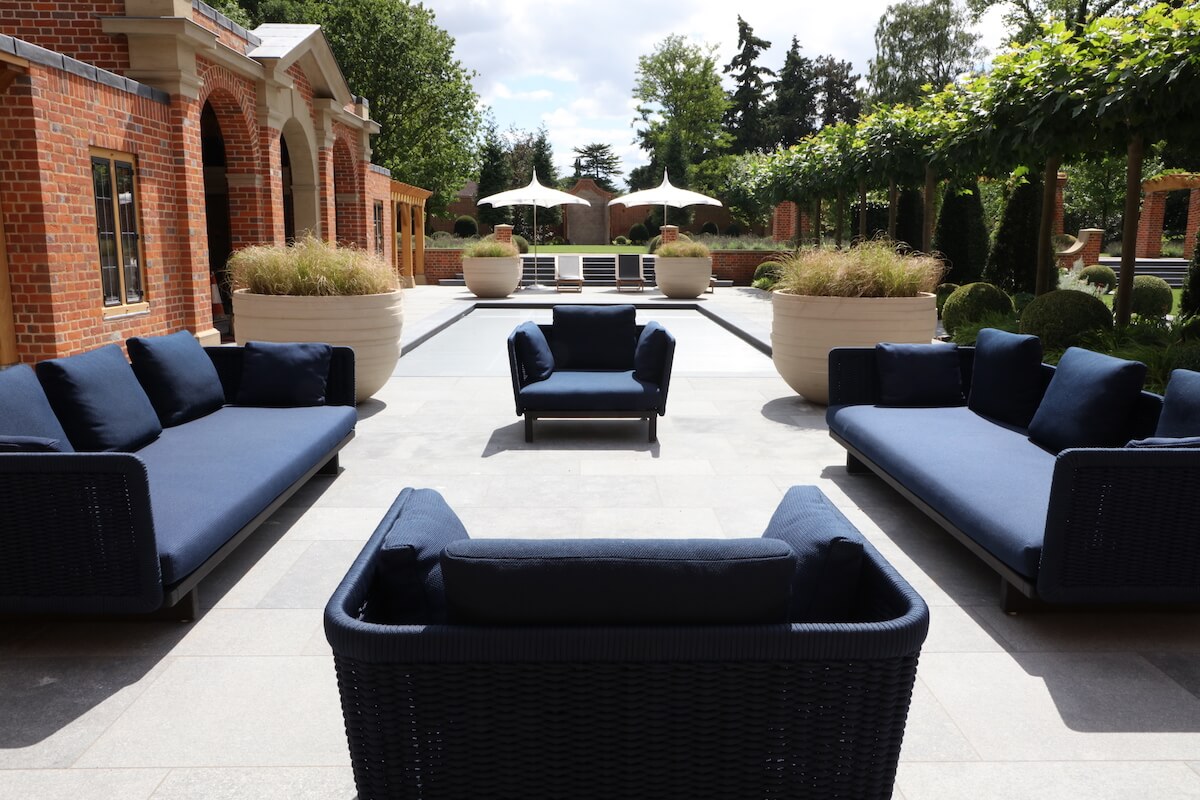 Tennis court under construction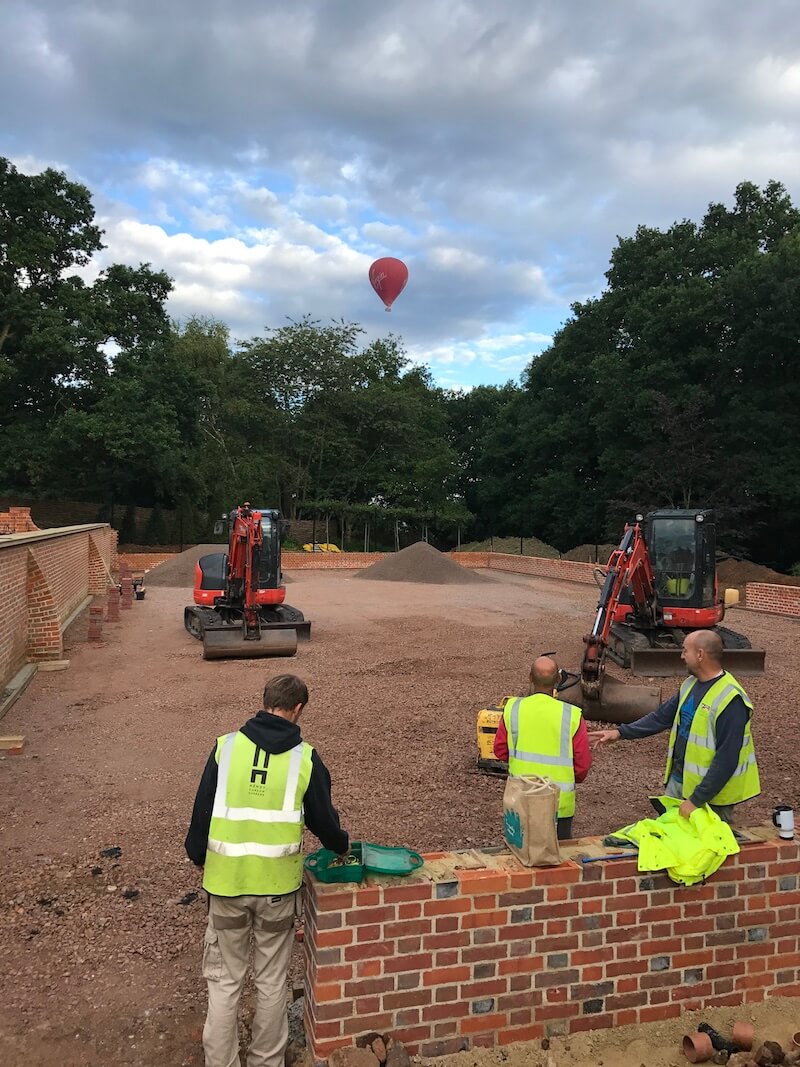 Tennis court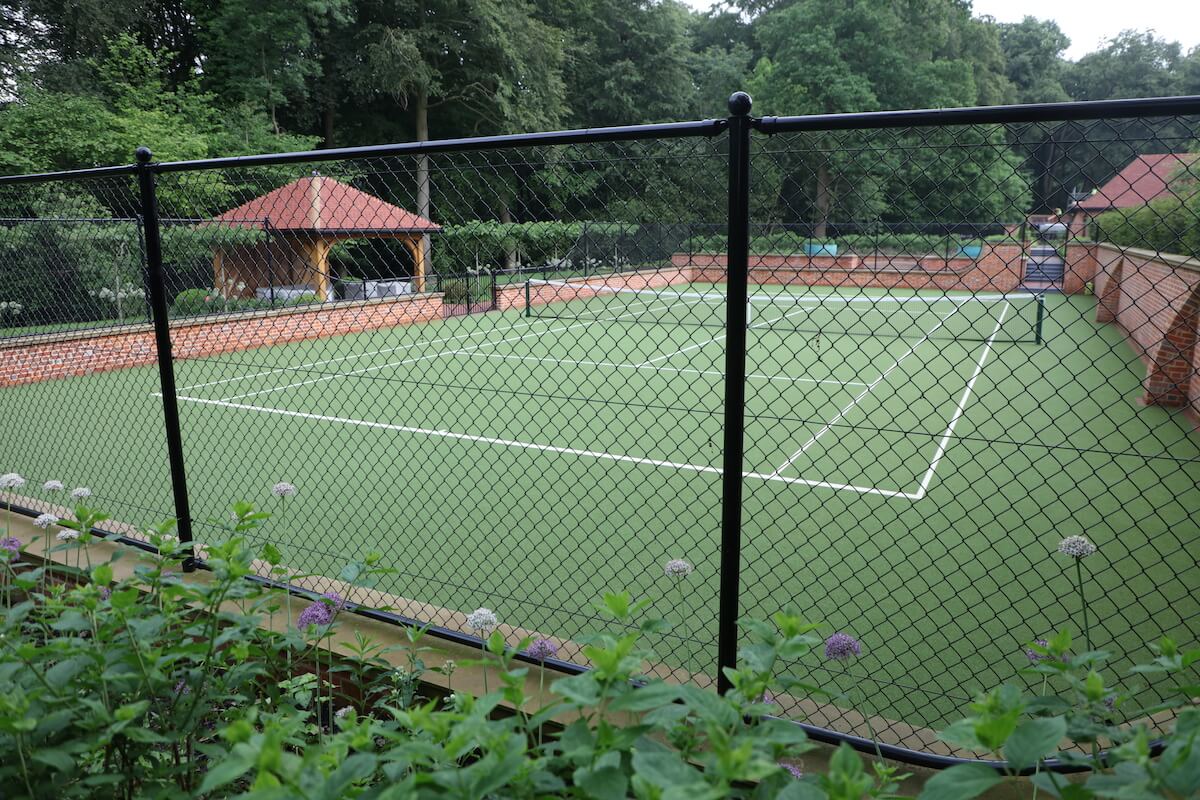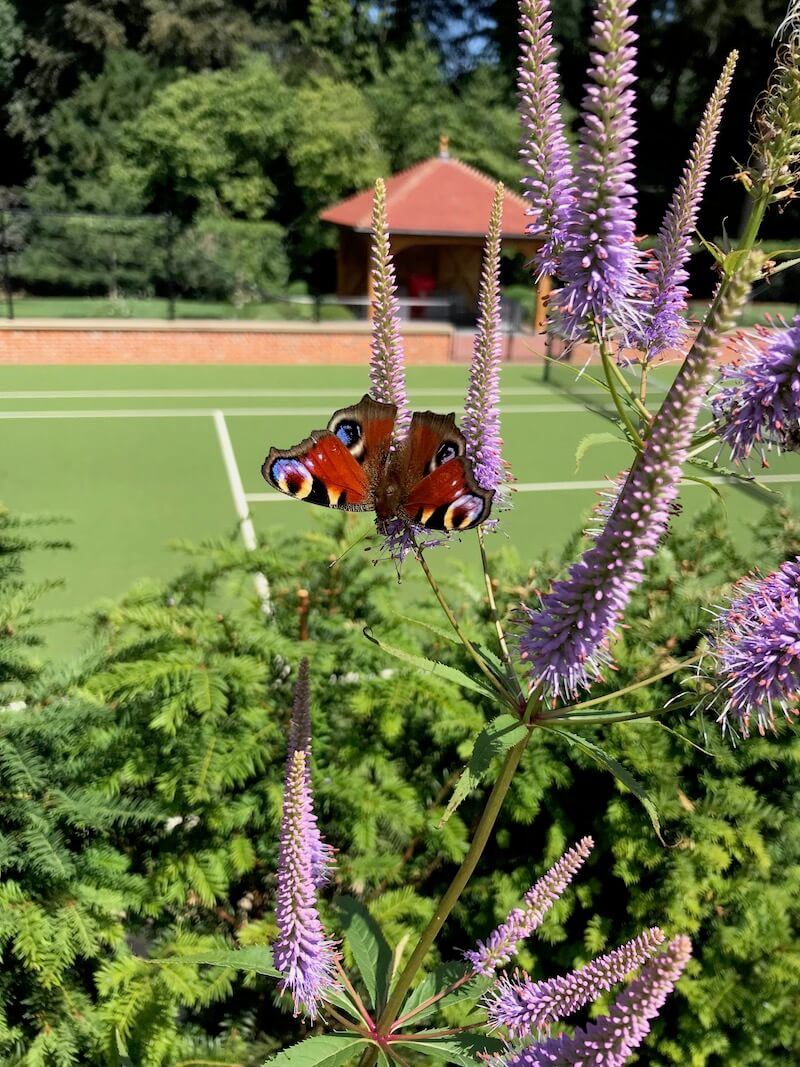 Kitchen & Cut Flower garden under construction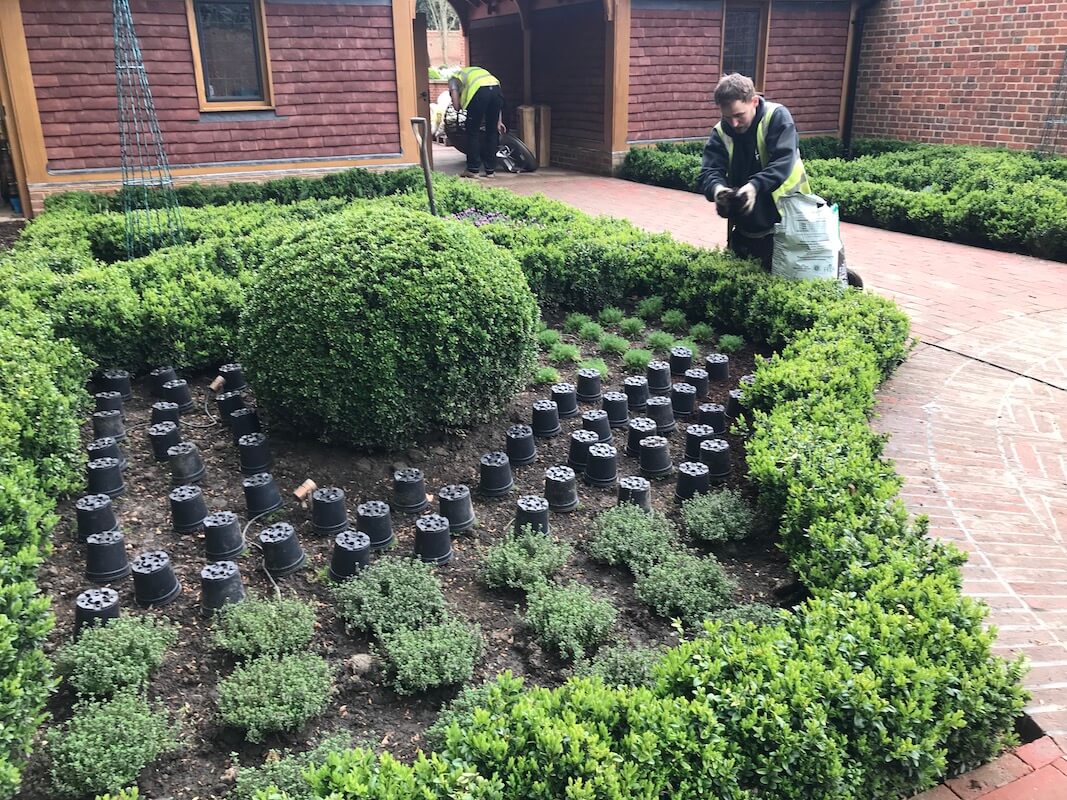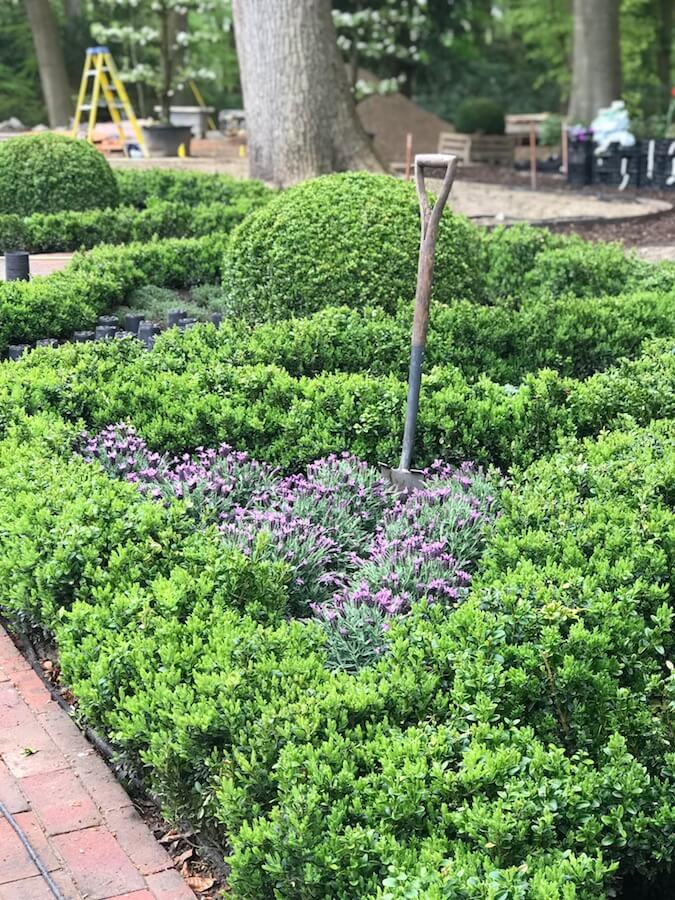 Kitchen Cut Flower garden with Lily bowl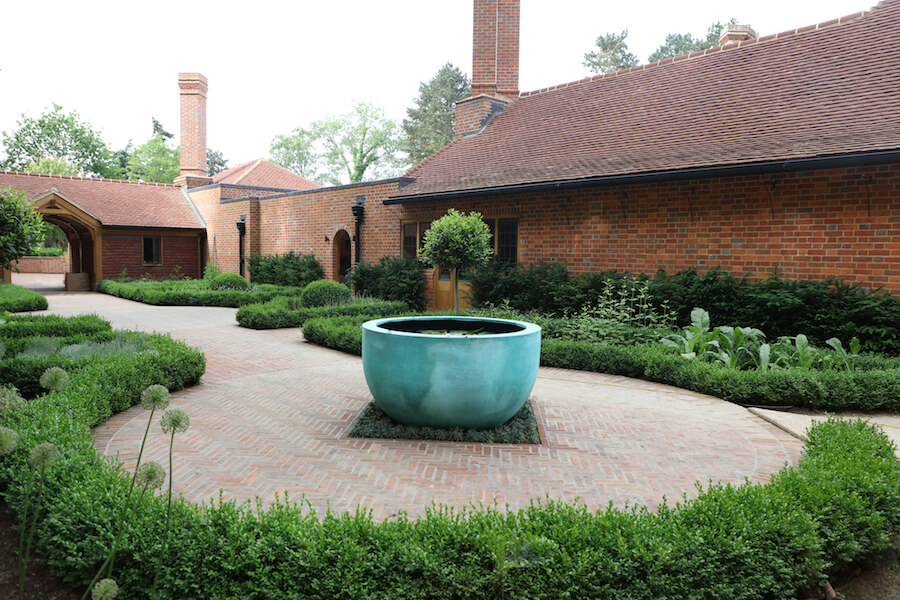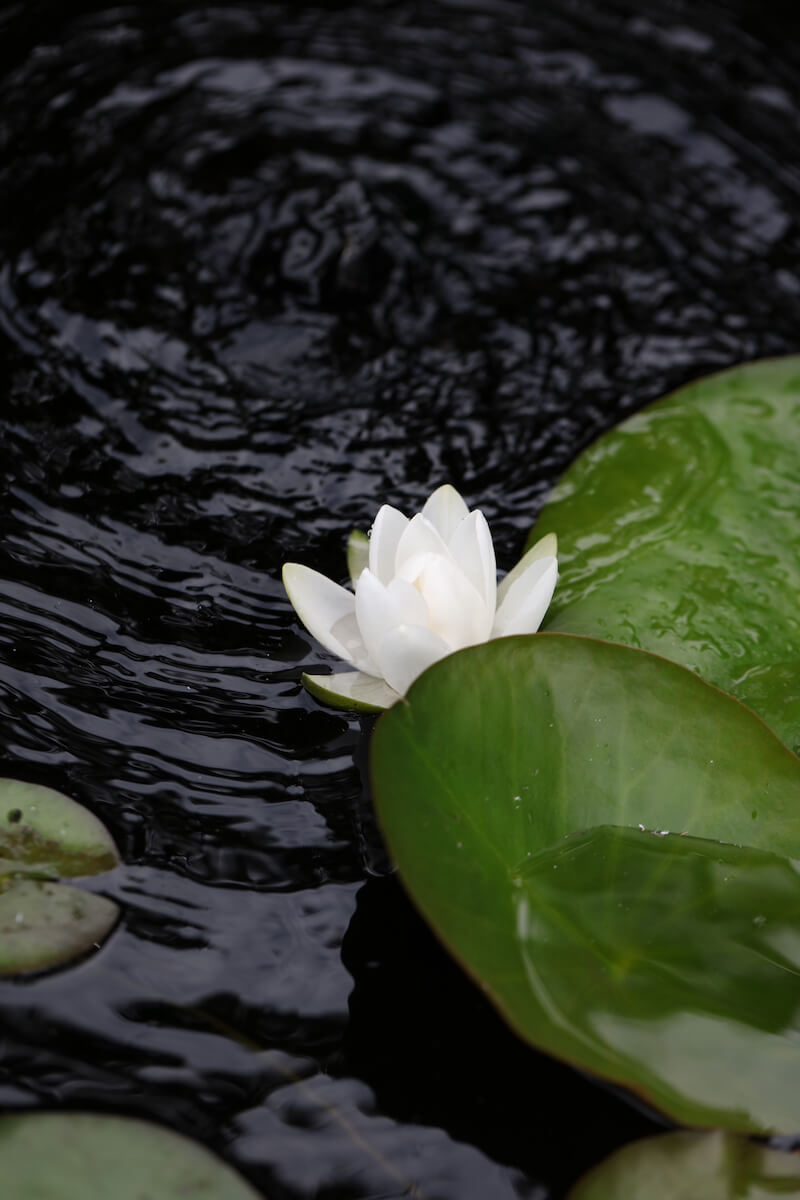 At the heart of the Woodland Playscape at Harpsden Wood House we pictured a giant nest… this evolved into, well, a giant nest. This had a direct relationship to the Playscape design as the intention was to create a completely interactive Woodland. A hardwood deck base and boardwalk were constructed to connect it with one of the climbing frames. We commissioned giant egg sculpture seats in naturally oxidised chamotted clay in dove white and duck egg blue from Bruge. A giant organic and durable nest sculpture constructed from willow, hazel and chestnut was commissioned.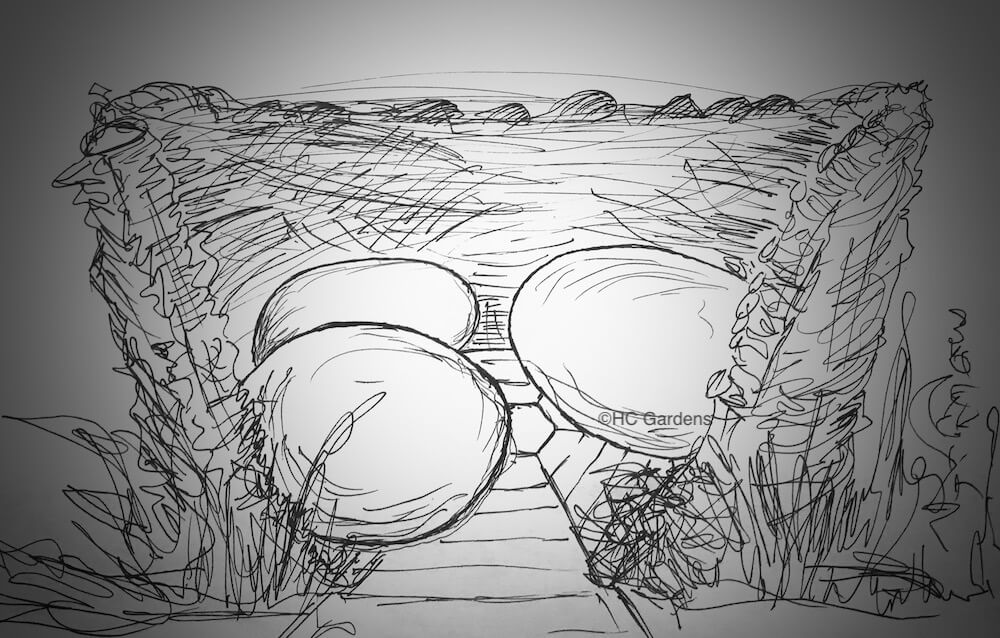 This restful retreat has now become a place where the children go to read in the warmer weather.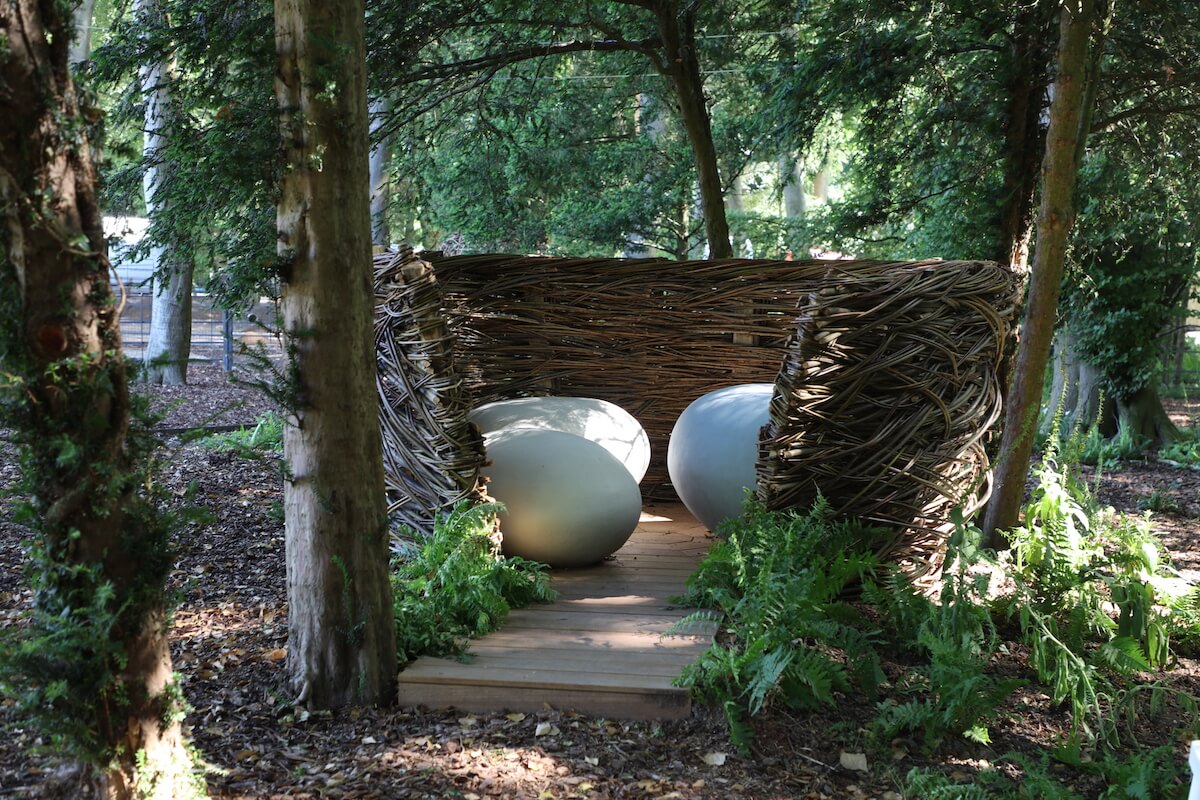 Bite sculpture by David Harber in copper and mirror polished stainless steel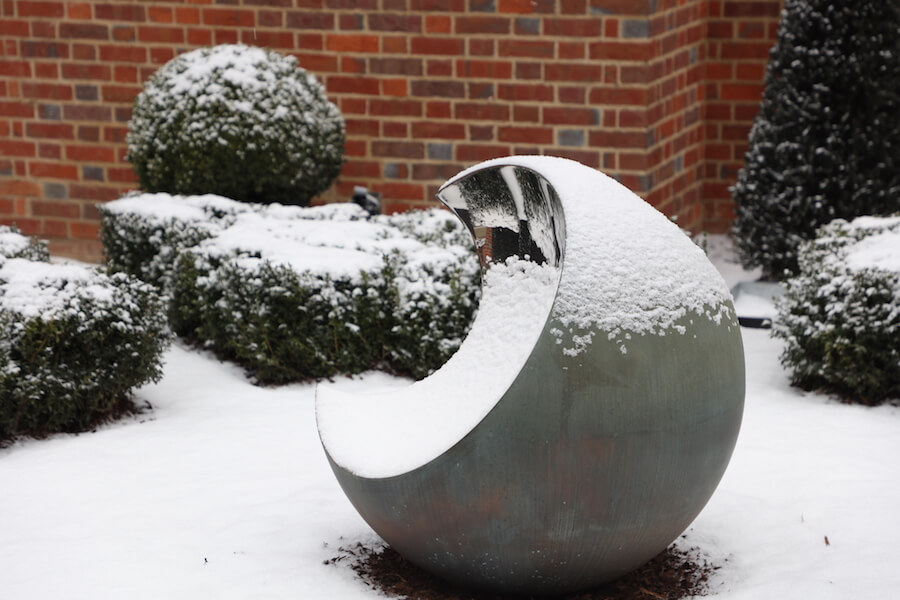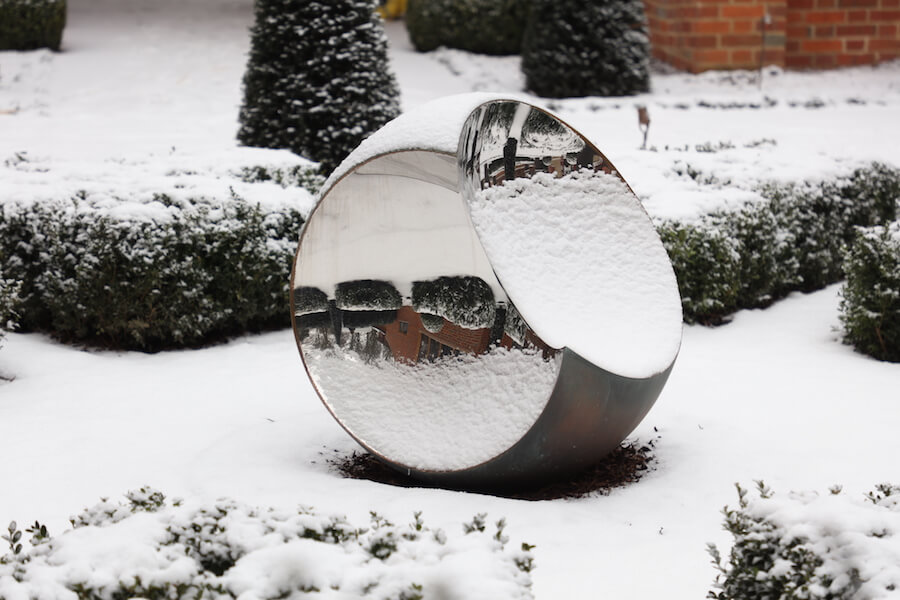 Now back to our snapshot of the year
January
Alongside Harpsden Wood House, members of the team were squirrelling away over on The Rolling Hound Project, turning this into a waterside property.
By early Summer…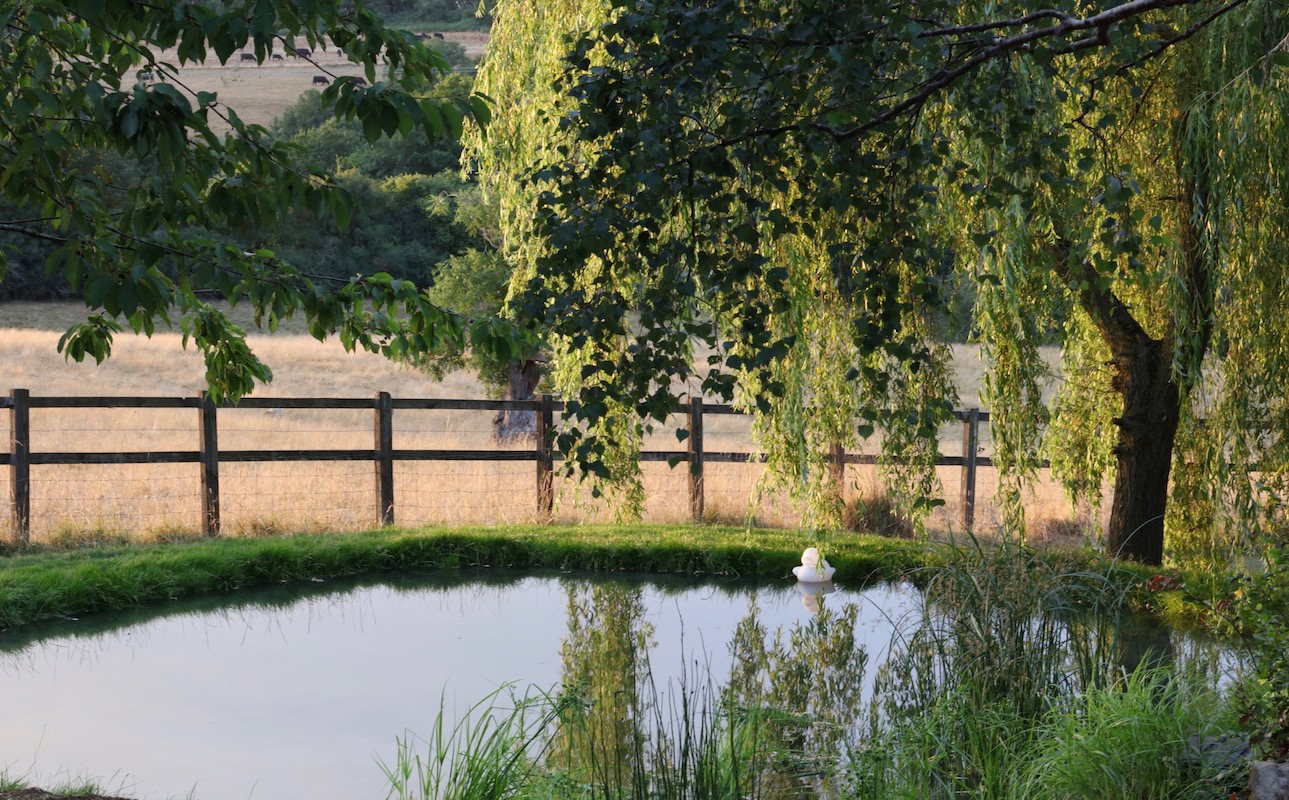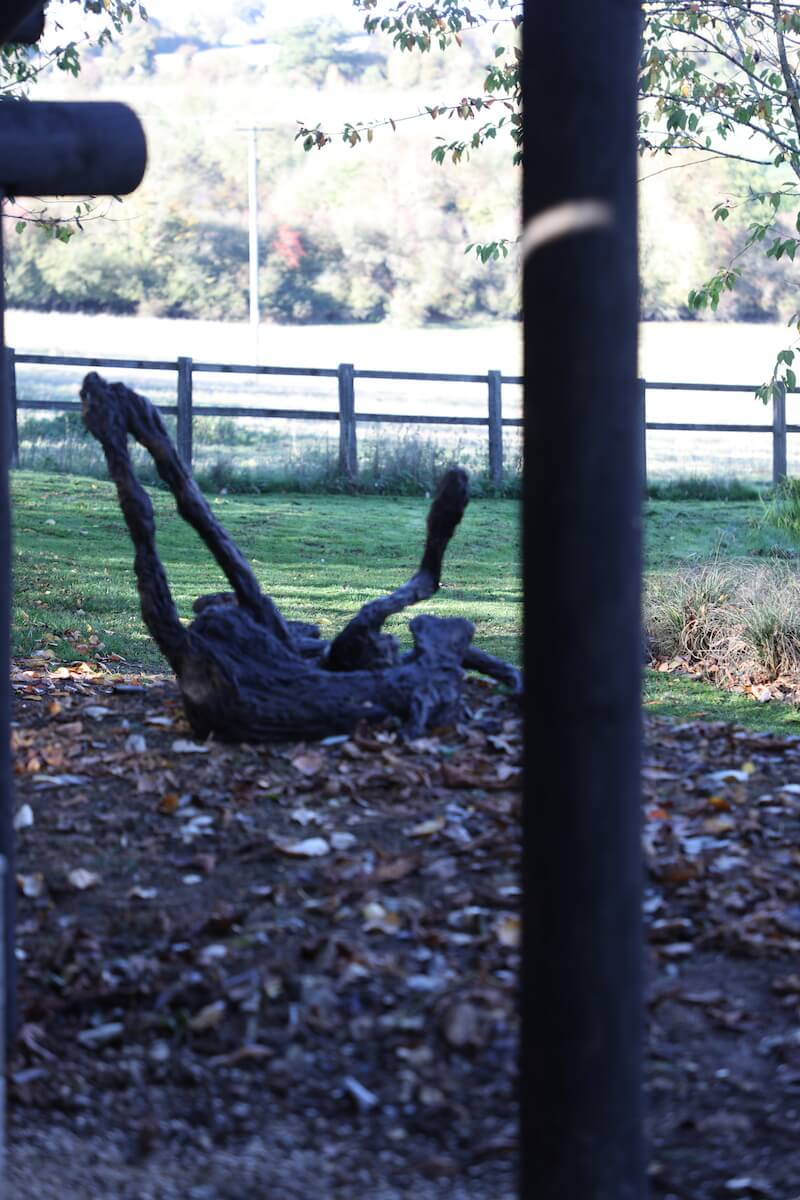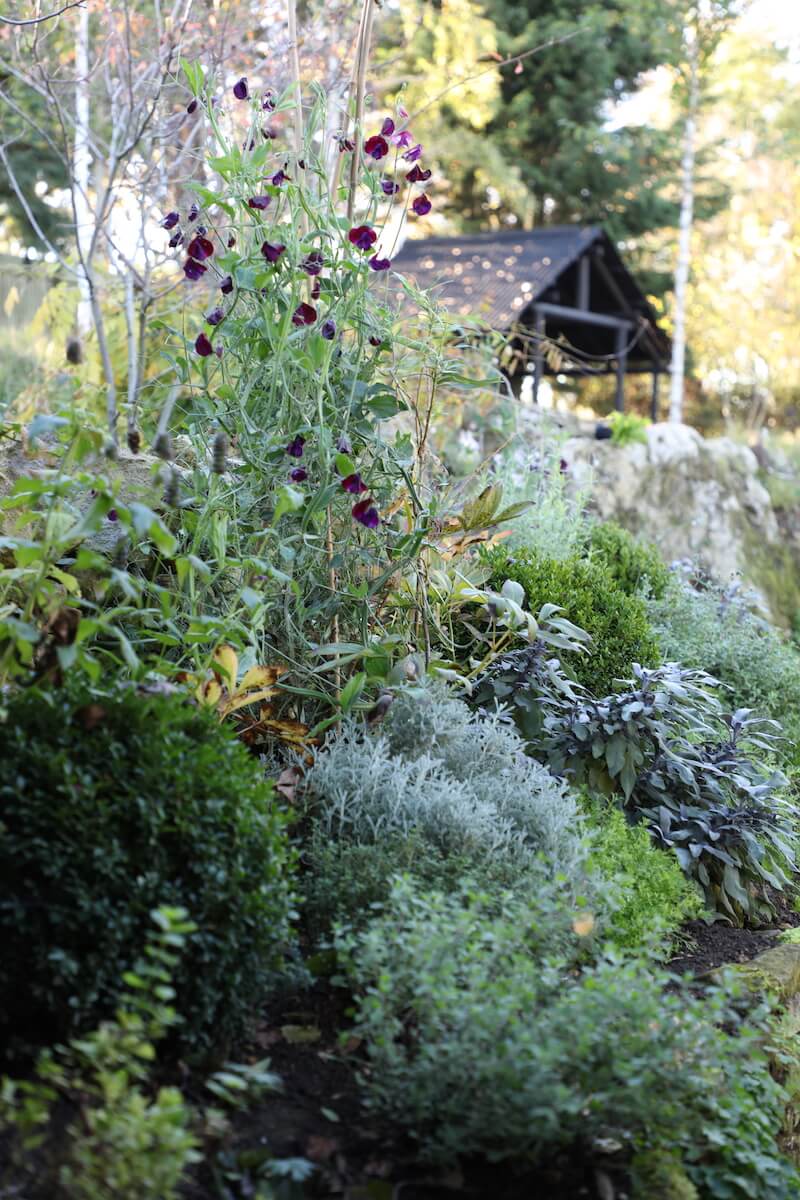 The Rolling Hound with Shack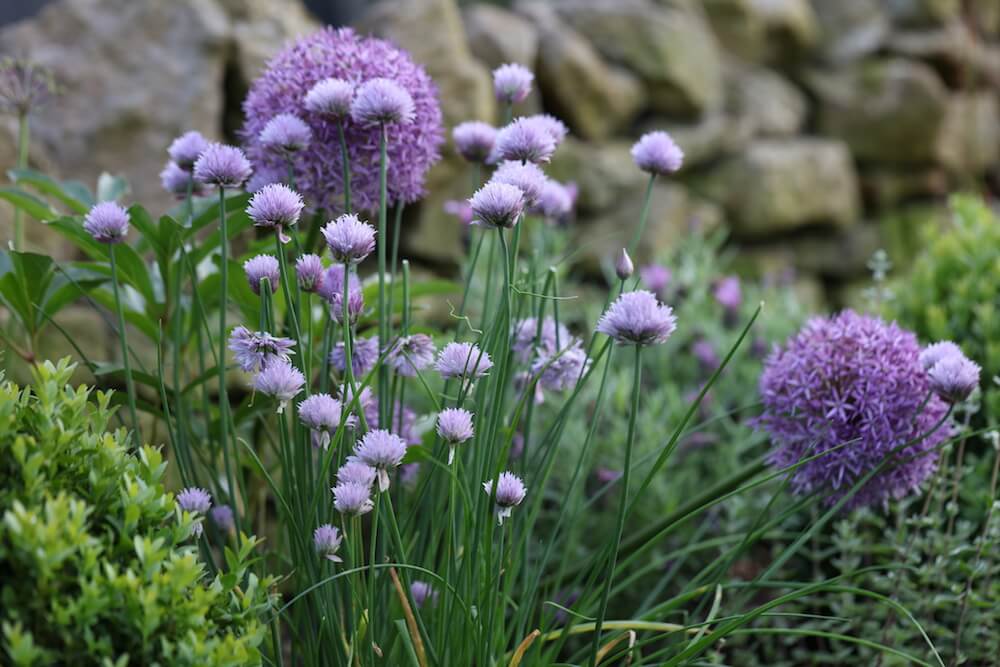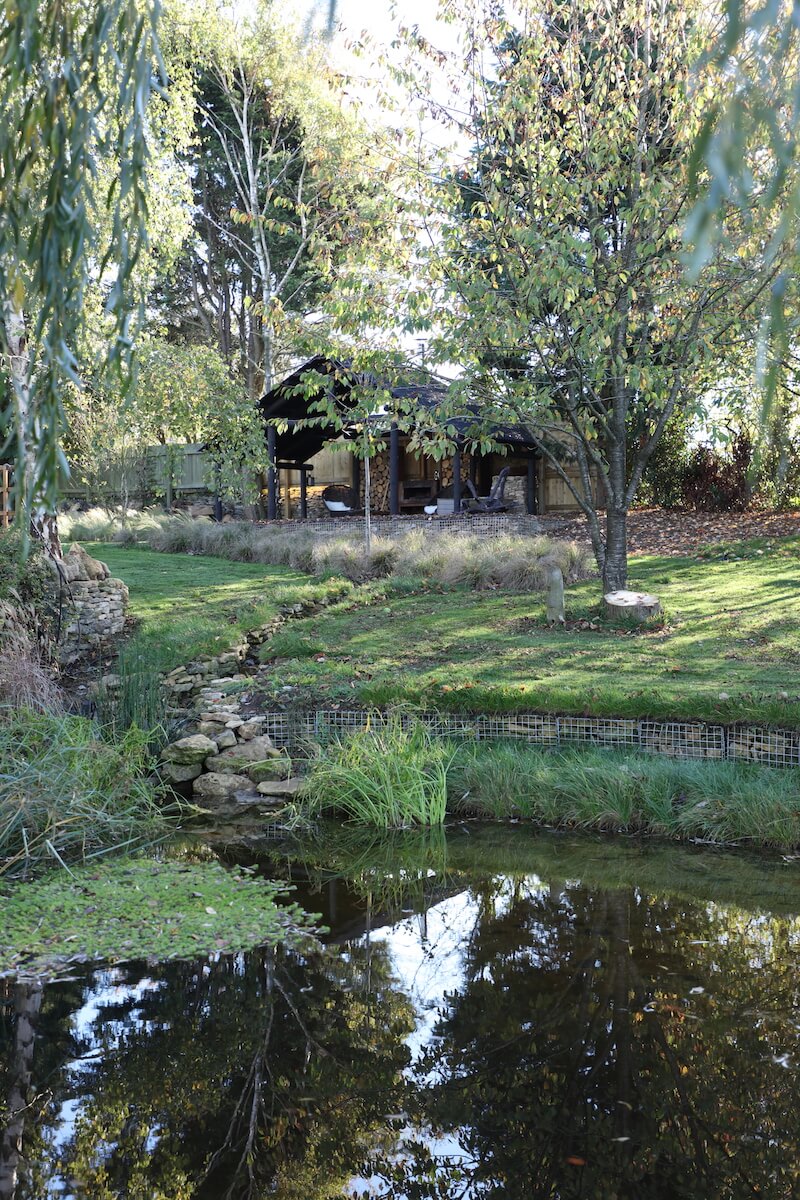 February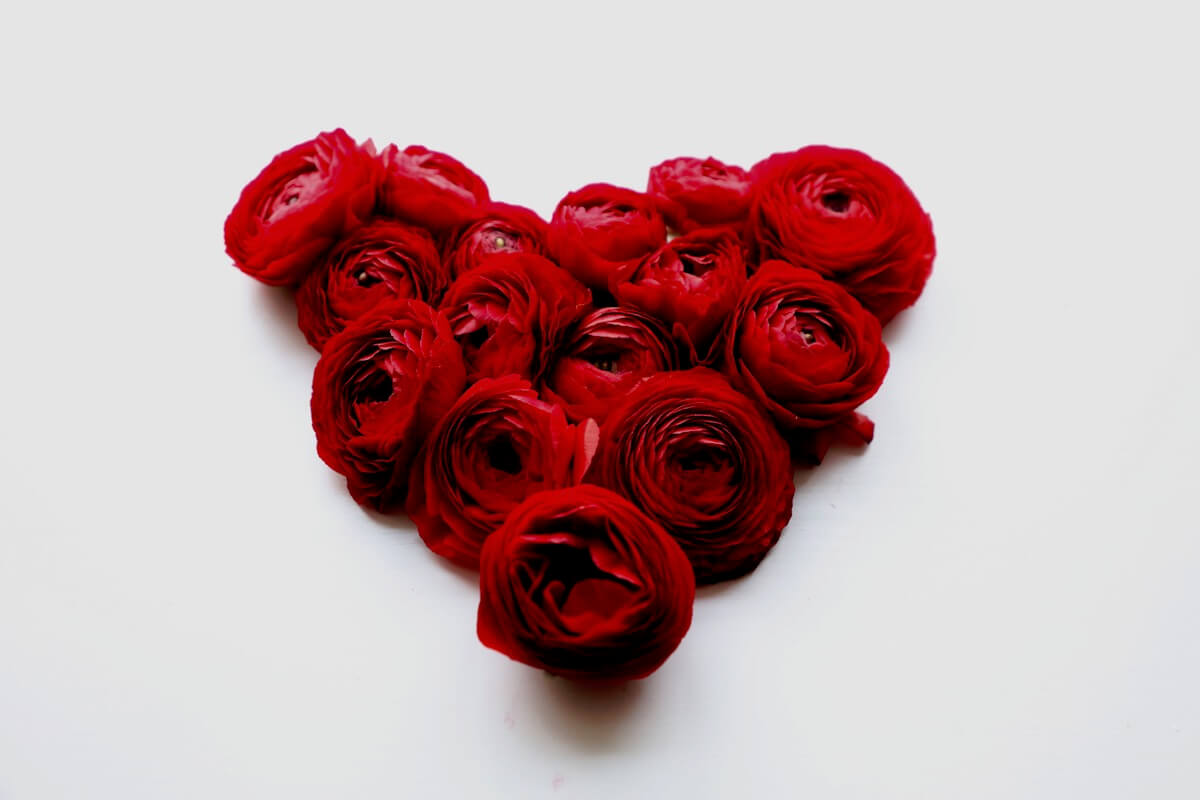 Come February, we thought we were past the worst of the weather and progress was made on the Henley site. At that time we were appointed to design two more projects in the area. One of them was for another Arts & Crafts house – Crouch End on Crazies Hill. In this case a complete new build. The other was a Georgian mansion – HWH / High Wall House. Both projects and sites are similar in scale but those are the only similarities the two projects share. We welcomed the challenge to create designs for such differing briefs.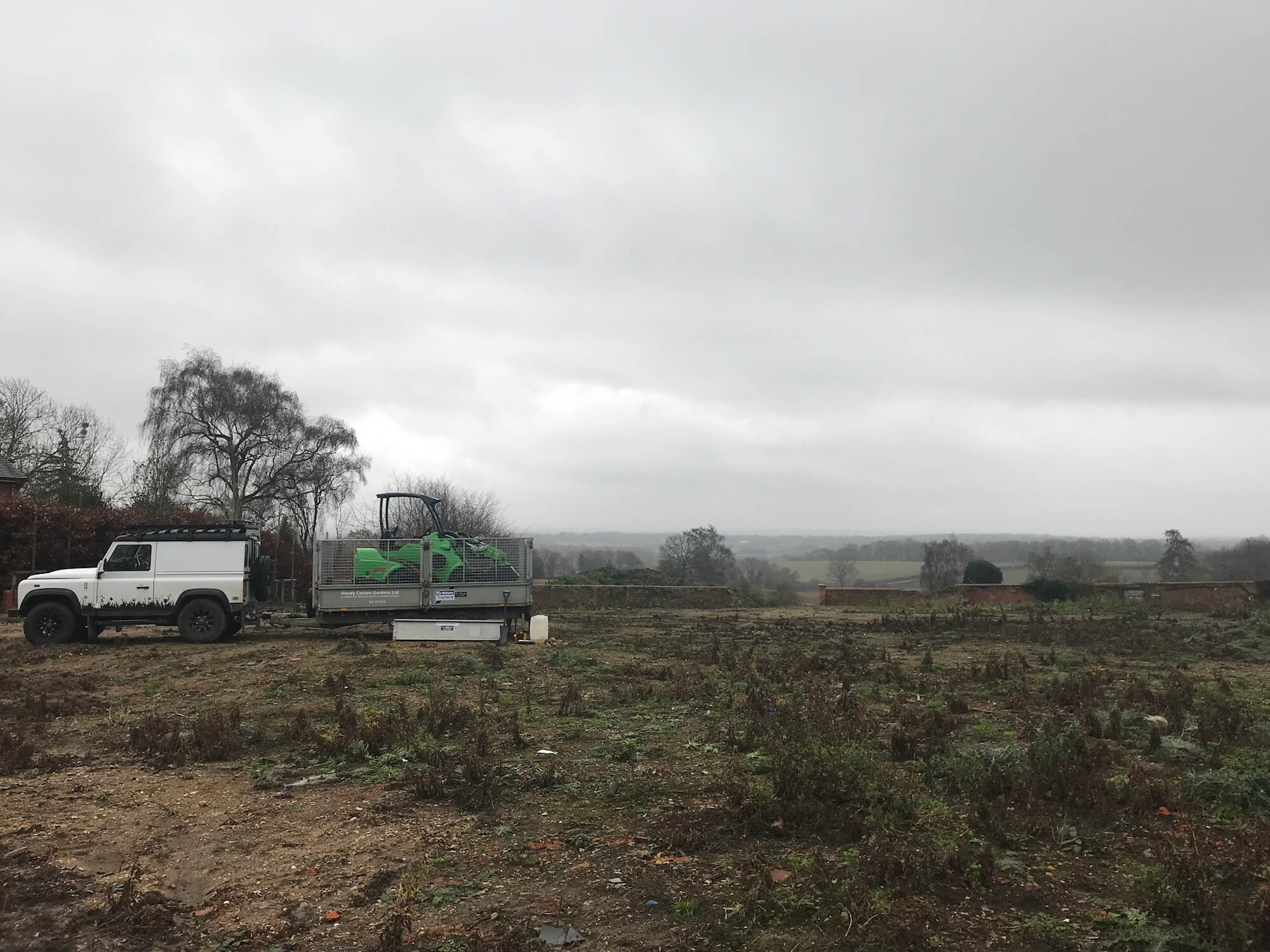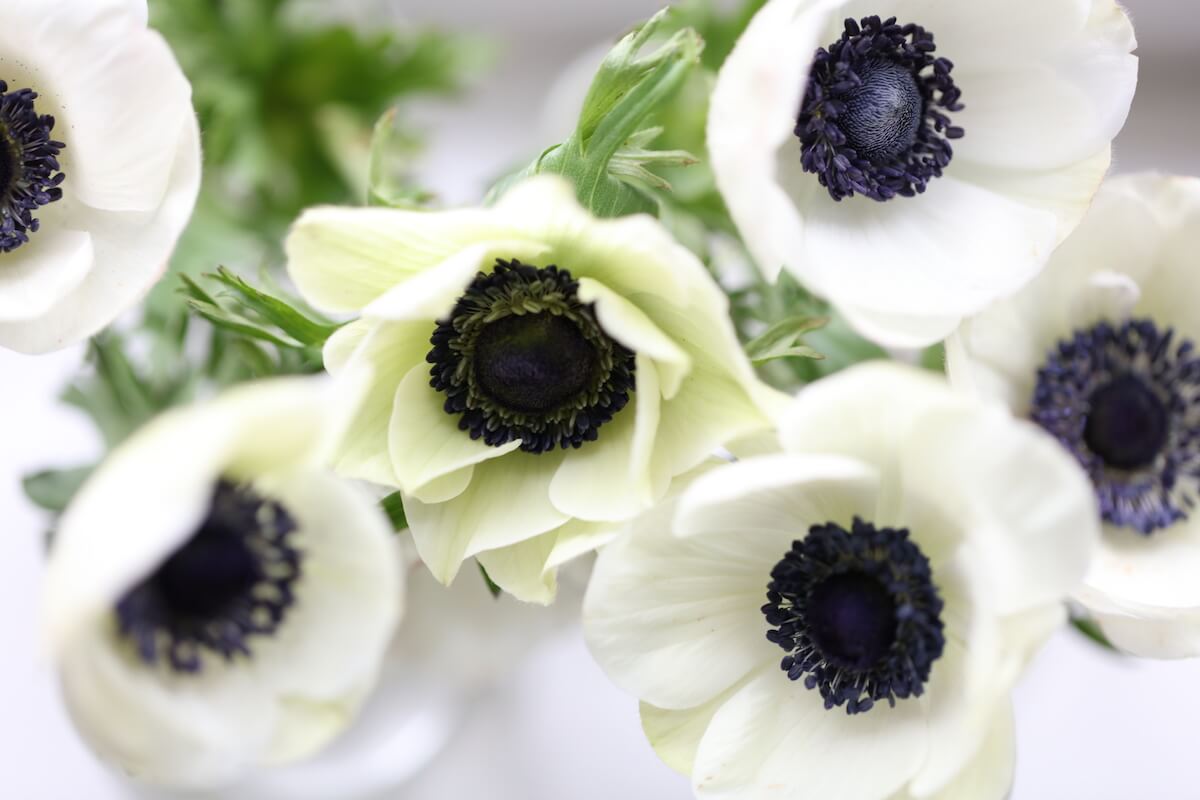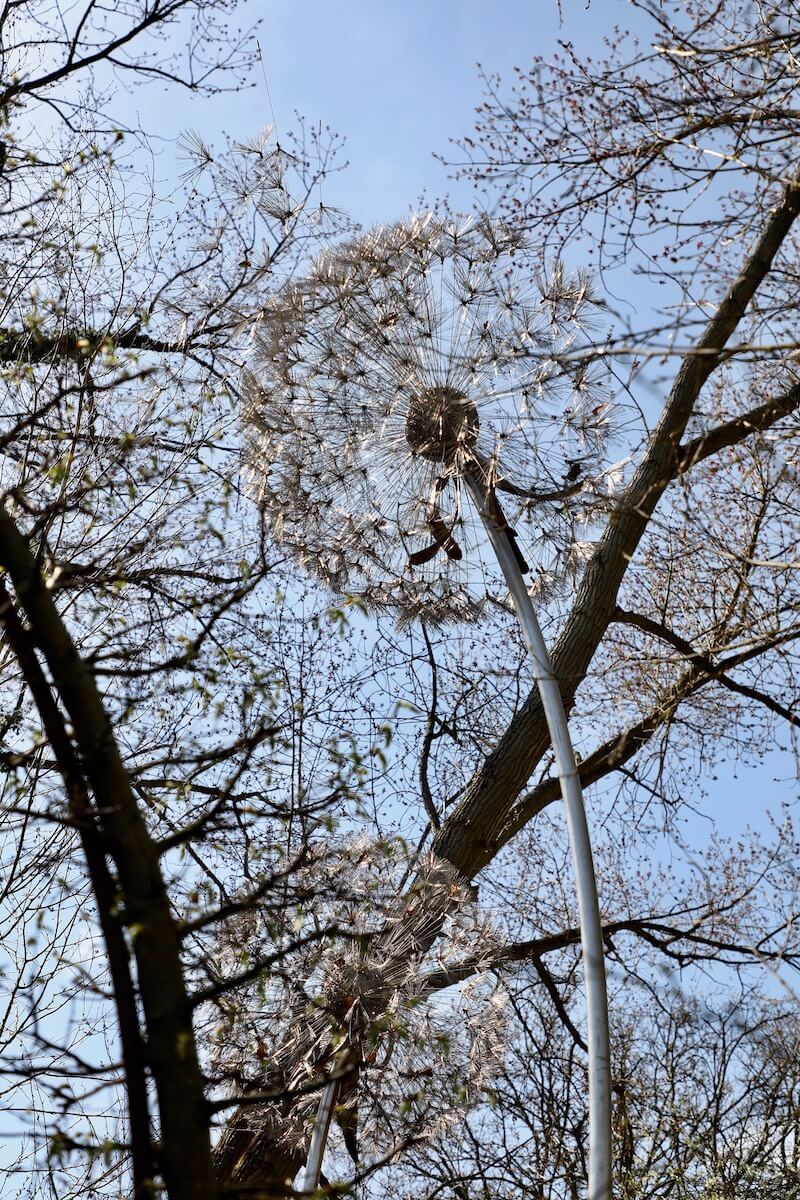 Giant bespoke Dandelion sculptures at Harpsden Wood House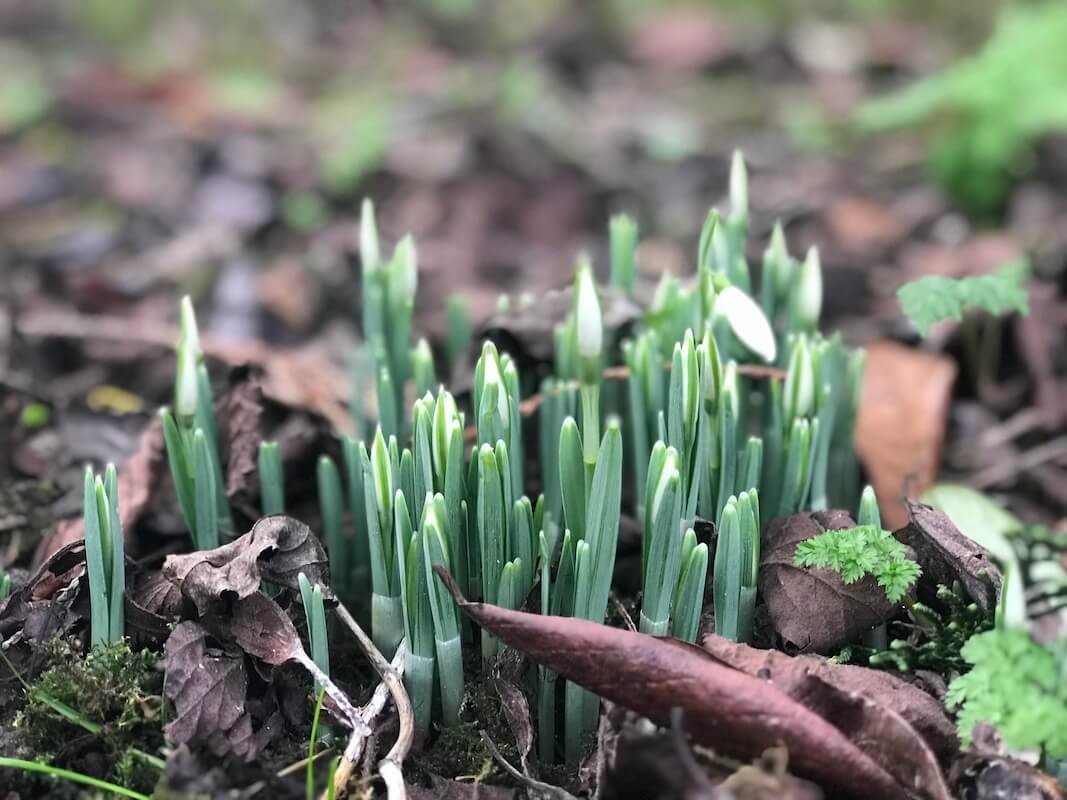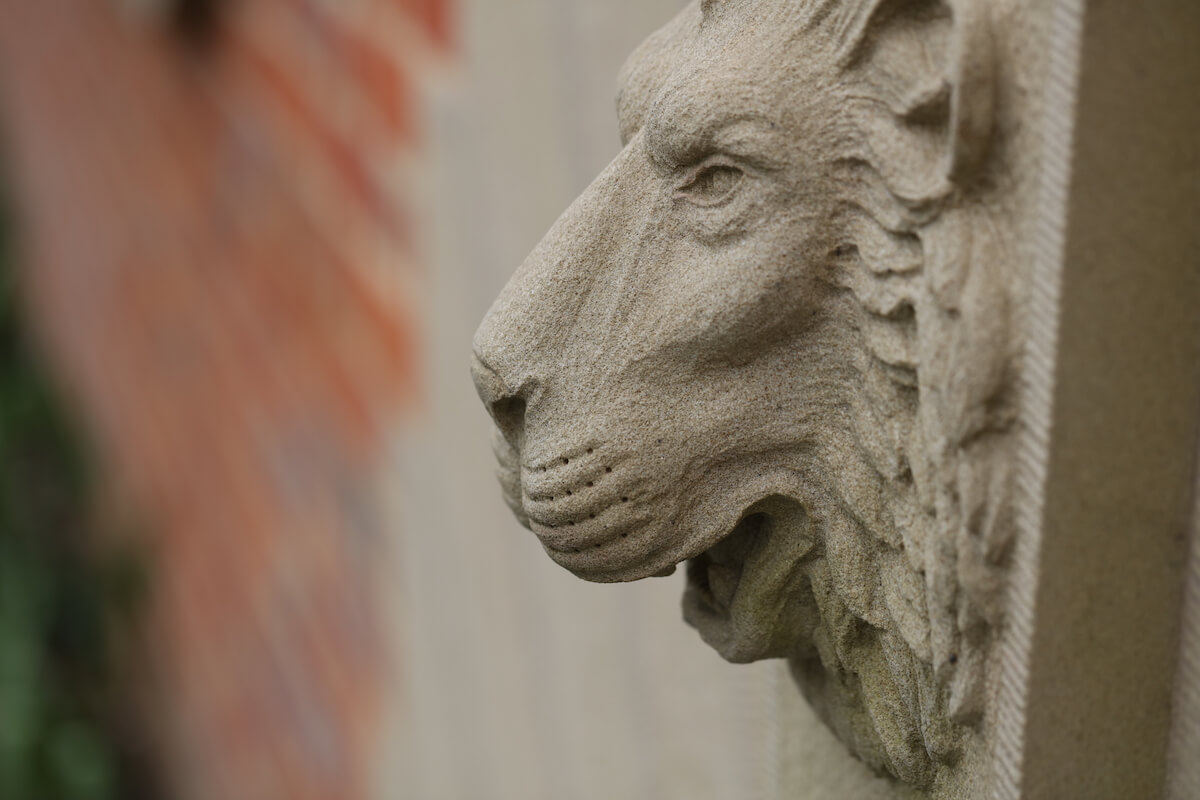 With the return of snow at the start of March 2018  – Harpsden Wood House became Narnia
March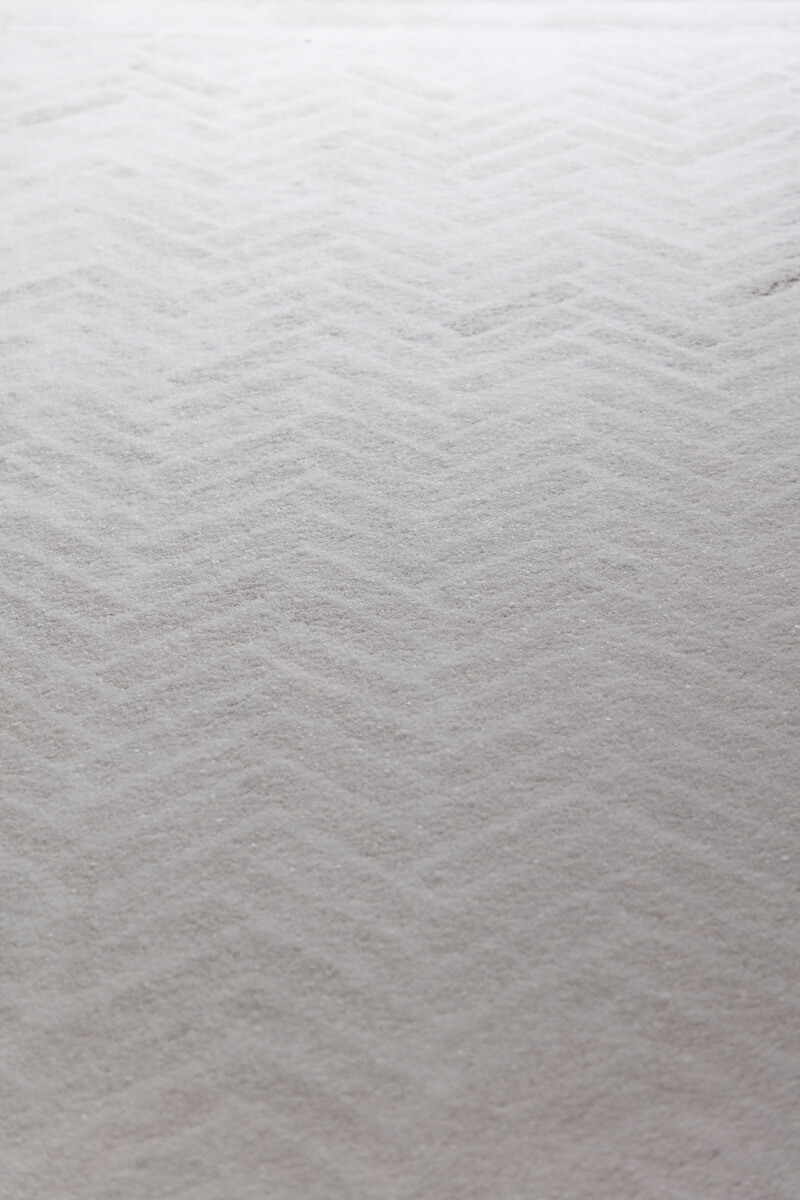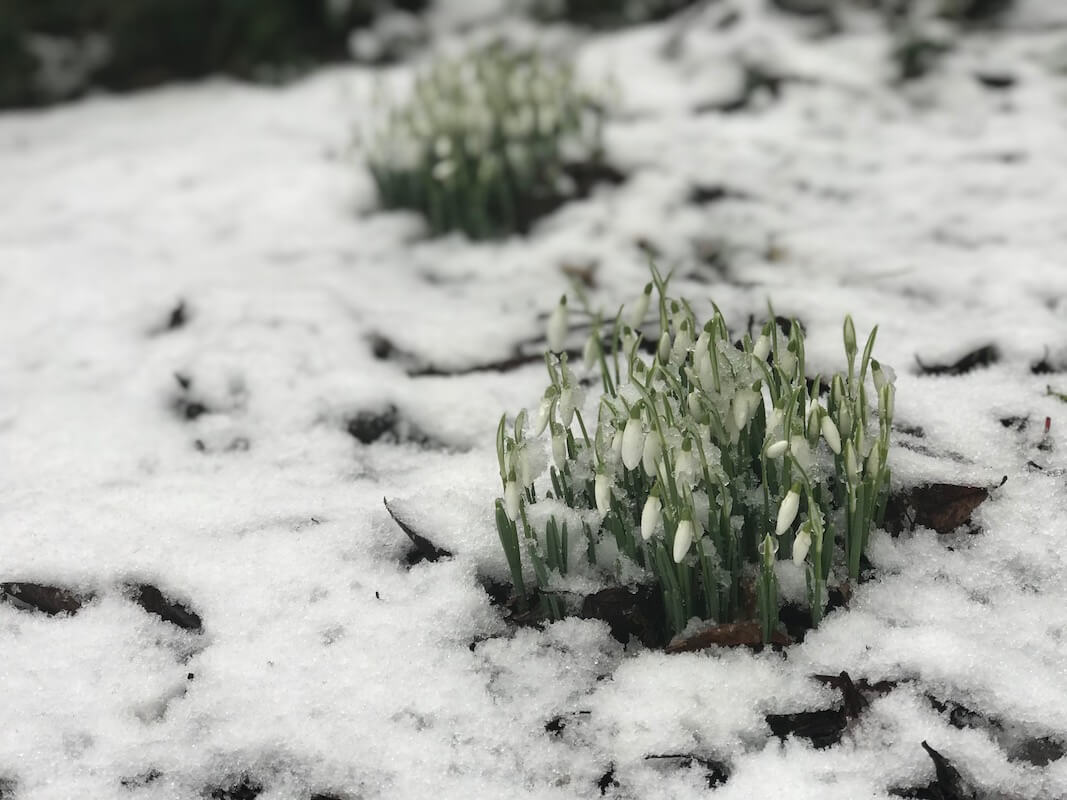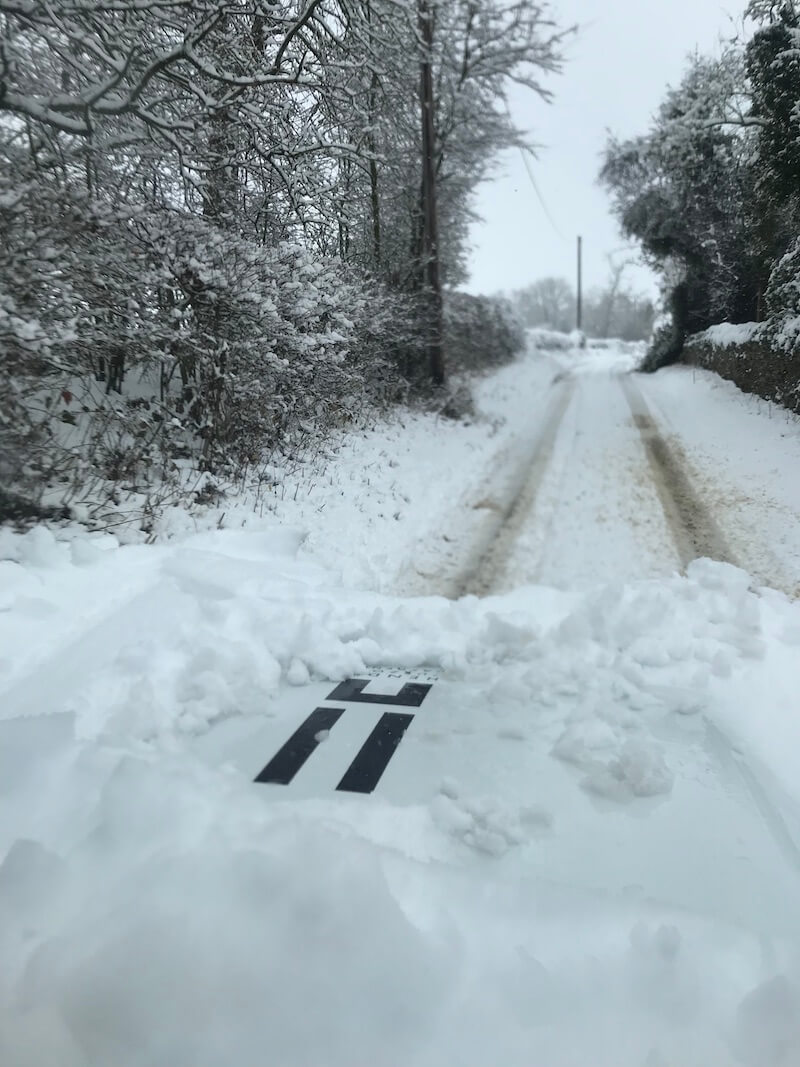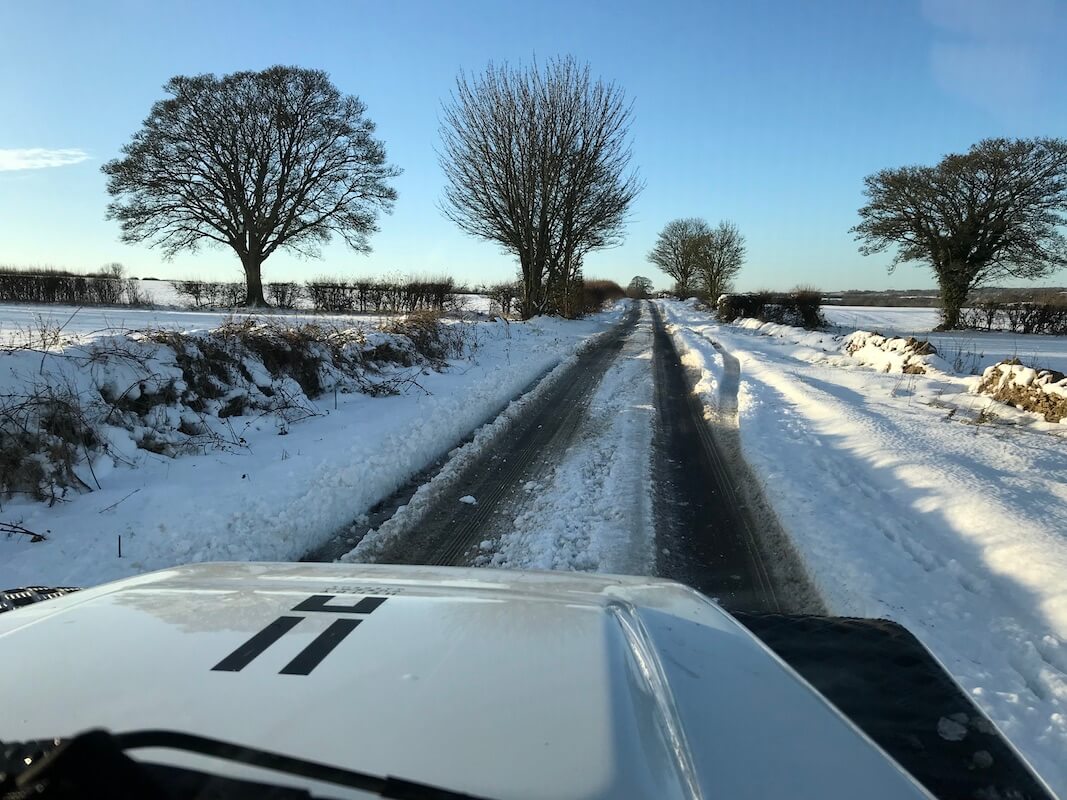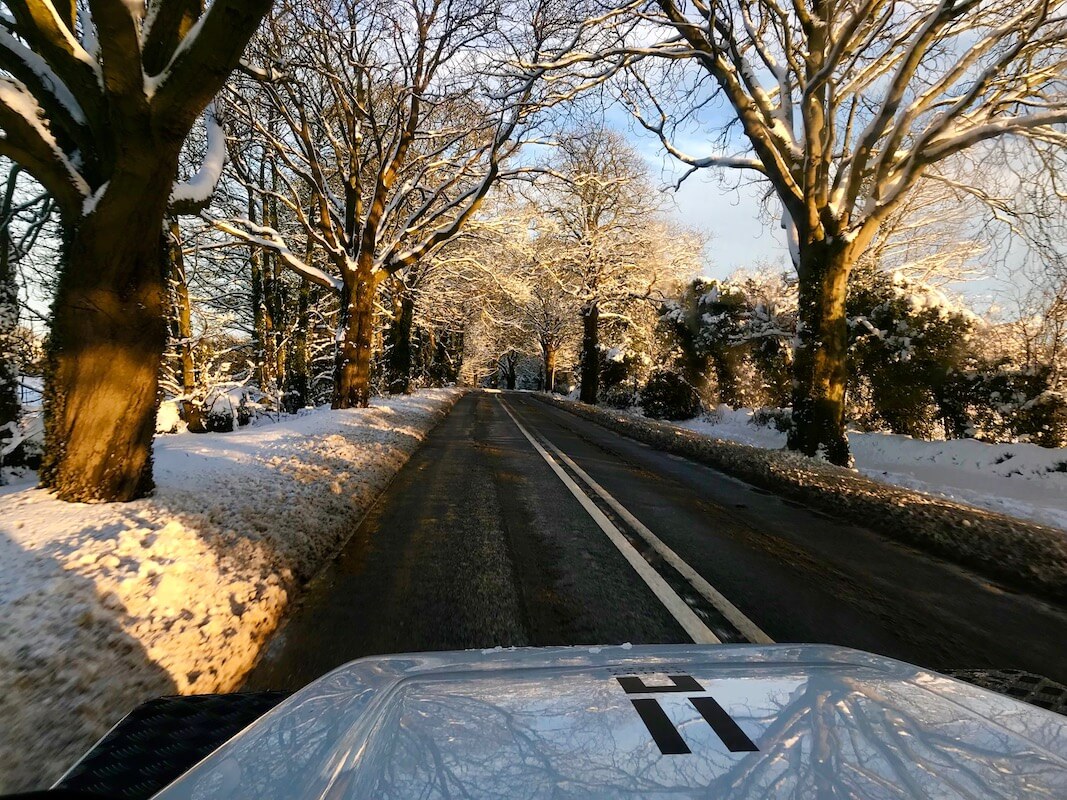 April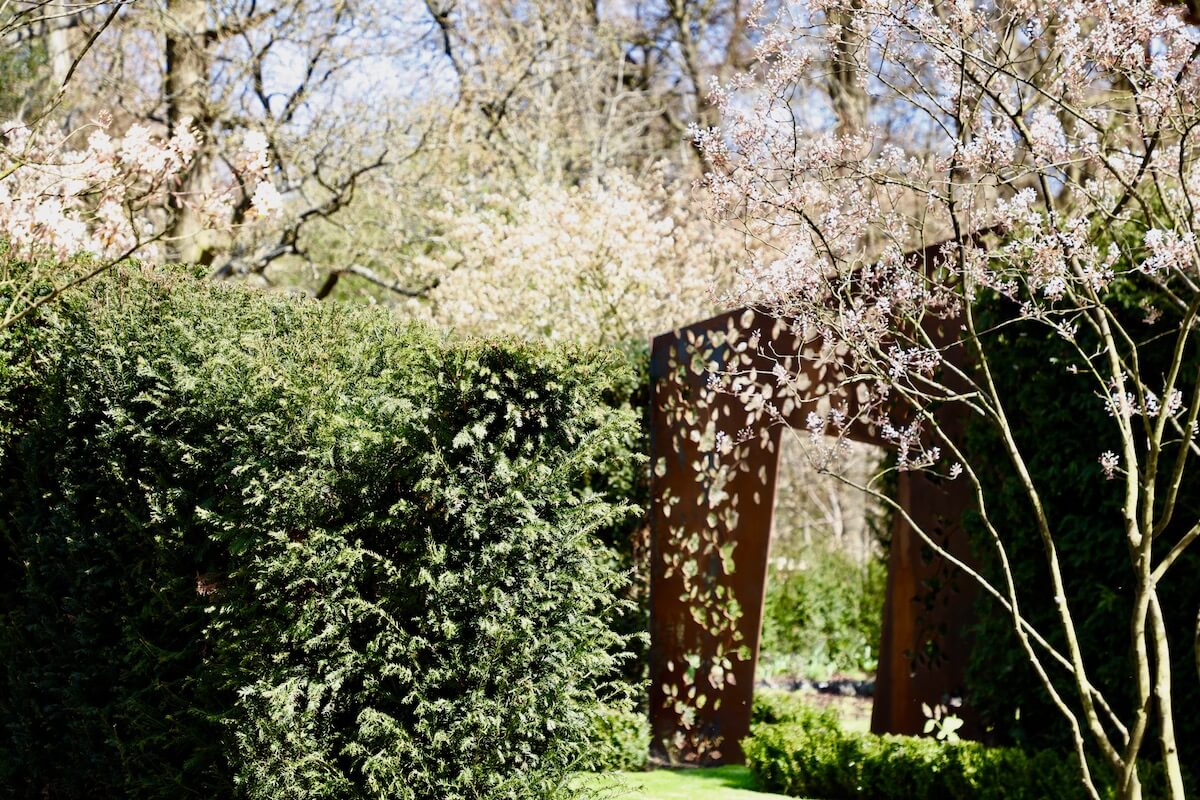 Big thaw after the March blip meant that sites could continue and the teams soldiered on.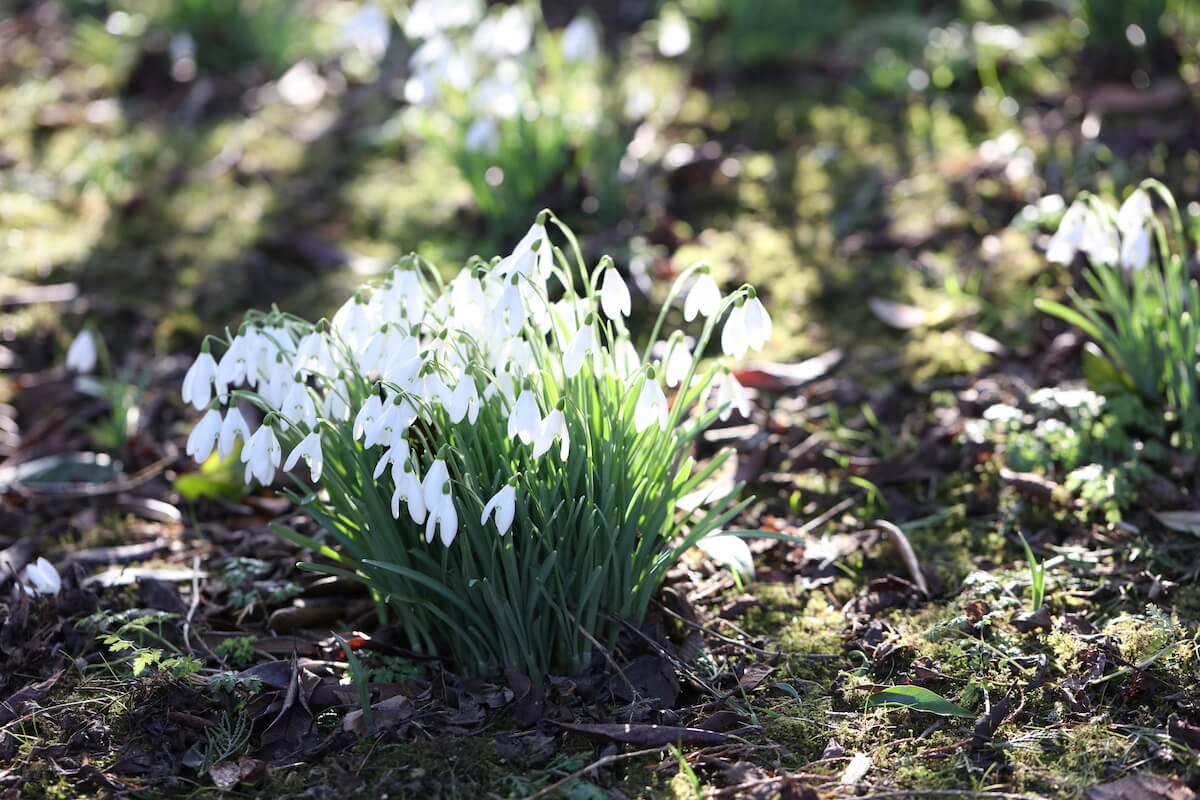 In the studio we had a lot of projects on our design schedule so the snow days didn't exist for anyone on the design team. The arrival of Spring was certainly welcomed by all of HC.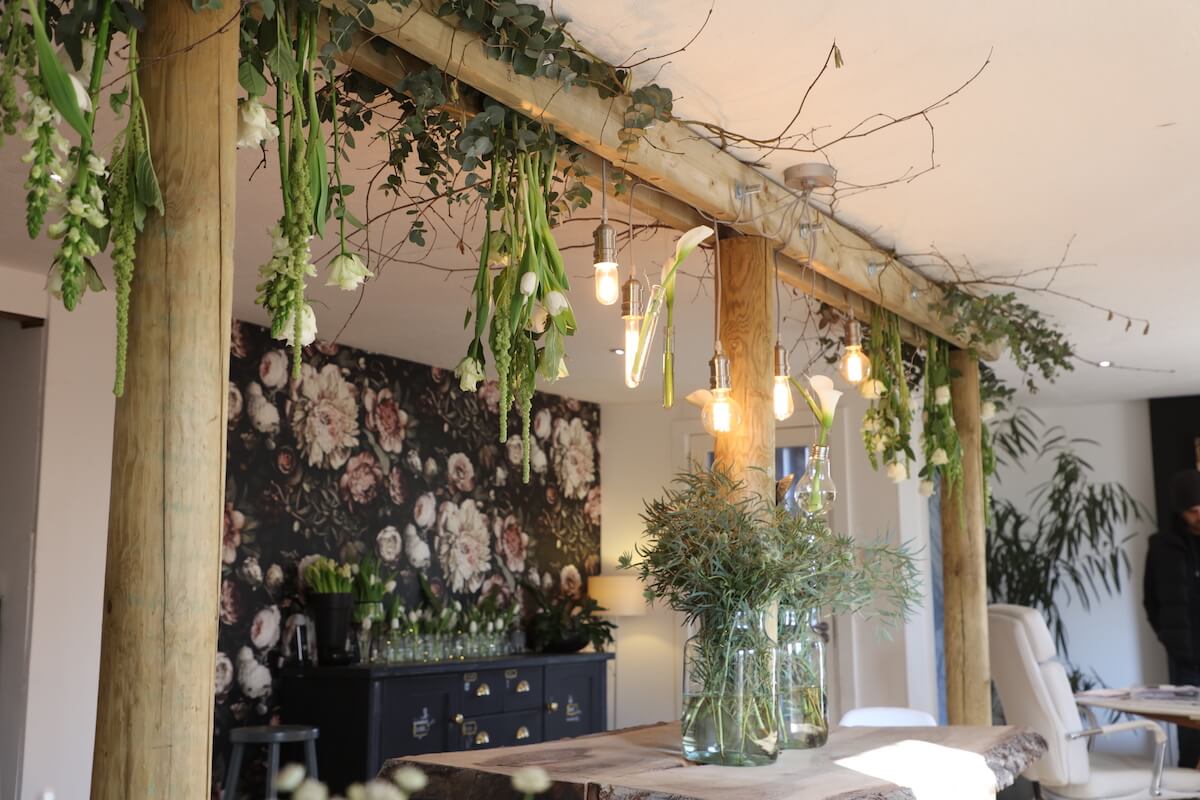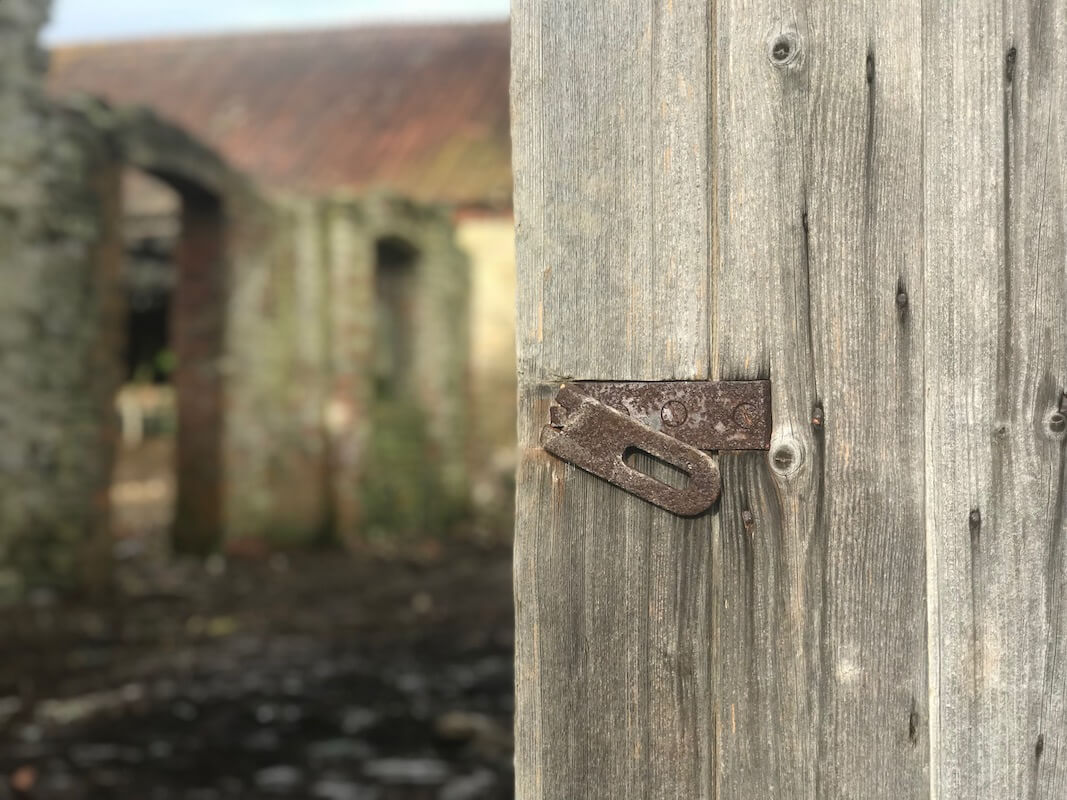 We were delighted to be appointed by Blenheim Palace Estates to design three major developments of multiple residences. Hordley Farm, Lower Ridings and Manor Farm.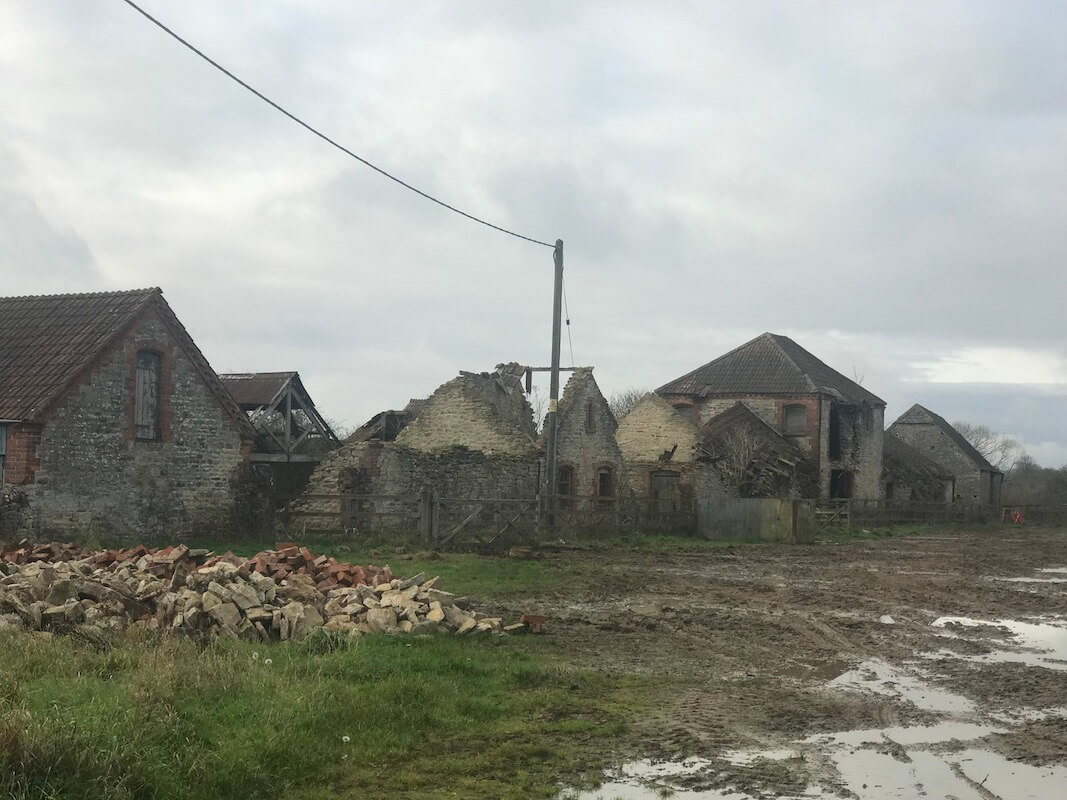 Also designed the landscape for Dairy Meadow in Abingdon and are really looking forward to the development of all of these projects.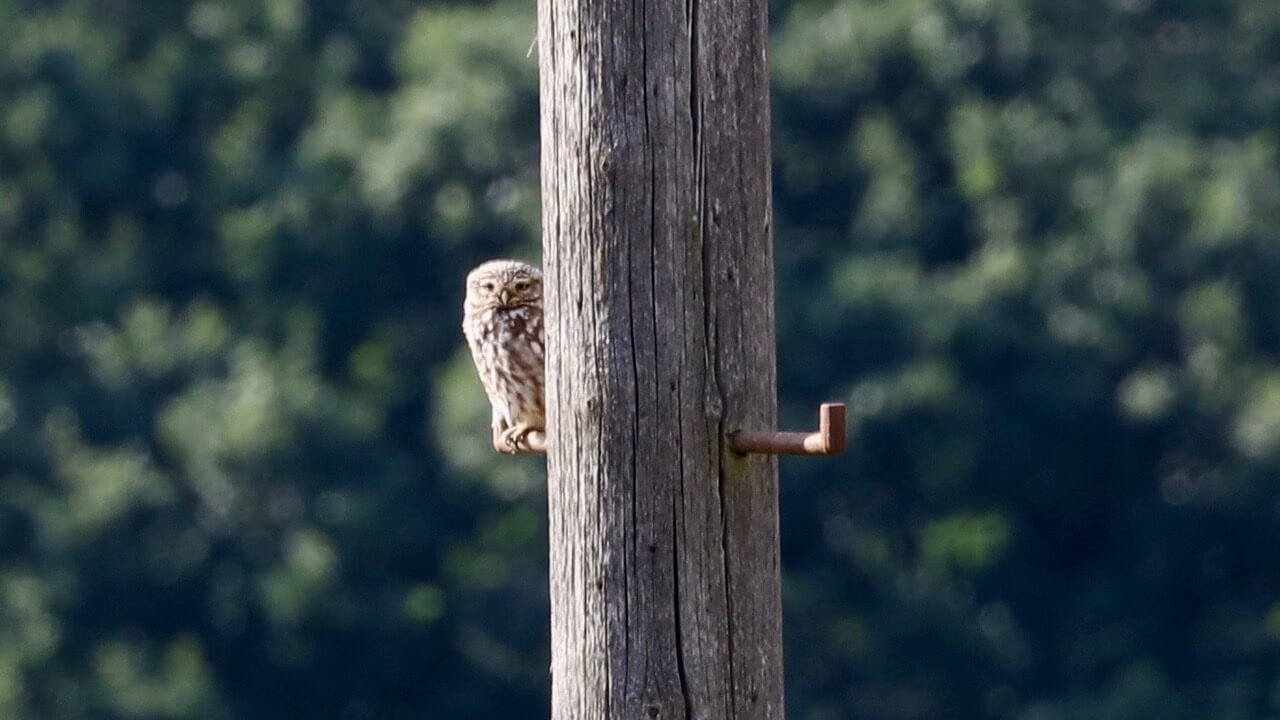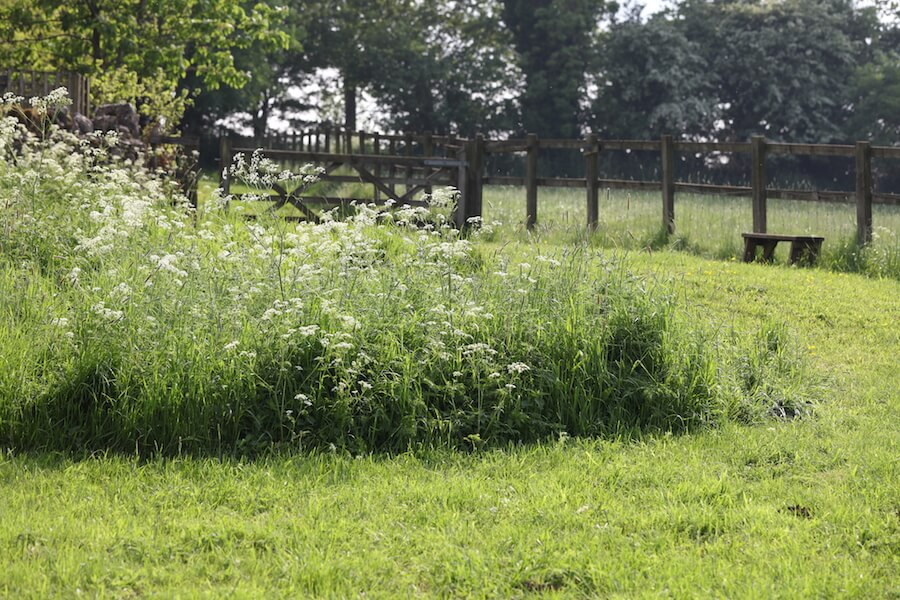 Design barn – first results of cut flower trial patches for future projects started to blossom.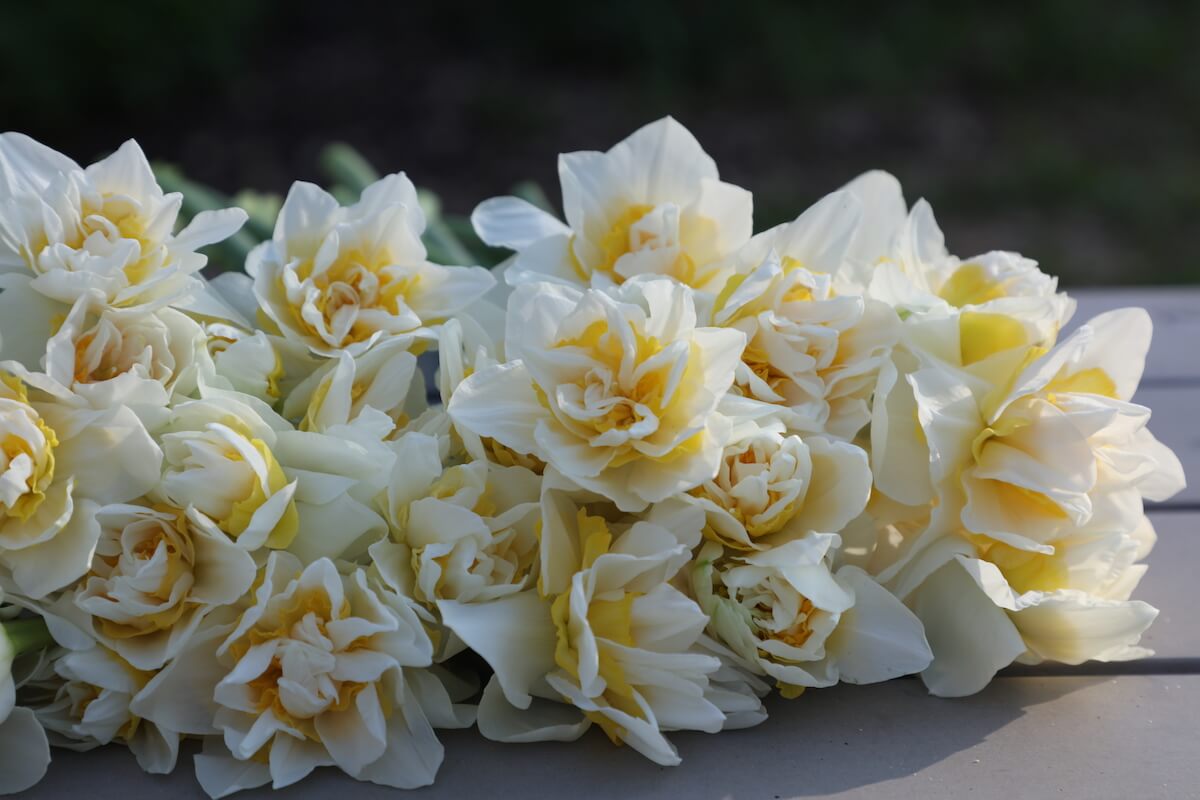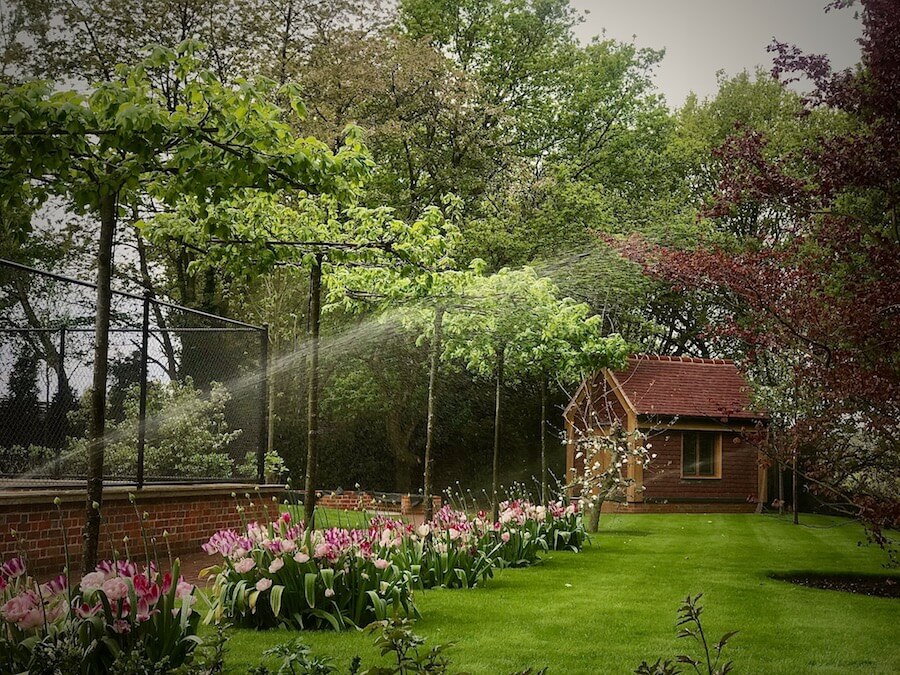 Sculptural seating pieces commissioned for Harpsden Wood House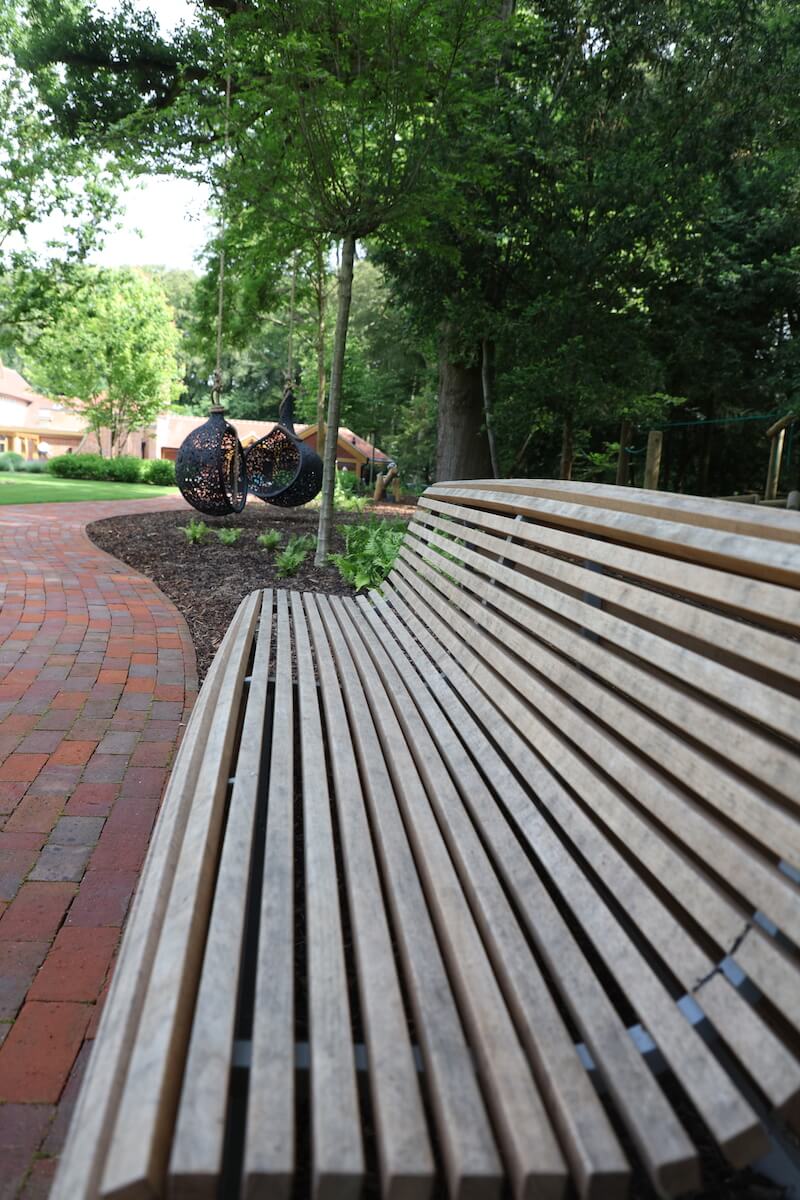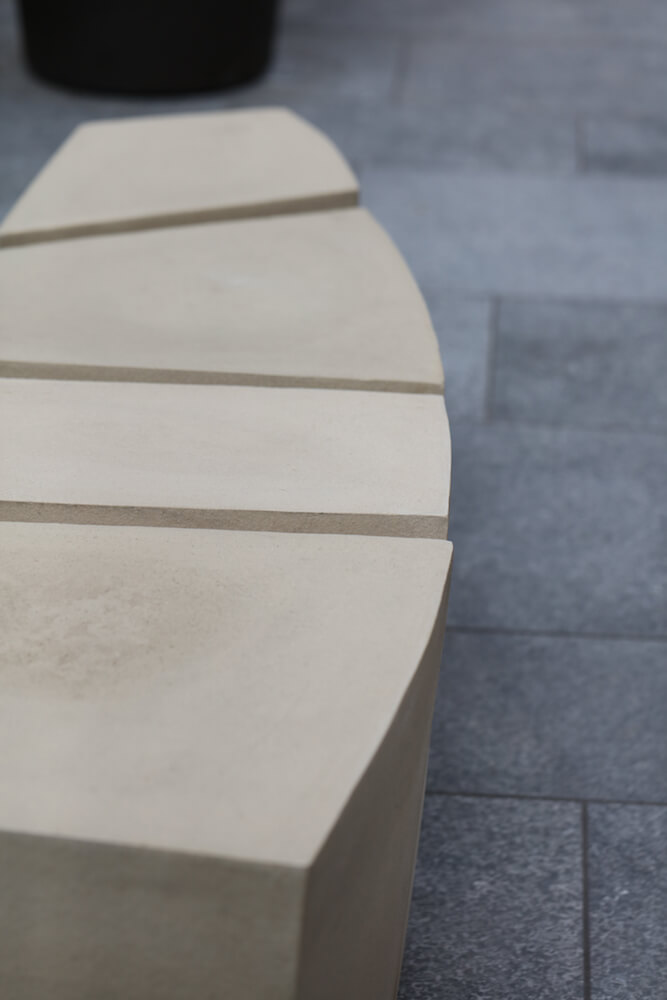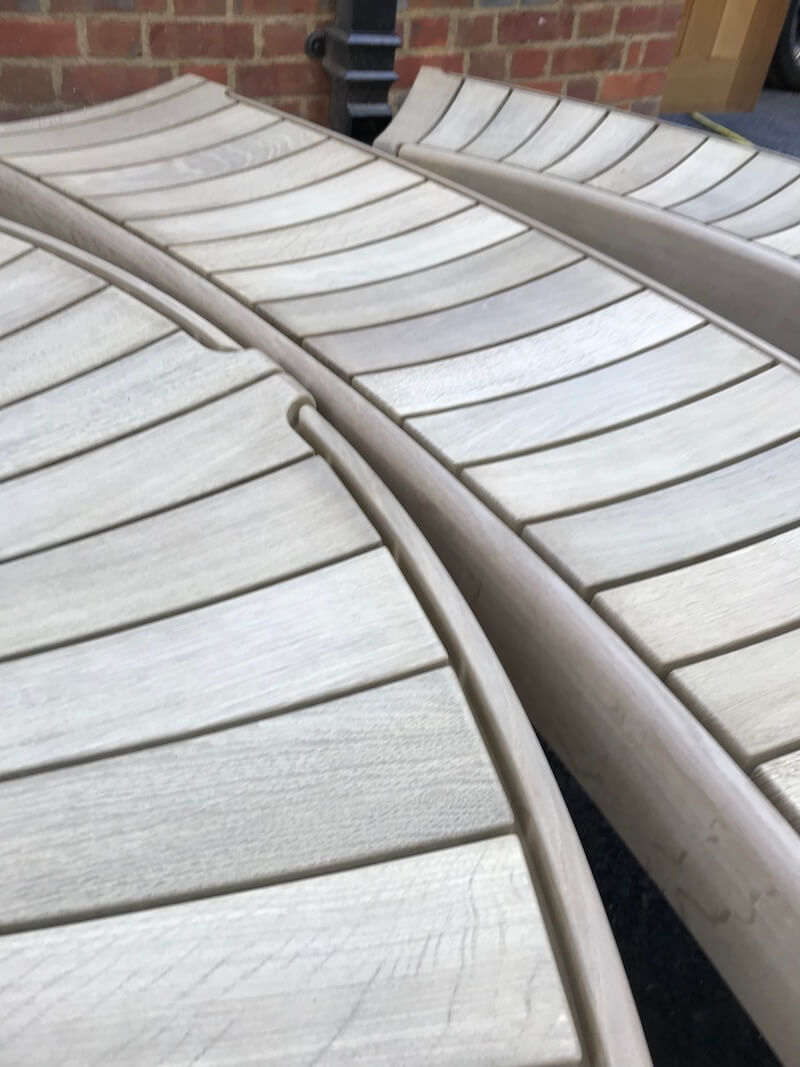 May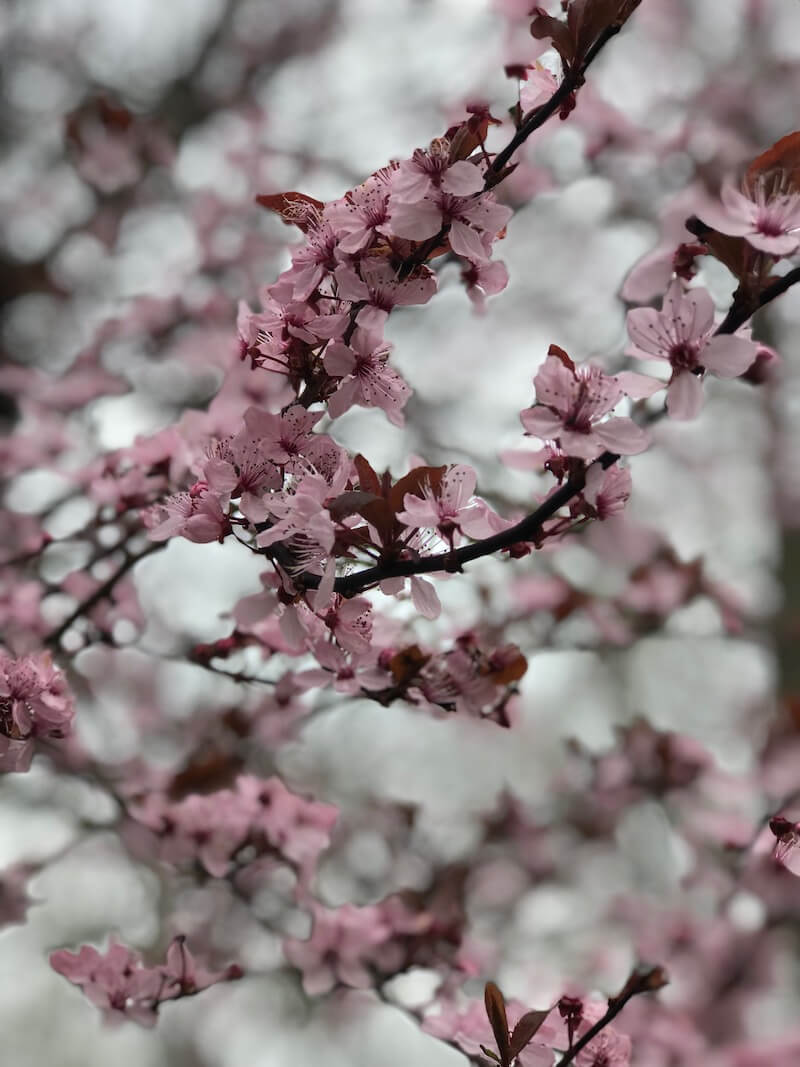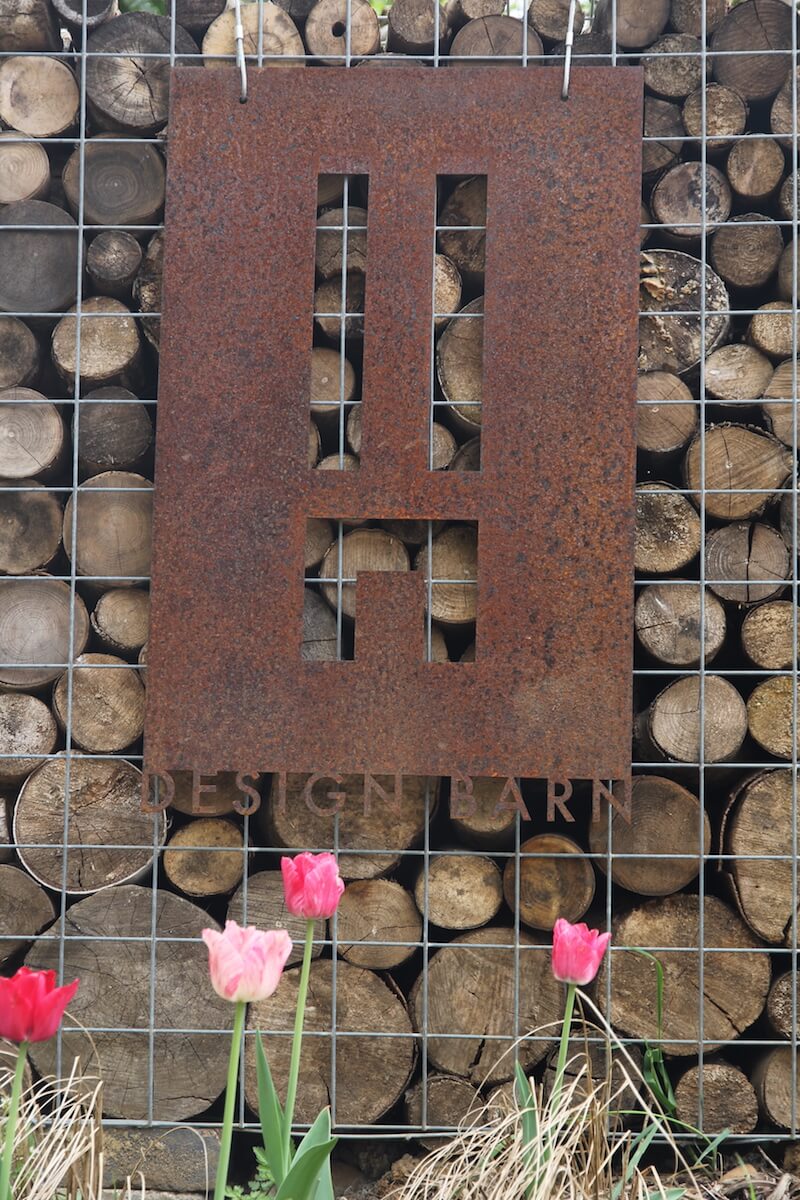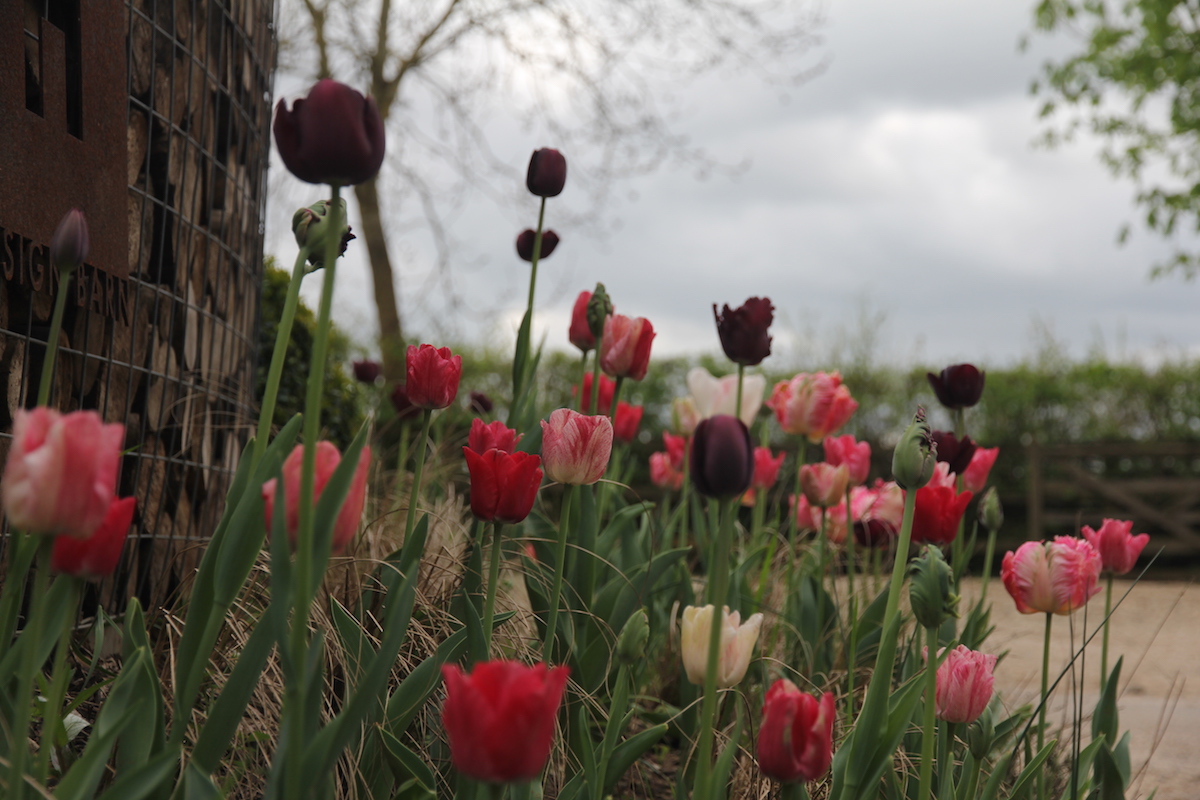 Poolside & Spa at Harpsden Wood House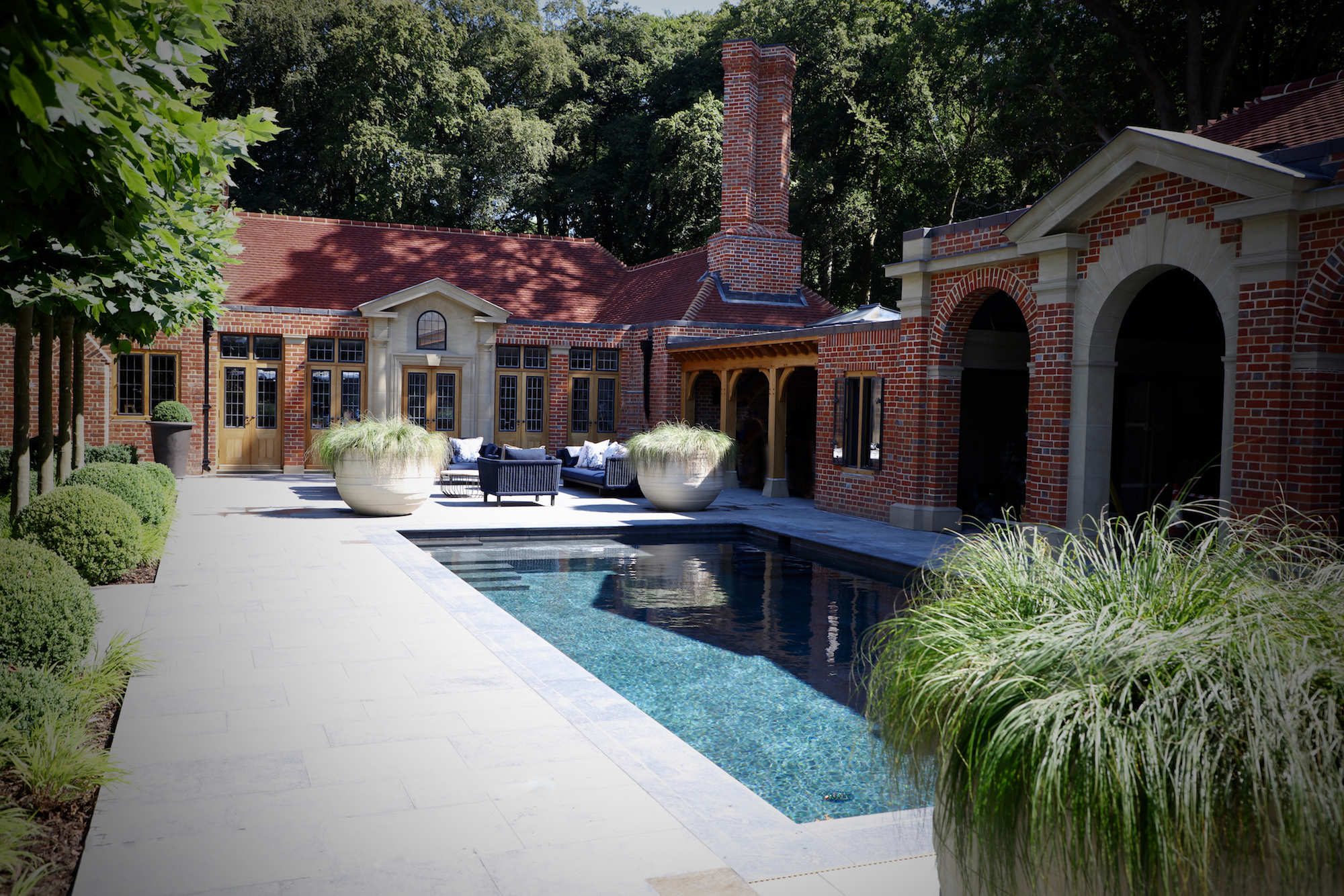 Ruby's Forest at Harpsden Wood House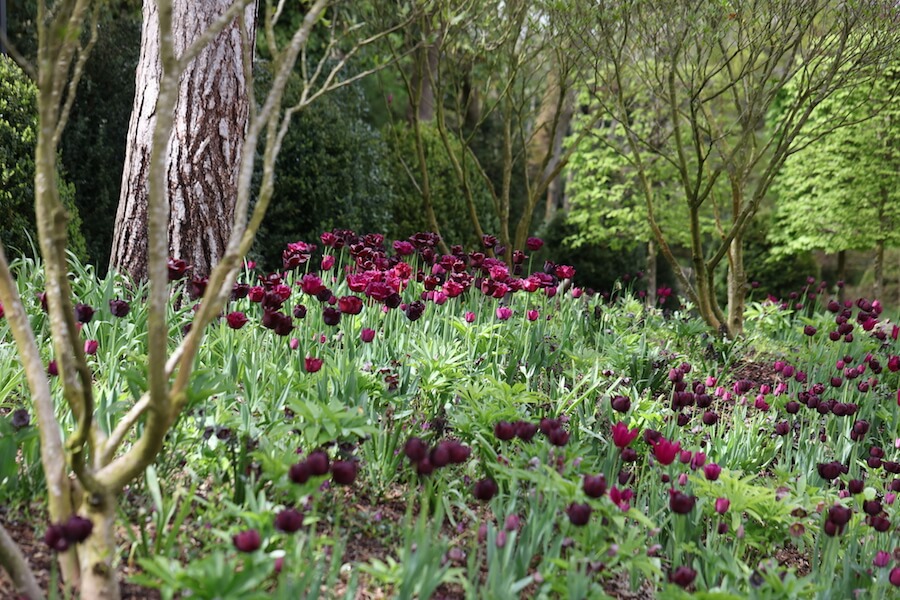 Outside in at the Design barn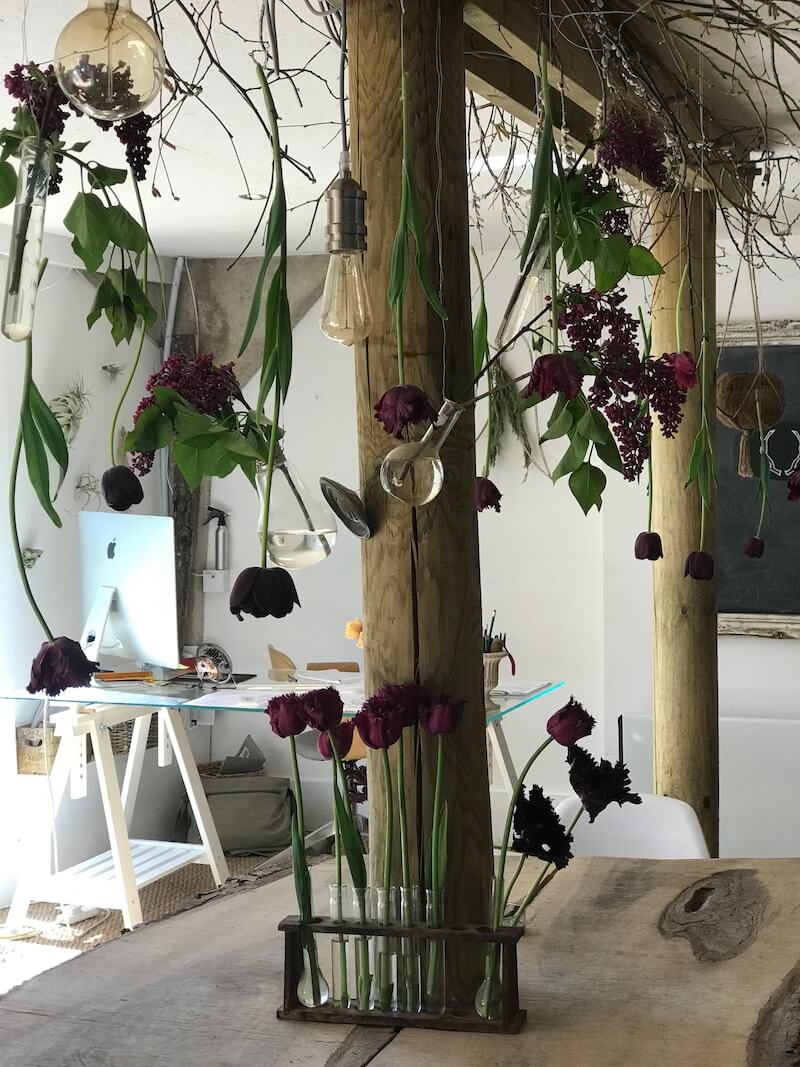 Vintage borders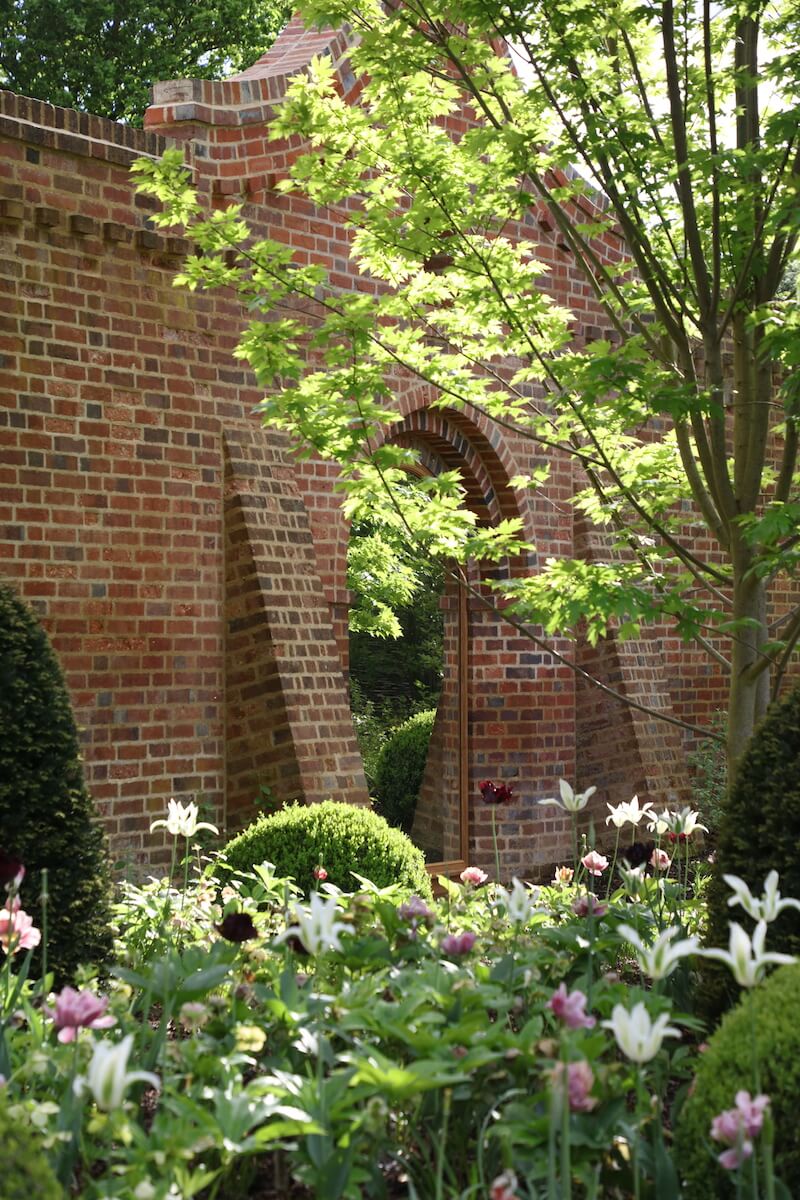 Into the White Woodland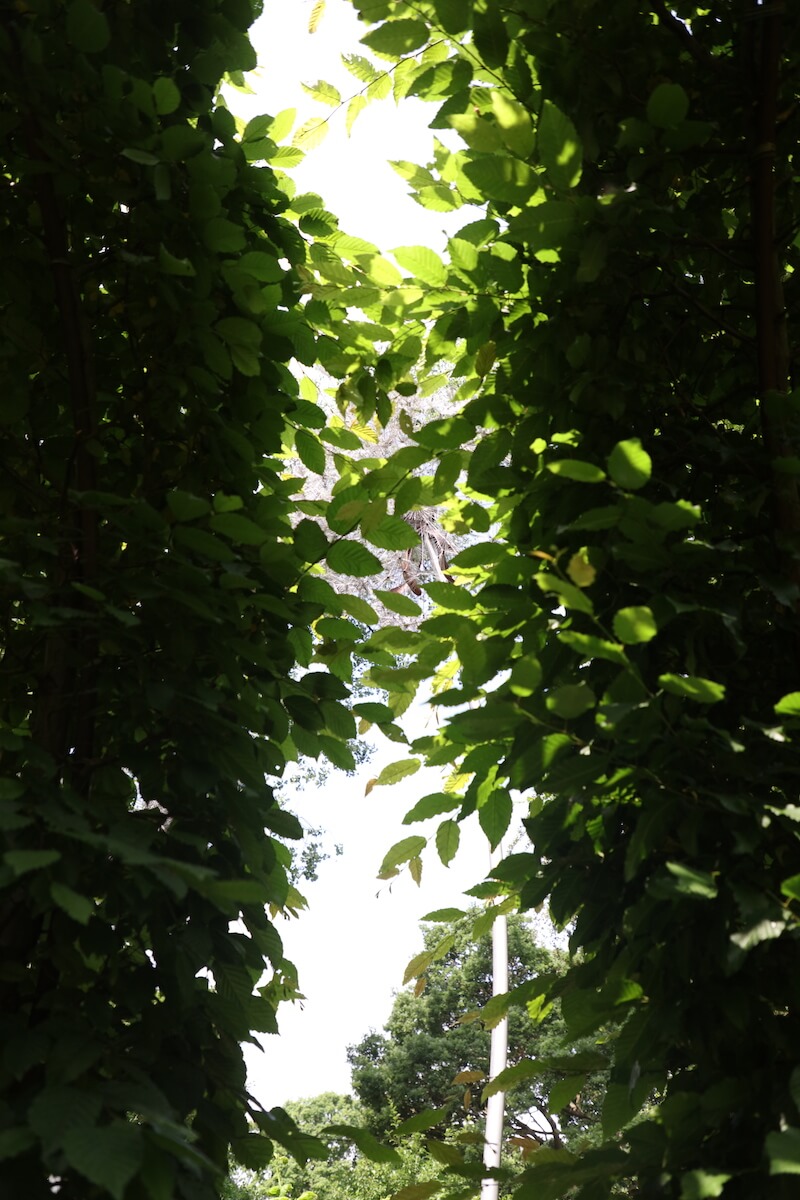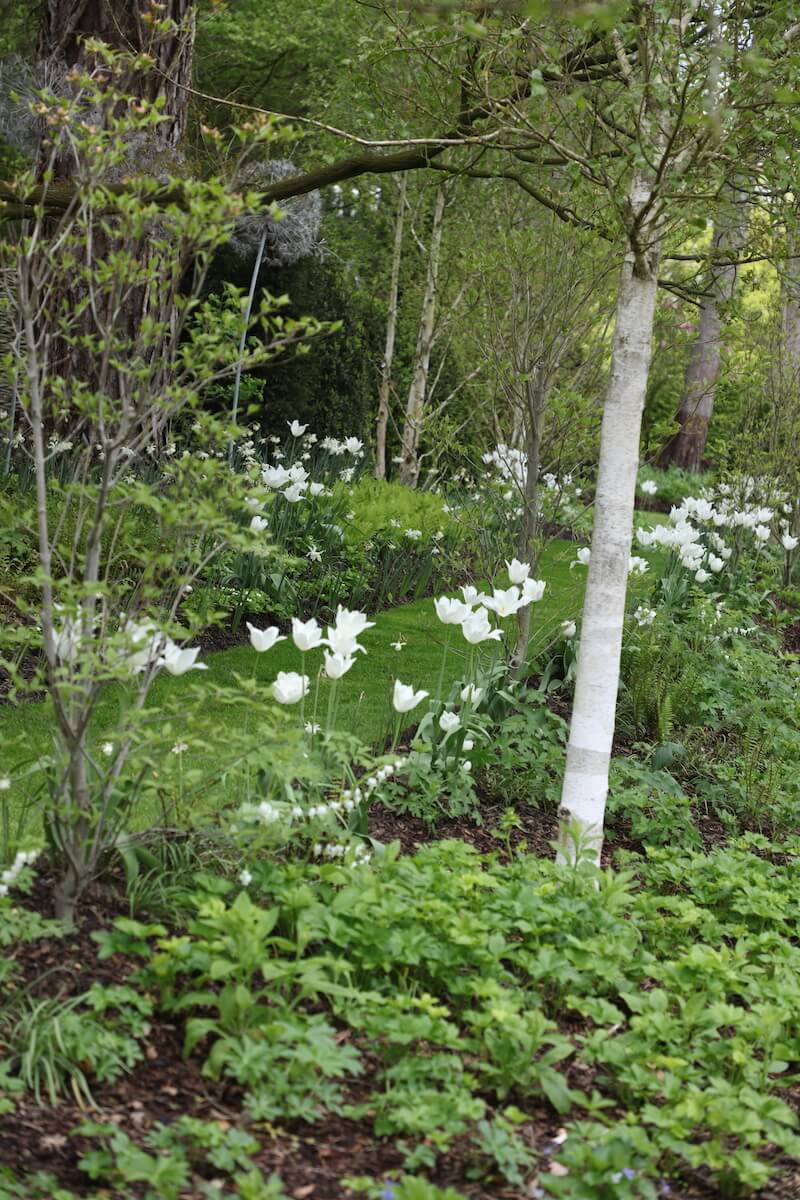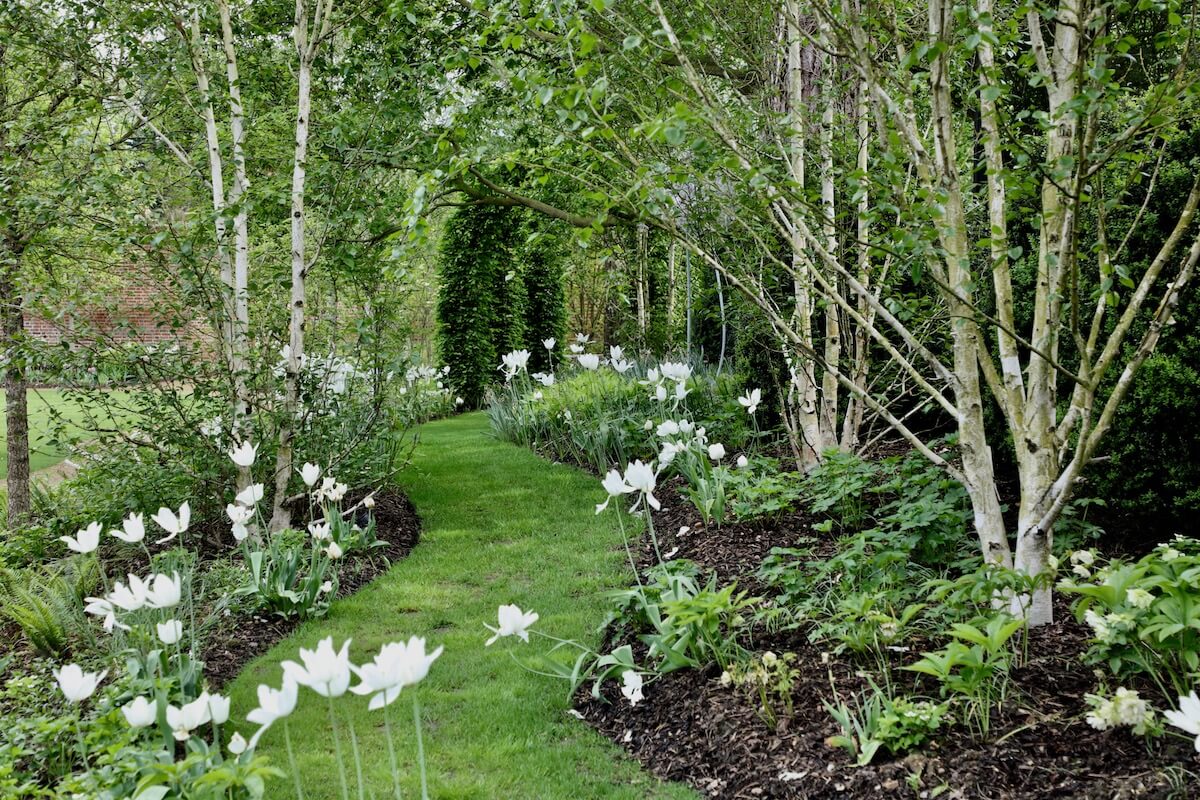 Over at Harpsden Wood House the White Woodland was initially inspired by the story of the previous owners leaving faeries in the woods for the new owner's children. We were also told that the children were scared of the woods. So the White Woodland was designed to be a way to encourage them to feel safe in their new home, learning about the woods in a light and bright context.
All the trees are white barked or white flowering. The woodland florals are white and cycle all year round from the first Snowdrop drifts in February. White Dogwood trees flower whilst carpets of dogwood ground cover blossom with tiny faerie flowers. Native woodland plants are planted in drifts. Certain varieties, such as the Hellebores are selected for their faerie dress-like properties. Fibre optic lights were installed that give the effect of fireflies to enchant the woods at night. Giant bespoke Dandelions have been back lit and the tree's crowns are up lit.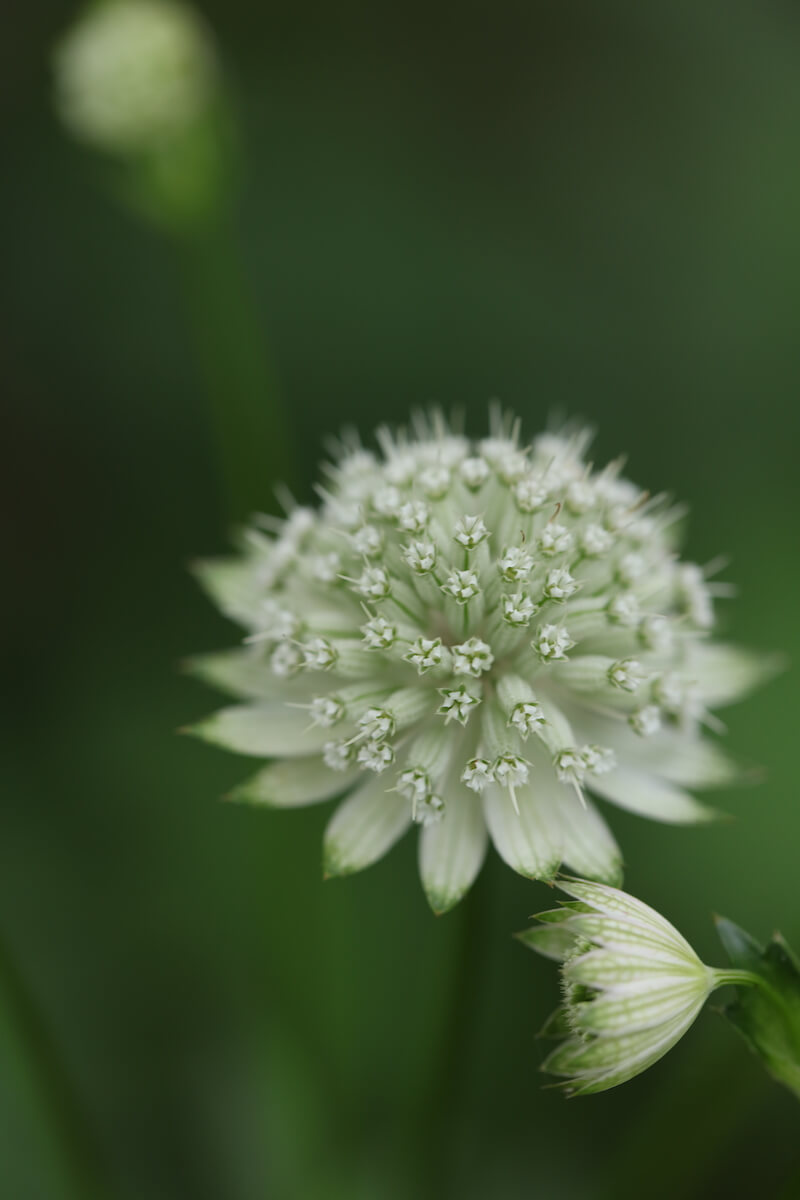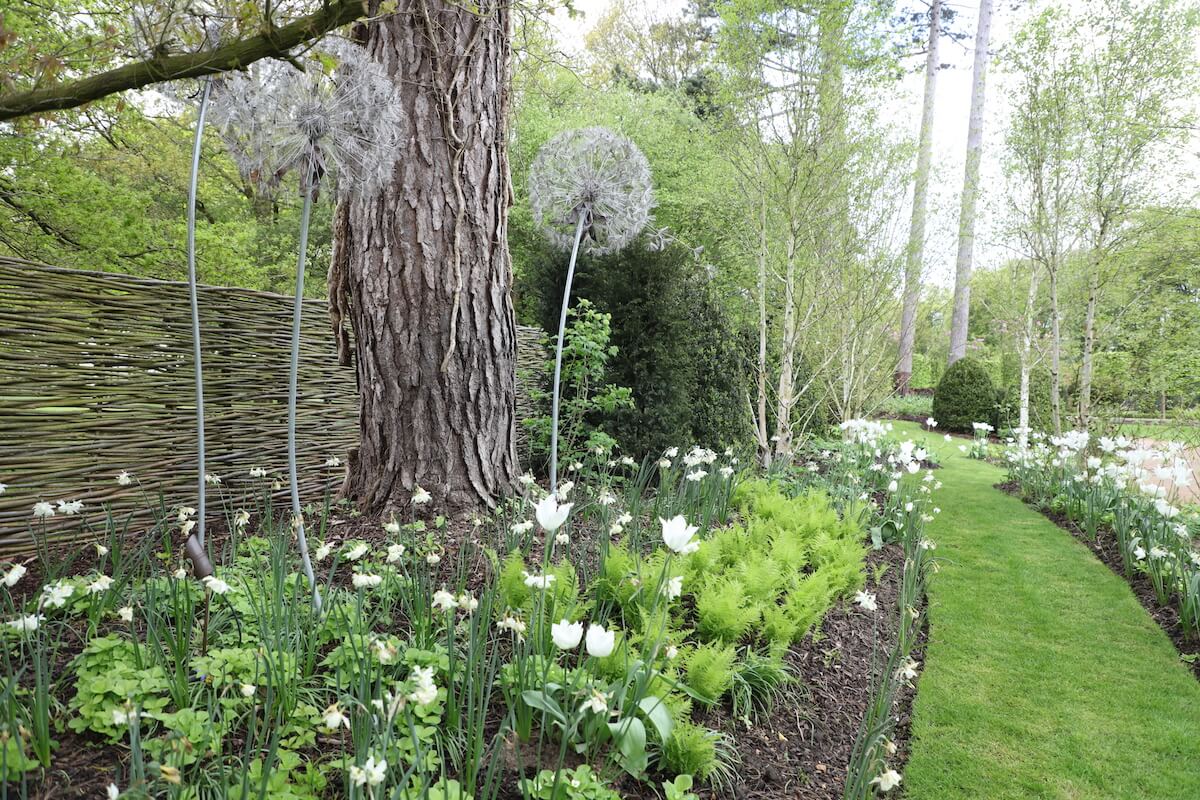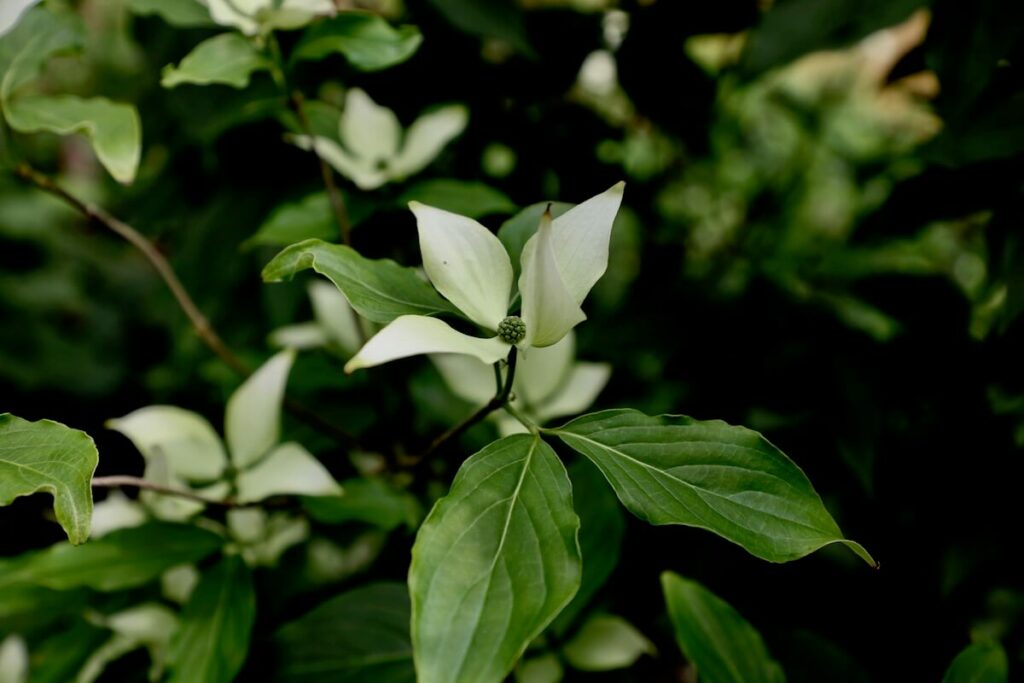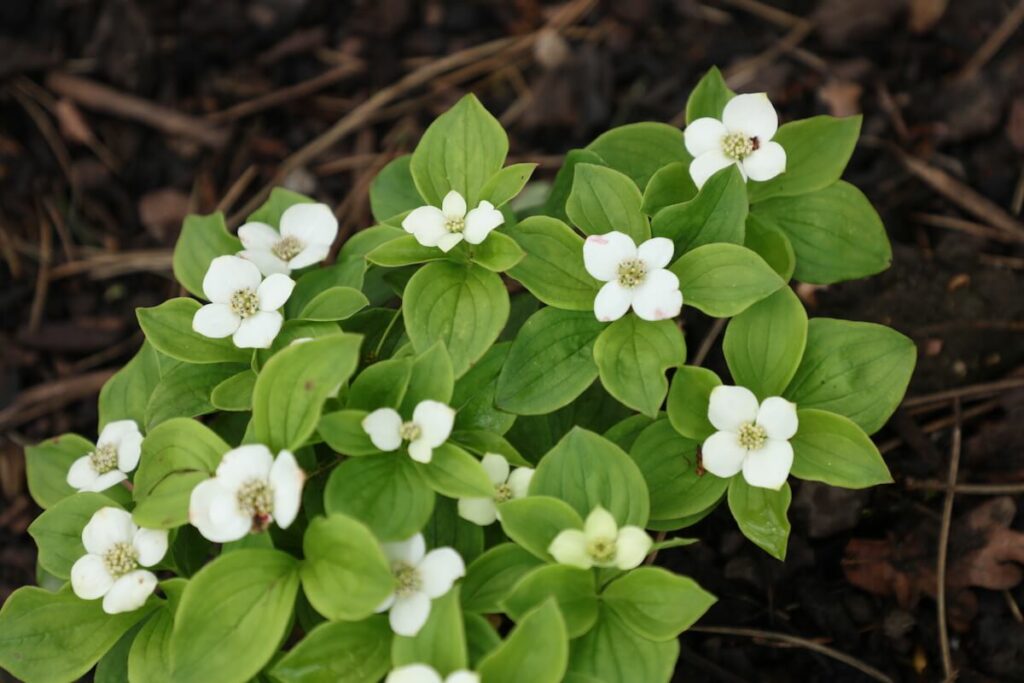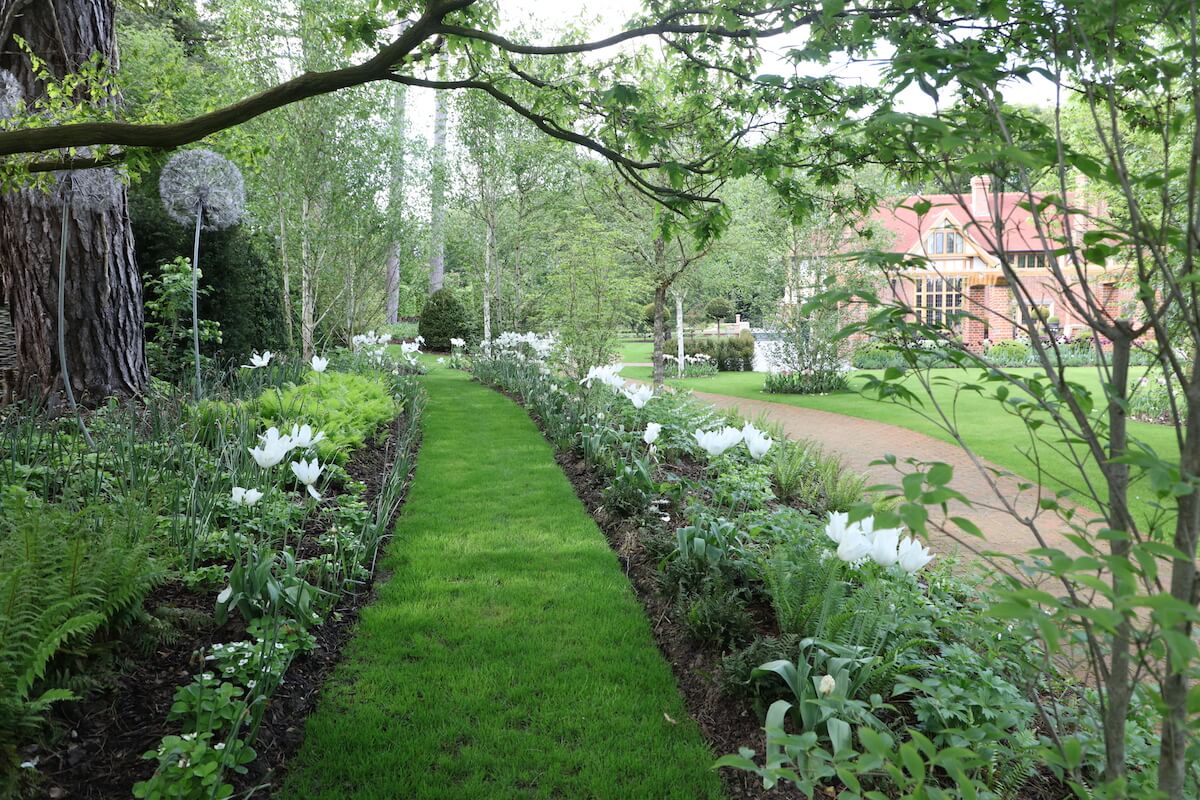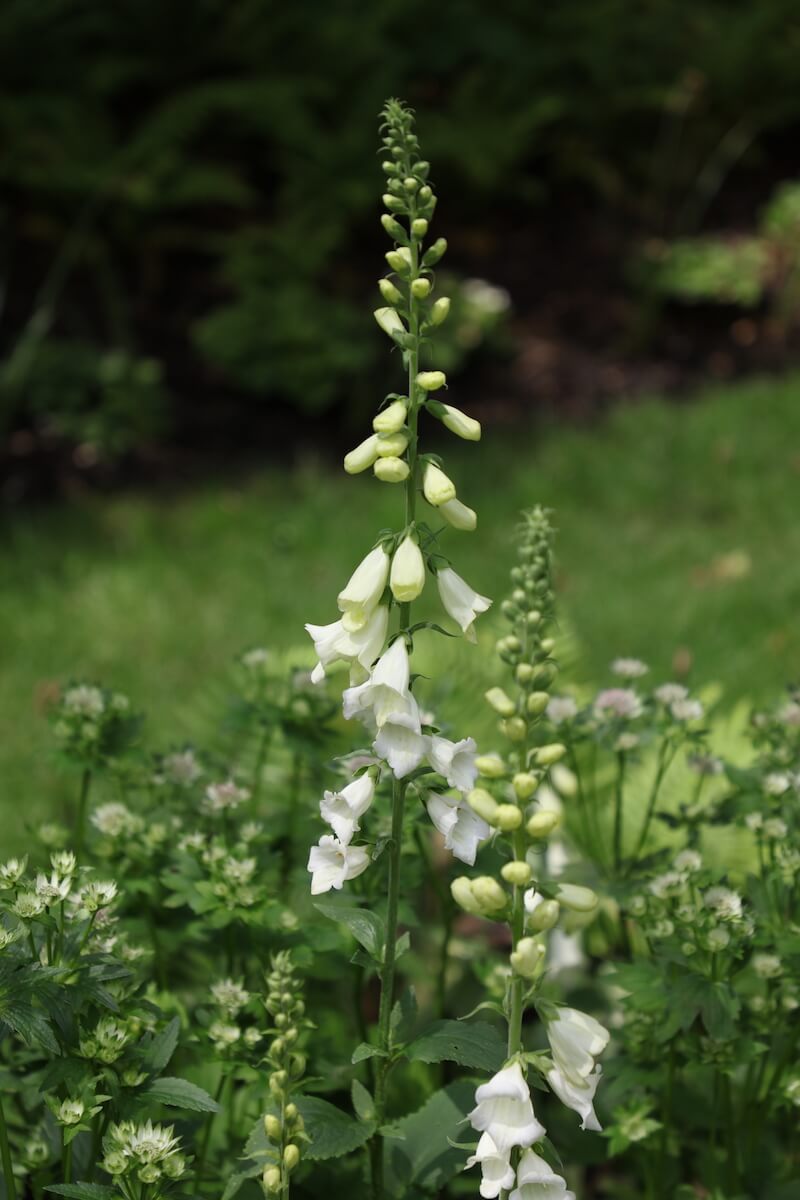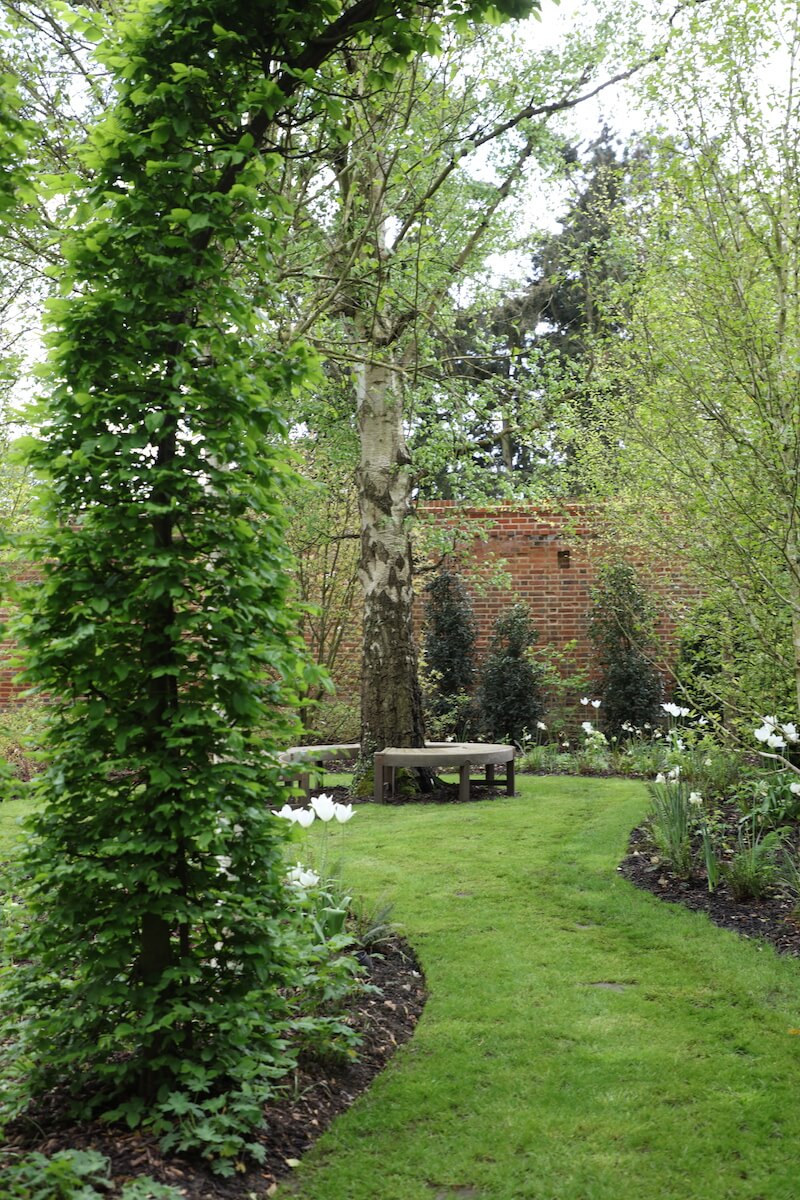 Tennis court Pimms borders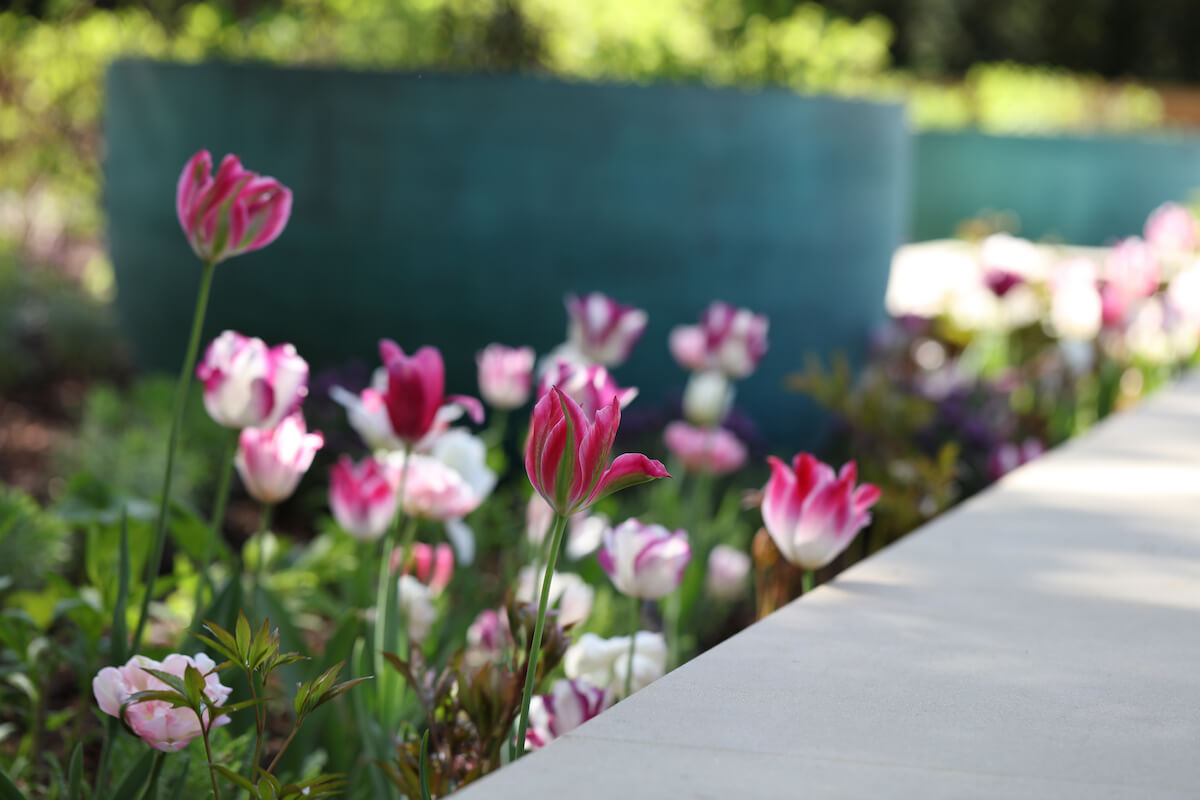 June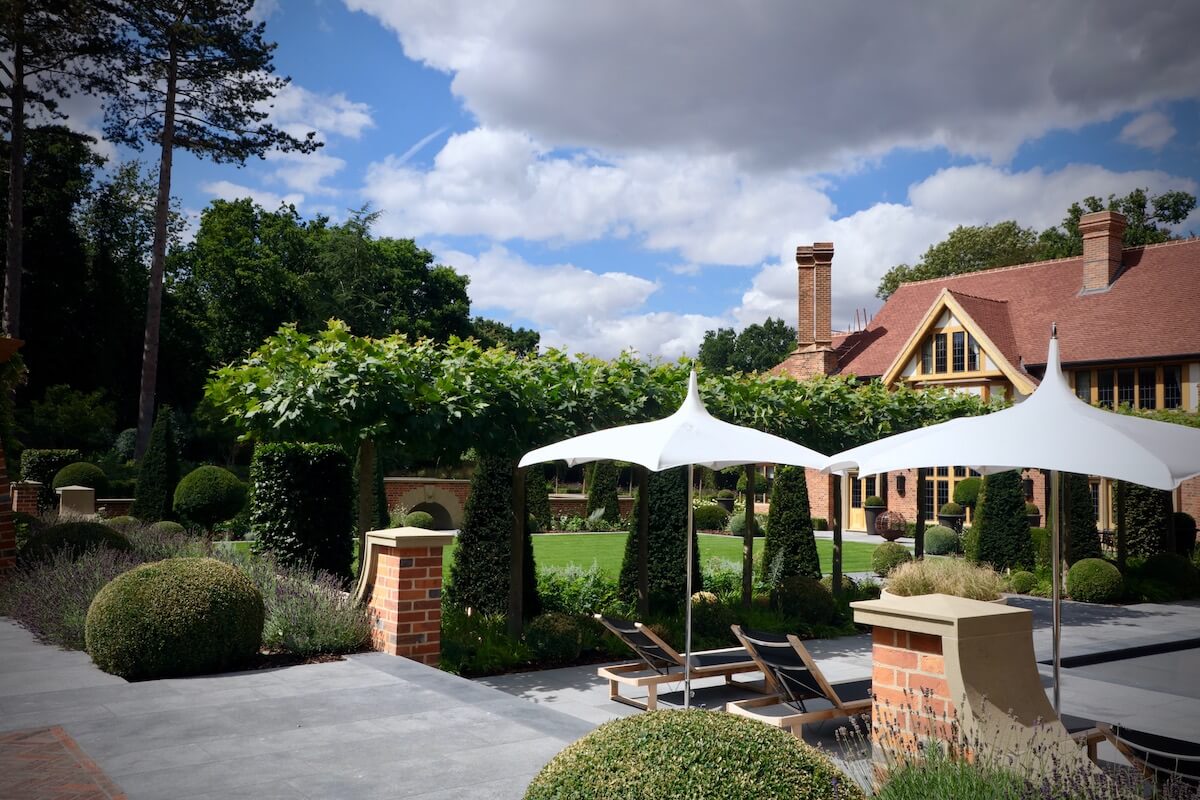 With such great weather June was definitely the start of a very quintessential British Summertime.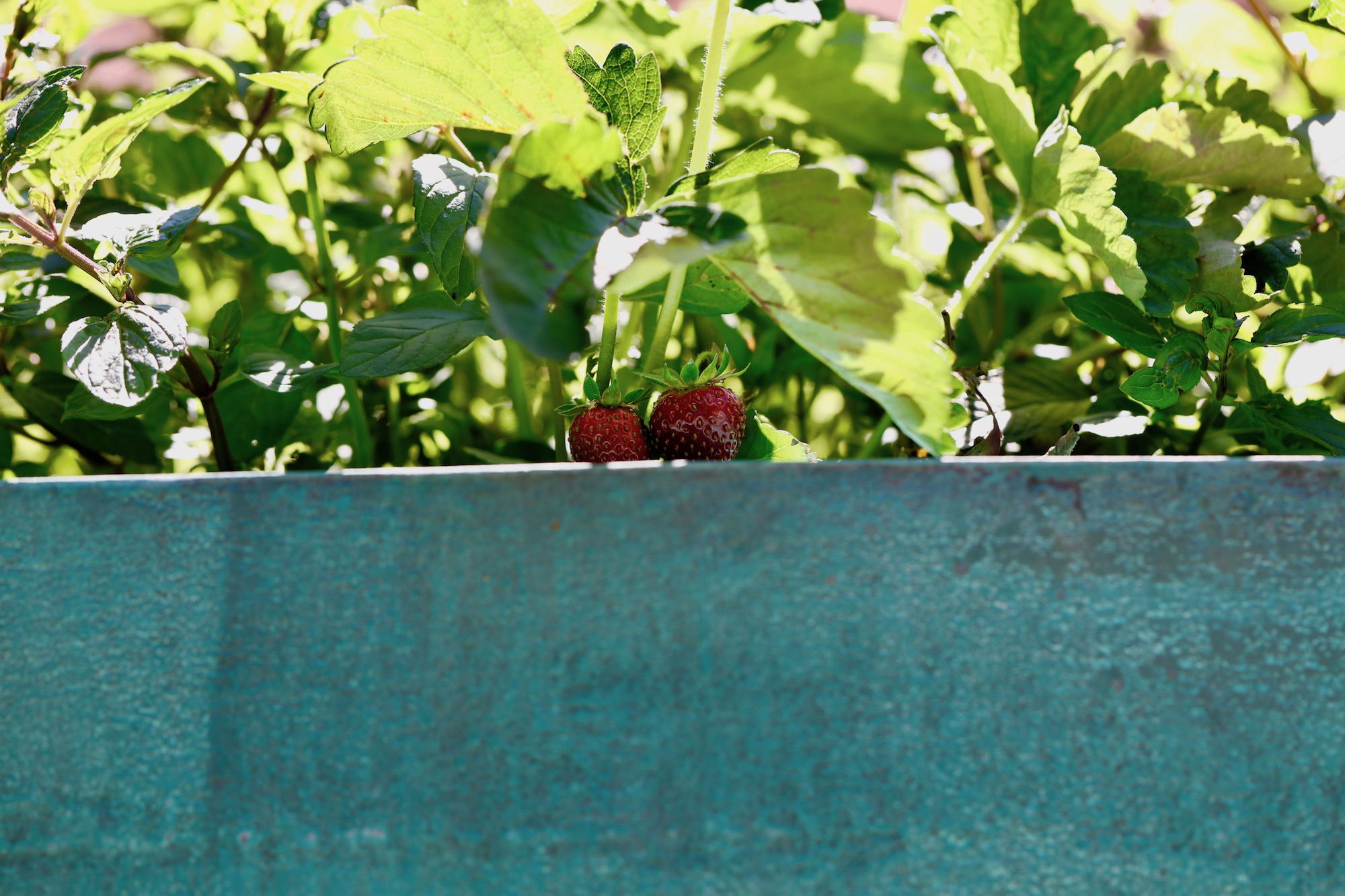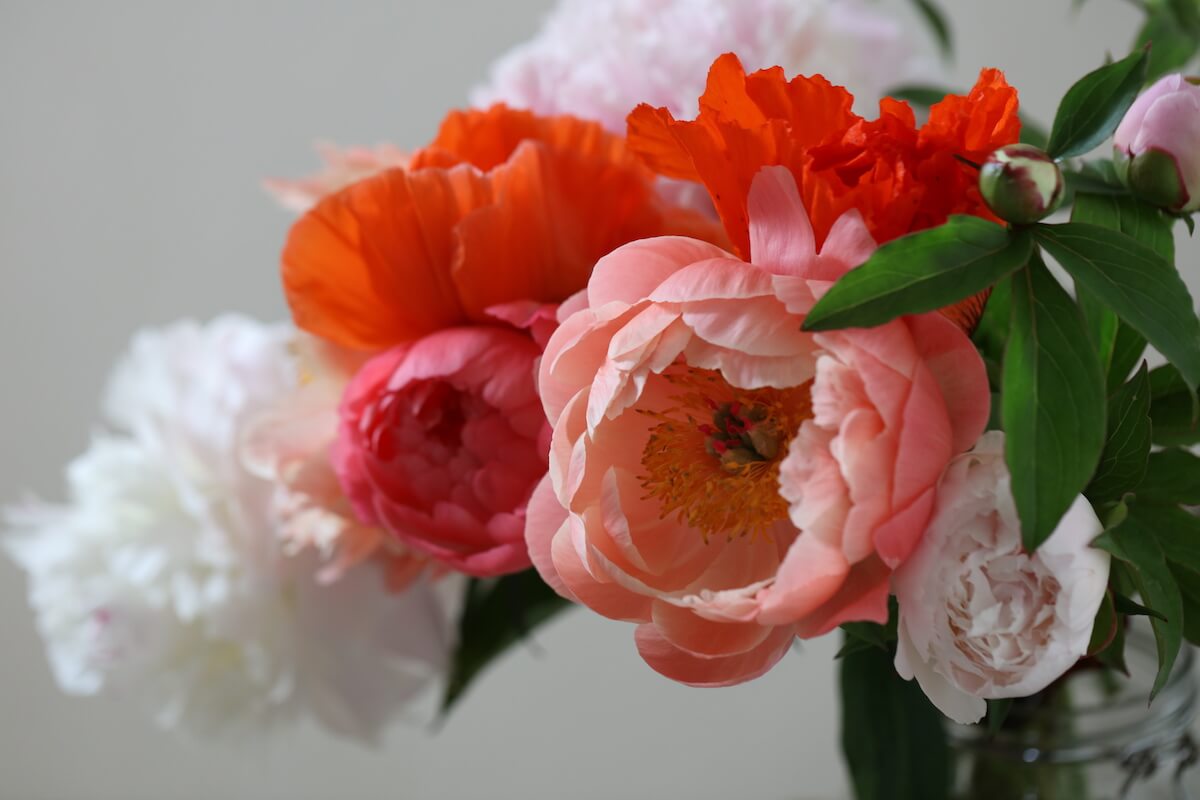 Peony season at the Design barn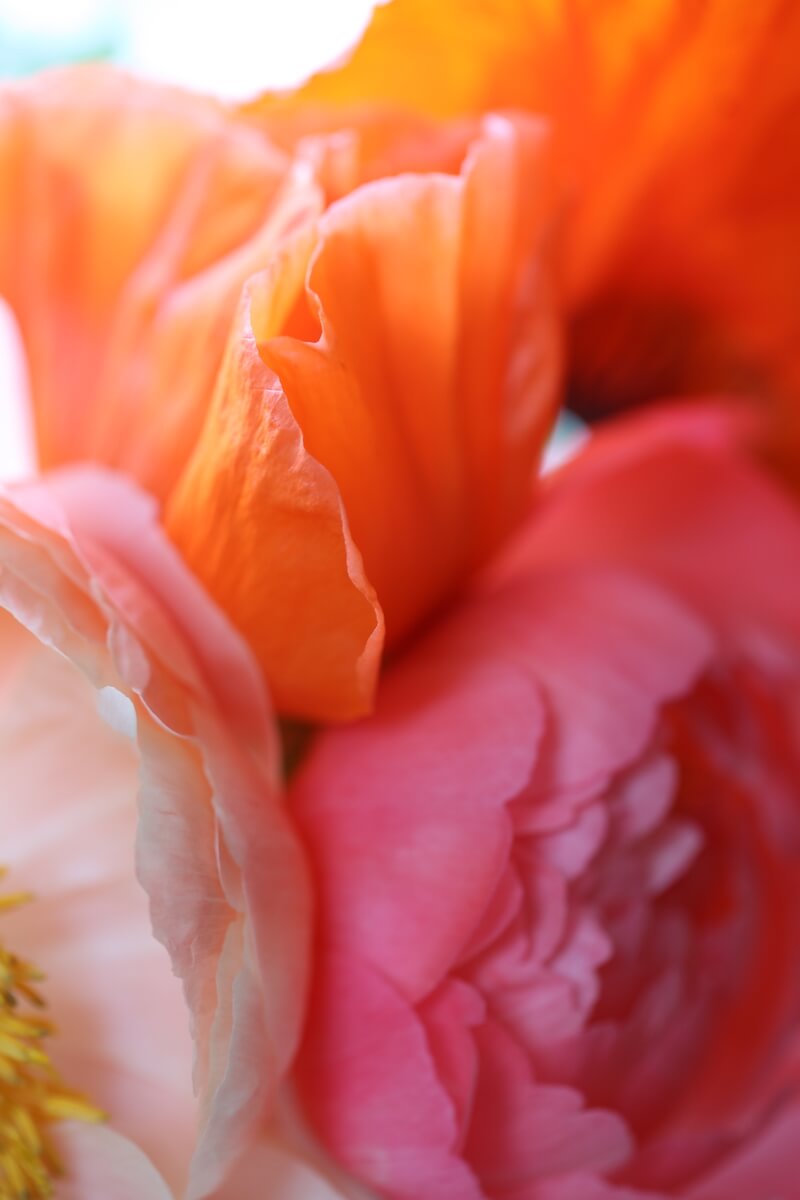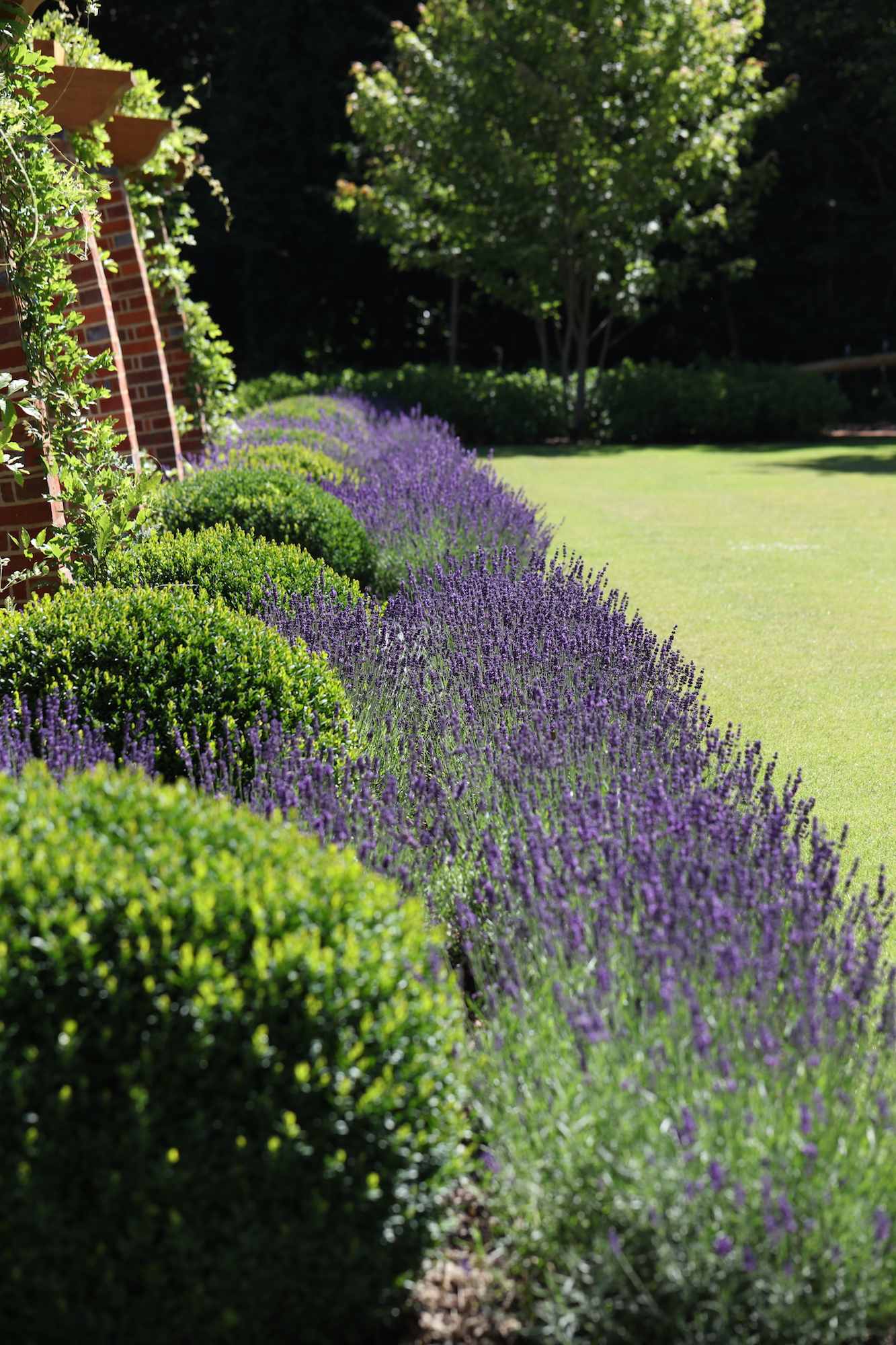 Final touches were made to the Woodland Playscape at Harpsden Wood House. All the commissioned pieces of trail equipment, tunnels, nest and swings came together to create a safe interactive play zone with nature at its very core.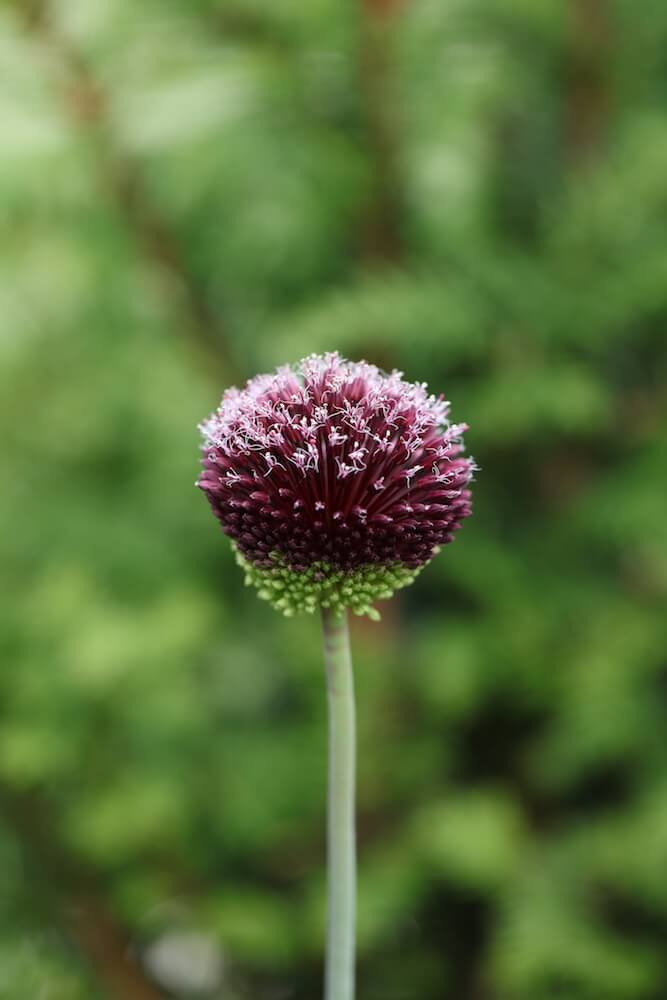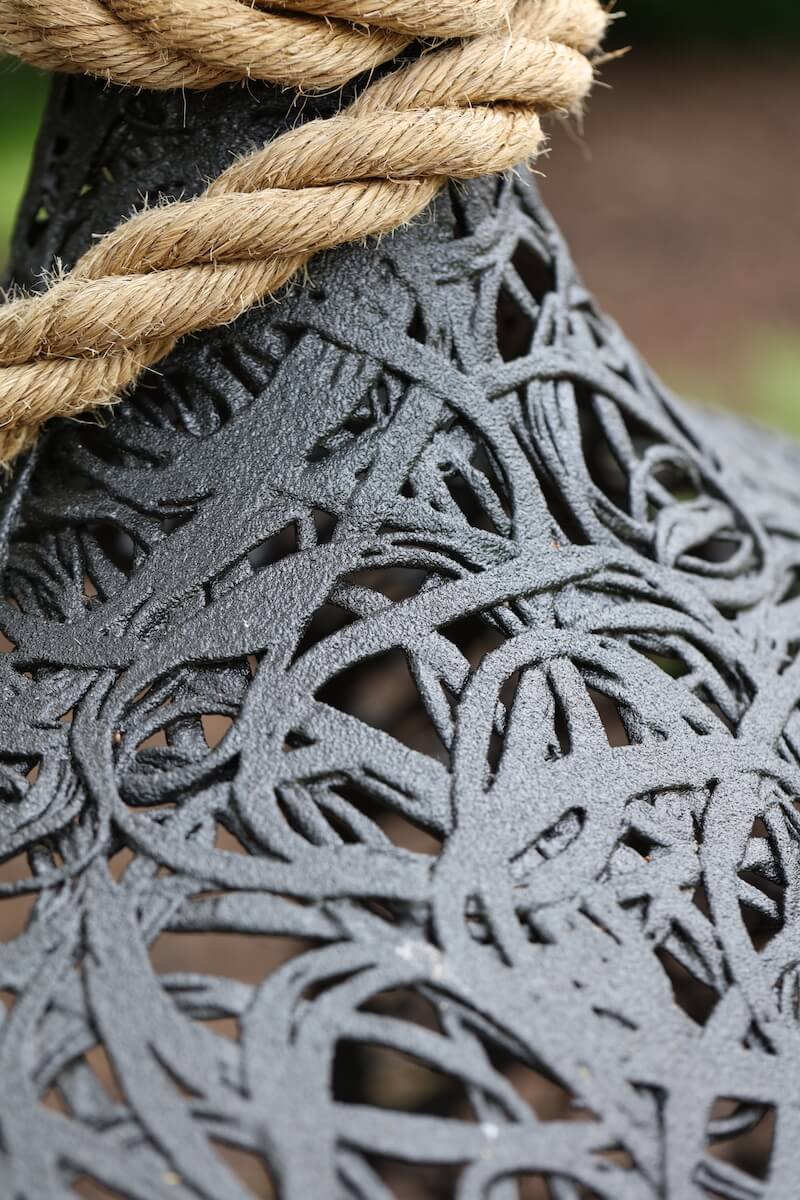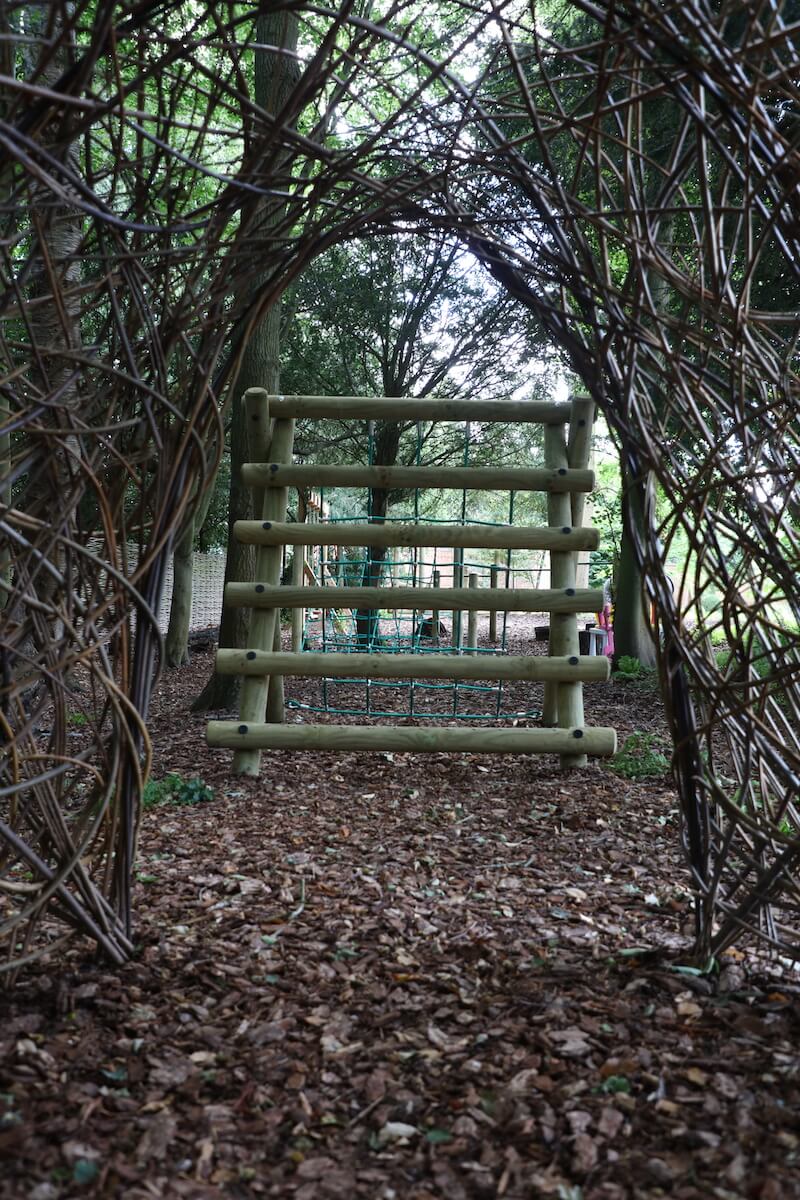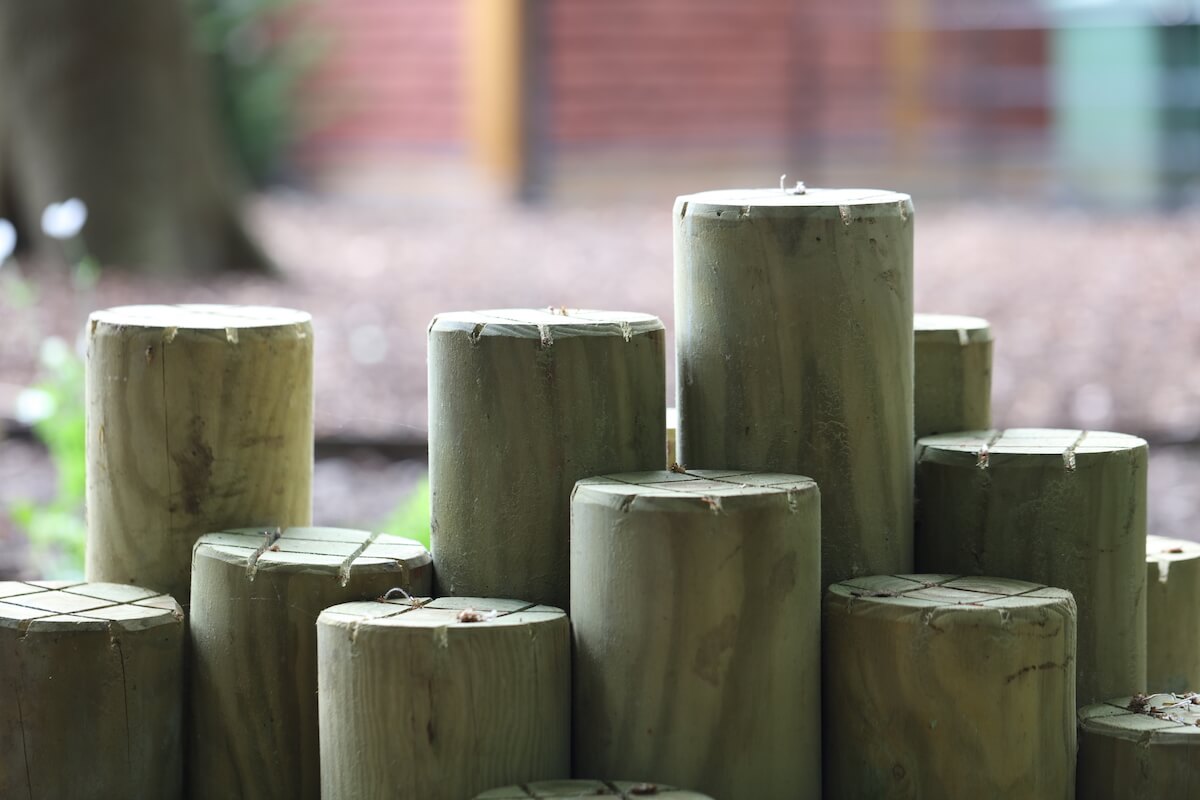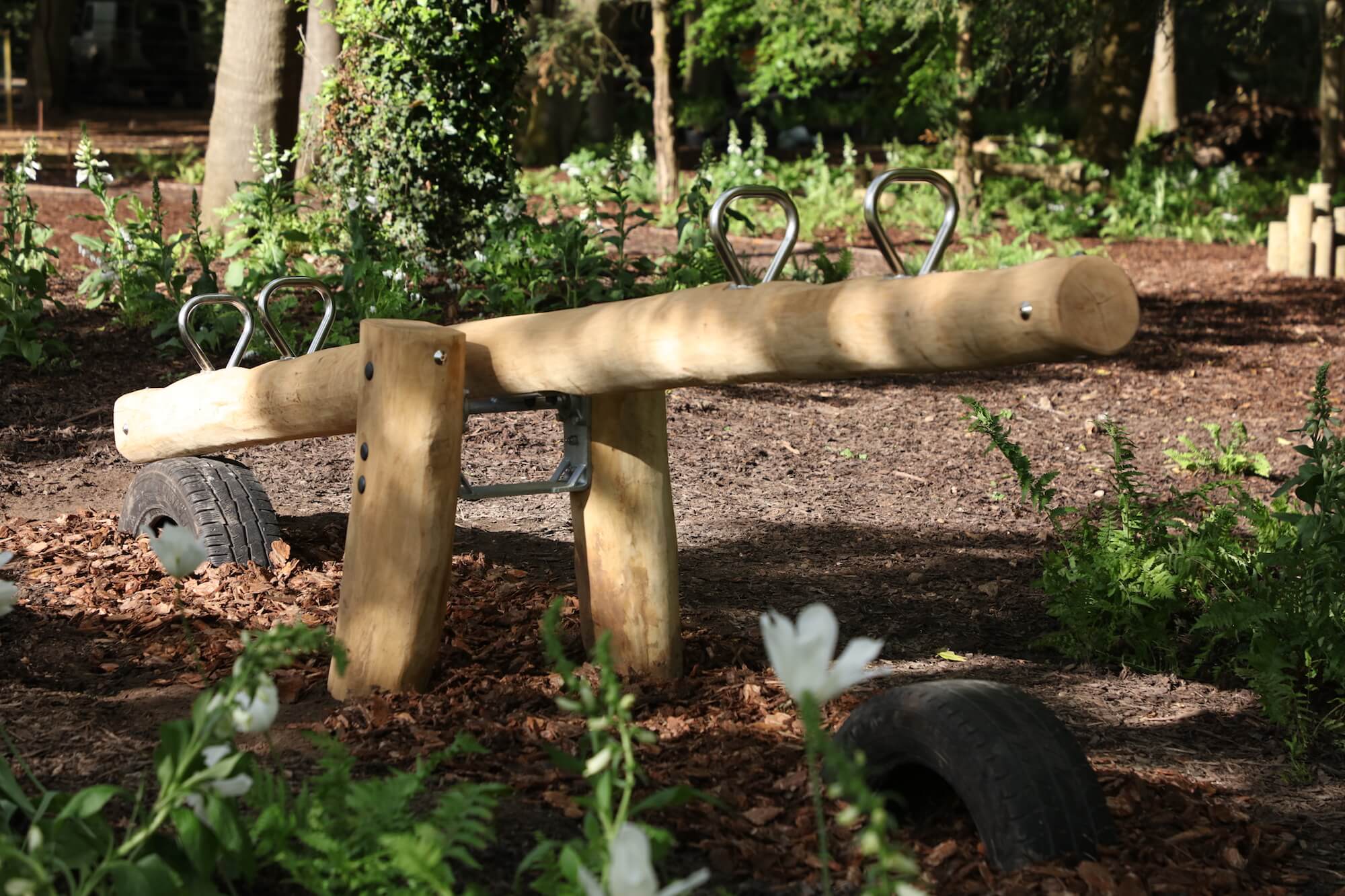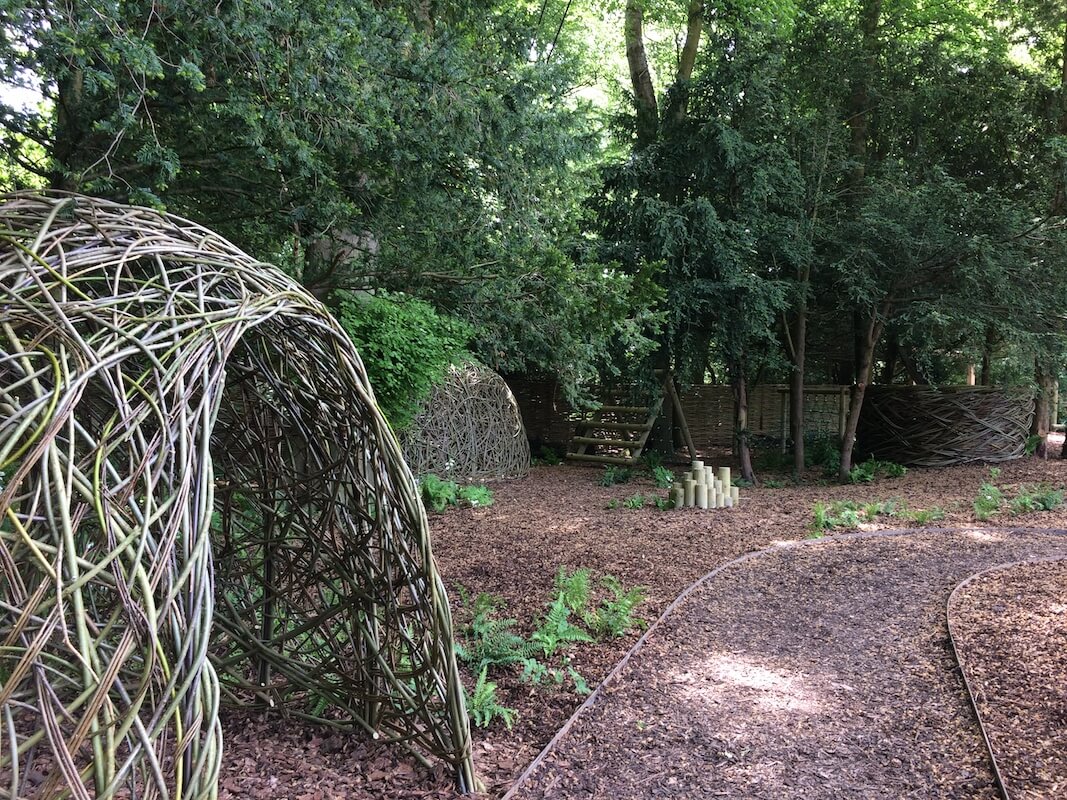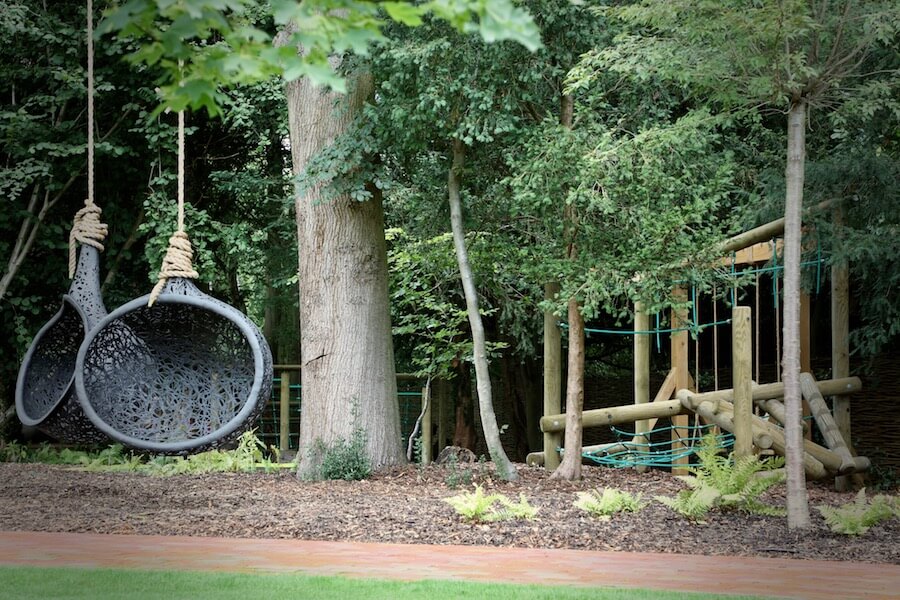 July
Rose doorways in the West lawn Rose Parlour / Harpsden Wood House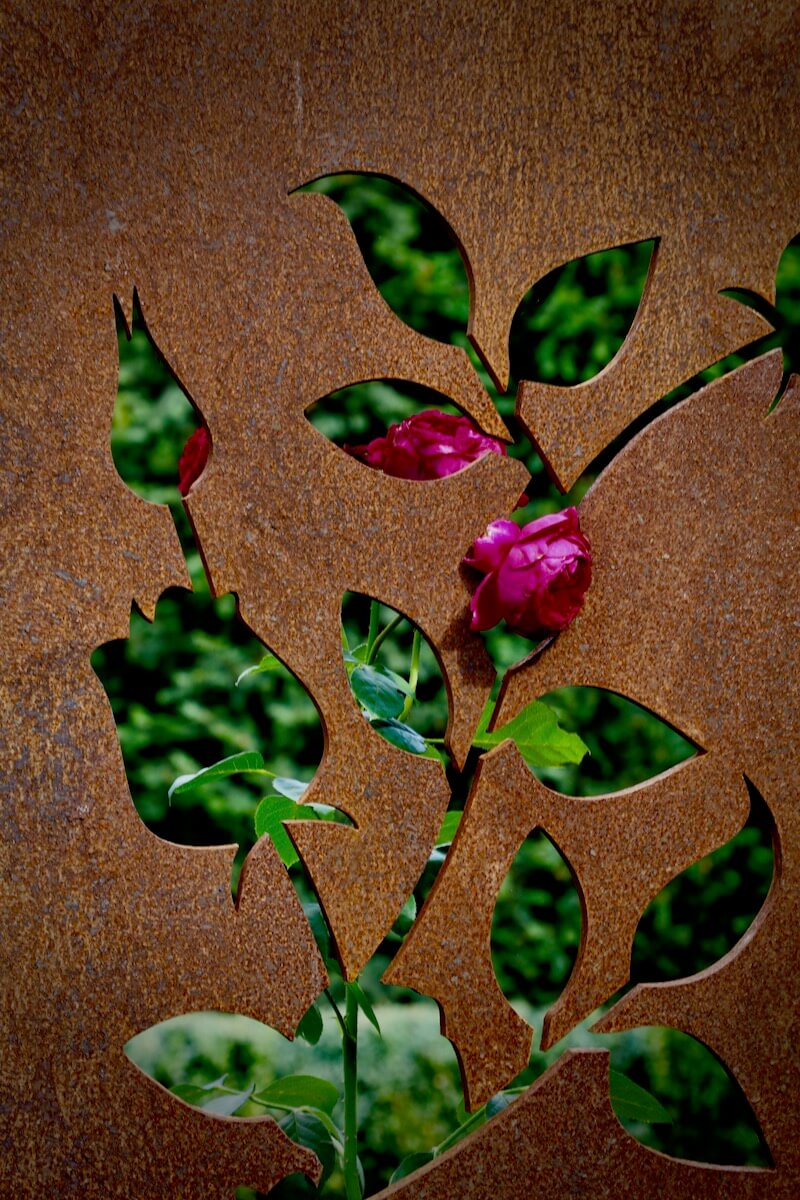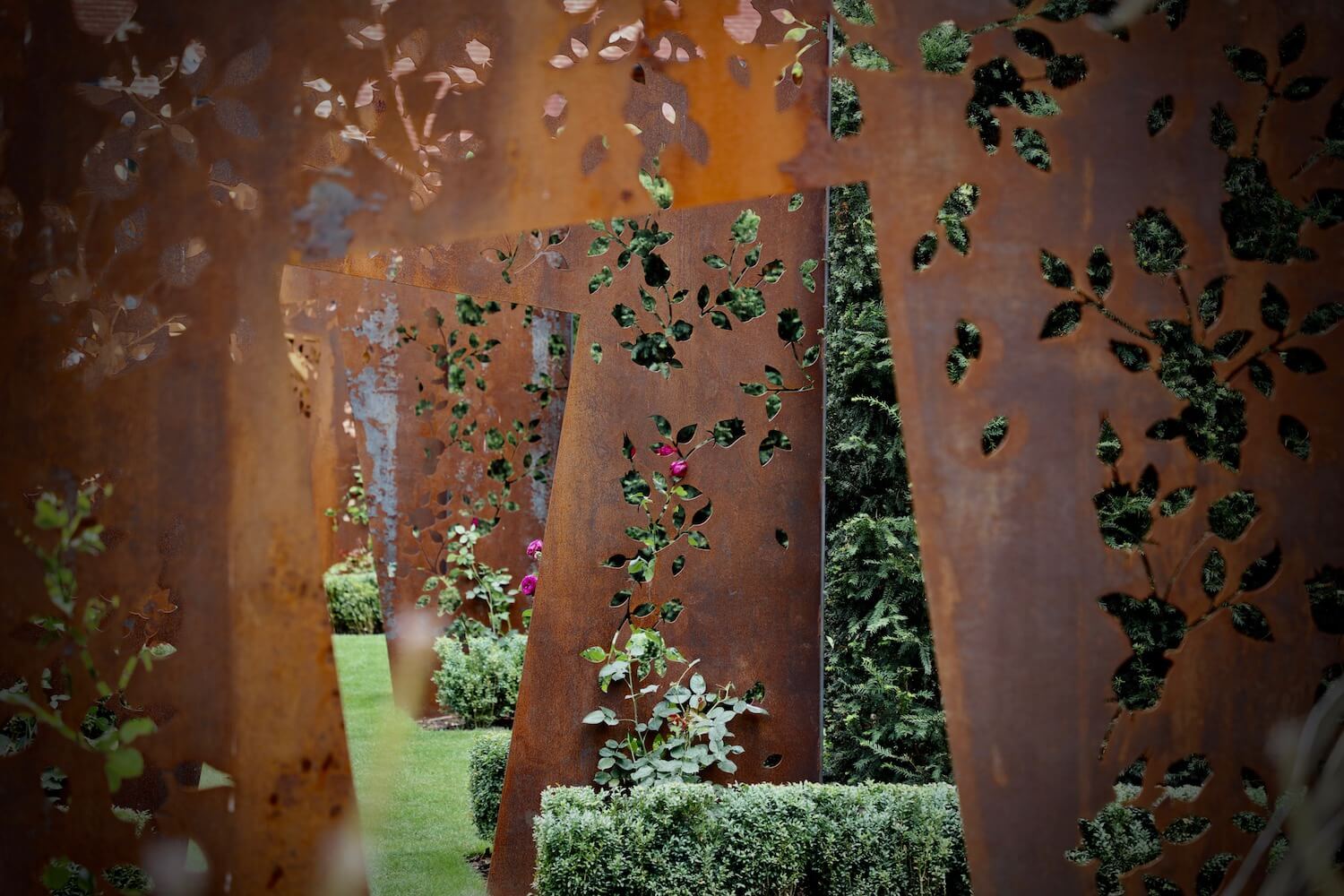 Wisteria Walkway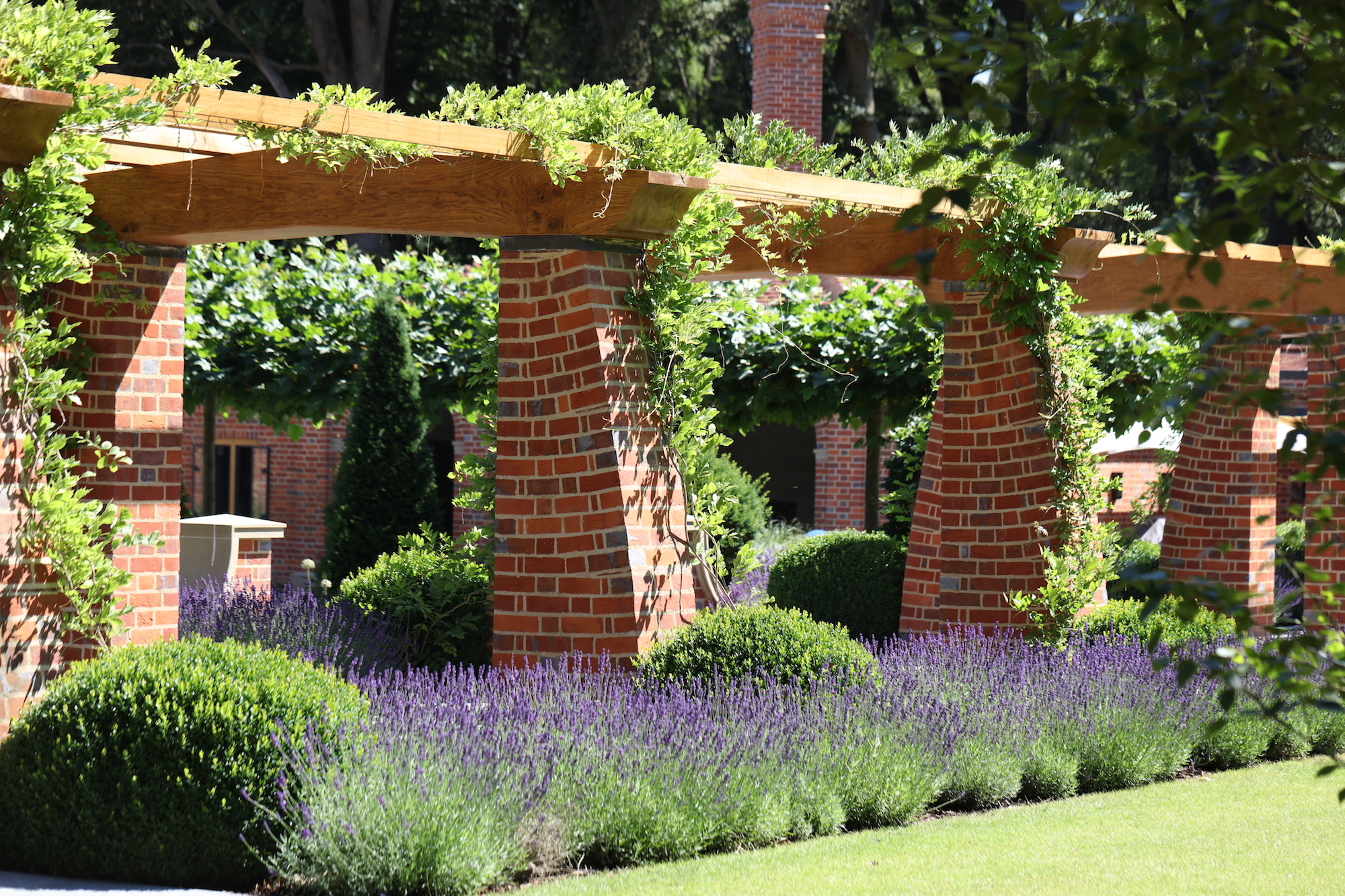 Tennis shelter with Paola Lenti furnishings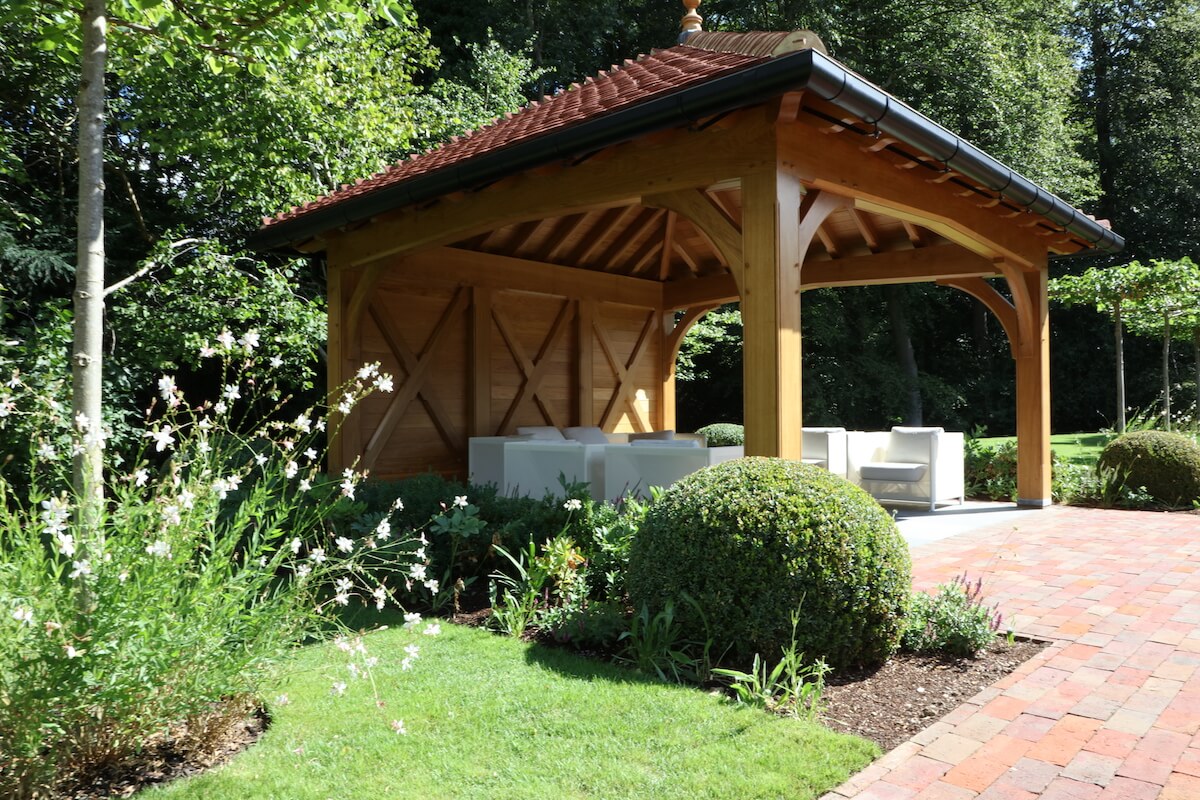 Testing light falls on the lighting design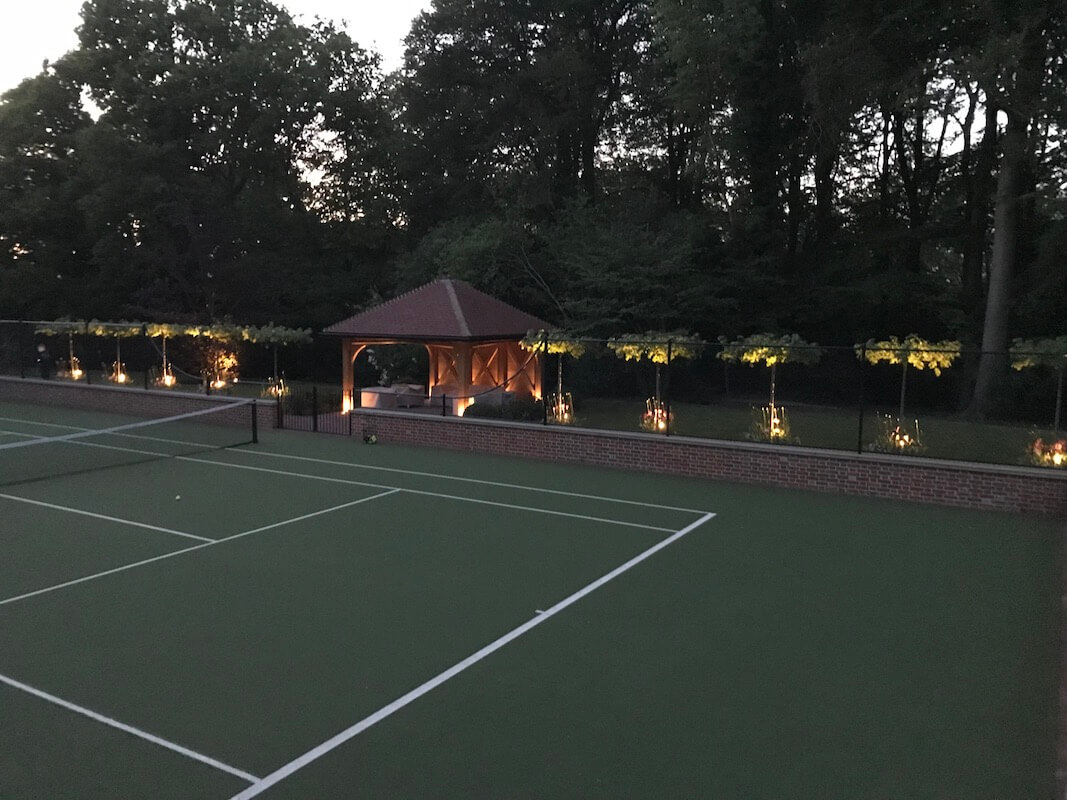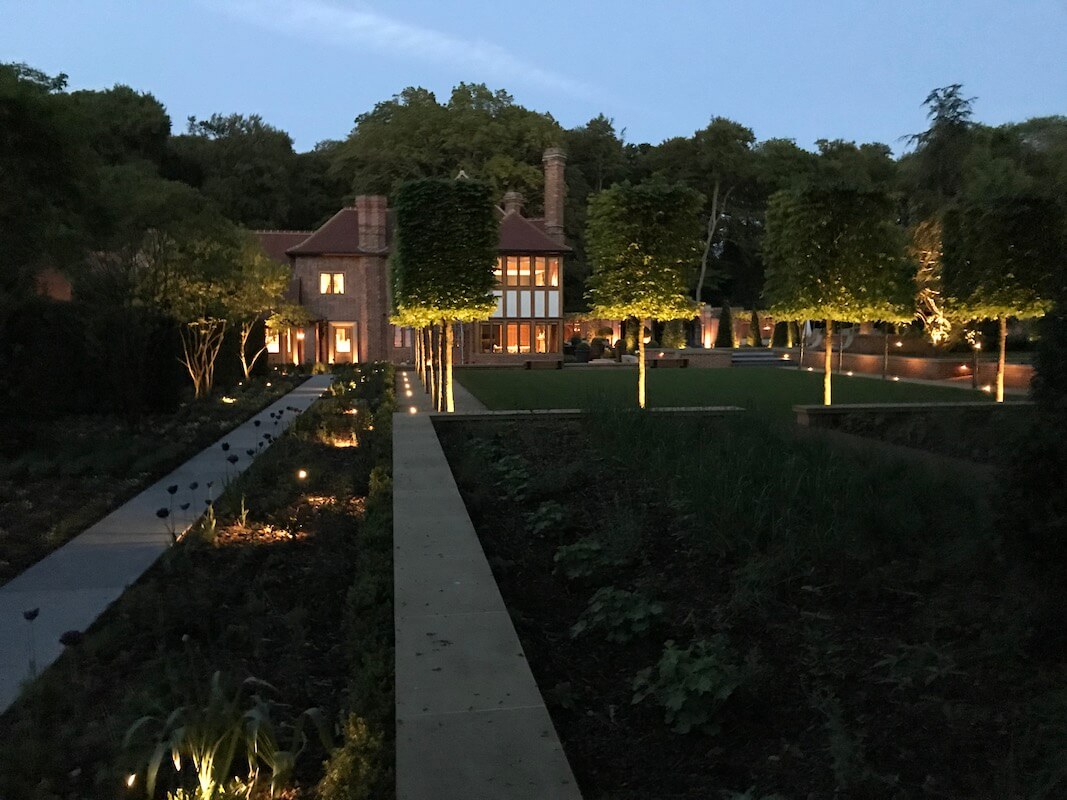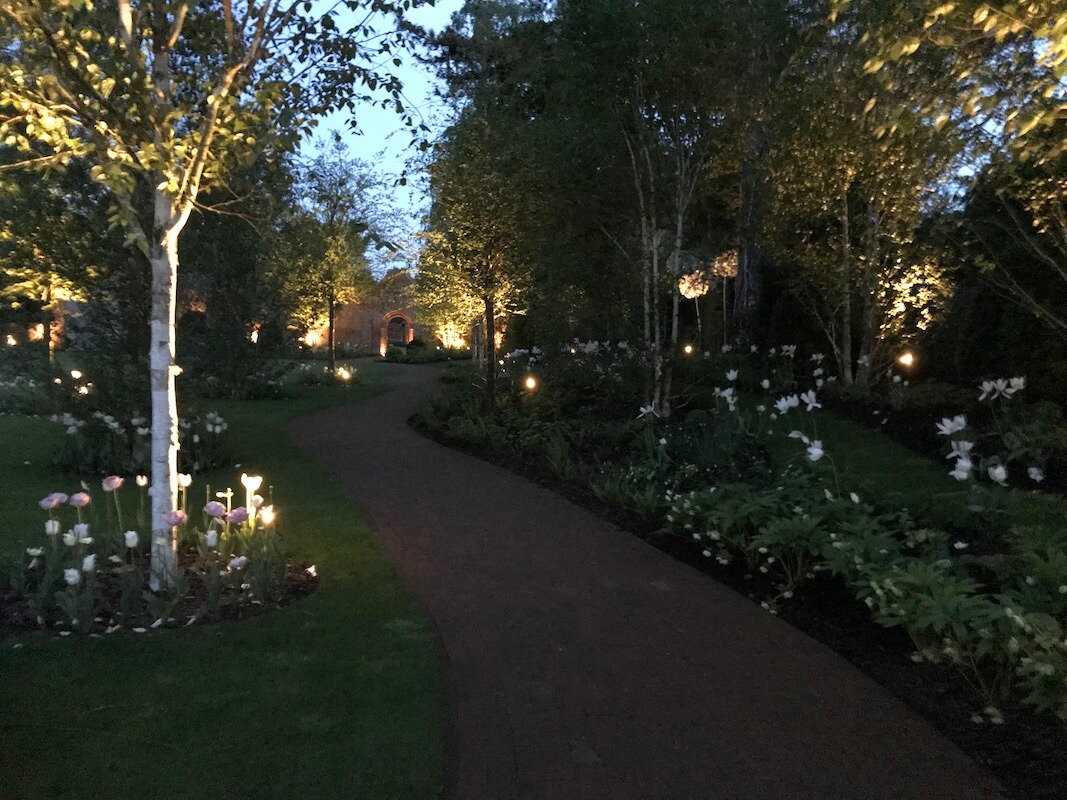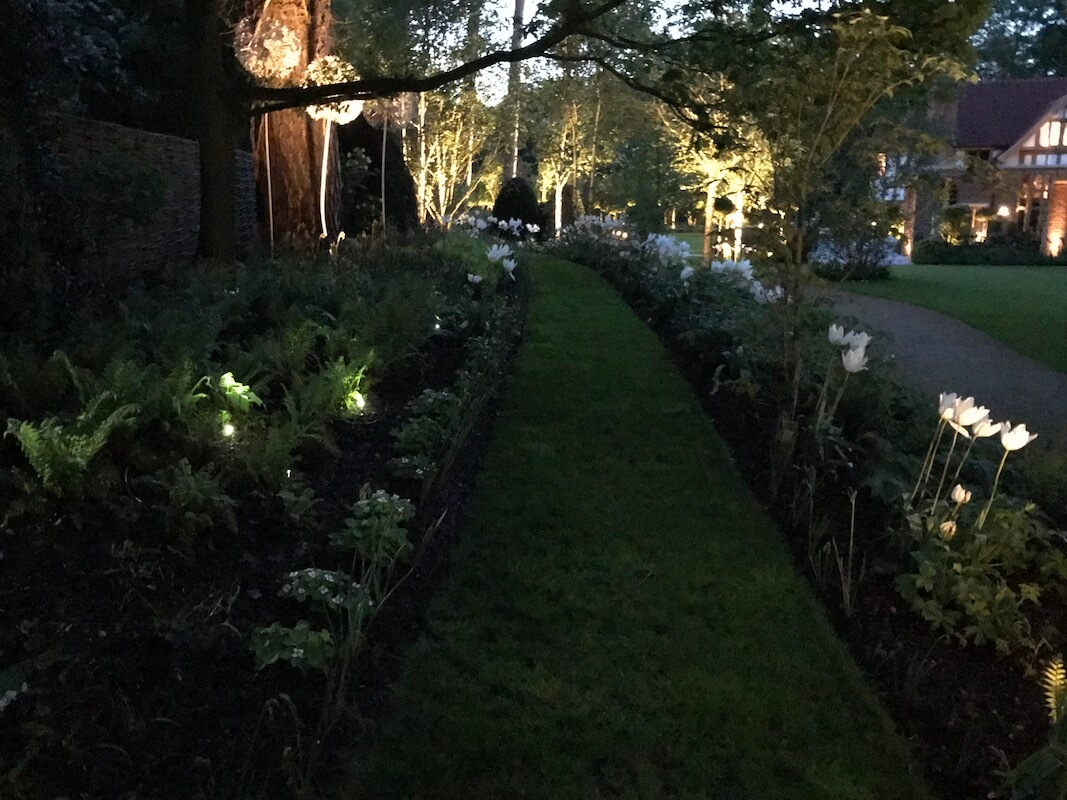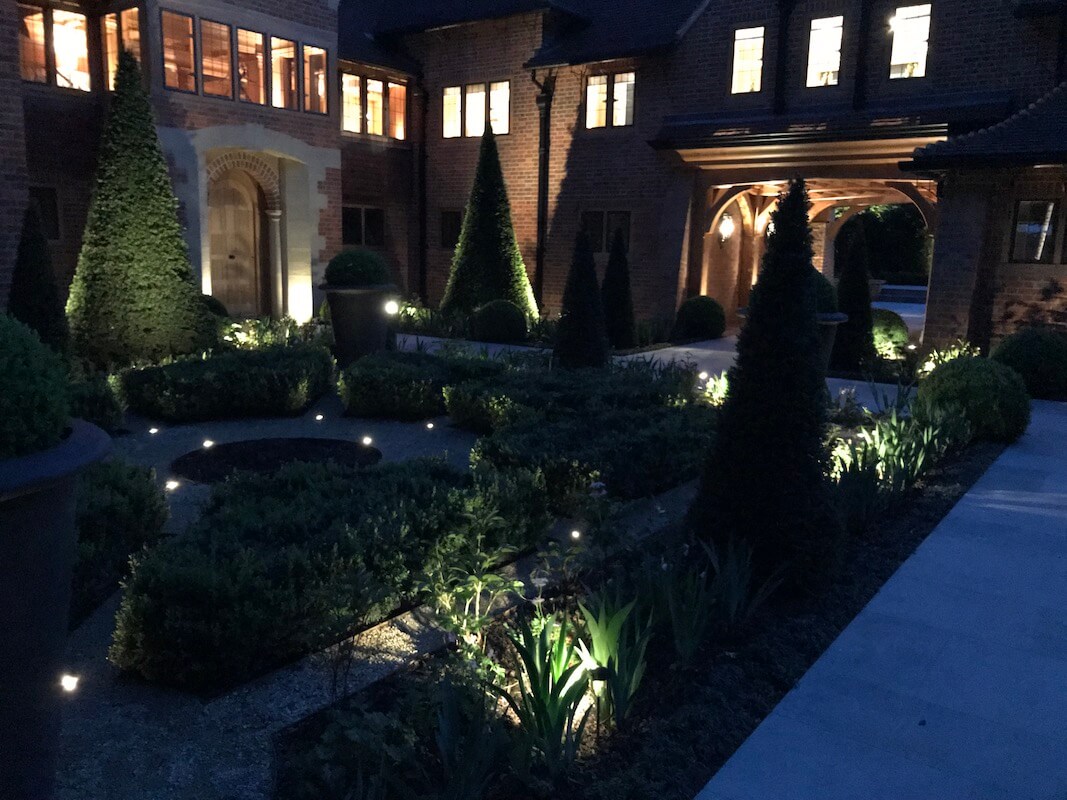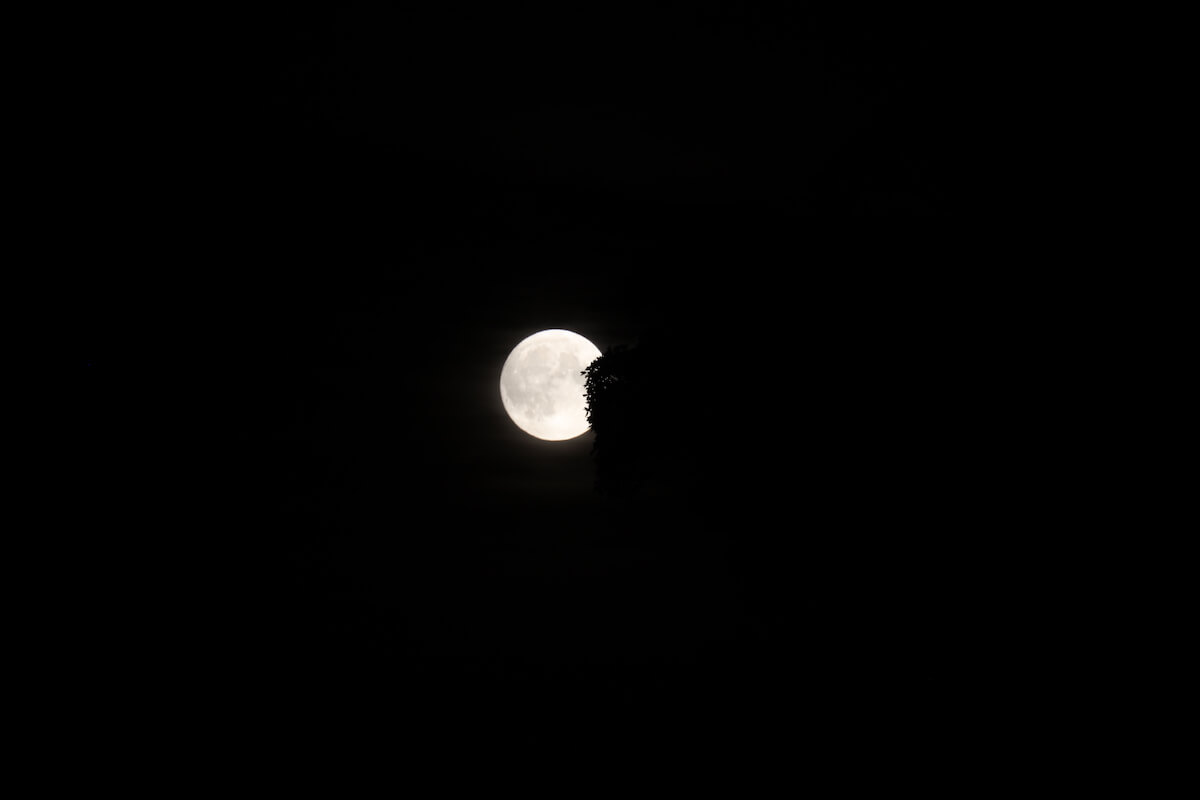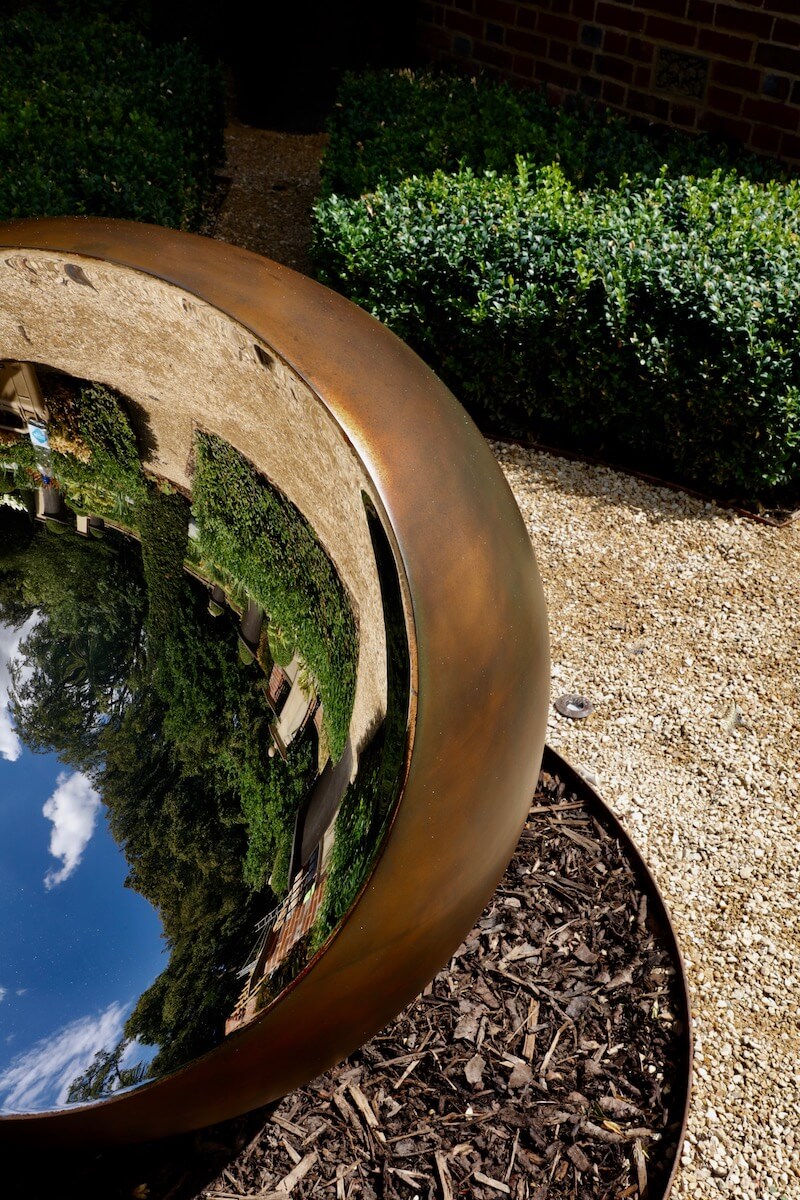 August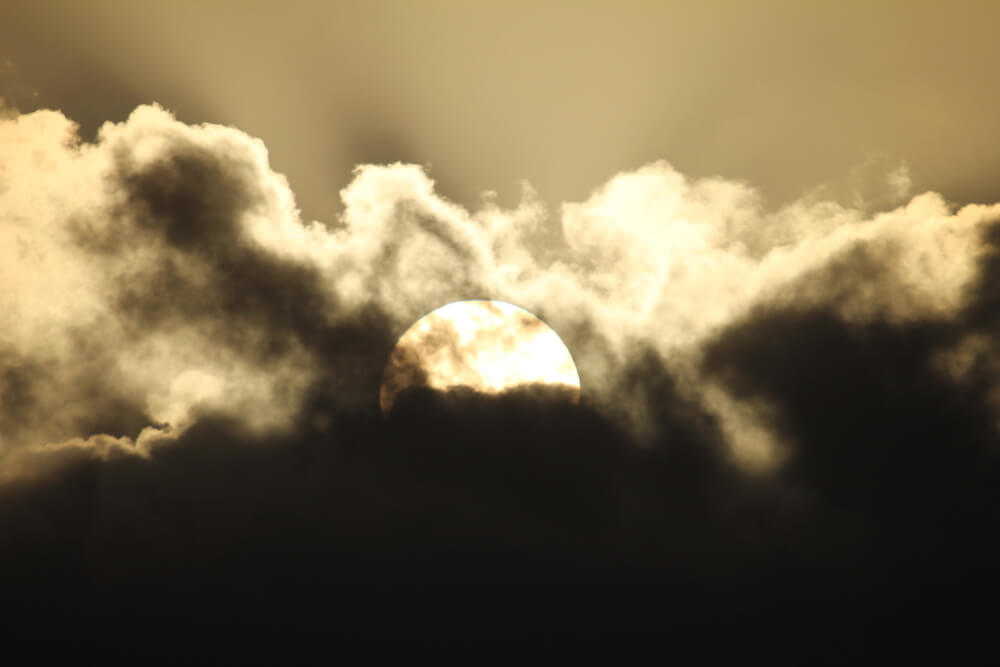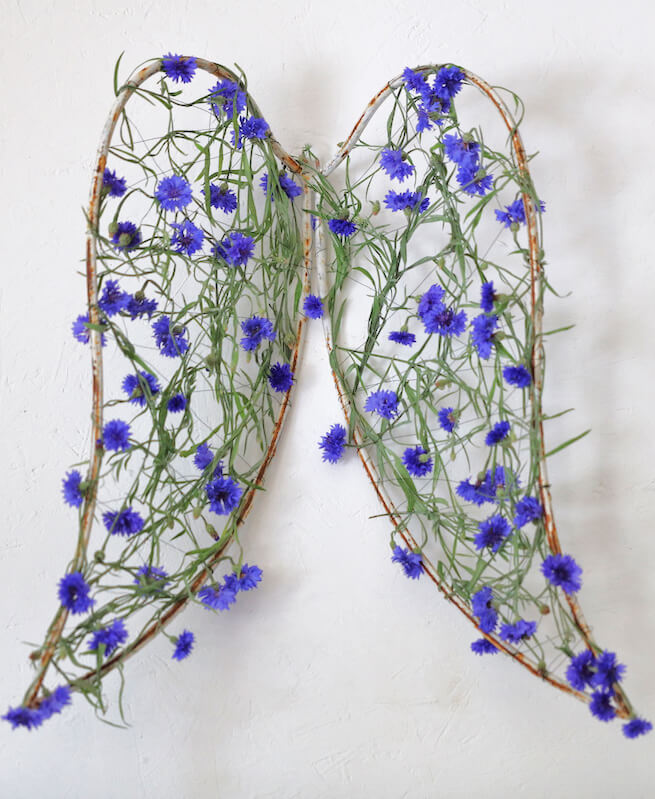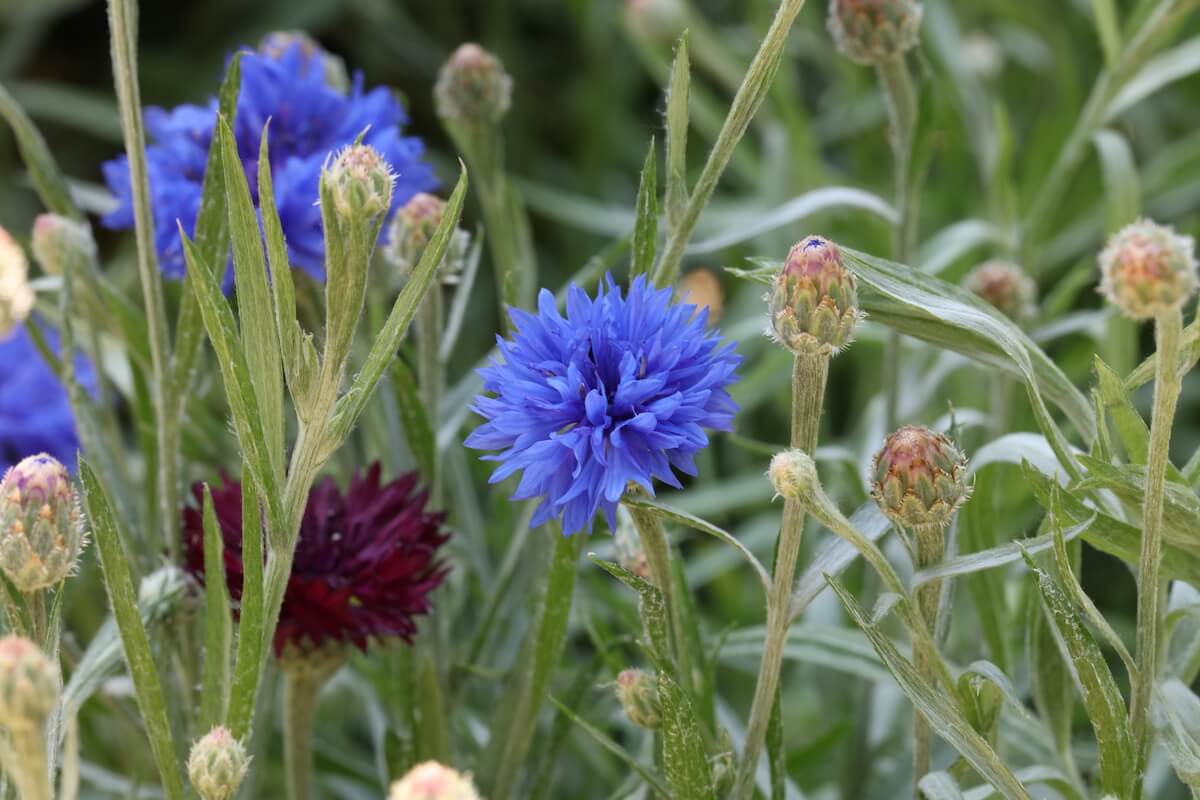 We went quite wild for seed mixes this year and the yields of these were great both on site and in our test patches by August.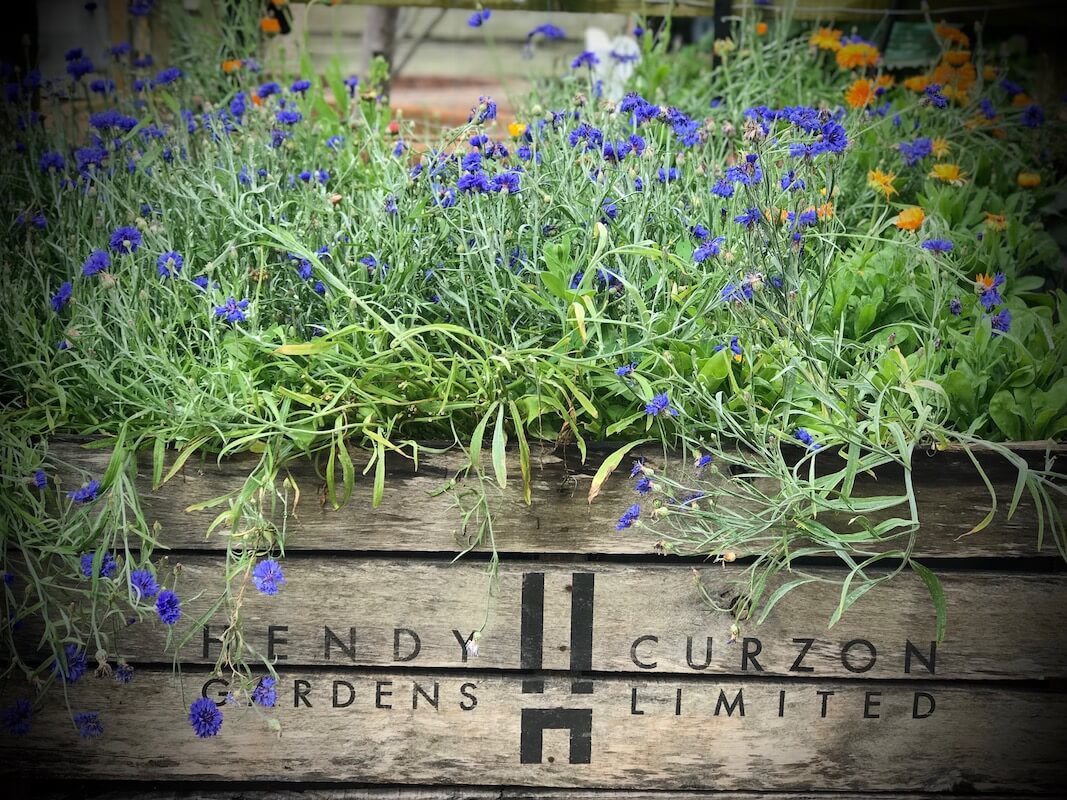 Many floral explorations this year but reinventing the humble Marigold was probably our favourite.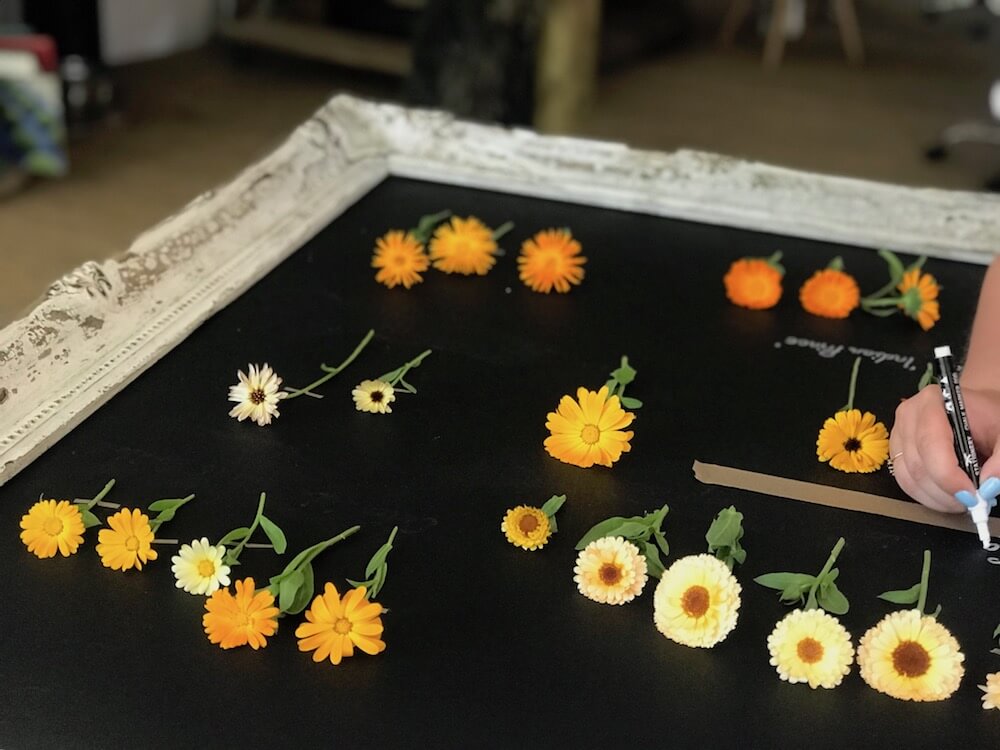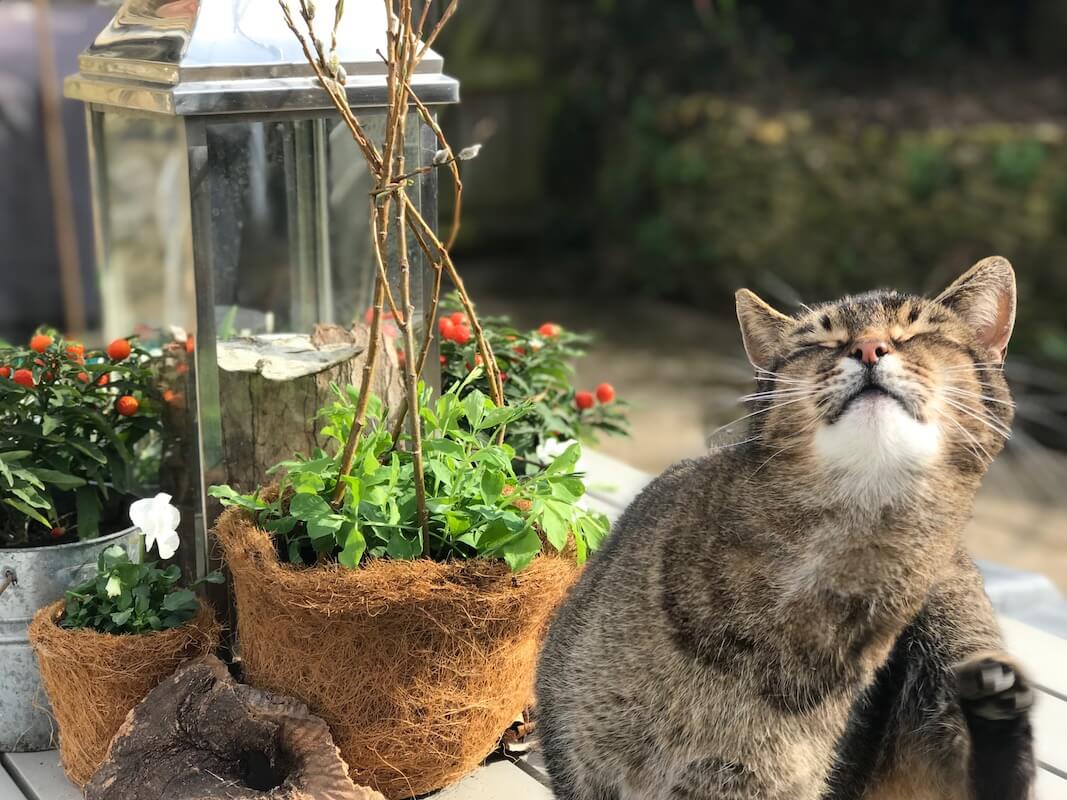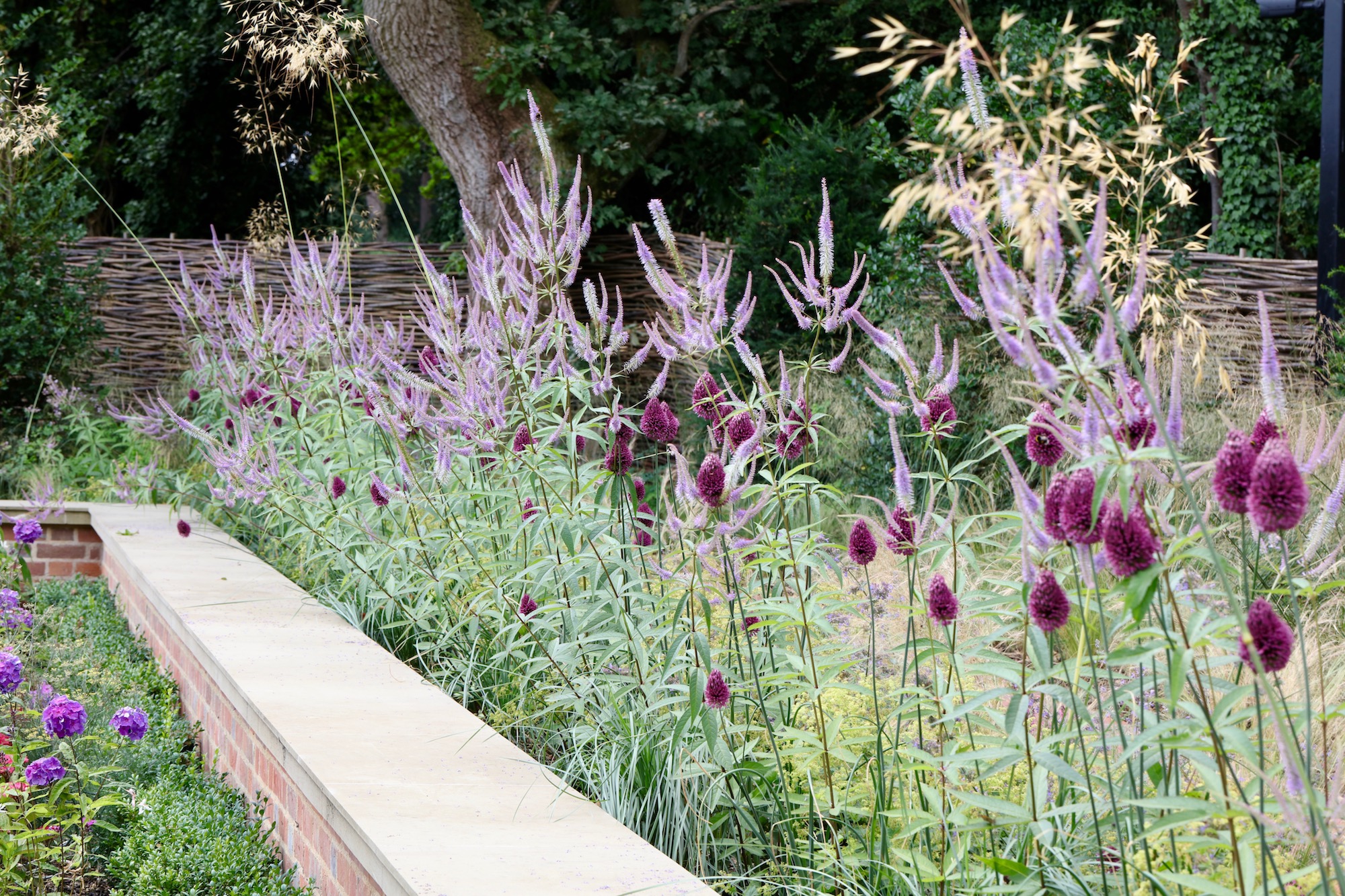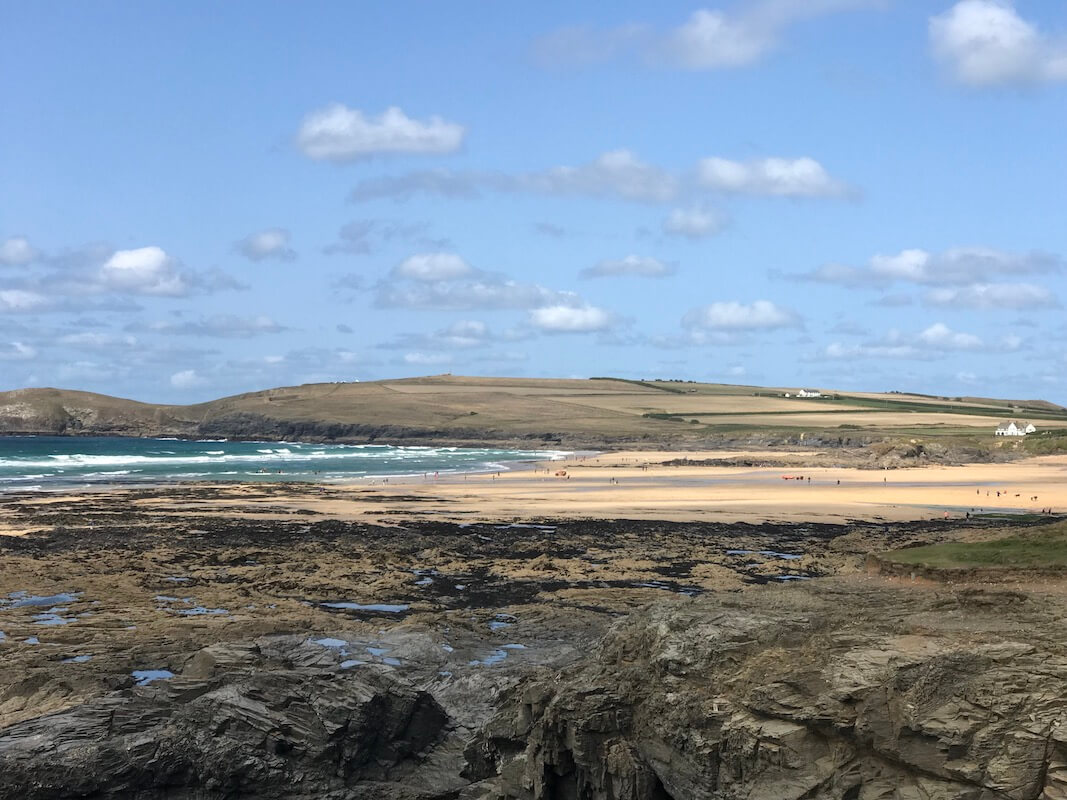 In August we were super excited to be appointed to design the grounds for a Cornwall project. We took a visit down there to see the progress on the house build.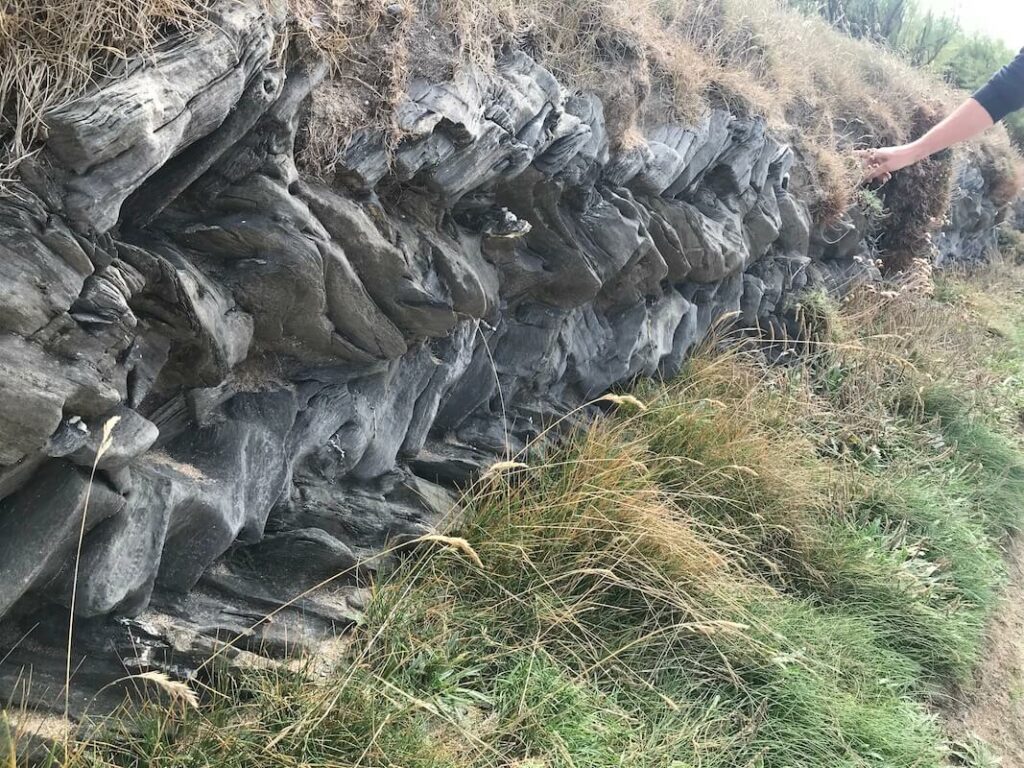 Exterior works begin in the New year so this is all we will show of The Sparrows seaside project for now!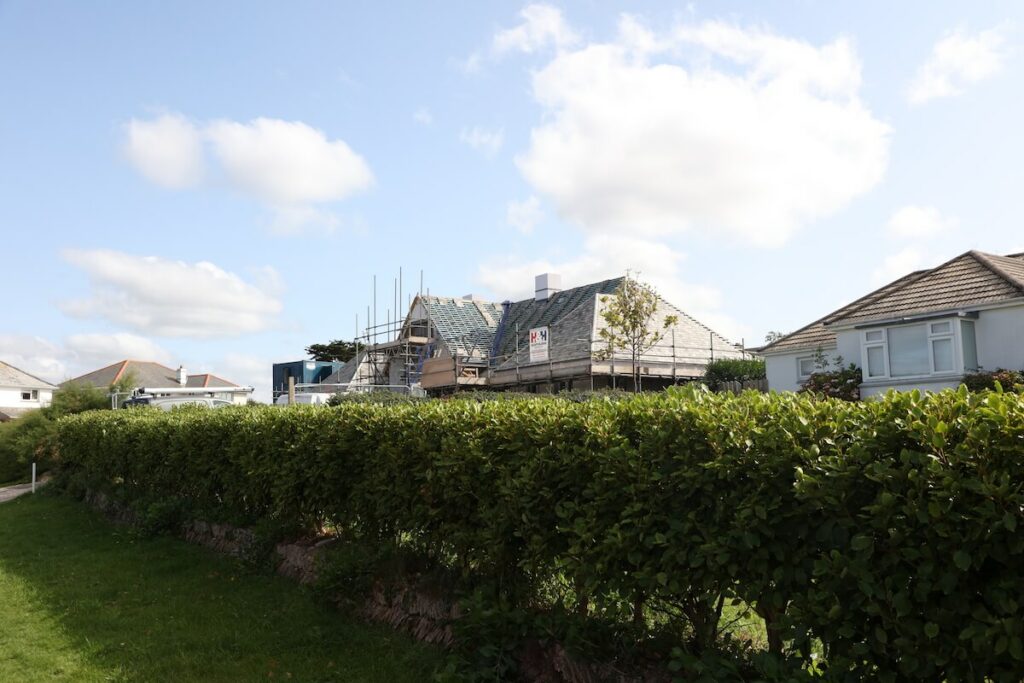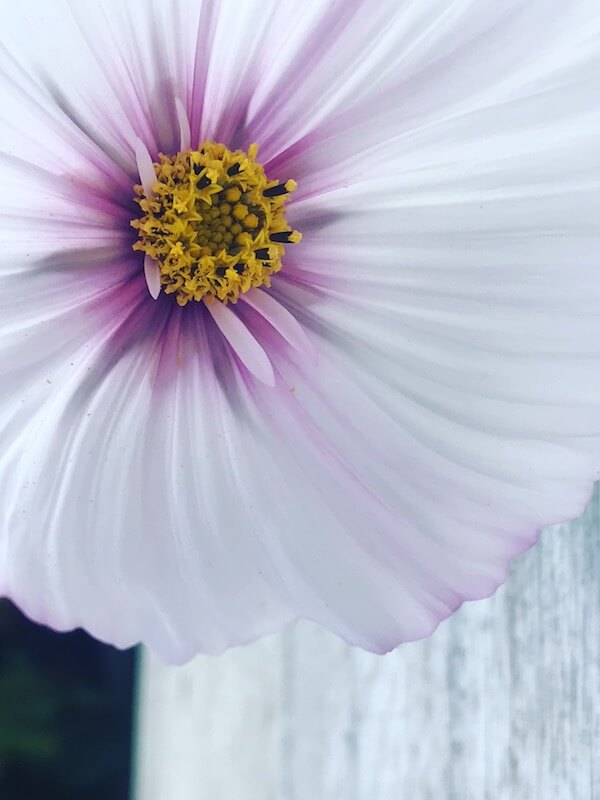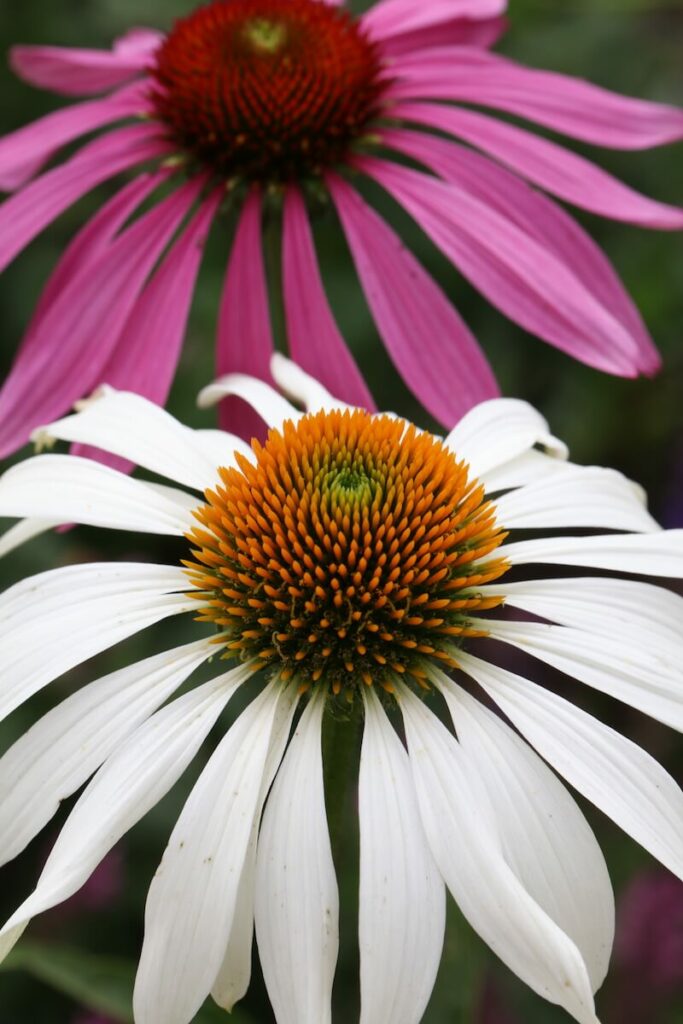 Cross country we were appointed to design The Upside Down House in Wiltshire and travelled over there.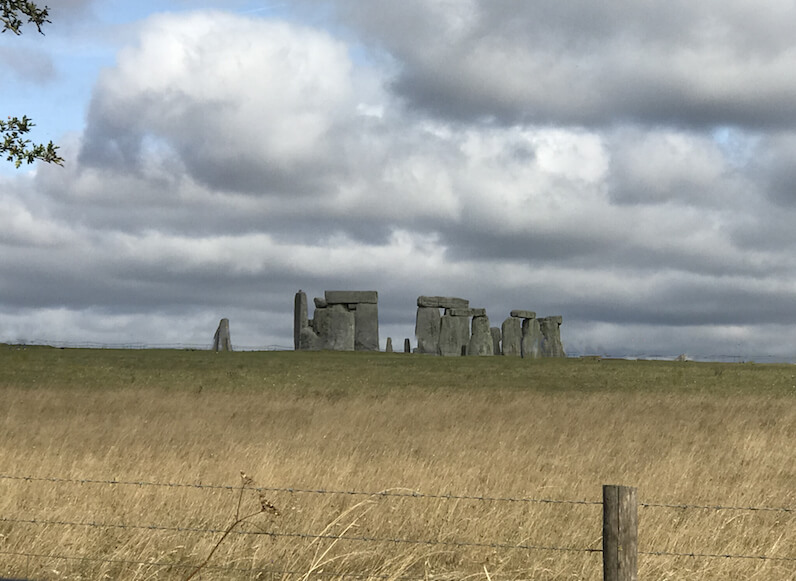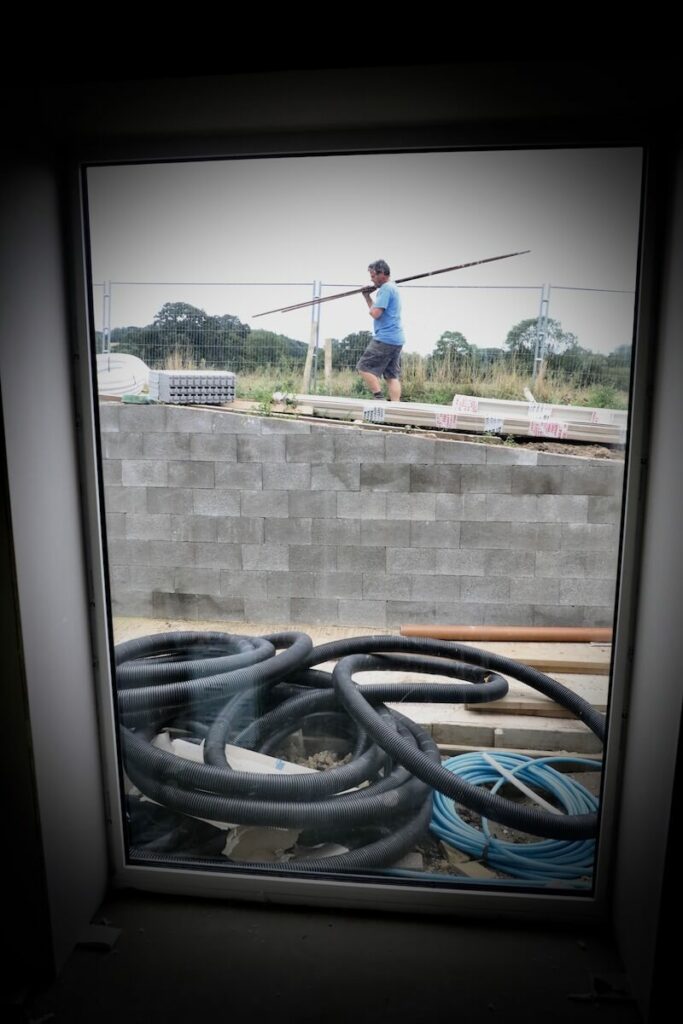 Similar to The Sparrows, the exterior works begin in the New year so this is all we will show of the project for now!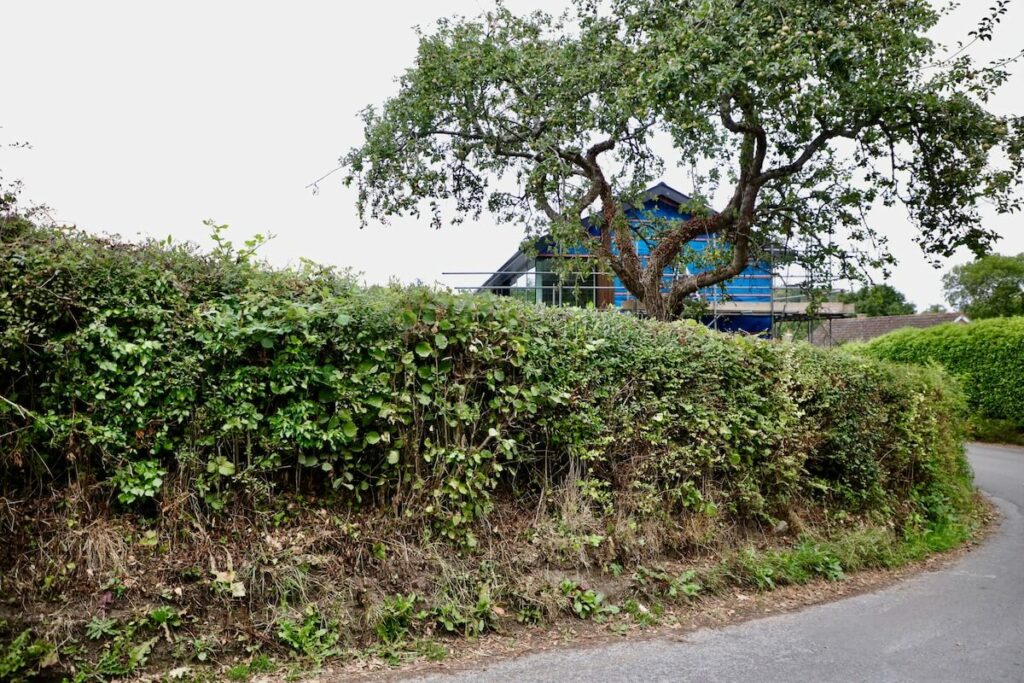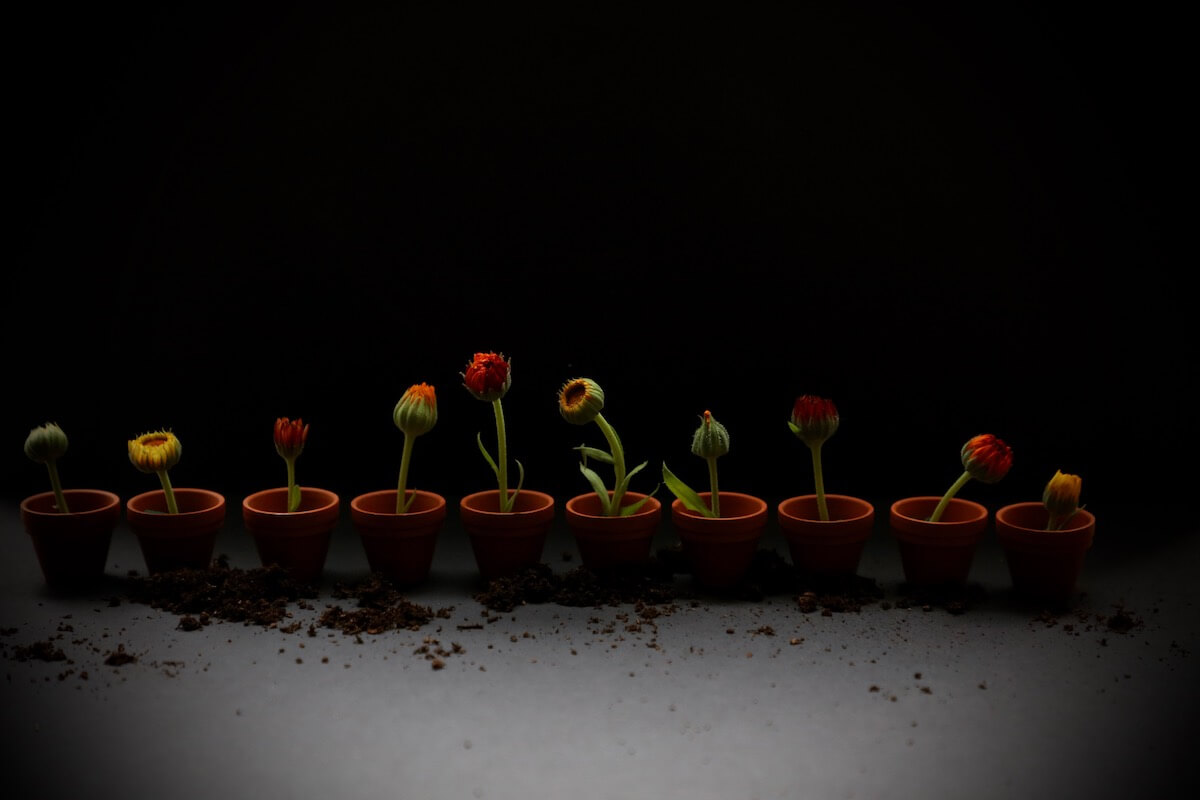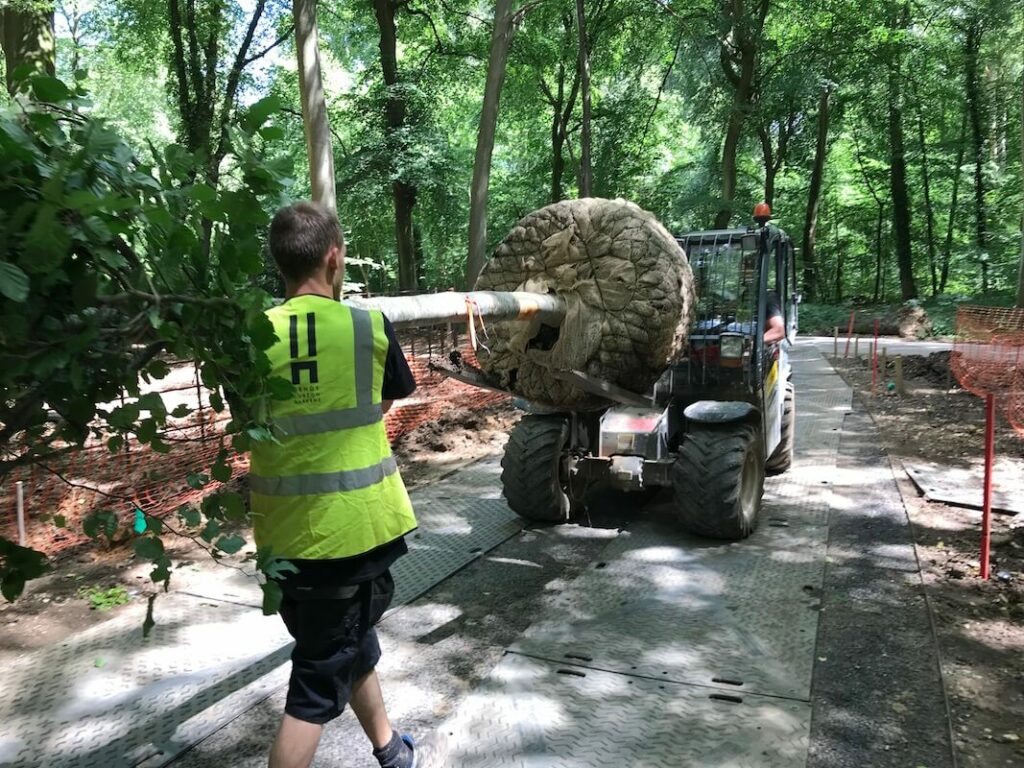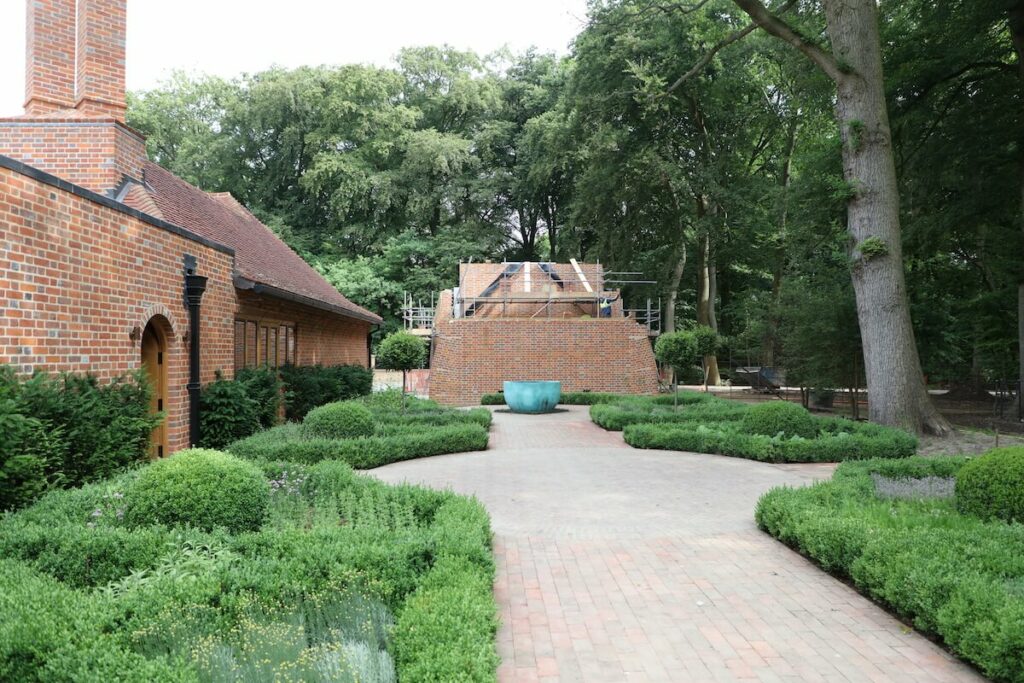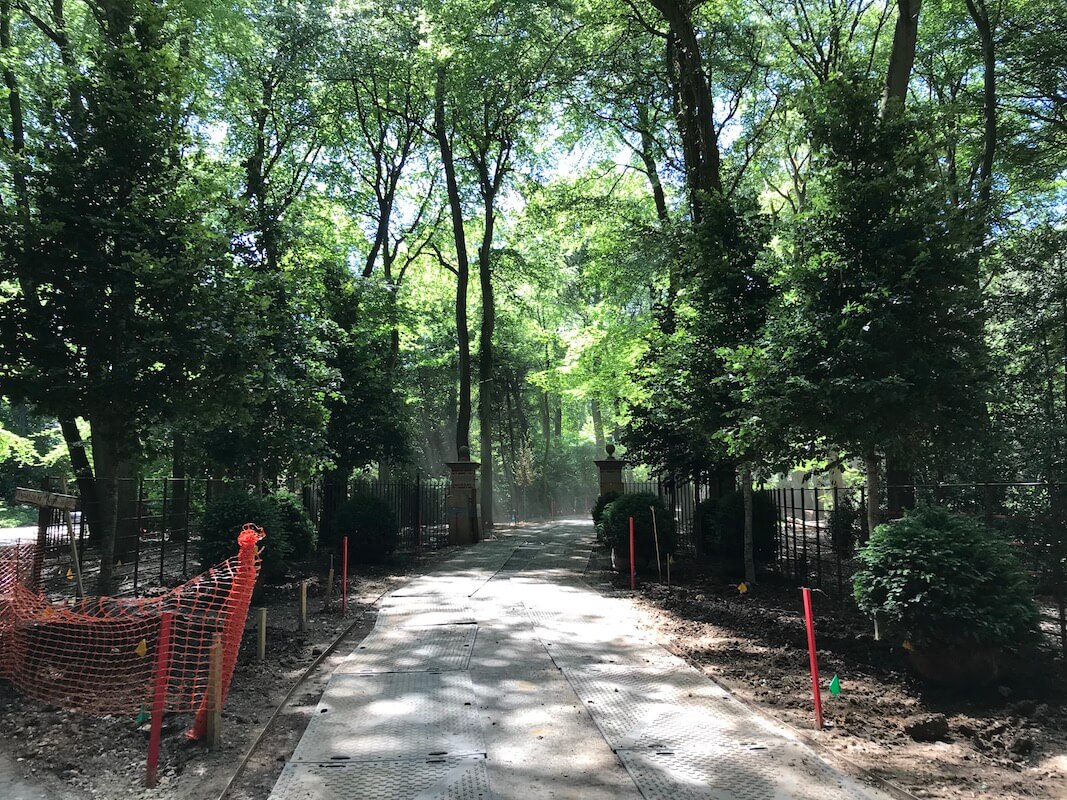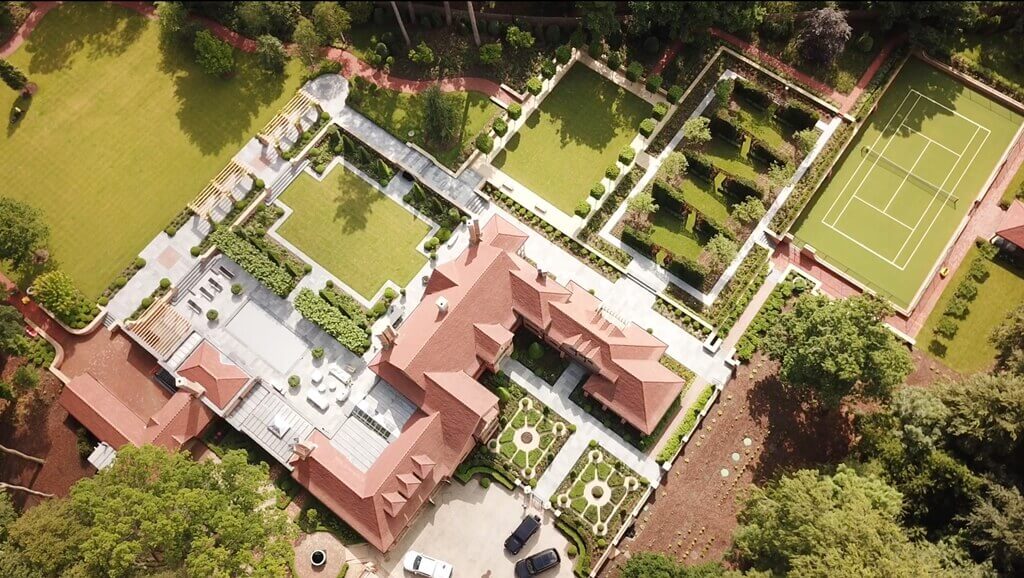 September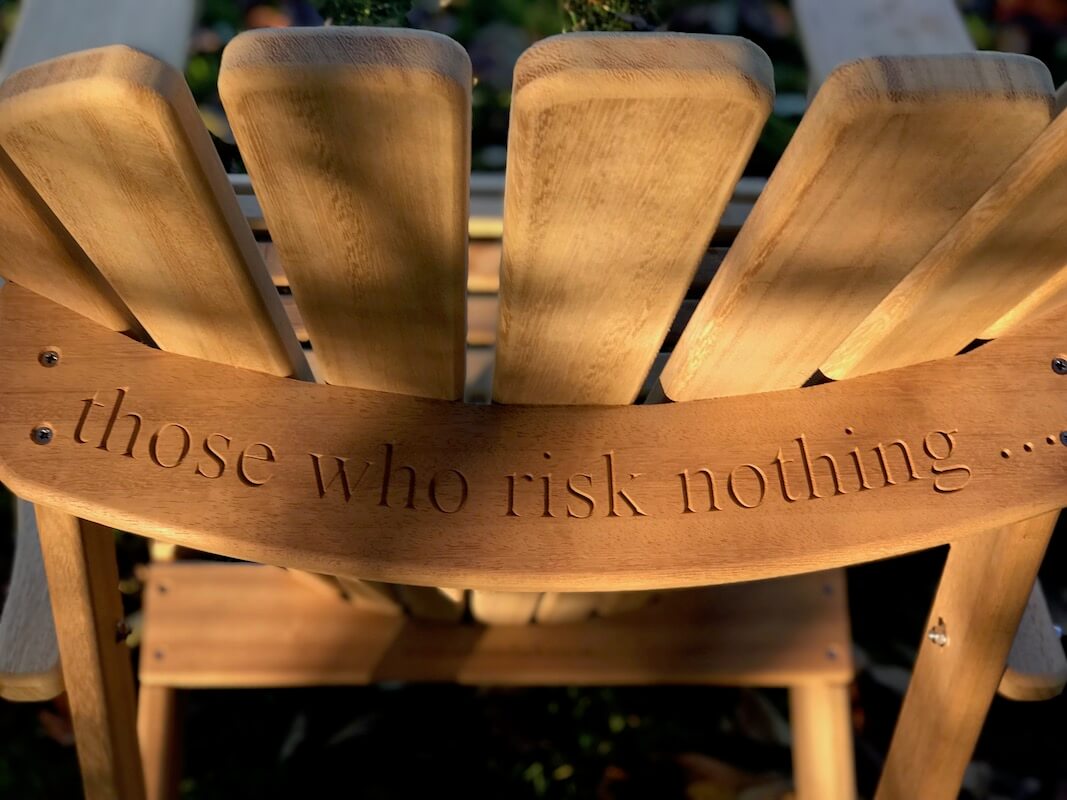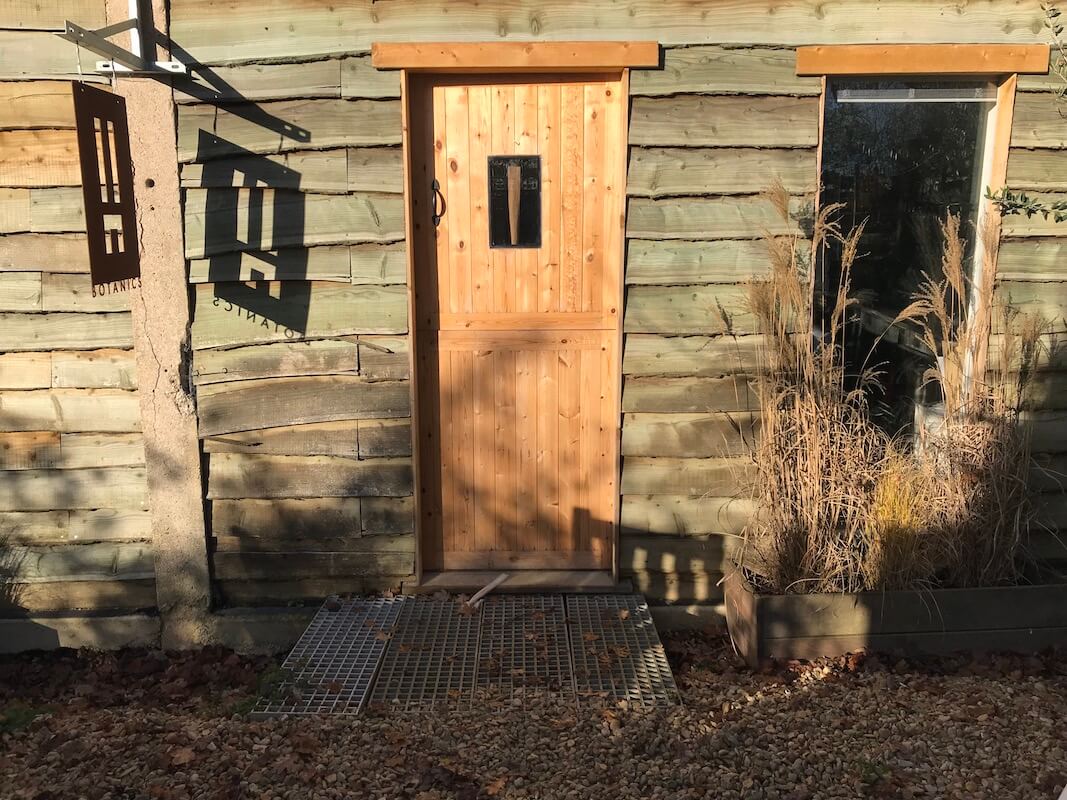 By September everyone on site and in the studio were absolutely exhausted but we still had a busy period to tackle.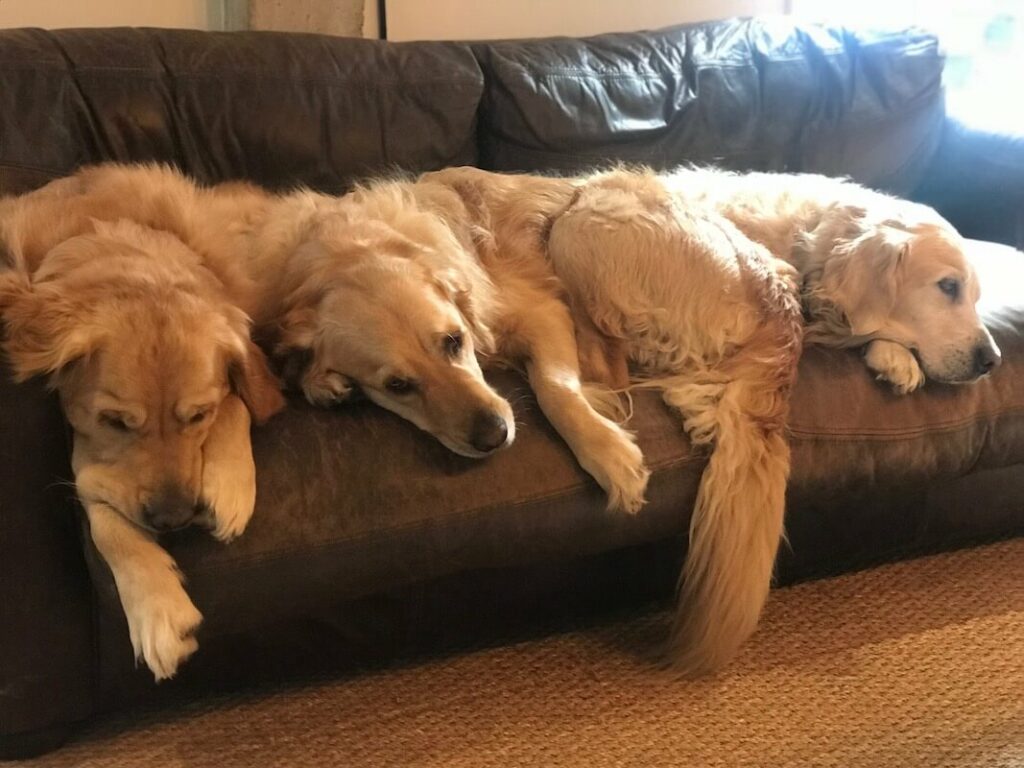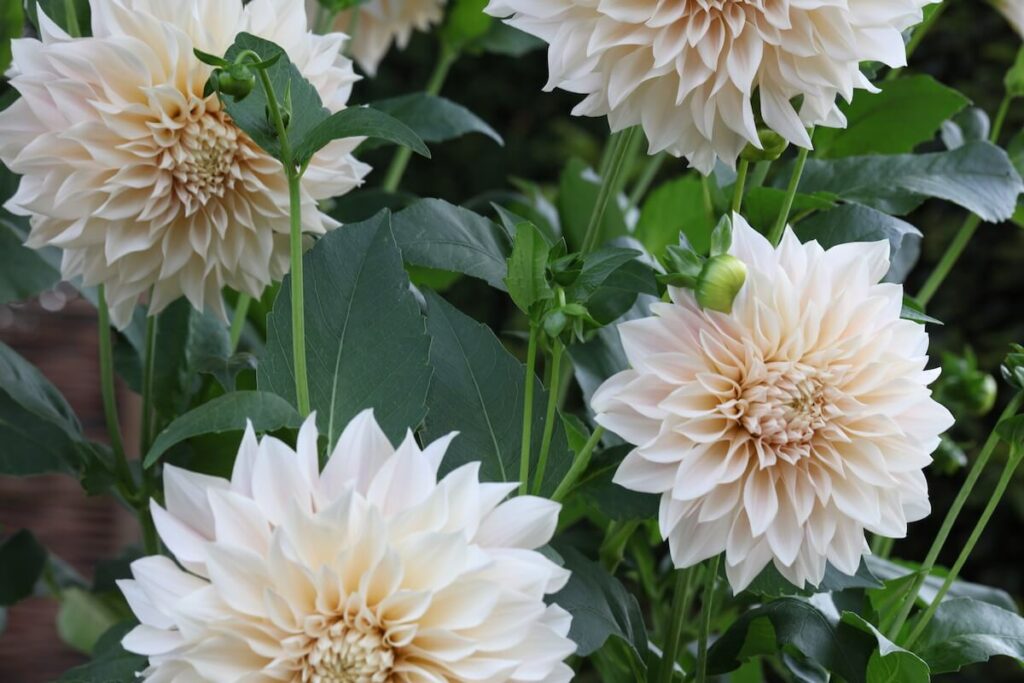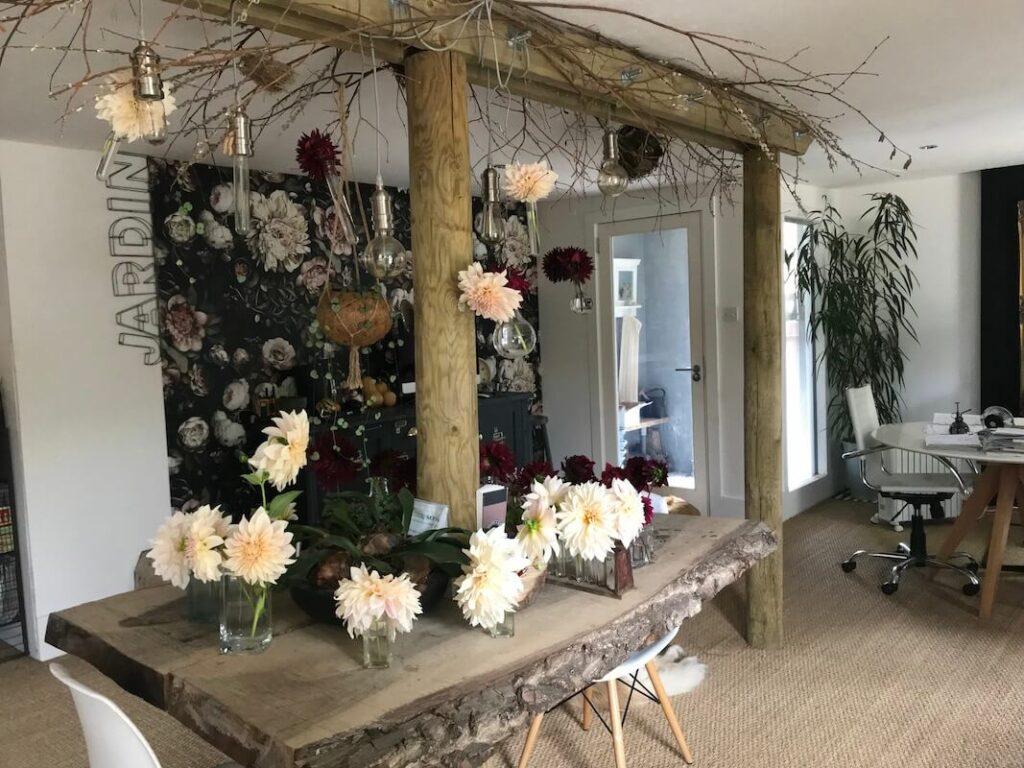 We really reaped the rewards of all the efforts of what we had planted and sowed at the Design barn and on sites earlier in the year. September was a real high point for homegrown florals. There were more Dahlias than we could cut and giveaway!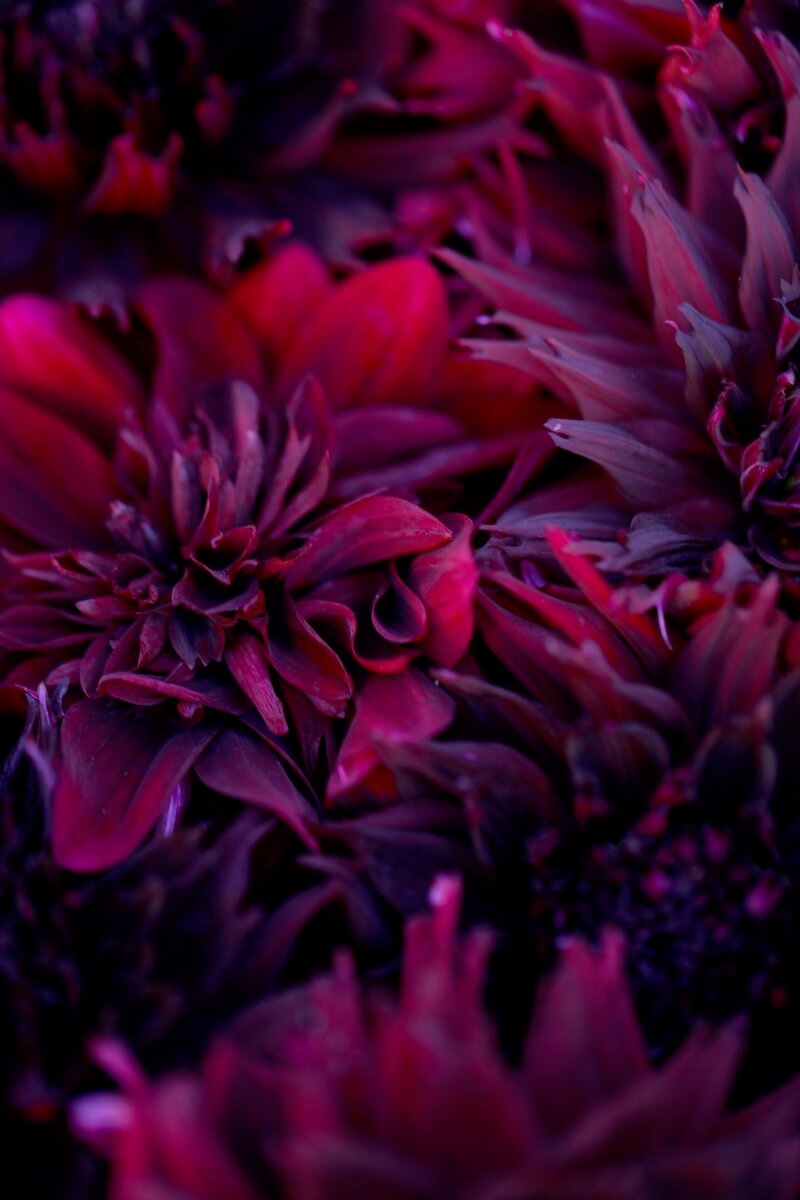 Above Dahlia Soulman, below Pandora Poppies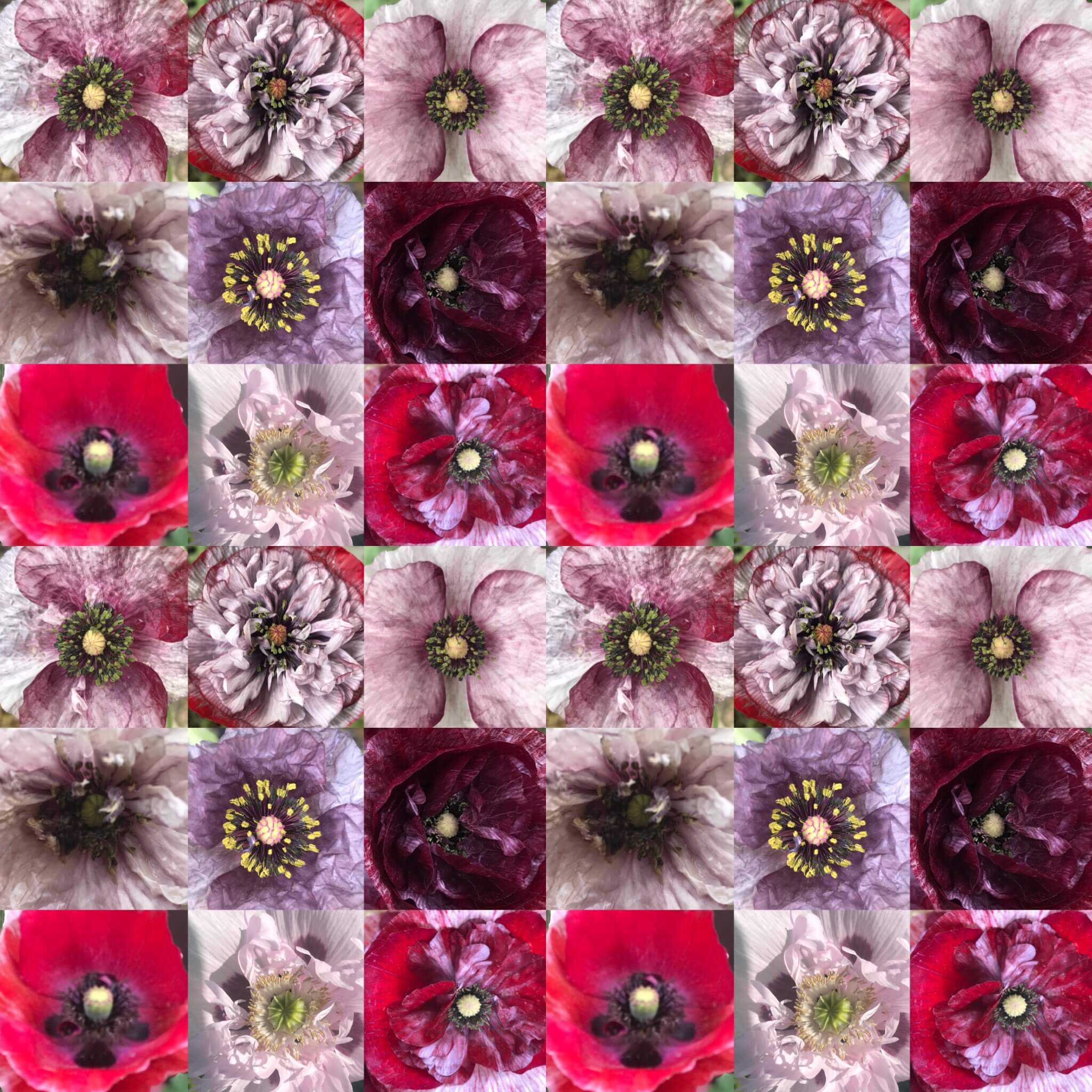 Project Firefly in Oxford begins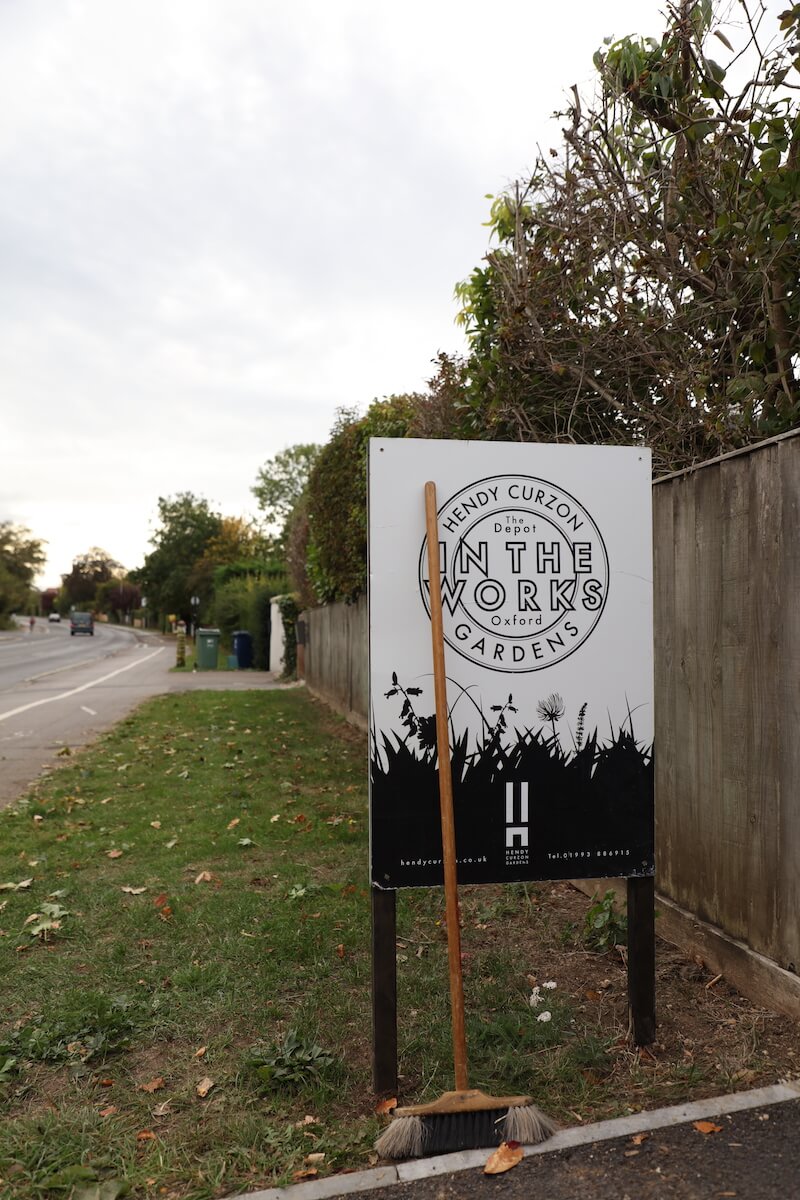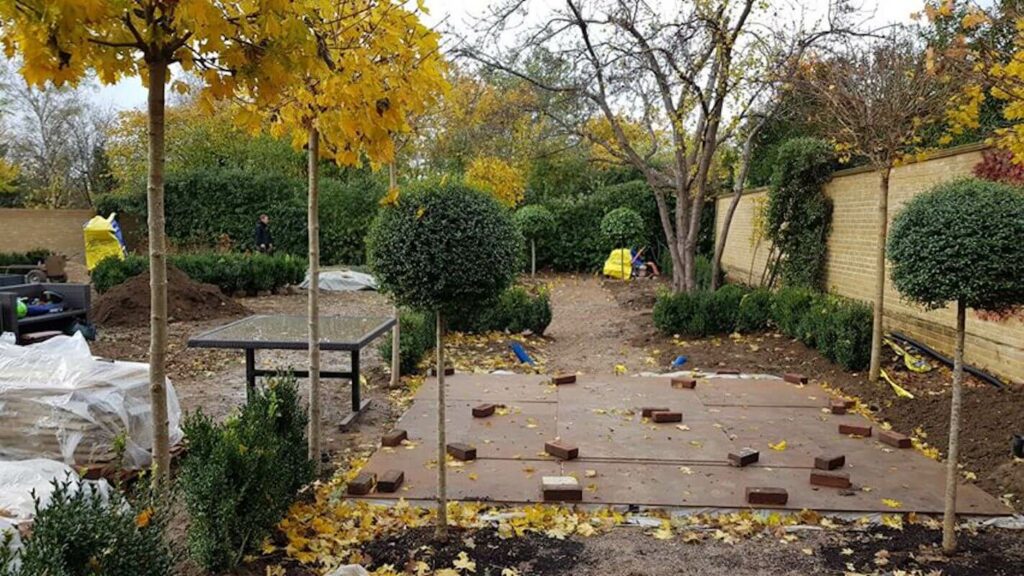 October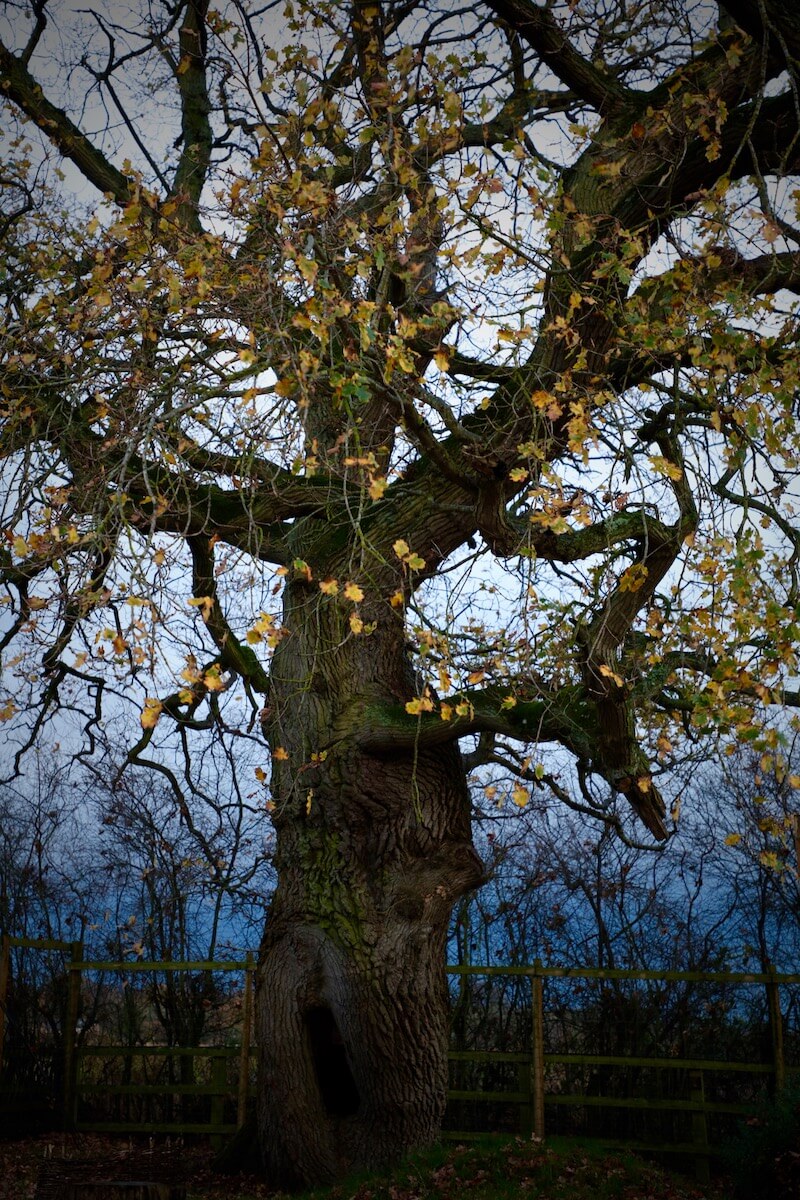 With the precision project Firefly in the works some of the team had to break away to soak up bulb planting season. We were back at North End installing thousands of Tulip top-ups.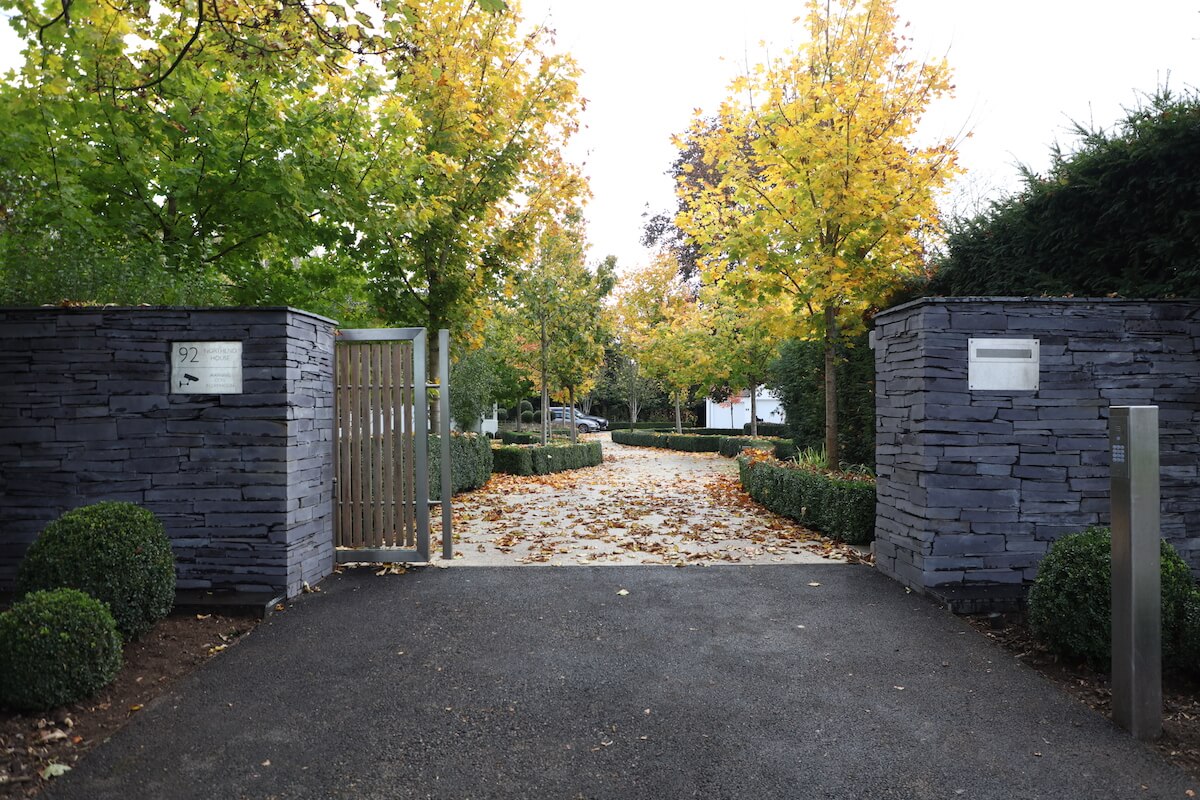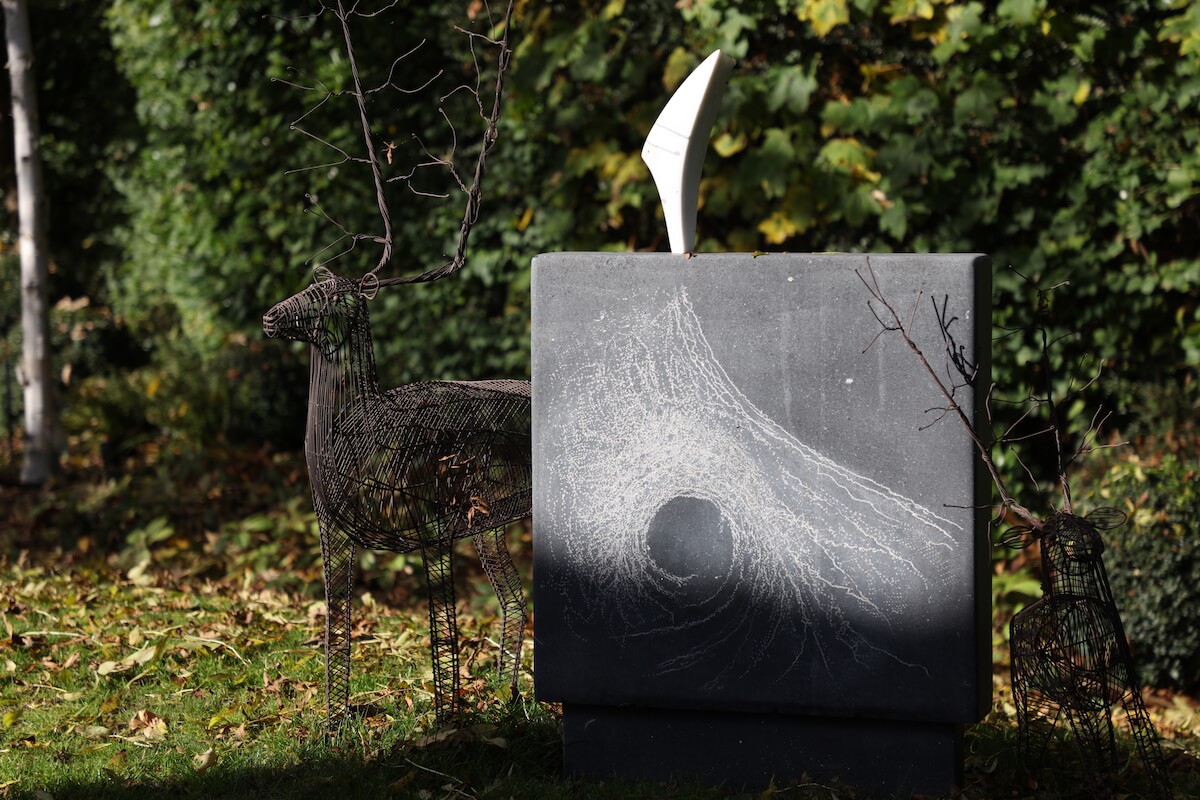 Like all HC projects, North End is designed to be at a high point in Autumn. This project is now seeing its fifth anniversary and it is a delight to see the maturity of the trees. Initially they went in big, but now they look so established and balanced with the house and the sculptures.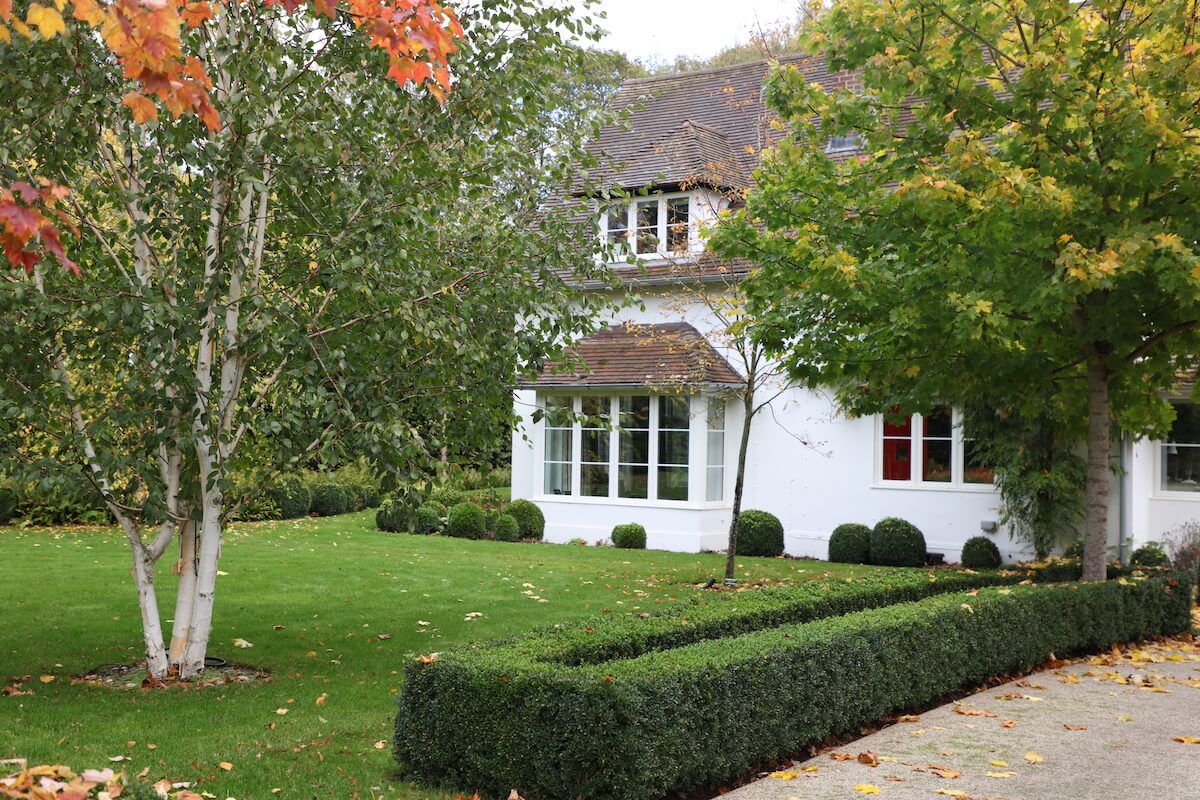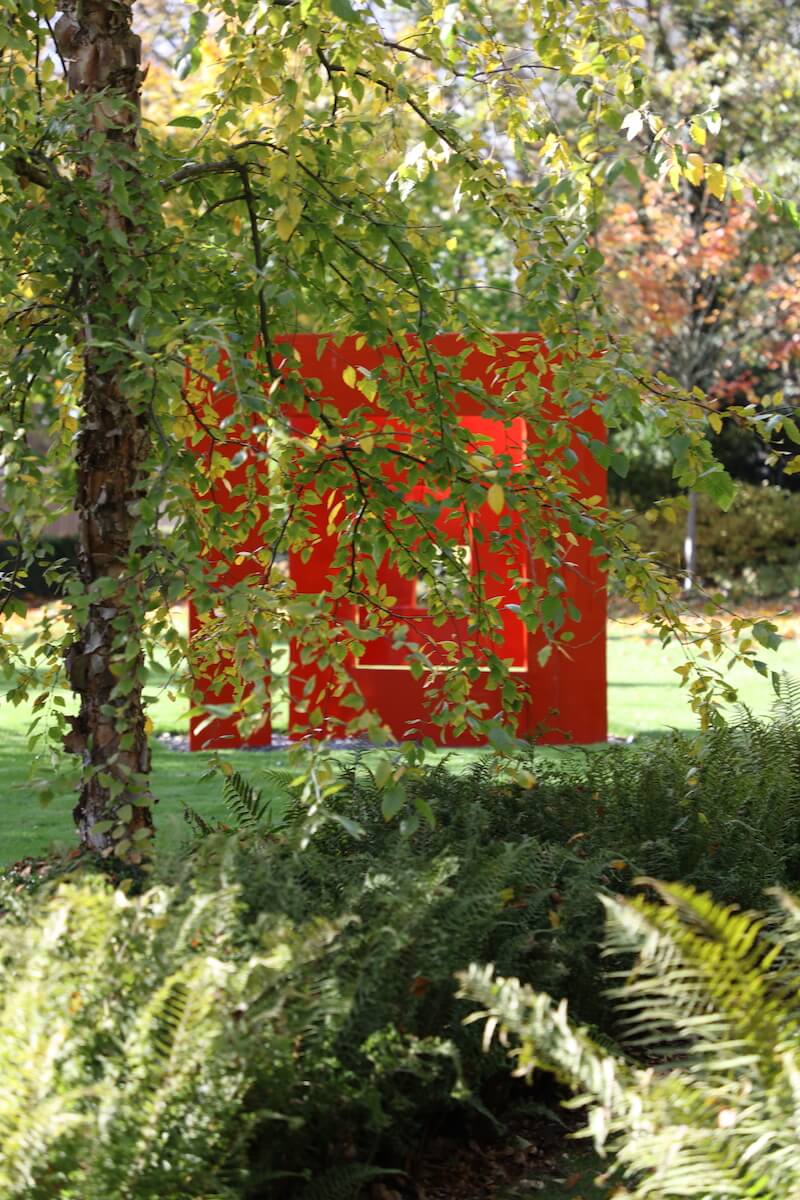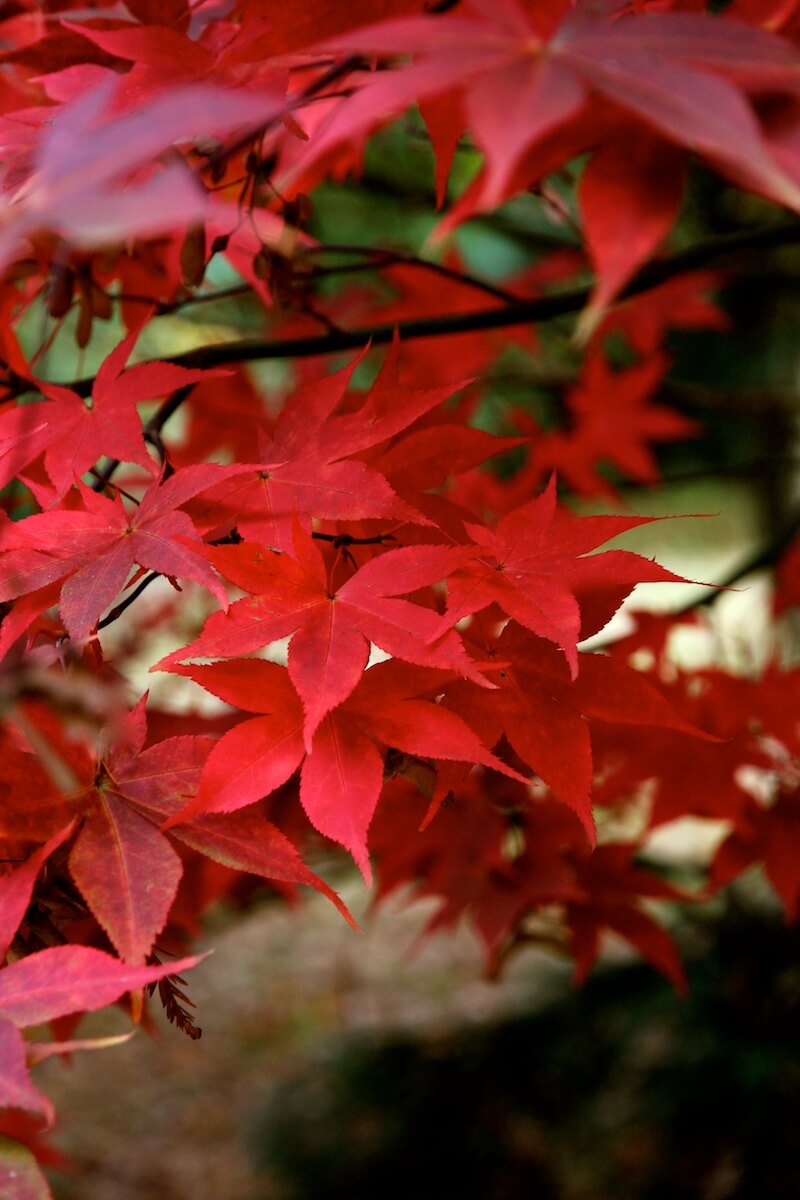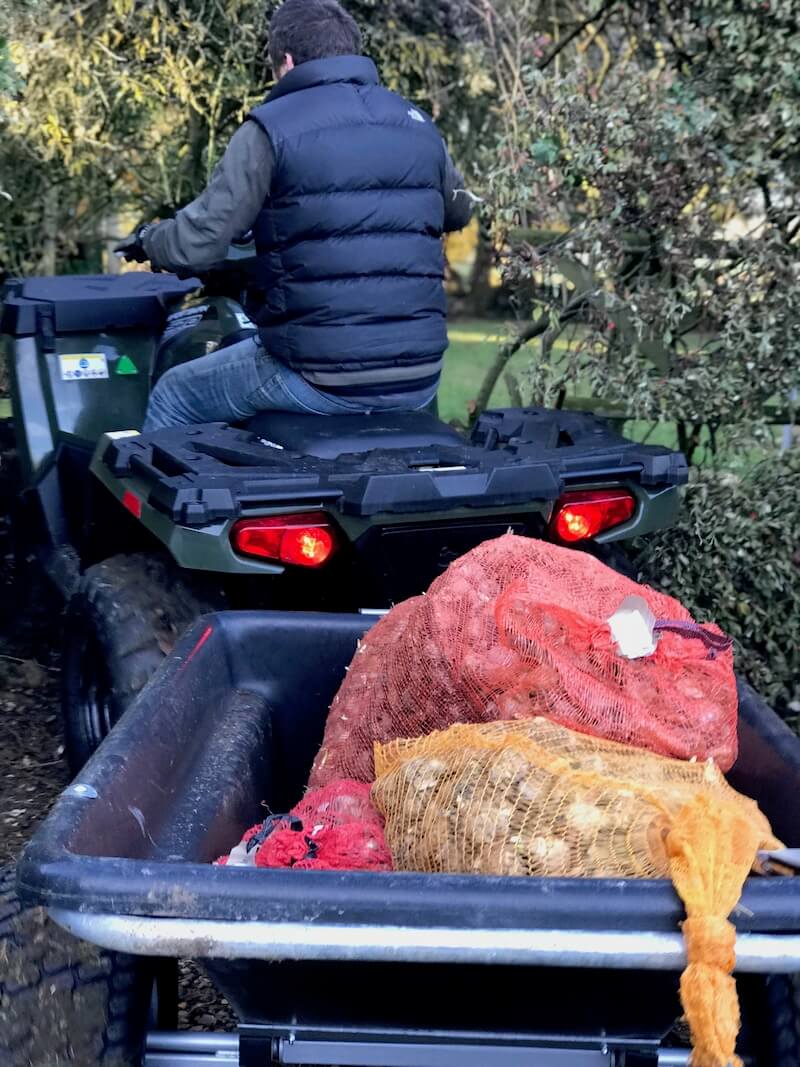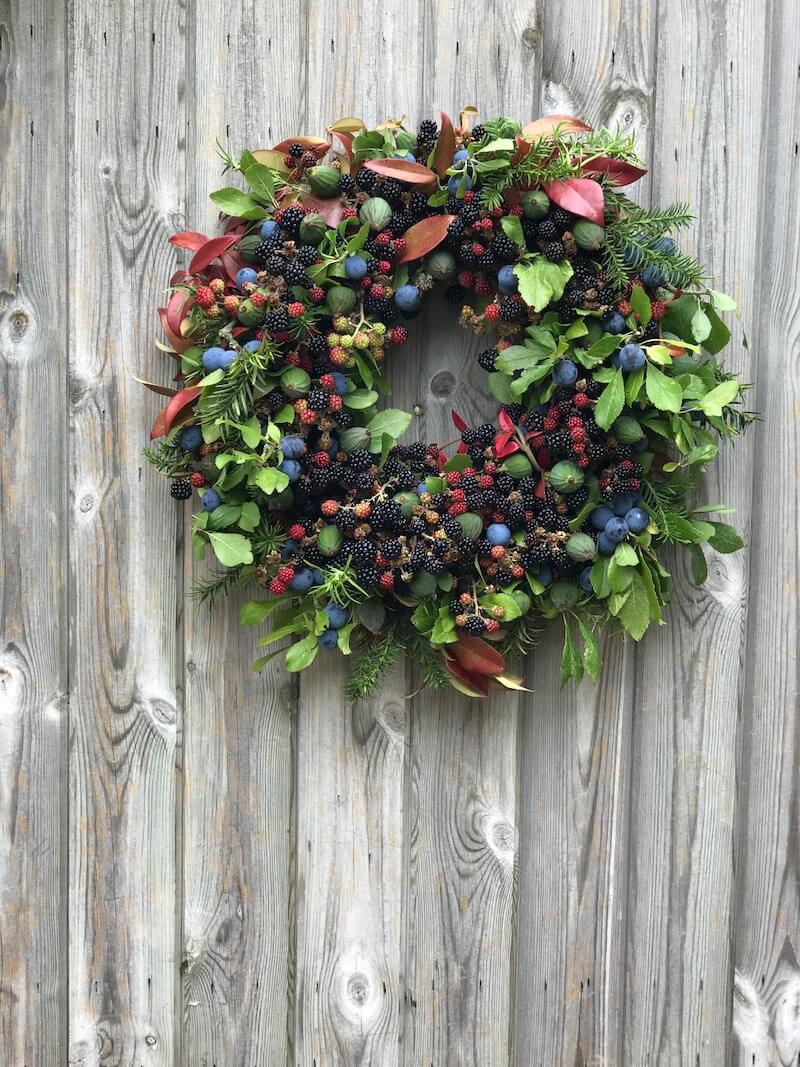 November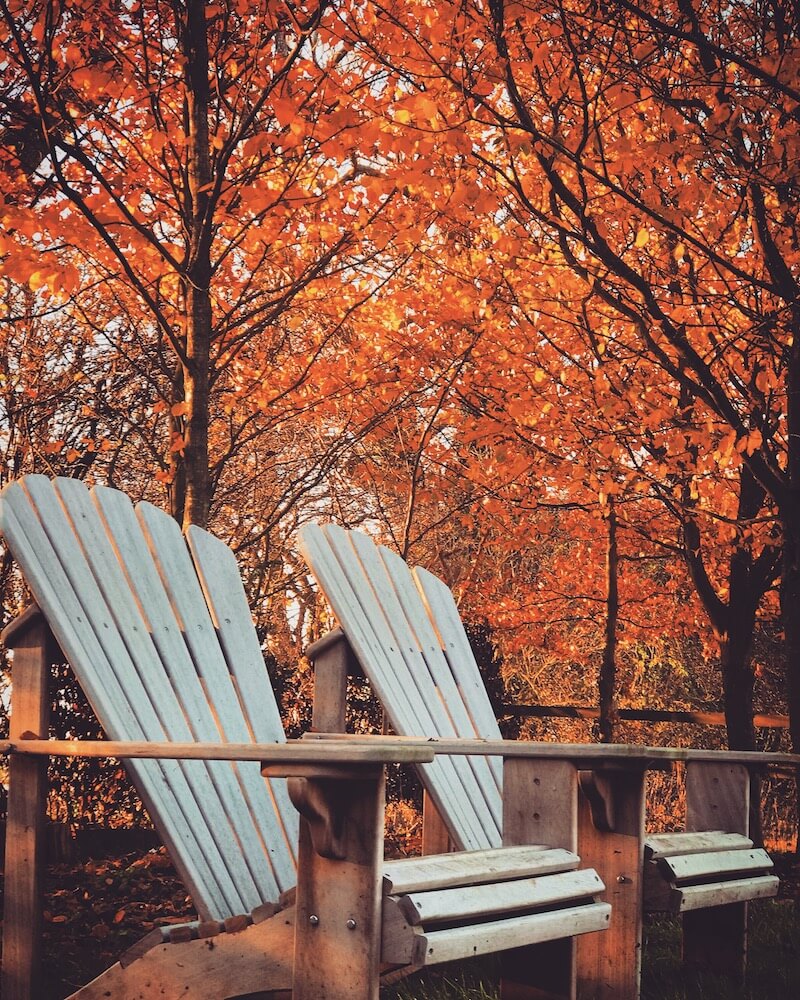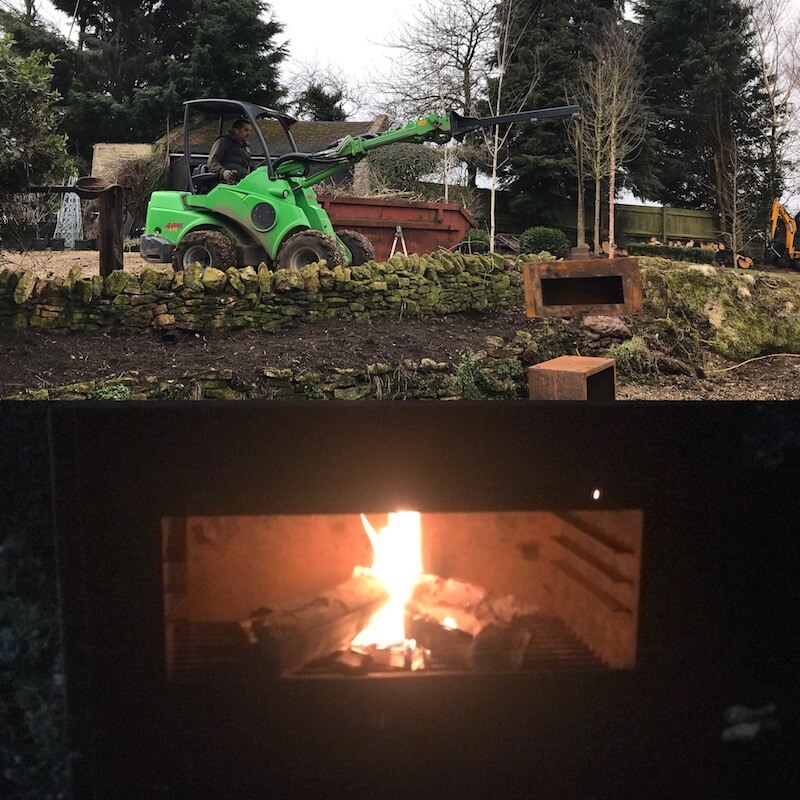 In November Firefly continued, The Shack at The Rolling Hound became operational with power and fire. Lakeside was revisited for a bulb top up.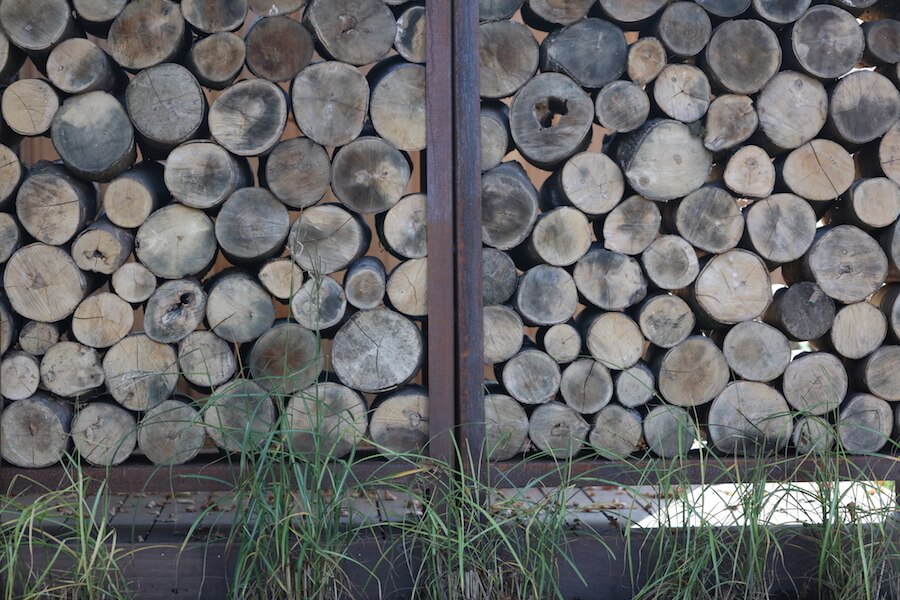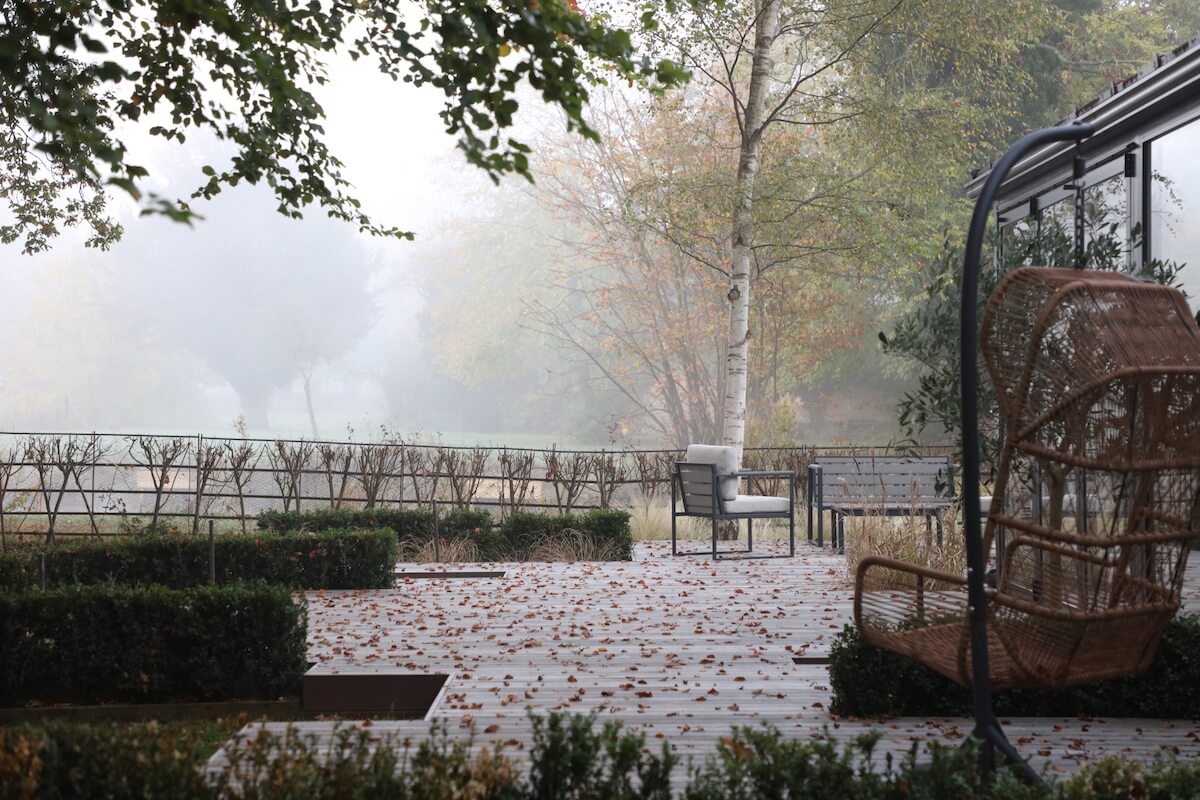 And it was Día de los Muertos, so we marked that with a mind full of flowers shoot at the Design Barn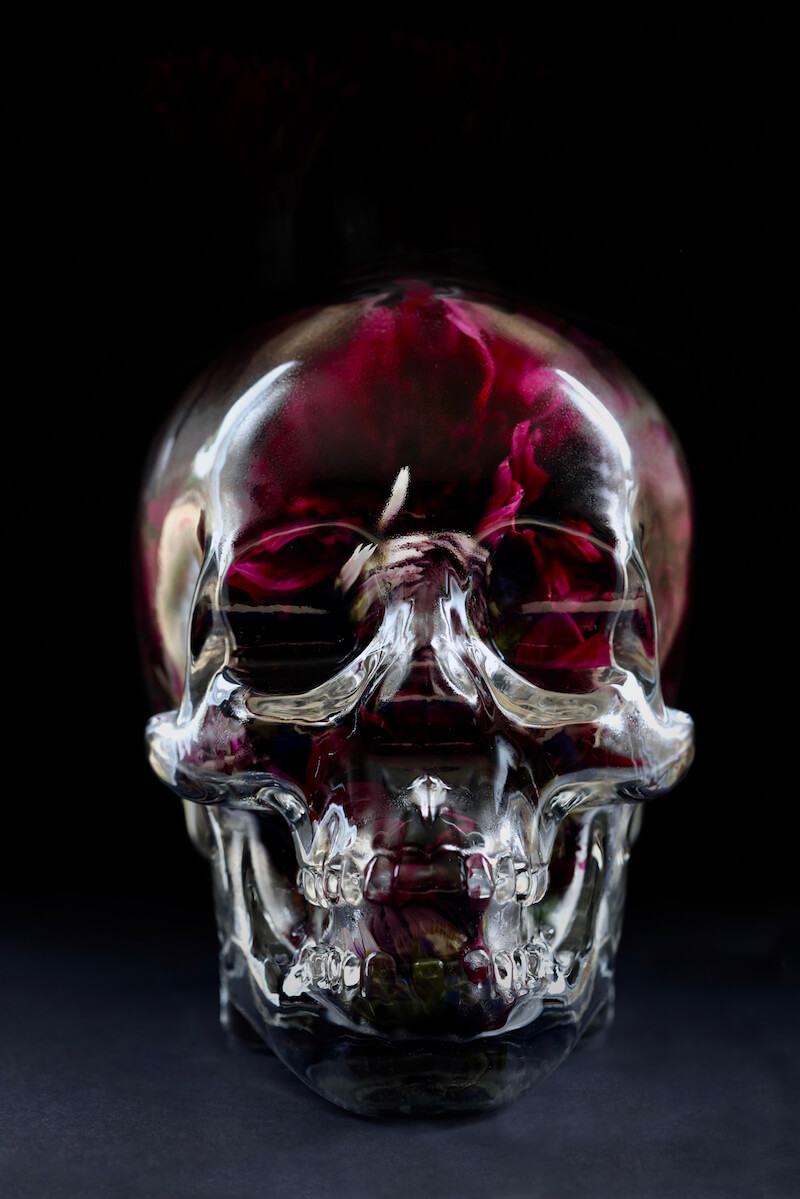 Over at Firefly in the works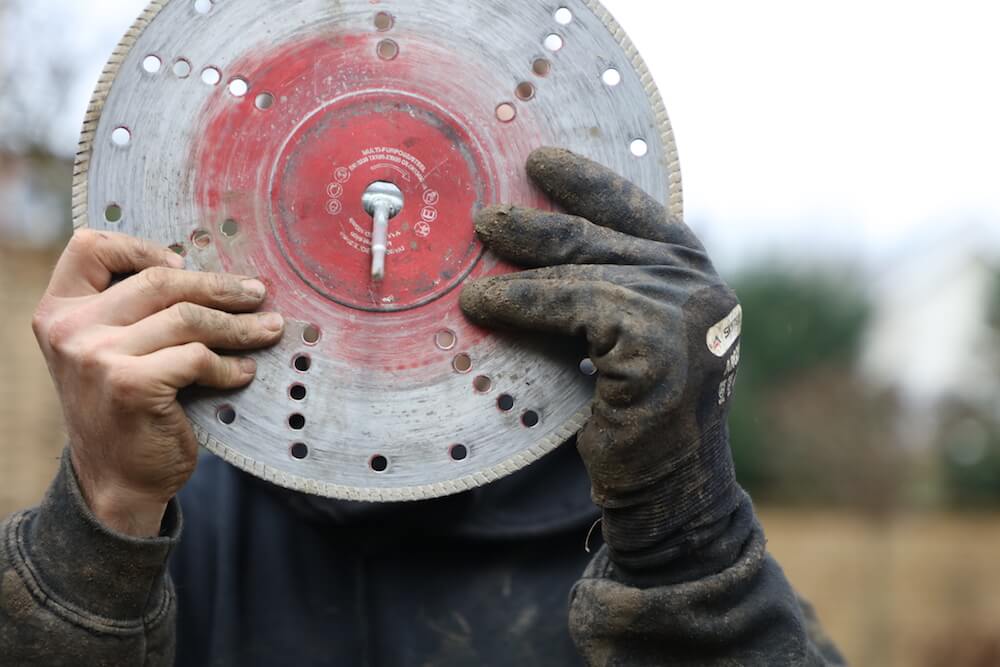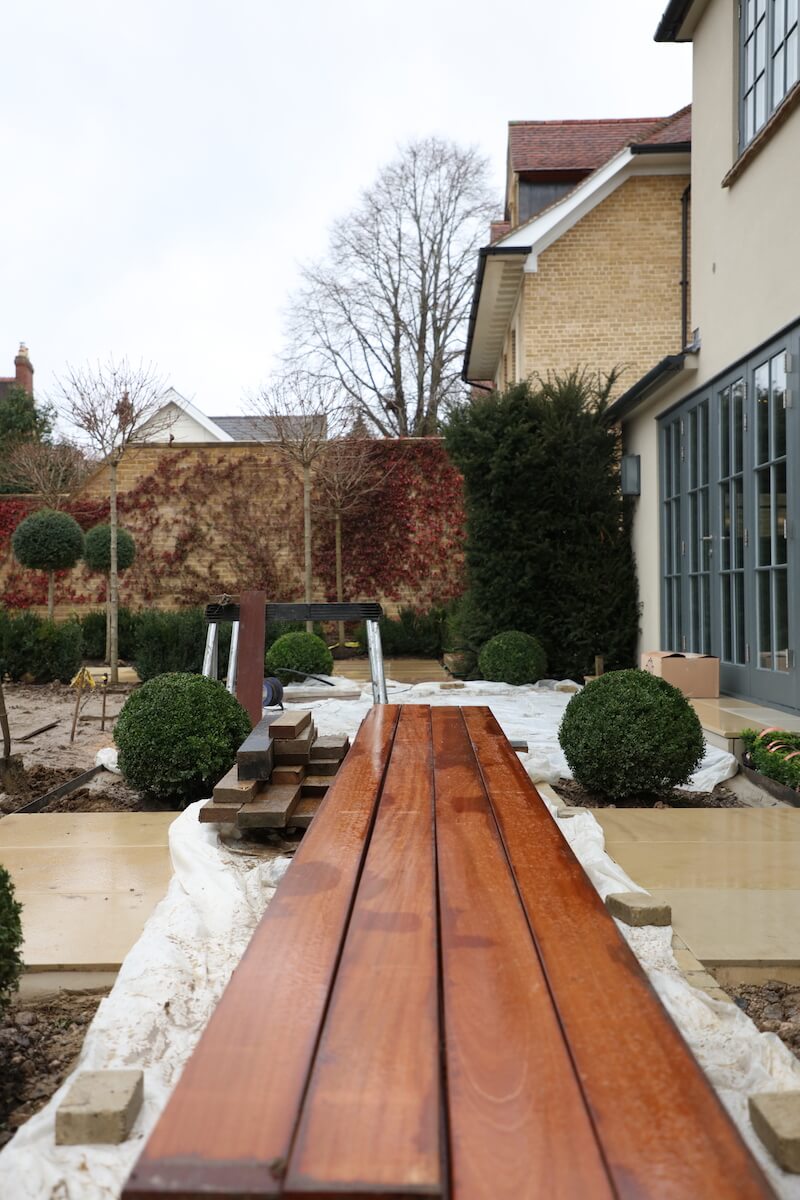 Last of the wildflower yields right up to the end of the month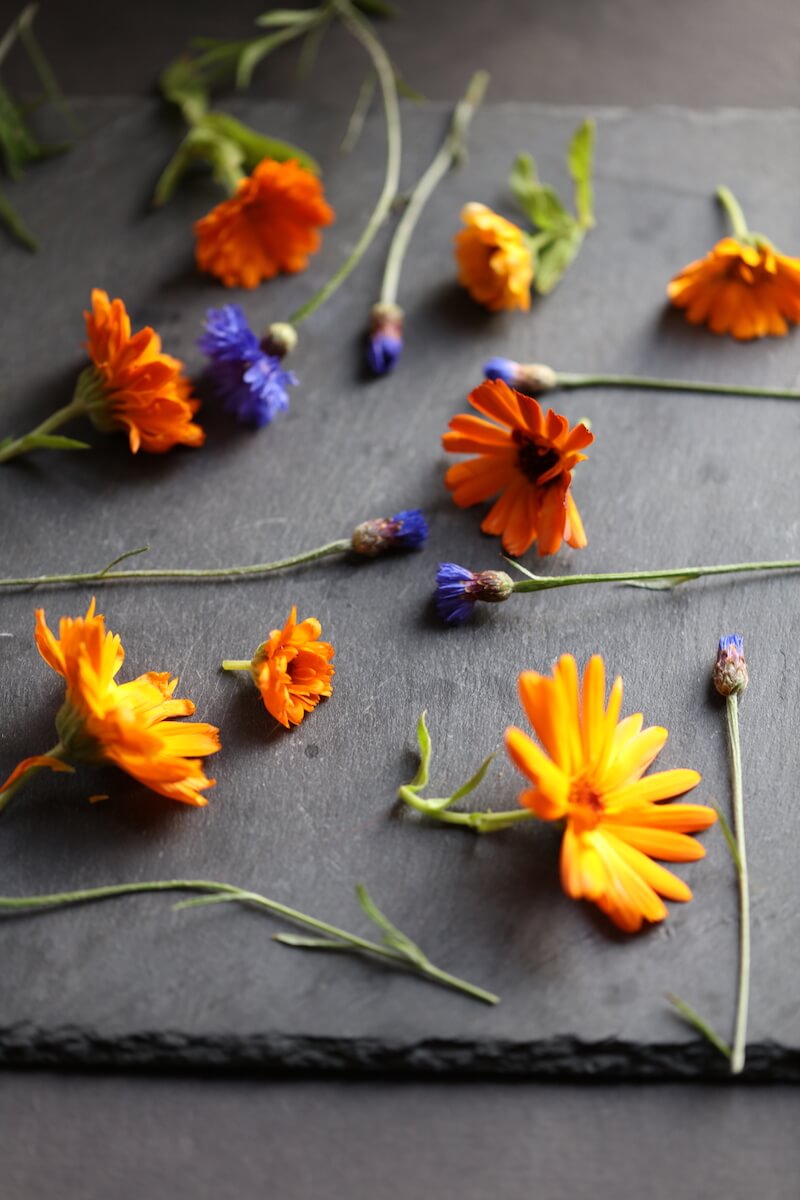 December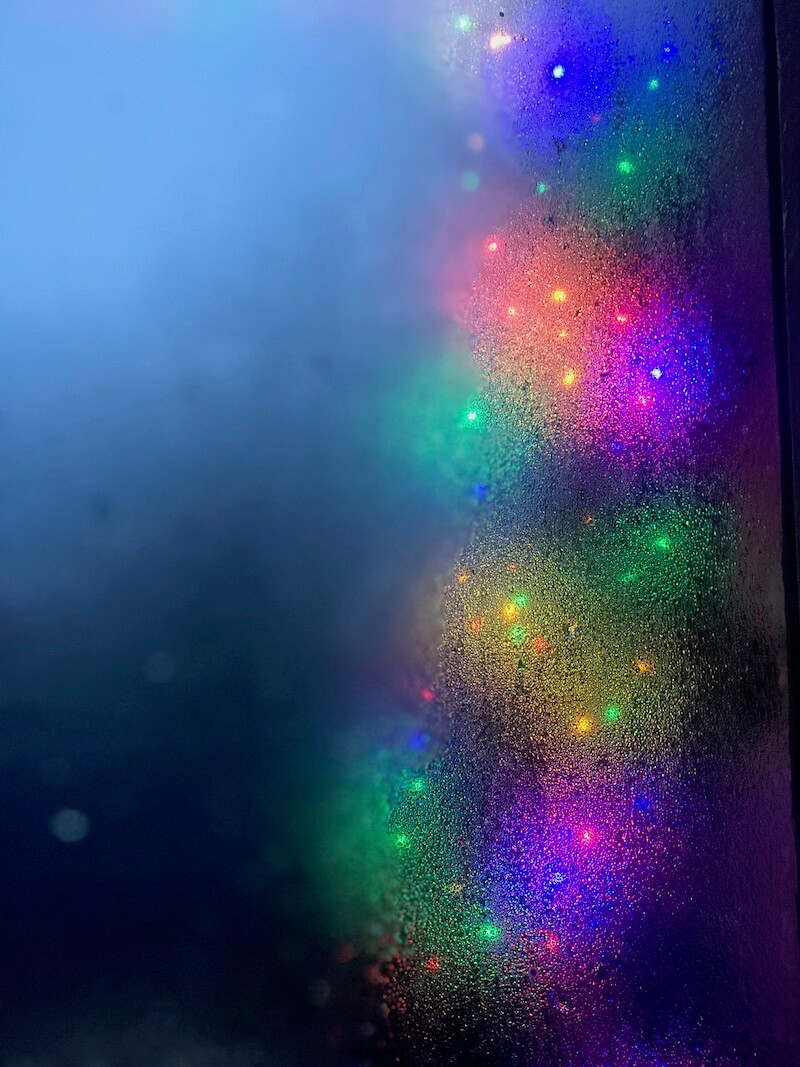 As we complete Firefly we have been preparing to begin on the Georgian project at the start of 2019. We were also delighted to have been appointed to design domestic projects in Woodford Mill, Blenheim Lane and Abingdon Road. Designs of which have all been completed and approved. Woodford Mill was part-installed this month. Abingdon Road is scheduled for February 2019. We look forward to the rest and hearing from you if you would like to commission and collaborate on a project with us.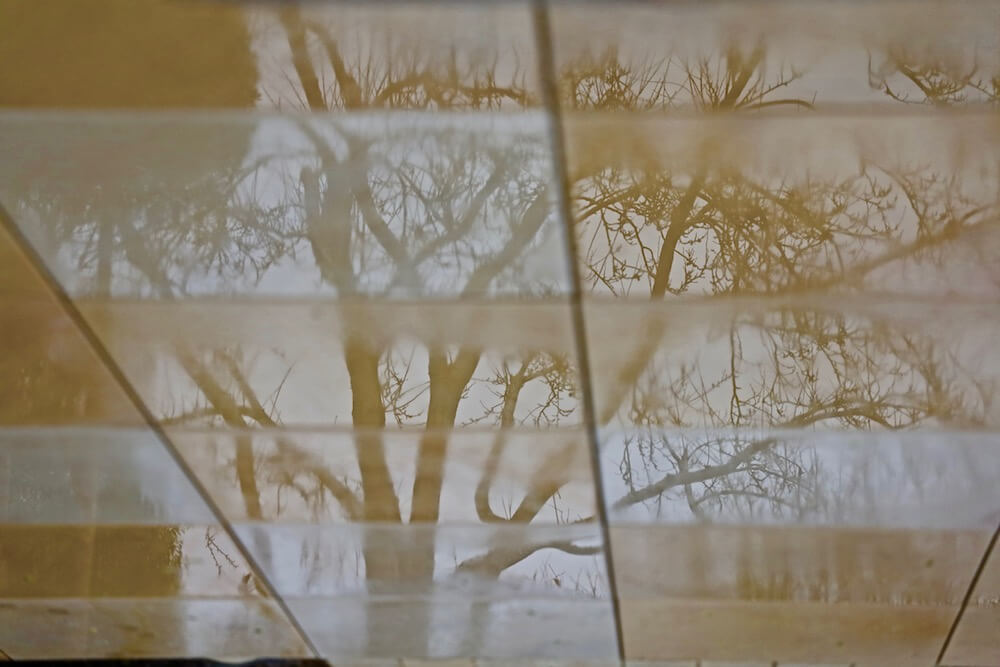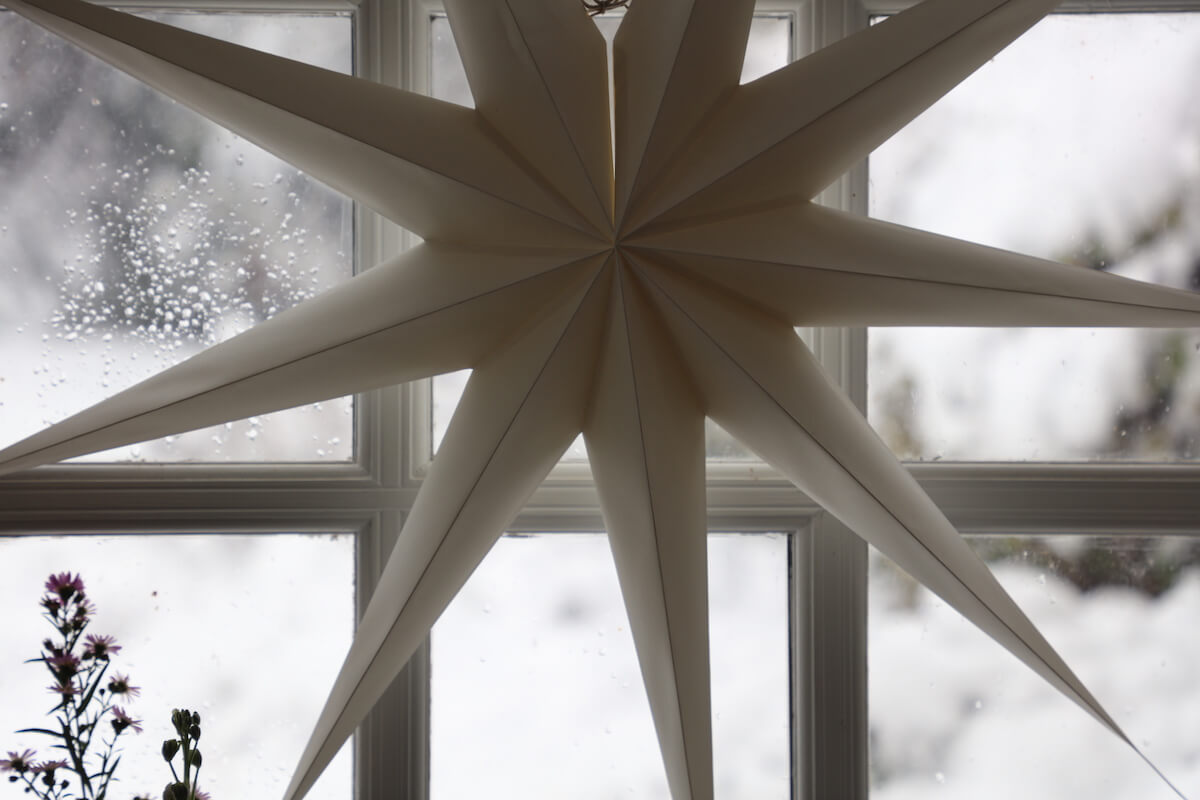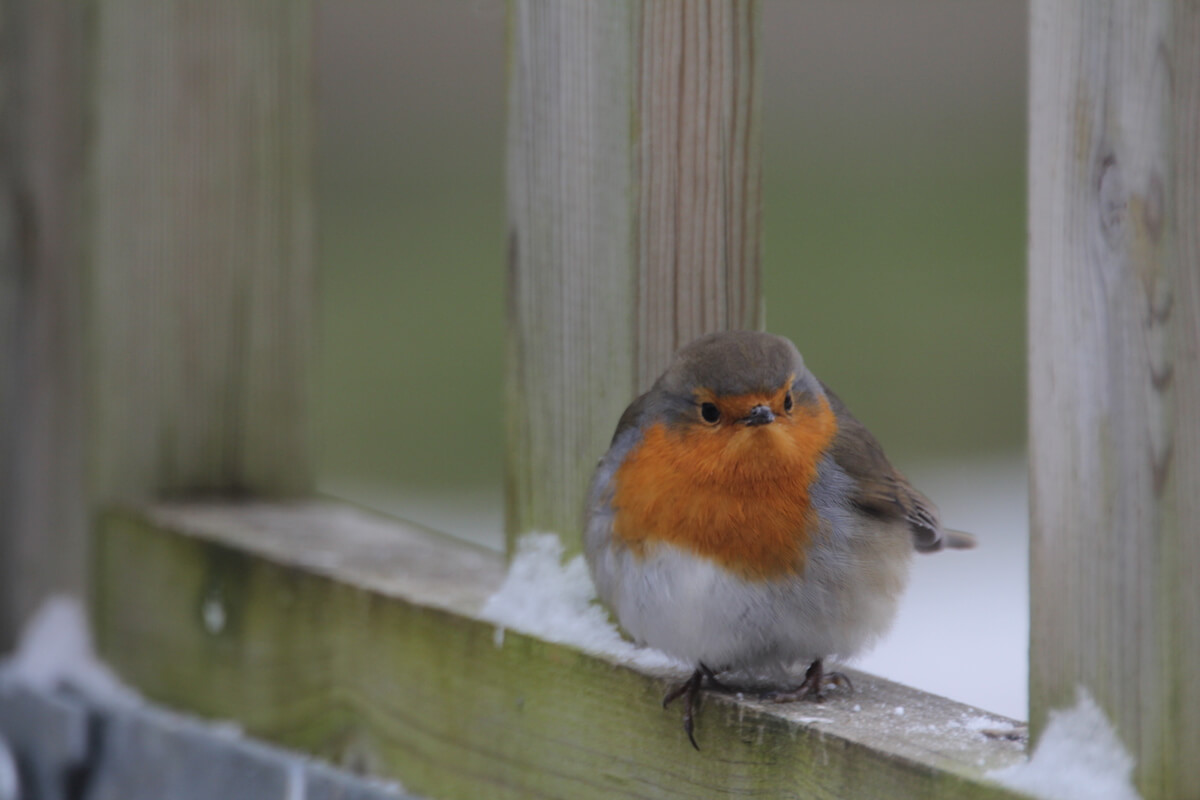 Front of house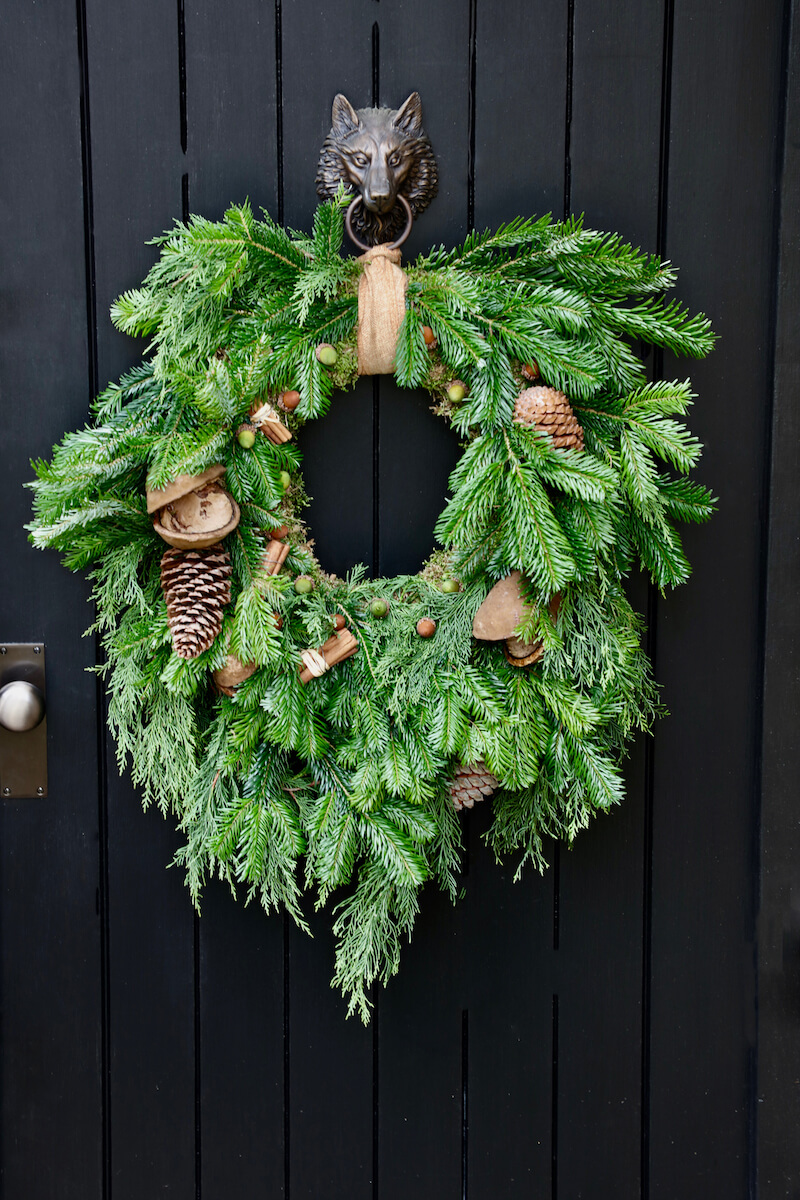 Firefly in the works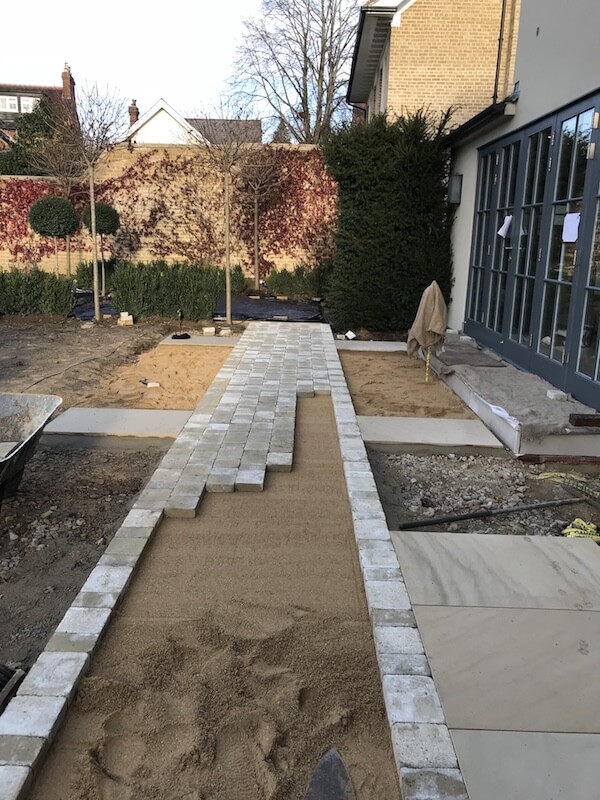 Thursday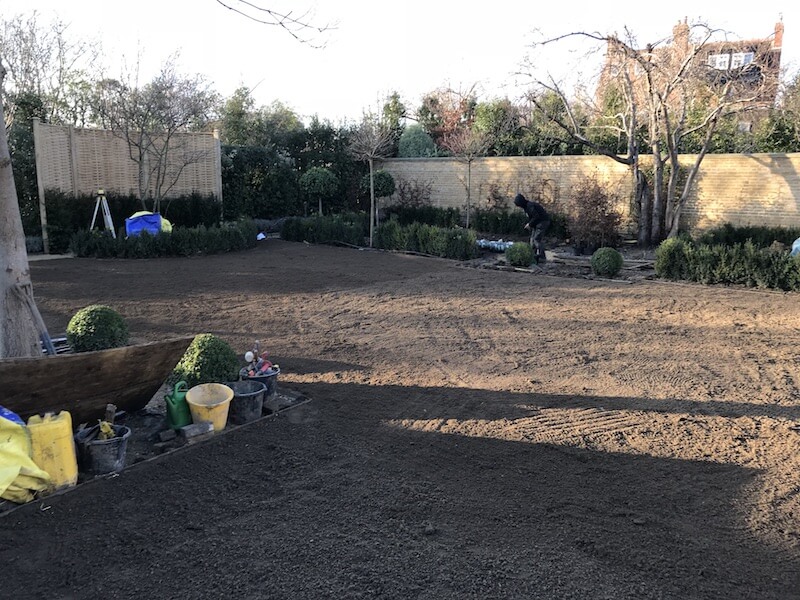 Friday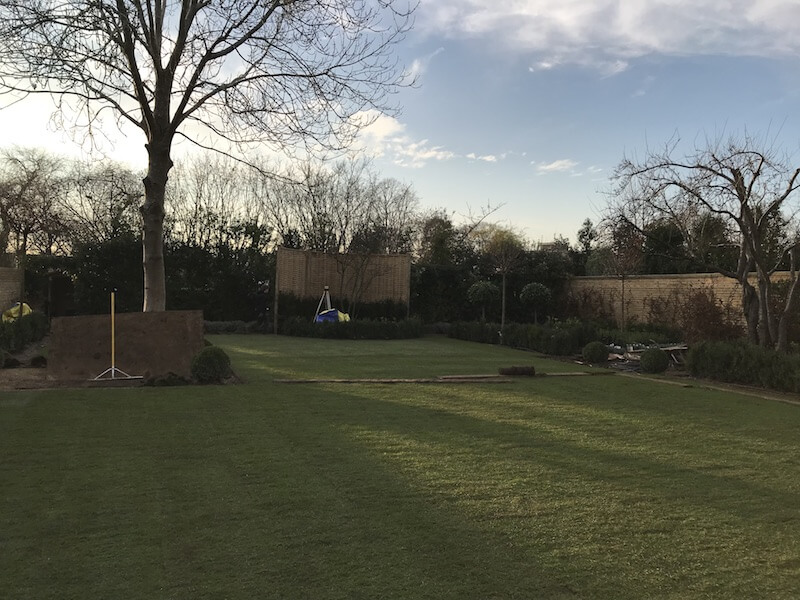 So that's us for now. Barn and sites reopen 7th of January. Have a very Merry Christmas & a Happy New Year from the teams,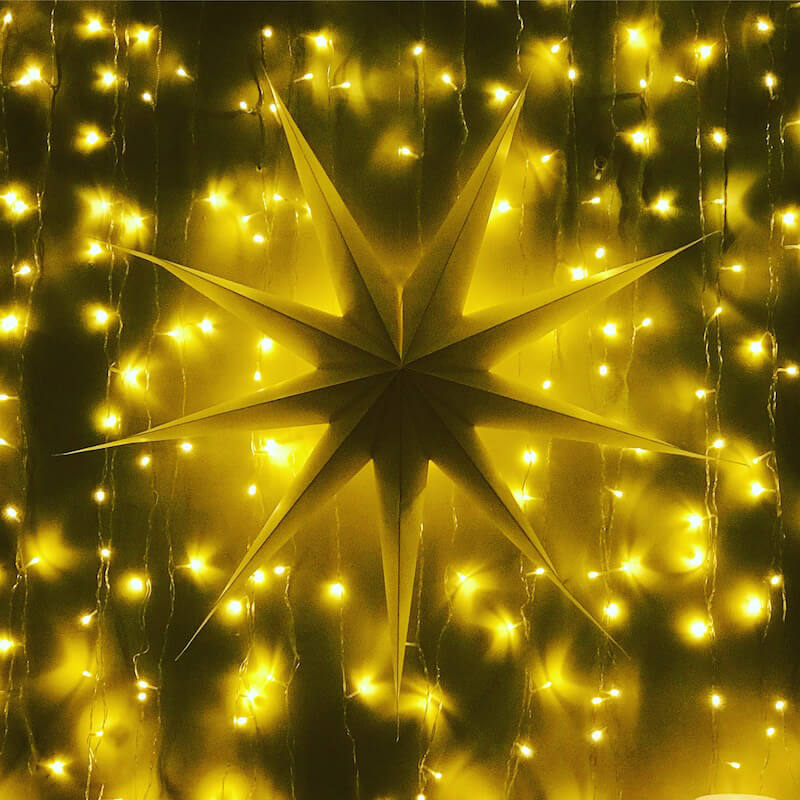 and the dogs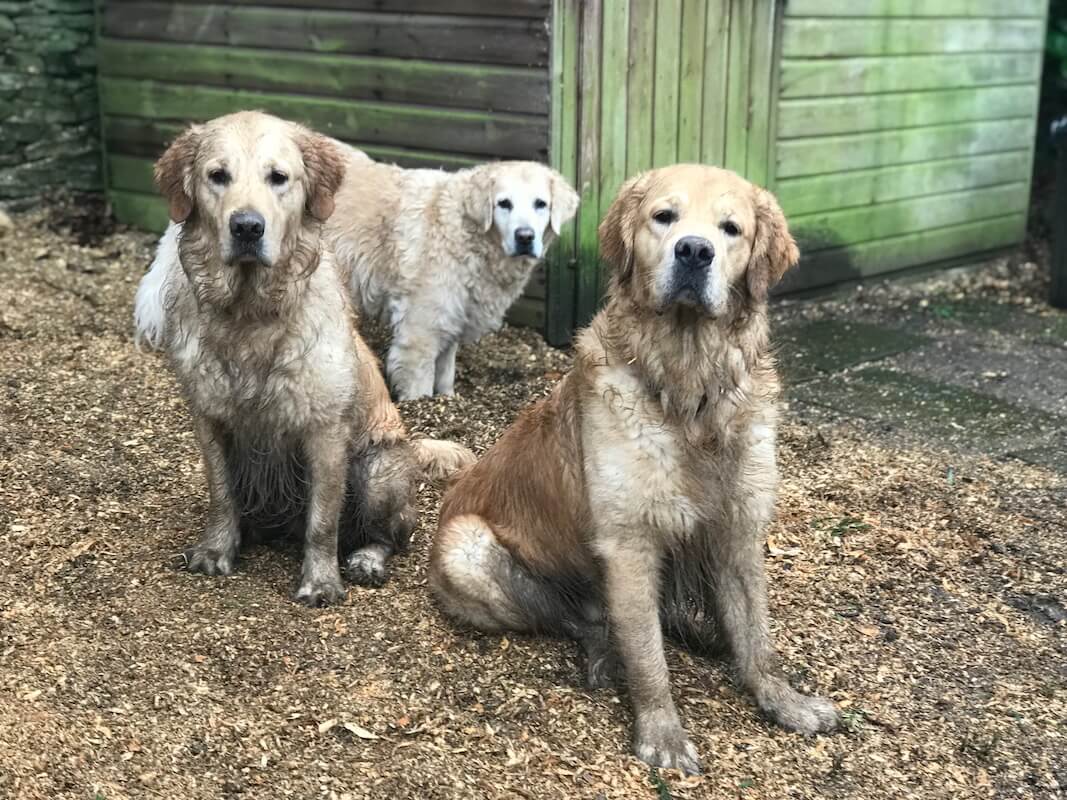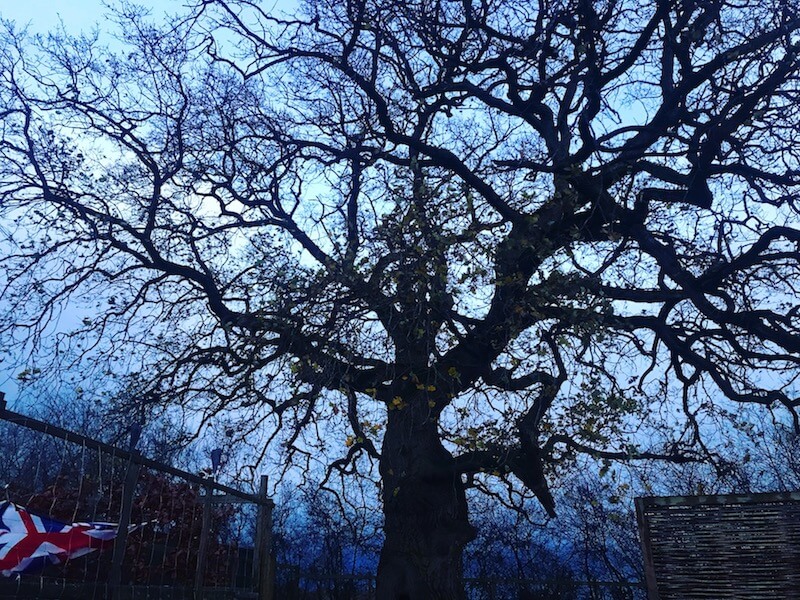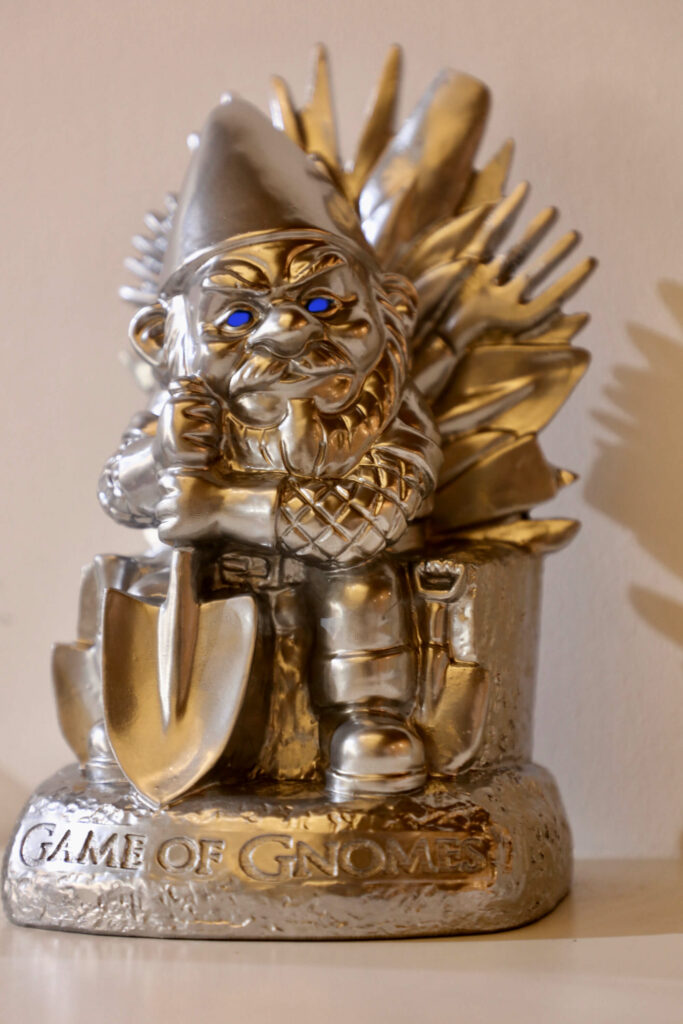 Blog dedicated to the ones we have lost this year
Review of the year
 © HC Gardens 2017 -2018